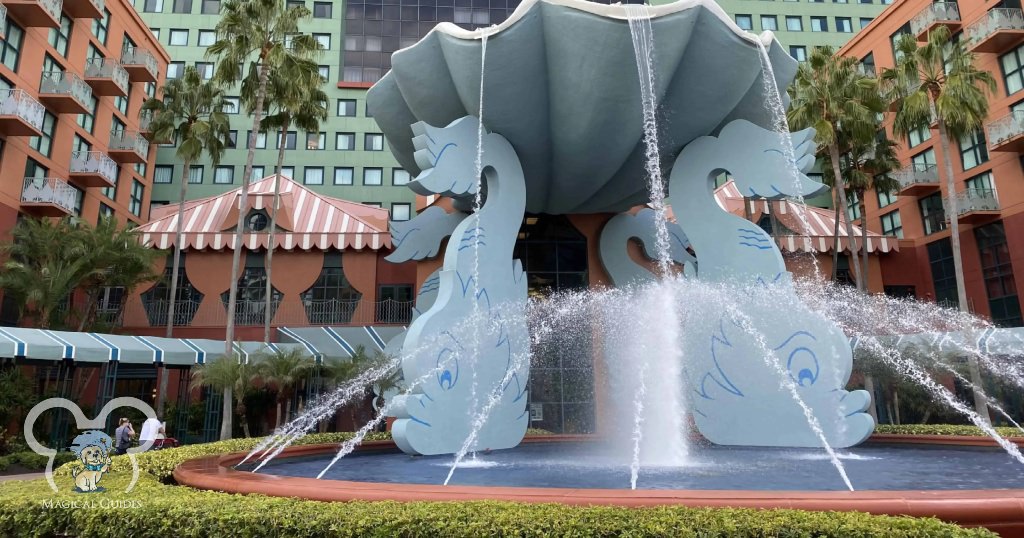 The first Disney vacation I went on with my husband (boyfriend at the time) we stayed at the Swan way back in 2015. This would be the start of our annual Christmas trip to Disney World staying at these resorts.
In my household, we have different opinions on which resort among the three is our favorite. My husband loves Disney's Swan Hotel, and I'm partial to the Swan Reserve.
This doesn't mean we don't like the Dolphin, I'll explain why each resort has won us over.
My husband's love for this resort came up when we were looking for a wedding venue. He fought hard for the Swan's beautiful Crescent Terrace.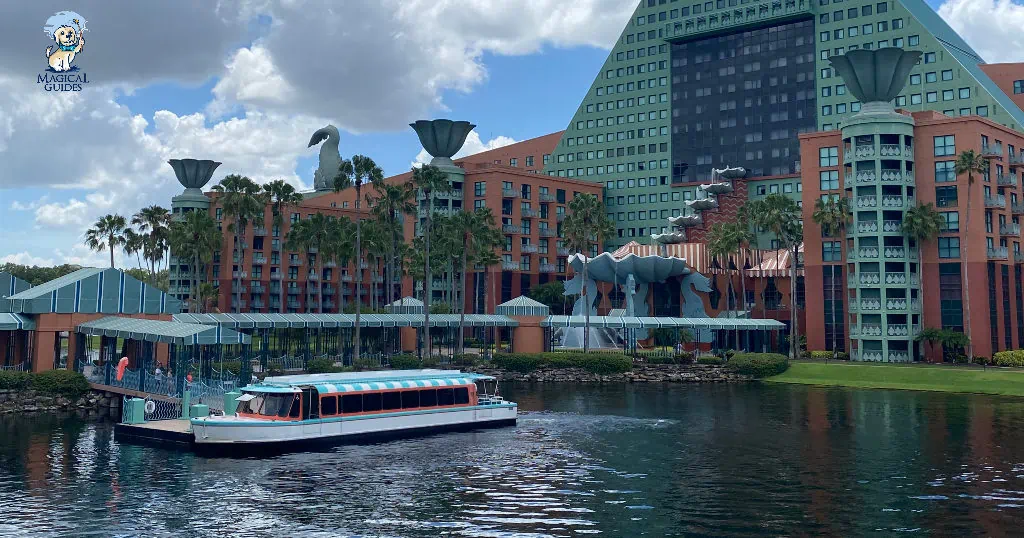 I couldn't get over the Floridian colors of the resorts. We compromised by tying the knot at the Waldorf Astoria Orlando.
Dining Options at Disney's Dolphin, Swan, and Swan Reserve Resorts
Coffee and Breakfast Options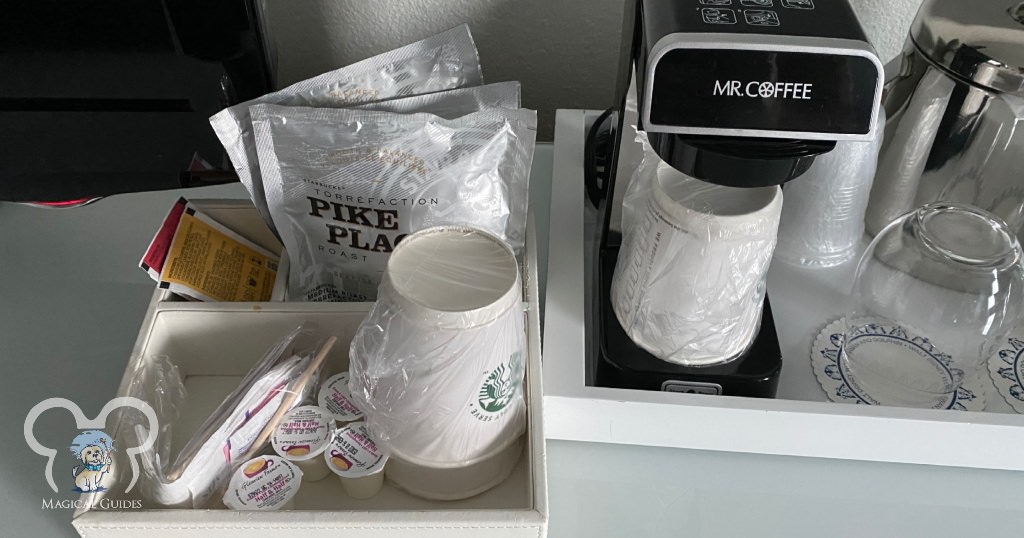 Grounds ( Quick service Swan)
Fuel (Quick service Dolphin lobby)
Garden Grove (sit-down in the Swan)
Quick Service Restaurants:
Picabu (Dolphin) is served cafeteria style, I recommend the nachos.
Fuel (Dolphin lobby)
Chill (Swan)
Java (Swan)
Grounds (Swan Reserve)
Signature Restaurants (Reservations recommended, bar service is usually available with limited availability)
Il Mulino New York Trattoria (fresh Italian cusine) in the Swan
Shula's Steak House (The best steakhouse on Disney property) in the Dolphin
Todd English's Bluezoo (Fresh seafood in an upscale atmosphere) in the Dolphin
Kimonos (Great sushi, and karaoke) in the Swan
Amare in the Swan Reserve
Rosa Mexicano (Dolphin, located where Fresh Mediterranean Market was before)
Bars and Lounges
All the signature restaurants above have bars you can sit at and usually order the full menu. This list is for those looking for drinks and appetizer offerings.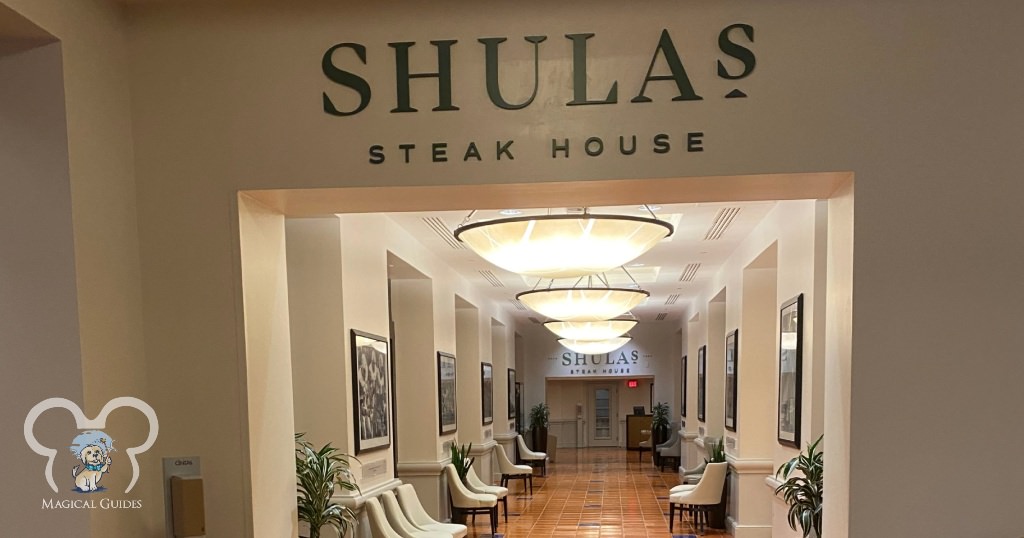 Shula's Lounge (Dolphin)
Il MulinoLounge (Swan)
KimonosLounge (Swan)
Phins Lounge (Dolphin)
Todd English's Bluezoo Lounge (Dolphin)
Stir (Swan Reserve)
How is the Dolphin, Swan, and Swan Reserve Hotels Different from Disney Resorts?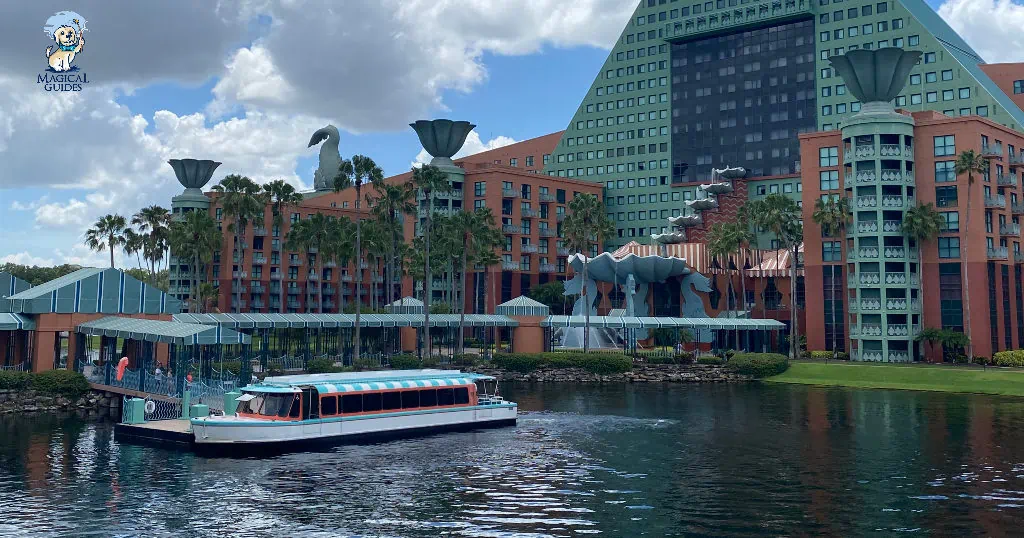 One of my husband's aspirations is to buy a Lexus in the future. I always ask him why a Lexus, as they are an upgraded Toyota.
His reply is simple, you get the reliable and dependable reputation of the Toyota, but with a lot of style and comfort upgrades from the Lexus brand. Okay, whatever, but the same thing applies here with these resorts.
You're getting a quality stay, as it's a Marriott, but each offers a bit more elegance and luxury on Disney property.
So in short order here is the list of premiums amenities, cost, and my preference.
Swan Reserve
Swan
Dolphin
This doesn't mean the Dolphin should not be considered, as it should! They have the illusive 2 story suite that my husband has a goal of staying in before he dies. It costs roughly $3k a night if you could book it.
Rumor is that Micheal Jackson would rent out that room as it had a piano in it. Also, did you hear me when I said it has a second story?
Walt Disney World Swan vs Dolphin Location
There aren't any other hotels on Disney property that you can walk to TWO, that's right TWO parks. No waiting on buses, the Skyliner, or the Monorail.
The EPCOT resorts are smack dab in the between Disney's Hollywood Studios and EPCOT. Micheal Isner, former CEO of Disney, made a wise choice by building resorts dedicated to conventions to Disney's collection.
Some in our dedicated Facebook Group have asked about walking across the street when they are staying at the Swan Reserve if it's a big deal or not. I don't find crossing the street to be the big of an issue, add 5 minutes to your time if you need to get anywhere.
Can you walk to EPCOT from the Swan Reserve, Swan, and Dolphin?
They say in real estate Location! Location! Location! is key. Well at all three of these resorts, they have the location you are looking for. Yes, you can walk from EPCOT, exiting or entering through the International Gateway entrance to EPCOT.
The walk to and from EPCOT is about 10 minutes, depending on your pace, and distractions along either route you take. More often than not, I take the Boardwalk route, but if I'm wanting a drink I will take the path to Disney's Yacht and Beach Club.
A nice cool drink from Hurricane Hannah's is nice way to spend the afternoon. I could drink at EPCOT, but the line is much shorter at the pool bar at one of the nicest pools on Disney property.
You could also walk from EPCOT to Hollywood Studios if you want. I find the walk to and from Hollywood Studios to be set on a more relaxing nature trail.
Don't forget you can also take the Disney Skyliner between the two parks as well.
Don't worry all the pathways you take at Disney World are paved sidewalks. Don't do what my mother and sister-in-law did during one family, and make your own trails. They ended up on the road, to this day we aren't sure what path they took.
They swear they hadn't hit up the pool bar before trying to get to Hollywood Studios, but we all wonder.
Do the Swan, Swan Reserve, and Dolphin get Disney perks?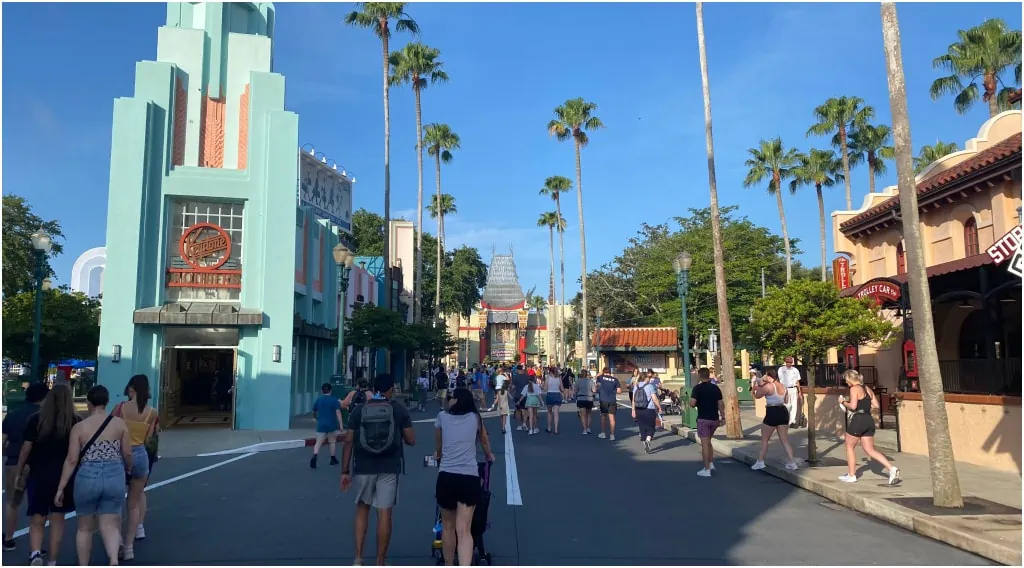 Now that Disney is bringing back Early entry and Extra Magic Hours now known as "Extended Evening Theme Park Hours. It's more of a reason to stay at these resorts.
These perks are usually limited to guests staying at a Disney deluxe resort. so that is a clear perk for staying here.
This means you get a third opportunity to book a virtual queue for rides like Guardians of the Galaxy Cosmic Rewind, and TRON Lightcycle at Magic Kingdom. You will only be able to book once per day, so if you ride earlier in the day, but they aren't allowing you to do it again even with this perk.
Disney Dolphin vs. Swan vs. Swan Reserve: Which Is Best?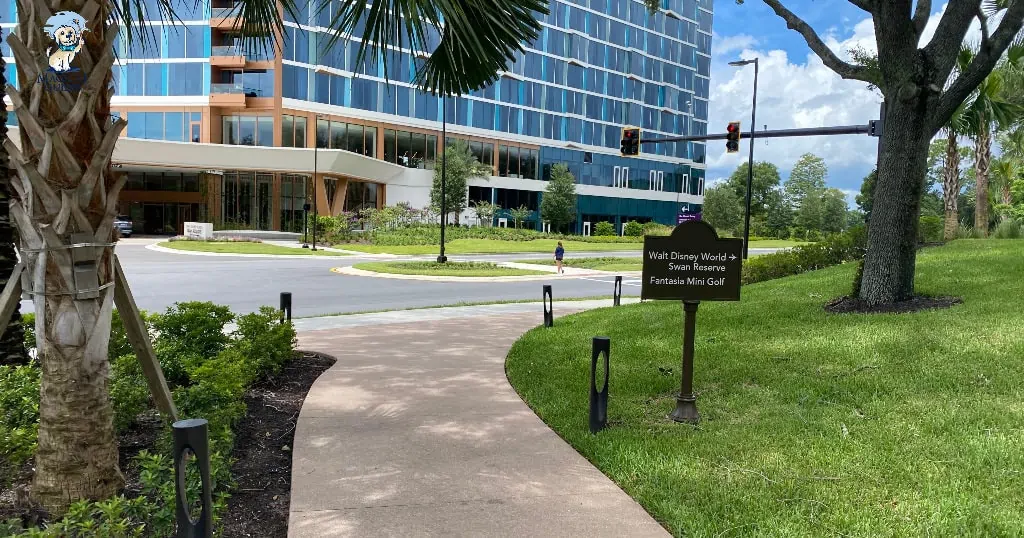 The answer is it depends on many things. What's your budget? Are you going with kids or adults? Are you interested in visiting Hollywood Studios or EPCOT over the other parks? Do you have Marriott status or points you want to use for a free stay?
For those on a budget: The Dolphin wins here. There are more rooms, and you can usually find them cheaper. You get access to all the pools, walking distance to 2 parks, and it's a Marriott (so it's going to be nice).
For those with teenagers: Pick the Dolphin. You can request a rollaway here where you might not be able to at the Swan. The Dolphin uses double beds over queen beds used at both the Swan and Swan Reserve.
For those using Marriott Points for a stay: Go with the Swan Reserve. You will get more bang for your points at the same price as the other two resorts. It's also a newer hotel, and the little touches are some of my favorites.
If you're going for a romantic trip: Go with either the Swan or Swan Reserve. These are smaller hotels, and there's something about them that makes them charming. You can still use the larger Grotto pool at the Dolphin – including going to any of the restaurants. I recommend checking out Il Mulino II for a romantic dinner.
There best choice is the one that works for your situation, it depends on what is important to you on your trip. You're staying on Disney property, there are not bad choices!
Does the Walt Disney World Dolphin Resort have lounges?
Sheraton (among other) type hotels will have lounges for their top-level rewards members. You can usually get light snacks, appetizers, sodas, and alcoholic beverages.
There is no such lounge at the Dolphin Resort. This could have been a great selling point for the Dolphin, but considering this is one of the top places to redeem Marriott points, I'm glad they don't.
Lounges, especially since the pandemic have been flooded with "elite" tiers of travelers. This is due to folks being able to defer the benefits, along with many credit cards now trading high annual fees for before hard to reach status levels.
Why is there a fish statue on top of the Dolphin statue looks like a fish?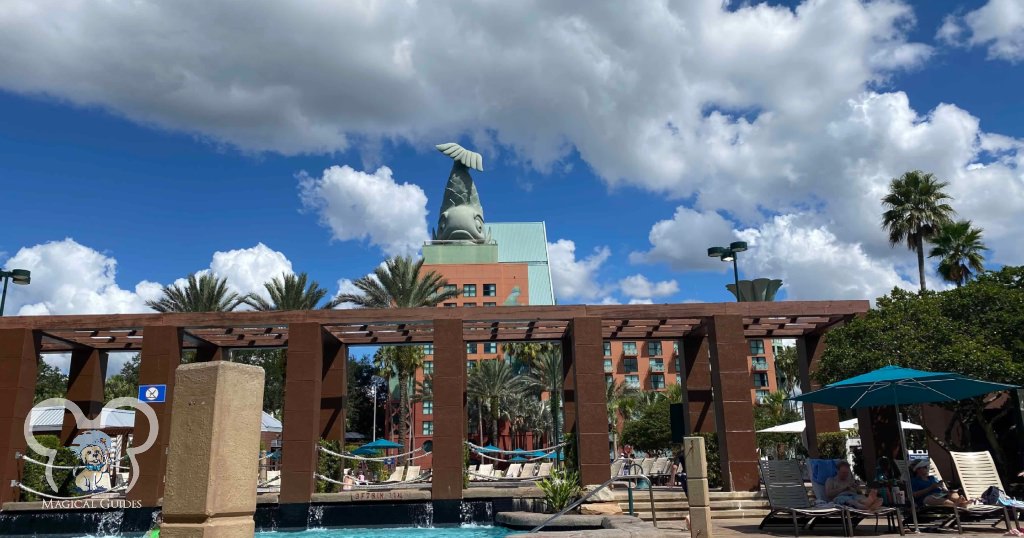 This puzzled me for the longest time, my vision of a dolphin is that of a Lisa Frank folder in bright pink. The Dolphin is actually that of a Mahi Mahi, you know the fish that is so delicious they named it twice. Dolphins are actually mammals, but the dolphinfish is another name for Mahi.
How can you book a cheap room at the Dolphin, Swan, or Swan Reserve Hotel?
To cut to the chase, it's about when you book. Booking a Disney trip after the kids go back to school aka the middle of hurricane season you can find cheap rooms.
When I'm saying cheap, I mean like $150 a night for rooms, and that is before the high resort fee. So you're looking at around $200 a night after everything is said and done.
Booking on the Marriott website or by calling 1-888-828-8850
Let's talk about other discounts they offer. Are you or anyone traveling with you one of the following?
Teacher or support staff (up to 25% off)
Nurse, Doctor, Firefighter, Paramedic, and Medical Personnel (up to 25% off)
Law Enforcement, Military Personnel, and Government Employees (up to 25% off)
AAA / CAA (up to 25% off)
Senior Citizen (up to 25% off)
Disney Annual Passholder (up to 30% off) Promo Code QWH
Florida residents (up to 30% off)
I will warn you, they do verify identification upon checking in.
Priceline or other hotel booking sites
So I before was a Priceline shopper for staying at Disney's Swan. Now I use Priceline or other sites as a barometer for hotel room prices.
What do I mean by that? I shop to see when the best prices are, but I only book direct. Here are my reasons why:
Maximizing building Marriott Bonvoy Points
Accure nights for status (I'm going for Lifetime Platinum)
Upgraded rooms (rare, but not unheard of)
Late check-out (again rare, but not unheard of)
Guaranteed rooms reservations
I have a mixed feeling about recommending using Priceline. I find the rooms that I'm assigned when I used Priceline were never the best they had to offer.
What do I mean by that? I mean they aren't always the best-maintained rooms. I know it's silly, but I prefer the rooms with the walk-in showers over the ones with a tub.
Do the Swan and Dolphin have a place to do Laundry?
The only laundry facilities on the property are located in the Dolphin, next to the arcade which is close to the Grotto pool.
Who designed the Swan and Dolphin Resort?
The architect responsible for the design of the Swan and Dolphin Resort is Michael Graves. Graves is known for his post modernism style.
He has designed more than 350 buildings across the world. From Walt Disney Studios with the Seven Dwarfs to the post office in the town that Disney built in Celebration, Florida, Micheal Graves' influence can still be seen today.
Was the Monorail ever going to run to the Dolphin Hotel?
This is a complete myth and Disney folklore. The idea of having another hotel that would have the Monorail run through it like Disney's Contemporary Resort sounds great on the surface.
It doesn't make sense considering Disney doesn't actually run the Dolphin Resort. Fun fact it costs $1 million dollars per mile of track for the Monorail.
With the Skyliner a short walk away, and the use of the Friendship boats these resorts have a lot of transportation options.
My tips for transportation while at the Dolphin, Swan or Swan Reserve
During the shutdown of 2020, Disney bus transportation from these resorts changed. The boat transportation did not, so these tips are for those looking to get from the Swan and Dolphin to either Magic Kingdom, Disney Springs, or either water park (Blizzard Beach or Typhoon Lagoon).
My recommendation is to walk over to Disney's Boardwalk hotel and get on the busses from there, it's about a 5-minute walk from any of the resorts. You can also go to the Yacht Club, but know they share buses with the Beach Club sometimes, so they could be a bit more crowded.
While the Dolphin, Swan, and Swan Reserve offer transportation to the parks, you will be taken to the Ticket and Transportation Center where you will have to transfer to a ferry or Monorail. You could walk from the TTC if the walk way is open, but that will add 20-30 minutes.
If you're trying to take advantage of Early theme park entry this can add an extra 30 minutes before you are in a park. So take my advice and walk over to the Disney Boardwalk Inn.
Disney does not check to see if you are staying at the resort, or make you show a Magic Band – so also consider this when you are returning from these locations as it again, will be faster. Plus you can stop by any of the Boardwalk restaurants to get a snack or margarita.
If you are trying to go to Animal Kingdom, I recommend taking the bus from the Swan, Dolphin, or Swan Reserve. The reason why is small, but you actually get dropped off closer to the entrance to the park, and then are returned to the front of your resort.
Do you have to pay for parking at the Swan and Dolphin Resort?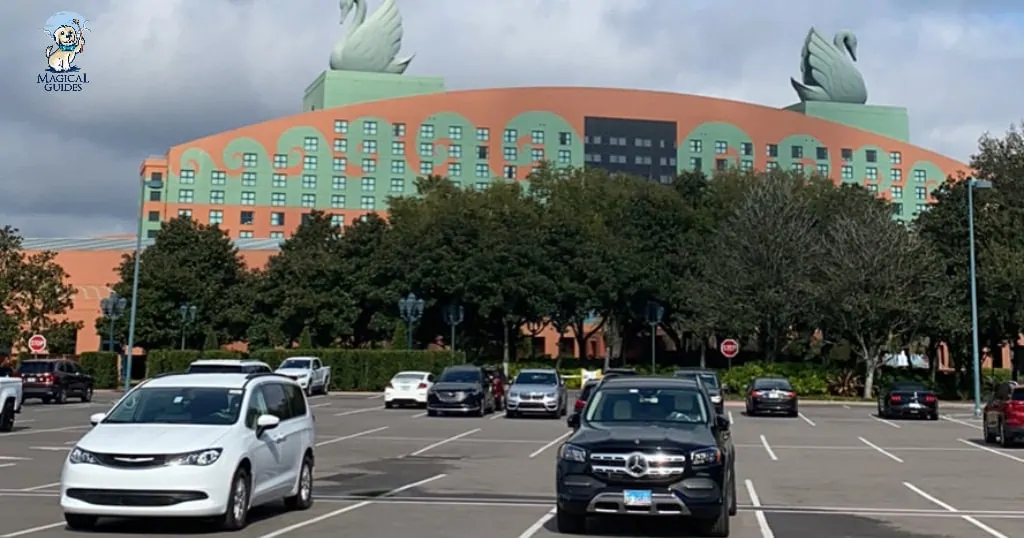 Unlike other Disney resorts, you will be charged to park at this resort. You have two options, self-parking or valet. You still get complimentary parking at the theme parks, be sure to bring your room key with you to the parks.
Self-parking is $32 per day, and leaving it with the valet is $42 per day (plus tip).
My husband has moved us to use self-parking when we are staying at the Swan or Swan Reserve as the walk isn't too bad from the parking lot. If you are parking at the Dolphin, I would consider valet parking. If you have a disability, be sure to let them know upon check-in.
Do you love the Swan and Dolphin Hotels as much as we do? Are you a Marriott Bonvoy member? Do you have any tips we should add that we missed?