Disclosure: This site is sponsored by ads and affiliate programs. We may earn money from the companies mentioned in this post.
As an Amazon Affiliate we may earn from qualifying purchases.
When you're planning a trip to Disney World, the best approach is to strategically plan your bag and what you're bringing into the parks each day.
There are several reasons for this.
It's Disney, and they have rules about what you can and can't bring.
You will be walking and riding rides ALL day, with thousands of other guests, so you don't want to be carrying around a huge bag.
You also don't want to forget anything important!
Today we're going through the list of absolute must-haves. What do you need at the park? We've got some suggestions!
First things first, what bag will you choose? A smaller backpack is one of the best ways to go. Many people will actually choose a fanny pack, for its small size and convenience. This means you will have a quicker bag check through the line, and it doesn't get heavy throughout the day. That being said, a lot of us pack more than will fit in just a fanny pack. So, a small backpack, that has a few zipper sections is ideal.
Here are a few of our favorite options for fanny packs. This fanny pack that can be worn as a crossbody bag or a fanny pack on your waist is my favorite. Check out these options: Minnie, bow, Mickey, Kids, solid colors and non-disney prints, drink holder, and EPCOT inspired.
For backpacks, we love Loungefly bags that you can find in the parks in many different Disney prints. Check out this classic bag and Magic Kingdom inspired bag.
What's in my disney park bag?
Your Disney Pin Trading Lanyard: Let's start with the fun stuff. Are you a Disney Pin Trader? You have to bring your Disney Pin Trading lanyard! You never know when you'll want to trade. Most cast members love to trade pins.
Read More: Best Ways to Display and Safely Carry Disney Pins
An Autograph Book & Pen for Characters: Guess what? April, 18, 2022…Character meet and greets are finally back! Get excited! So you know what that means… you'll need your autograph book and pen! Gotta get those signatures!
Your Favorite Mickey Ears: Remember to pack your favorite pair of Mickey ears! You may want to take them off throughout the day, depending on the ride you're on, so pack them in your Disney park backpack/bag, so that you can put them on when needed!
Your Annual Passes: If you are lucky enough to be an Annual Disney Passholder, don't forget them at home! And make sure you secure them in a zip pocket or smaller bag inside your backpack.
Sunglasses: This one might feel obvious, but it's so important! Don't leave home without your sunglasses. The sun is way too hot and bright for you to walk around the park all day without them!
Water bottle: It's usually going to be hot while you're walking around, and you're going to want to hydrate. What's the best way to make sure you're being eco-conscious AND drinking enough water at the same time? Bring a reusable water bottle of course! Disney even has refill water fountain stations. Check out these two collapsible water bottle options to bring with you (option 1, option 2)
Sunscreen: Continuing on with the hot sun theme, you definitely want to protect your skin. Bring sunscreen that you can reapply throughout the day. You don't want to catch a sunburn while you're in the Most Magical Place On Earth! Find my favorite sunscreen here, and as a bonus, you can use your FSA on Amazon to purchase this one. Find an environmentally friendly option here.
Lip Balm: The sun dries out your lips, and right along with your reusable water bottle, you'll want to keep your lips from getting chapped too! Pack some lip balm for that reason. My favorites are Elta MD or Blistex and they both contain sunscreen. Whichever option you choose, it is best to make sure you have some SPF to protect your lips from that Florida sun.
A Hat: Protect that skin! Bring a hat with you just in case. Enough said.
Hair Scrunchies: Make sure to bring a hair tie, a hair scrunchie, or something to keep your hair out of your face, if you need it! Having a backup is always a great idea in case your scrunchie rips or gets lost. Check out my favorite regular hair ties, spiral hair ties, and scrunchies here.
Your Wallet (unless you're paying digitally): This varies from guest to guest, but unless you're using Apple Wallet or something similar on your phone, or paying through your Magic Band, you'll want to make sure you have your wallet with you! (A safety tip: only bring what you absolutely need and leave your other cards at home! The less you bring with you, the less you risk losing.)
Phone Case with Card Holders in Place of a Wallet: If you do choose to bring your cards, but you don't want to bring your entire wallet, then some people like to bring a phone case that has card slots on the back, for convenience. Before you do this, however, consider that this could be a risk if your cards fly out on a ride or while walking.
Your Magic Band of course! – You absolutely can't forget your magic band! It lets you into the parks! You can use it as a way to pay, and it also acts as your hotel key access, of course.
A Portable Phone Charger: This one is a MUST. Bring a portable phone charger with you and charge it at night so it's ready to go each day! This comes in such handy. When you're walking all over the parks each day, you're taking pictures and videos, sending text messages, calling the people in your party if you split up, and sometimes googling information about Disney restaurants or rides. Your phone is put to WORK. So, you definitely need a portable charger. That way, you can keep walking around while your phone is charging. Also, Disney does sell these if you forget your own, but they are expensive, so we recommend bringing one from home.
Hand Sanitizer: This is always a good idea at the Disney parks, but even more so now, so wash those hands when possible, and bring that hand sanitizer! I also love to bring individual hand sanitizer wipes with me when I am short on space.
Read Also: Can You Take Bags on Rides in Disney World?
Wipes: This may sound like something you only need if you have small children, but hand wipes are a great idea no matter how old you are. If your Mickey Ice Cream bar melts, if you forgot to grab a napkin at the food counter, or for anything else that comes along, wipes are super handy to have.
Band-Aids & First-Aid Cream: A less obvious one, but definitely needed. Pack some band-aids and first-aid cream. When you're at the parks, you're on the go. You'll want to have supplies for any scrapes, cuts, or blisters!
Read Also: Is There a Pharmacy on Disney World Property?
A Poncho: We've all been there. You're having the best time at a Disney Park and then you hear the thunder nearby. It's about to rain and you don't have an umbrella! If you planned ahead, you will have packed a few ponchos for you and your party, but if you forget them, you can purchase them in the park. Ponchos are nice because they cover most of your outfit and protect you when you're running back to the monorail or your car.
Camera (DSLR or disposable): Most people like to bring some sort of camera to the Disney parks. Whether it be a DSLR photography camera, your vlog cam, a film camera, or disposable camera, don't leave it at home! Make sure you have the batteries, chargers, or film that you need to go with it. Get ready to snap some awesome pics!
A Personal-size Hand Fan: It gets really hot, especially in the summer at Disney World and Disneyland. If you're the type to need air conditioning at the first sign of sweat, you might want to bring a personal fan! It's always nice to get one of the battery-powered, handheld fans that will fit in your bag. BUT, Disney does actually sell larger personal fans that spritz water on you. Another option, are the kind of mini fans that actually plug into your phone charger port! These are more common to stop working after a few uses, but it's all up to your personal preference!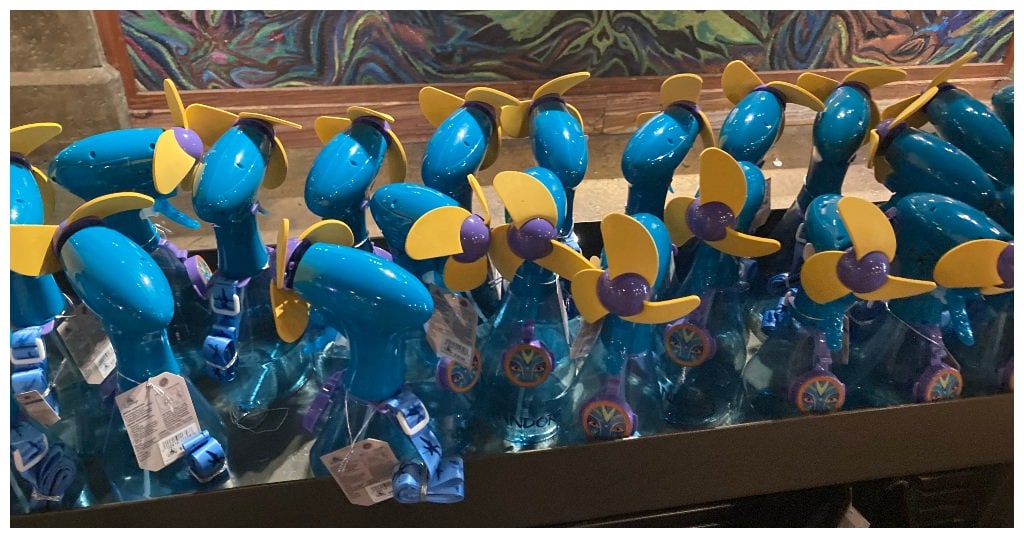 What should you not pack in your Disney Park bag?
Disney has some rules about what not to bring including loose ice, weapons, alcohol, and selfie-sticks so leave these out of your bag. Avoid large items and pack small travel sized items to help you save space and keep your bag light for long park days.
Read Also: What Are the Best Shoes for Walking Around Disney?
Now that you've got some ideas of must-have items for your days at the Disney Parks, get packing! If you prepare your bag now, you'll feel ready to go, and be able to enjoy your trip worry-free!