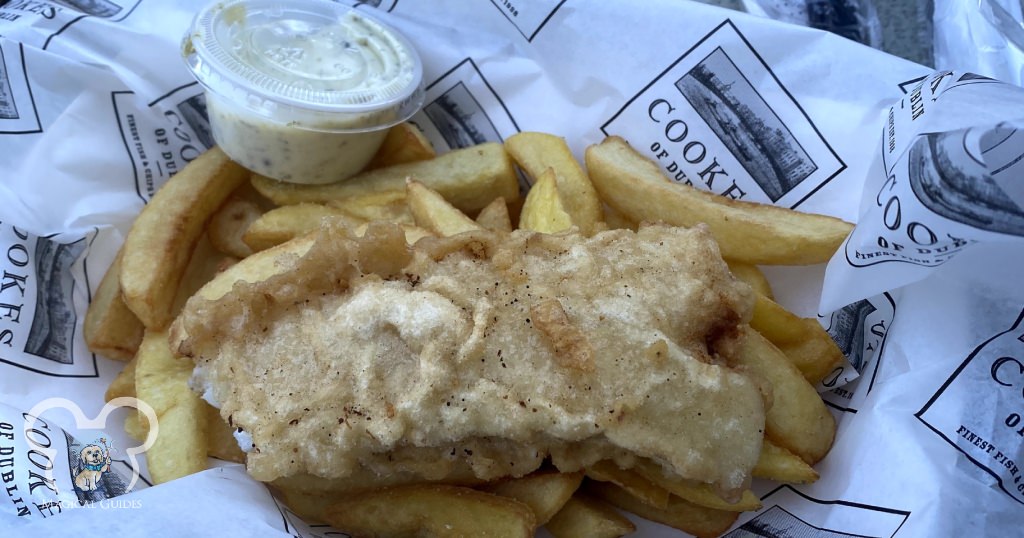 Fish and chips are a classic British dish that people from around the world love to enjoy. When spending a day at EPCOT's world showcase, there's no better place to try this meal than at the United Kingdom.
That being said, it's not the only spot that you'll find fish and chips at Walt Disney World. Keep reading to learn where some of the best fish and chips on property can be found, though if you are a UK native you may want to skip this meal at the Walt Disney World Resort until you return home.
Make sure you check out the My Disney Experience app for more information about Walt Disney World Dining, including menus and food items offered throughout the Walt Disney World theme parks and resorts.
What Country Has Fish And Chips in EPCOT?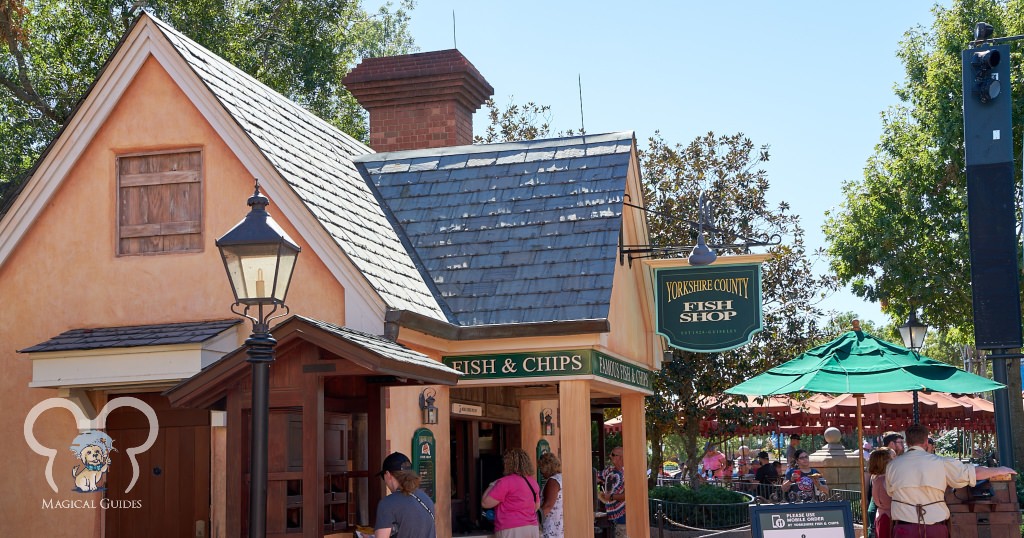 The UK pavilion is home to fish & chips in EPCOT. When entering through the international gateway, you will want to turn left to find the United Kingdom Pavilion. If you see the France pavilion, you have gone the wrong way.
Here you have two options when it comes to ordering this meal both offering waterfront dining.
For one of the best quick service meals, head to the walk-up window at Yorkshire County Fish Shop. This is on the outside of the pavilion and has some outdoor seating nearby overlooking the World Showcase Lagoon.
It's open from 11 am each day until just before park closing, and you can use the My Disney Experience app for mobile ordering to make meal time fast and simple. The menu is quite limited here, but you'll find a reasonable portion size of two pieces of fish and chips with Malt Vinegar available for $12.99.
For a table-service dining option, head next door to the Rose & Crown Dining Room. This sit down restaurant does get very busy, book ahead or join the walk-up list on the My Disney Experience app.
Fish and chips are served here for $26, and they come with tartar sauce on the side. It's the pub's signature dish and well worth trying if you come here.
Diners can also choose from other classic traditional British fare, such as Bangers and Mash and Shepherd's Pie, as well as a wide range of beers at the bar. If you are looking for a vegan option, be sure to ask your server. They have a vegan fish and chips option that you won't find on the menu.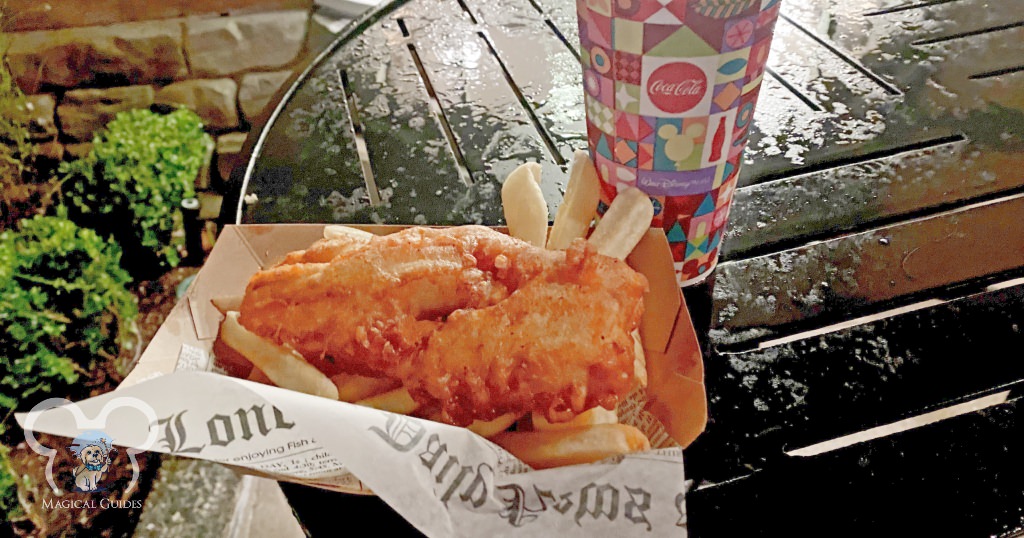 Is There Fish And Chips at Magic Kingdom?
You won't find your typical British fish and chips at the Magic Kingdom. Columbia Harbour House is a quick service restaurant in liberty square that does offer fried fish and french fries.
You'll also find other seafood options on the Columbia Harbour House menu or chicken tenders. There are some great combo platters on offer and you can order in advance on the app for a quicker meal during a busy day in the parks.
One of the things we really like about dining here is that there is plenty of seating even on the busiest days in the theme park. The upstairs area is really nice for a good break from touring the Disney parks and will help you get out of the crowds for a while.
What Fish Is Used For Fish And Chips In Disney World?
The answer to this question may vary slightly depending on where you are eating your fish and chips in Walt Disney World. Ask a cast member at the dining location for the exact answer or check out the menu for more details.
At Cookes of Dublin in Disney Springs, their Famous Fish N' Chips are made from premium North Atlantic cod, which is beer battered and served with house made tartar sauce. I didn't care for the fish & chips here and prefer the fish & chips from EPCOT instead.
Not all of the fish and chips on property will be made with cod though, so double check if this is something you are picky about.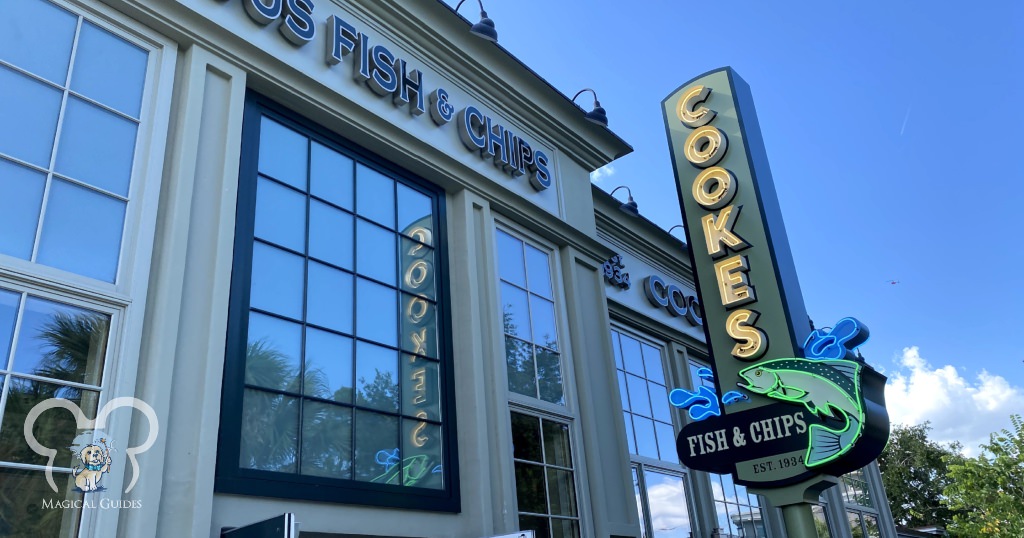 Which Disney World Spot Has the BEST Fish and Chips?
You'll be impressed with the many options you have for fish and chips in Walt Disney World. In EPCOT, you'll certainly want to visit the Yorkshire County Fish Shop or the Rose & Crown Pub. These both offer fish and chips that are fairly close to the classic ones served in the UK.
We have tried both the EPCOT Yorkshire County Fish Shop and Cooke's locations at Disney World and Yorkshire County Fish Shop is definitely better than Cooke's in Disney Springs. That's our personal opinion, let us know yours below!
The price point of the Yorkshire County Fish Shop menu is very fair, so you'll find it's a good value for money meal that will keep you full for the rest of the day.
We also really enjoy the dining options at Disney Springs when it comes to finding great fish and chips. Cookes of Dublin is a good option for a quick service location.
Their Famous Fish N' Chips is just $15.99 and offers a very hearty and filling meal. On the menu, there are other great options, such as Chicken and Wild Mushroom Pie or the Hog in a Box, which is a slow roasted pork shoulder.
Don't miss the crushed garden peas or curry sauce as well, which are the perfect side to go with your fish and chips.
For an entertaining and lively meal at Disney Springs, head to Raglan Road Irish Pub. This table service restaurant and bar offers fish and chips on the menu, which includes North Atlantic cod, chips, and fresh tartar sauce. We also really appreciate that they offer gluten-free fish and chips, which can be harder to find on menus.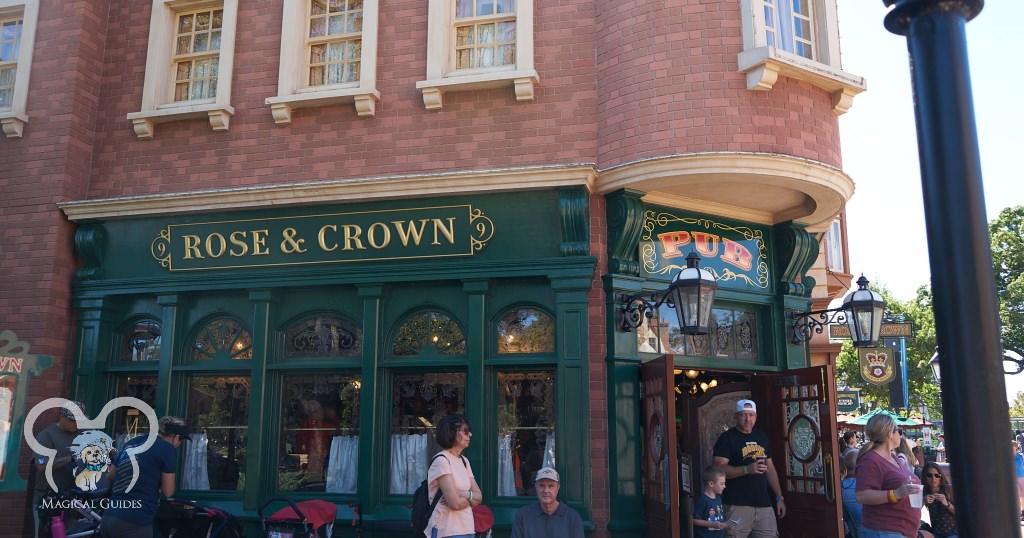 How Much Are Fish and Chips?
The price of your fish and chips will vary based on where you choose to dine. For a cheaper meal, choose one of the quick service options we've shared above.
At the Yorkshire County Fish Shop, you'll pay just $12.99 for a full meal, which will keep you going for the rest of the day or night. A table-service restaurant will naturally cost you a bit more, with the rose & crown serving fish and chips for $26.
Of course, this type of dining location offers you the chance to sit down and enjoy a break from the crowds, which is much needed on a busy day in the theme parks.
Fish and chips are something that everyone can enjoy when next visiting Walt Disney World, thanks to the many different locations that offer this meal. The United Kingdom pavilion is our favorite place to enjoy this dish, as you can immerse yourself in the theming of these dining locations while enjoying your lunch or dinner.
Even if you don't eat fish, you'll find a variety of other British dishes on the menus at all of the restaurants we've shared above, offering something for everyone in your travel party to enjoy during your next vacation.