Most people who start planning their perfect Disney World Vacation are presently surprised when they find out all the magical experiences Walt Disney World has to offer. Everyone knows about visiting the theme parks, the decadent food, and great shopping Disney has to offer, but not all guests are aware that Walt Disney World is also offers championship golf courses! With four amazing golf courses and year-round warm weather, this is a dream destination for any age and skill leveled golfers.
Golf Courses
Walt Disney World offers four golf courses, Disney's Magnolia, Disney's Palm, Disney's Lake Buena Vista, and Disney's Oak Trail. The Magnolia, Palm, and Oak trail courses are located at Shades of Green Resort, located behind Disney's Grand Floridian. The Lake Buena Vista course is located beside Disney's Saratoga Springs Resort. Each course is beautifully landscaped and offers unique Disney experiences throughout the course. (Fun Fact: Many of the bunkers across the four golf courses are Hidden Mickey's, so make sure you keep count of the ones you see!)
Disney's Magnolia Golf Course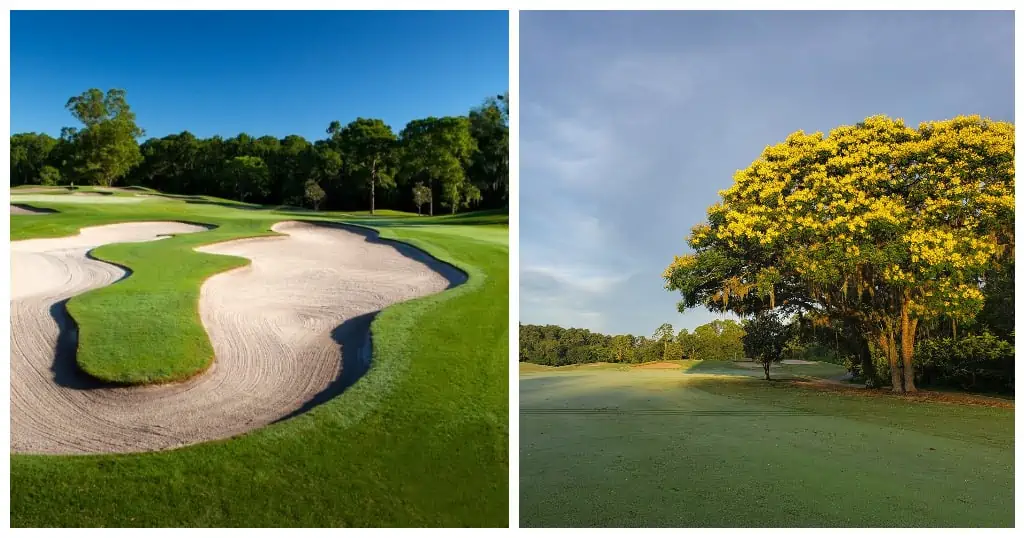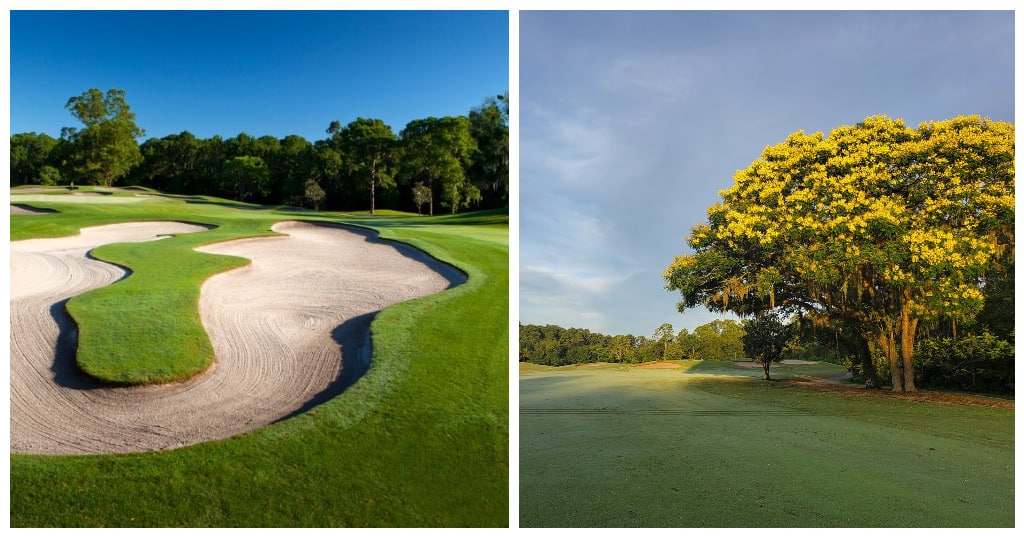 The longest of the Disney golf courses, this 18-hole course has a classic Tour style design and is a championship golf course. This course is named after the beautiful Magnolia trees that line the property and has that "Old Florida" feel to it. You will want to know 11 of the 18 holes boast water hazards and there are 97 bunkers across the landscape. You can watch the monorail go by as it travels to and from Disney's Grand Floridian Resort. Wanting to play the same golf course as many of the pros? Disney's Magnolia was featured in the Master's Championship! Even Tiger Woods has been known to visit this top-notch course when in town!
Disney's Palm Golf Course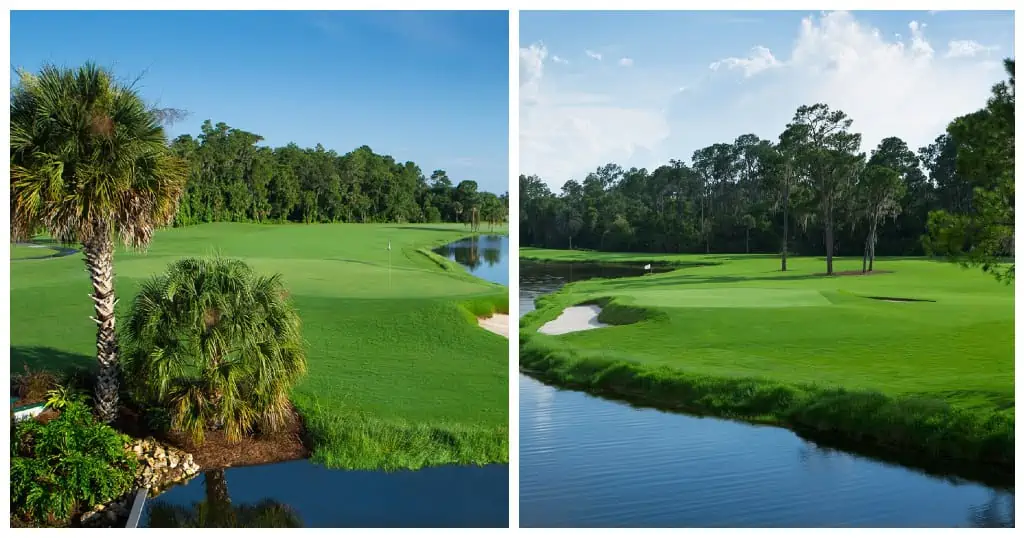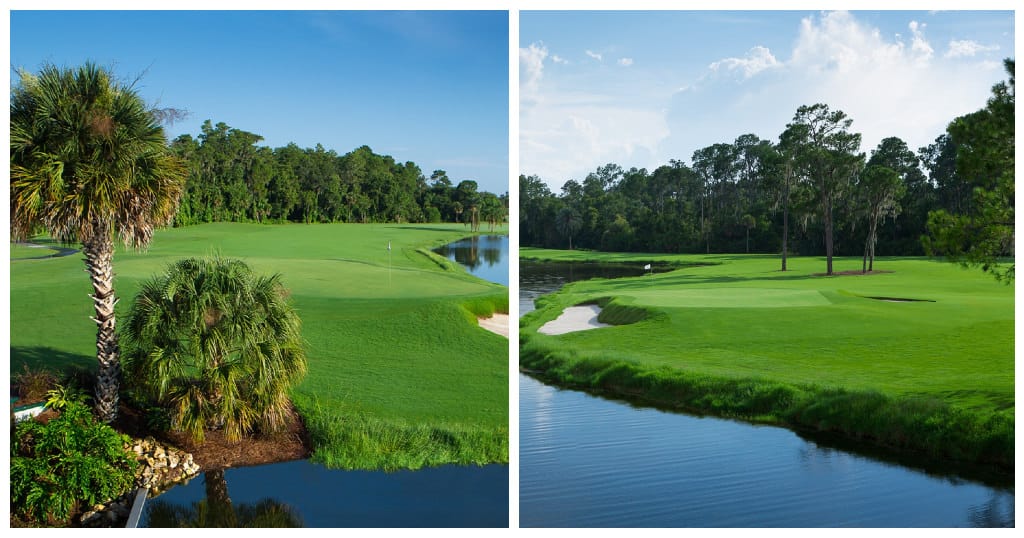 Disney's Palm Golf Course is a championship, 18-hole golf course, also located at Shades of Green. This alluring course features shimmering lakes, tropical sands, palm trees, and views of Disney's Polynesian Resort and Disney's Grand Floridian Resort. One fun fact here is that Disney's Palm is operated by Arnold Palmer Golf Management and was completely redesigned in 2013 by Arnold Palmer Course Design. Disney's Palm is rated 4 stars by Golf Digest. 9 of the 18 holes have water hazards, and there are 59 bunkers on the course. The Palms 18th hole has been rated among the 10 toughest holes on the PGA Tour many times, so stop by and test your skills at this top-quality course.
Disney's Lake Buena Vista Golf Course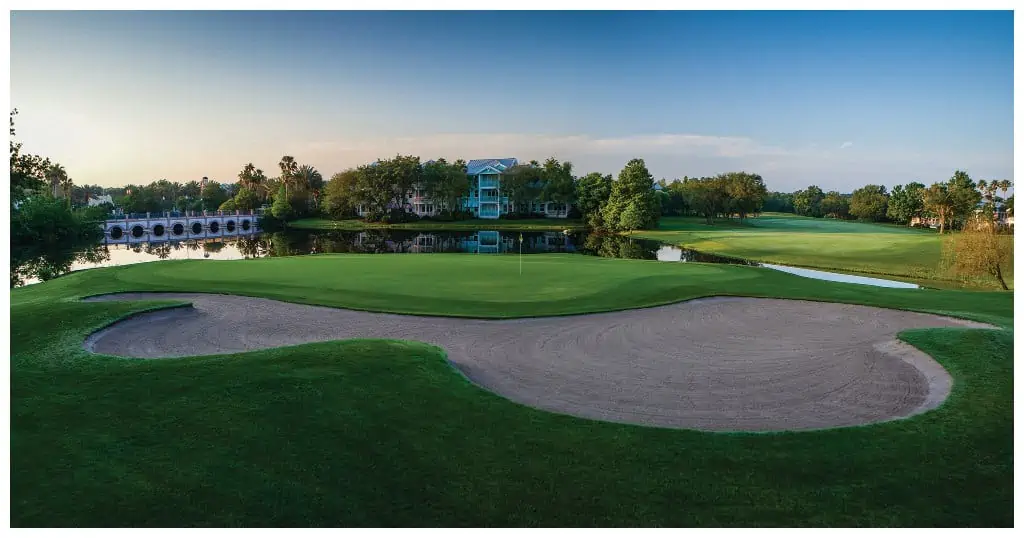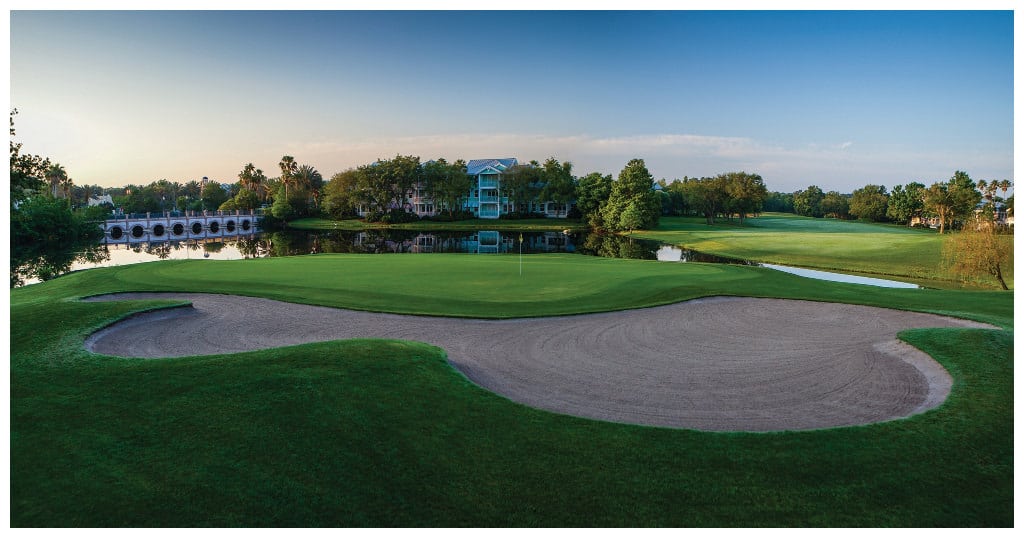 Located at Disney's Saratoga Springs Resort is the World Class Lake Buena Vista Golf Course. This course has hosted the PGA Tour, The LPGA Tour, and USGA Events. This is a Cooperative Wildlife Sanctuary certified by Audubon International. This course has elevated bunkers where you can test your skill and even has a challenging seventh hole that even has an island green! This is also an 18-hole golf course and has an elegant, well-kept country club atmosphere to it.
Disney's Oak Trail Golf Course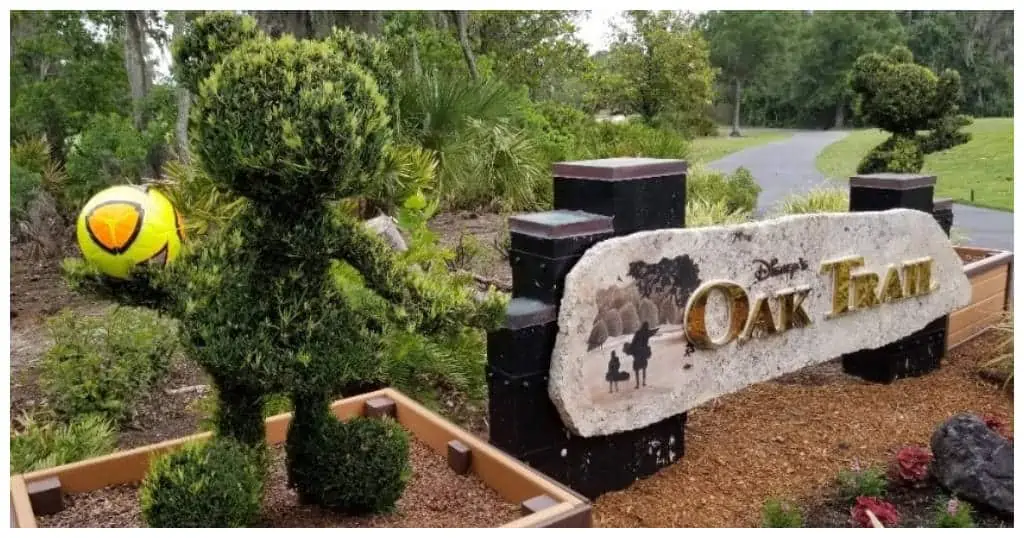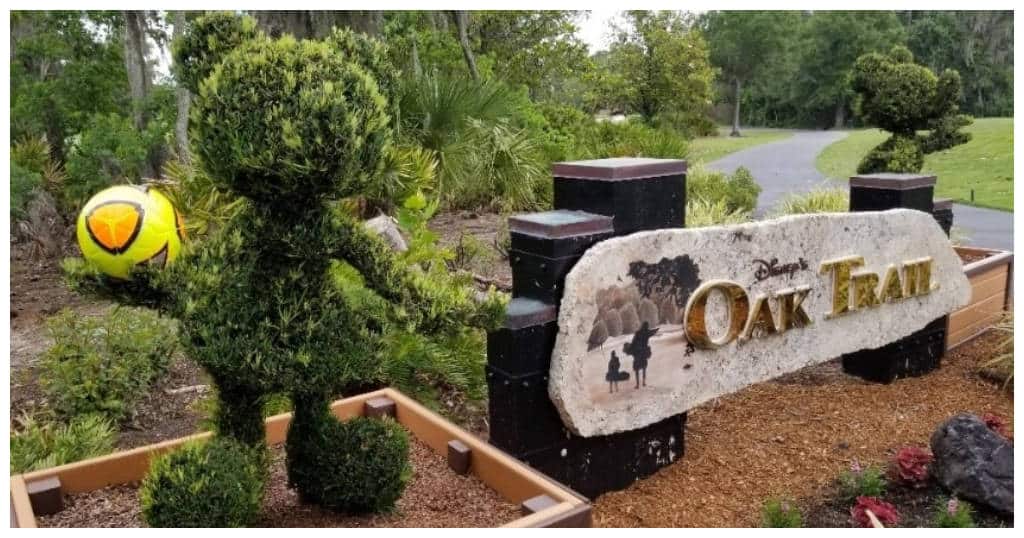 Disney's Oak Trail Golf Course is a 9-hole course with magnificent greens! This is also a Cooperative Wildlife Sanctuary certified by Audubon International and is the best course to see wildlife! If you are wanting to bring the kids along with you, this is the course you will want to pick. Oak Trail offers junior tees for the golfers who are just starting on their journey.
FootGolf is also offered at this course! FootGolf is a fun game where the course is set up like a golf course, but you use a ball similar to a soccer ball and kick it into the holes. Oak Trail is a 9-hole FootGolf Course that is Certified by the American FootGolf League. Something to keep in mind about this court is this course is a walking only course. The course is flat to make it easier for walking, but if you think you may have a hard time walking through the course, you may want to choose another course for your trip.
Driving Range and Lessons
Wanting to work on perfecting your swing or short game? Stop by and work through a basket at the driving range or work on those all-important putts at the practice green. You can also schedule a private lesson, which are 45 minutes with one of their PGA certified instructors. Go back home from vacation a step ahead of your competition!
Disney's Junior Golf Clinics and Camps
Walt Disney World Golf offers instructional golf clinics and camps for junior golfers. Kids ages 7-17 can join a clinic or camp at Walt Disney World and have world class training with professional instructors. Help your junior golfer take their skill to the next level. They offer short game and full swing skill development, oncourse management, and performance training. They offer many clinics throughout the week. You can go to the Walt Disney World Golf website to find out the exact dates that are available and to book a clinic for your little one.
Golf Carts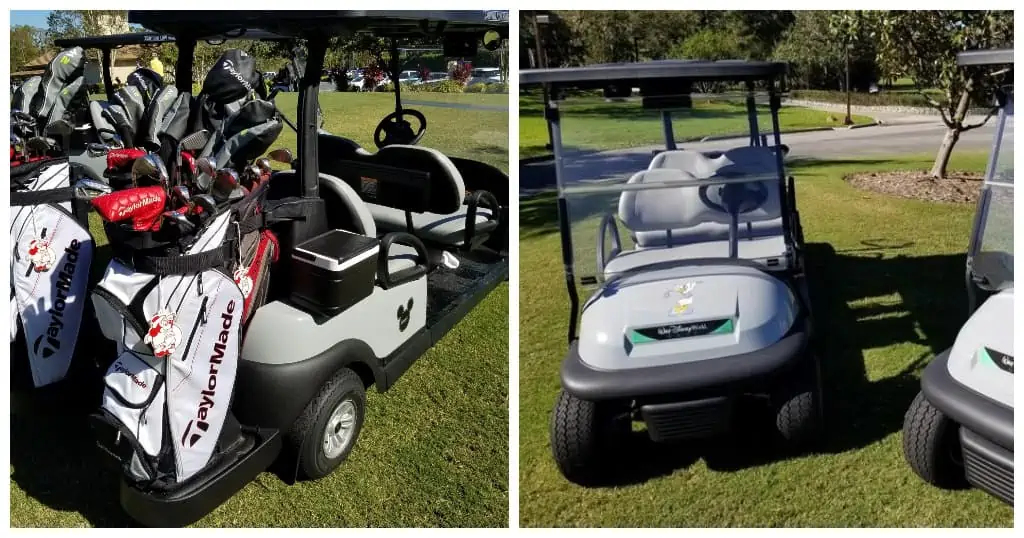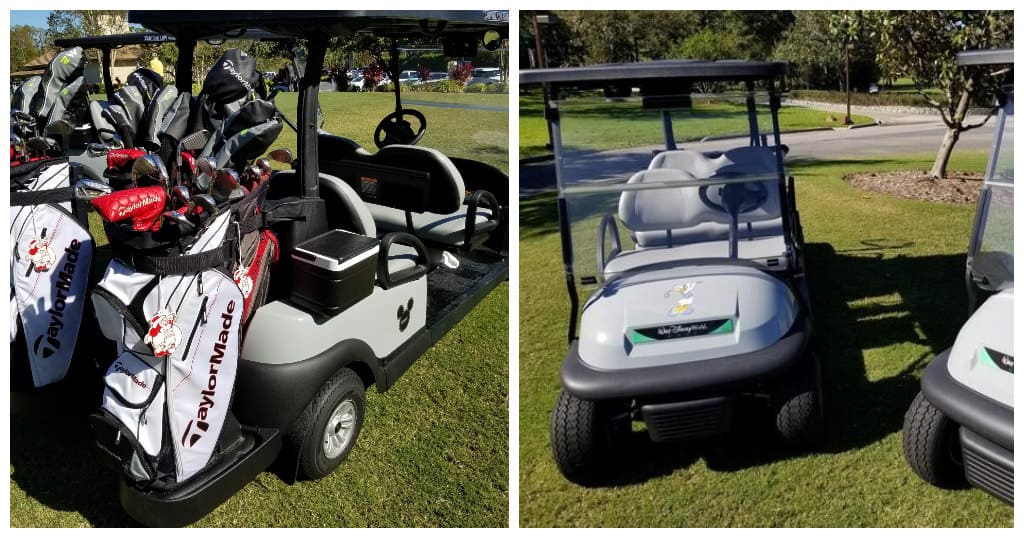 Golf carts are available and are included in your greens fee. Carts are intended for up to two guests and have a small cooler for refreshments. Each golf cart is equipped with GPS which shows images of hazards, hole maps, bunkers, and more to help you while you are enjoying your time on the green. Players are required to use a golf cart on Magnolia, Palm and Lake Buena Vista courses.
Pro Shop and Clubhouse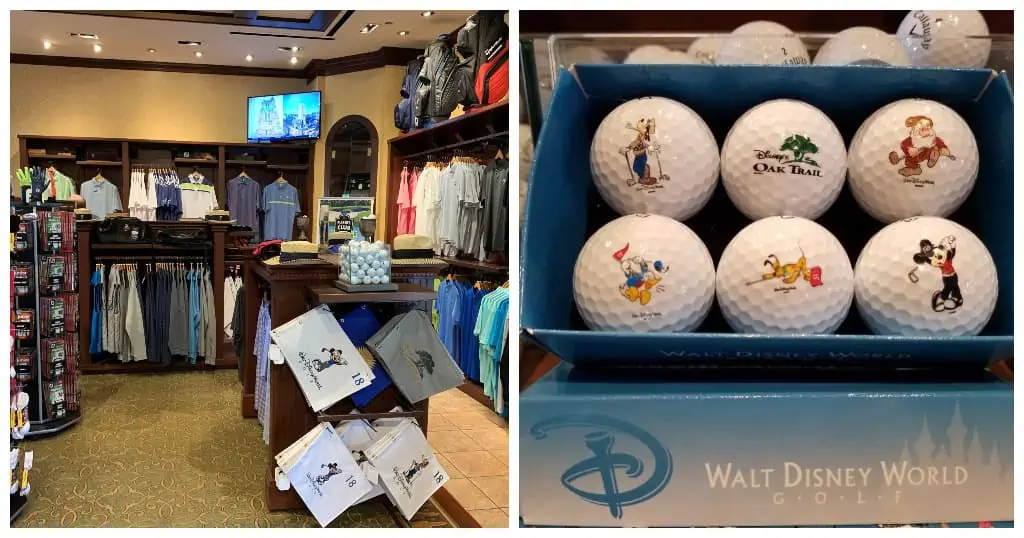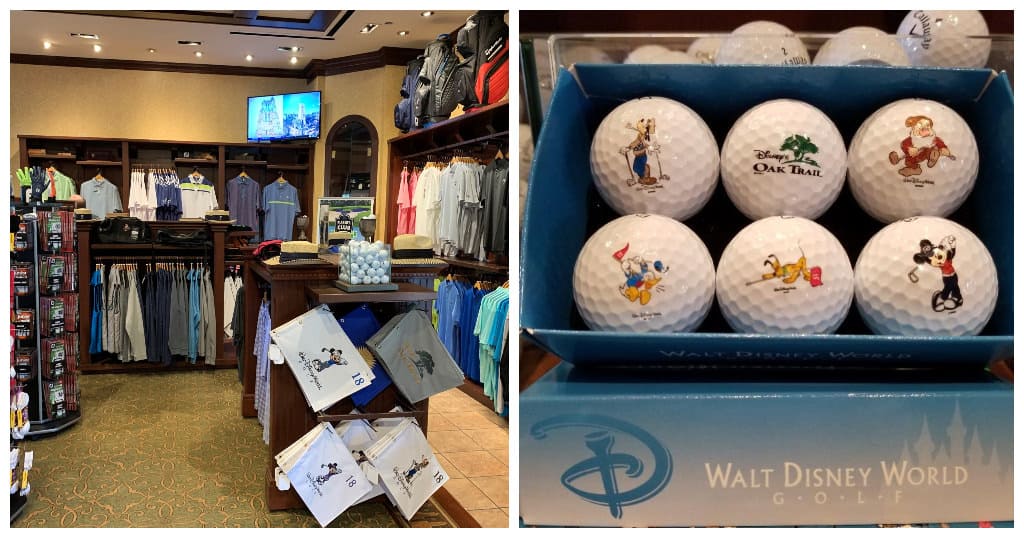 There are two Pro Shops located at Walt Disney World. Disney's Magnolia, Palm and Oak Trail Pro Shop is located at Shades of Green, and the other is located at Disney's Saratoga Springs. The Pro Shop has a large selection of golf merchandise and top of the line rentals. You are able to rent everything you will need for you day. You do not need to reserve shoes or clubs in advance. If you already have your own gear, stop in to grab yourself some great souvenirs to take home with you.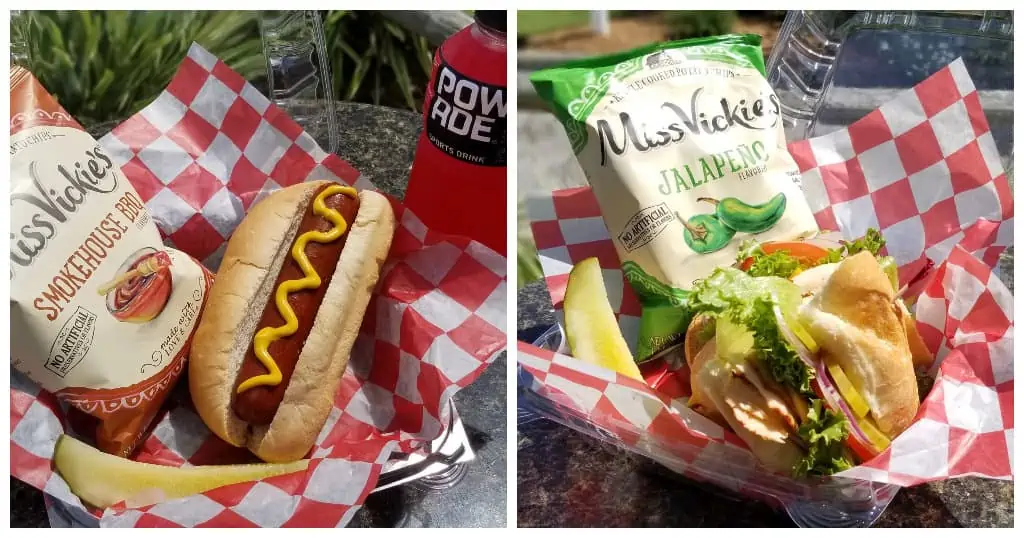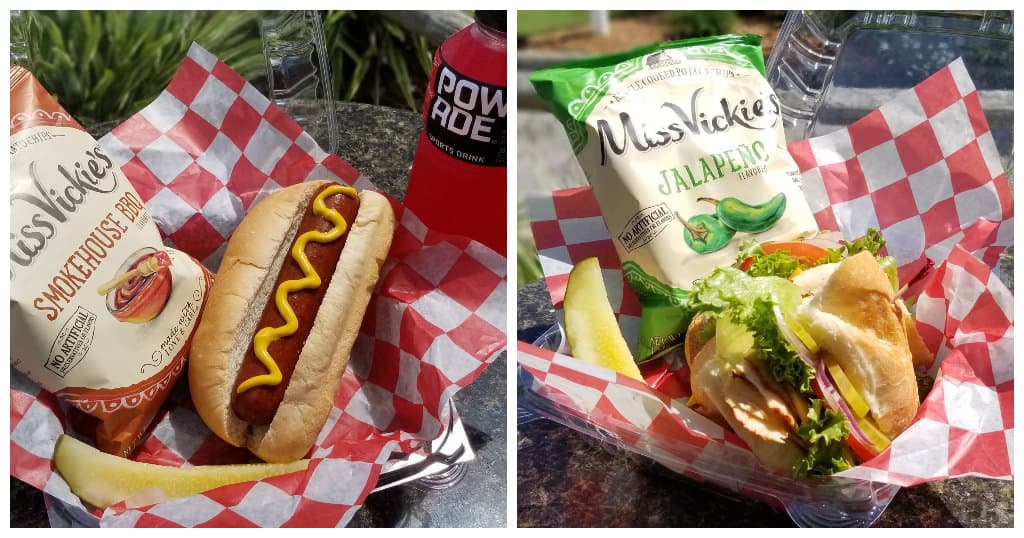 The Walt Disney Clubhouses provide food and beverages services, locker rentals, and shower services. Chip 'n Dale's Deli is in the Magnolia Clubhouse and offers classic deli meals such as sandwiches, burgers, salads, pizza, drinks, and more. After enjoying your meal here head over to The Champions Room, which is decorated with plaques honoring the winners of every PGA Tour's Children's Miracle Network Hospitals Classic.
Booking Your Tee Time
When booking your Tee time to get the lowest and best rates book directly with Walt Disney World Golf through www.golfwdw.com or by calling (407) WDW-GOLF (939-4653). Booking through Disney Golf you can book 90 days in advance and a credit card is required when booking. You are not required to have a reservation, they do try to accommodate walk-ups, but it is not guaranteed.
If you do not mind early mornings, I would highly recommend booking early morning. Booking your tee time first thing in the morning will give you beautiful views of the sunrise and you may even catch some of the wildlife at Disney! Many people see deer, rabbits, and even turkeys!
Tips to know before you go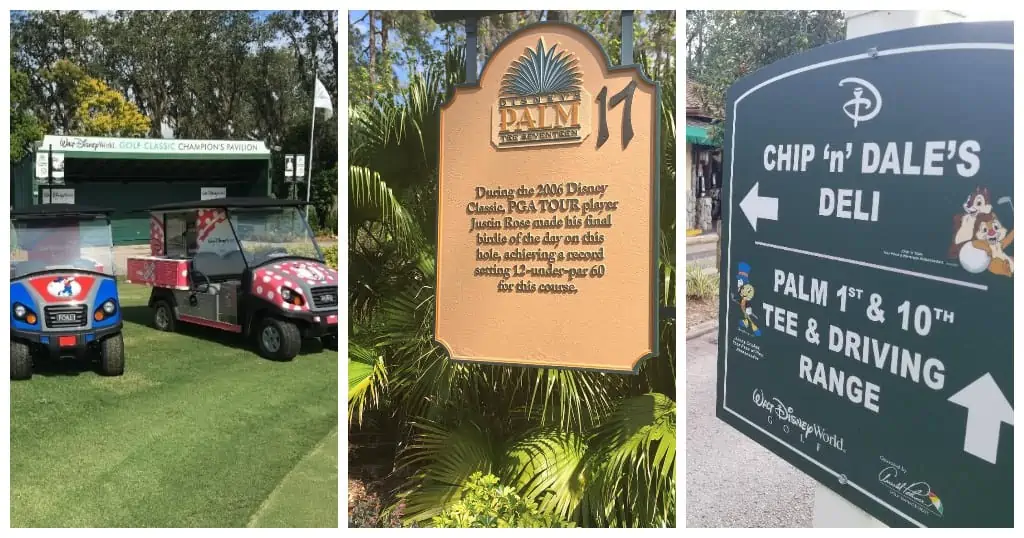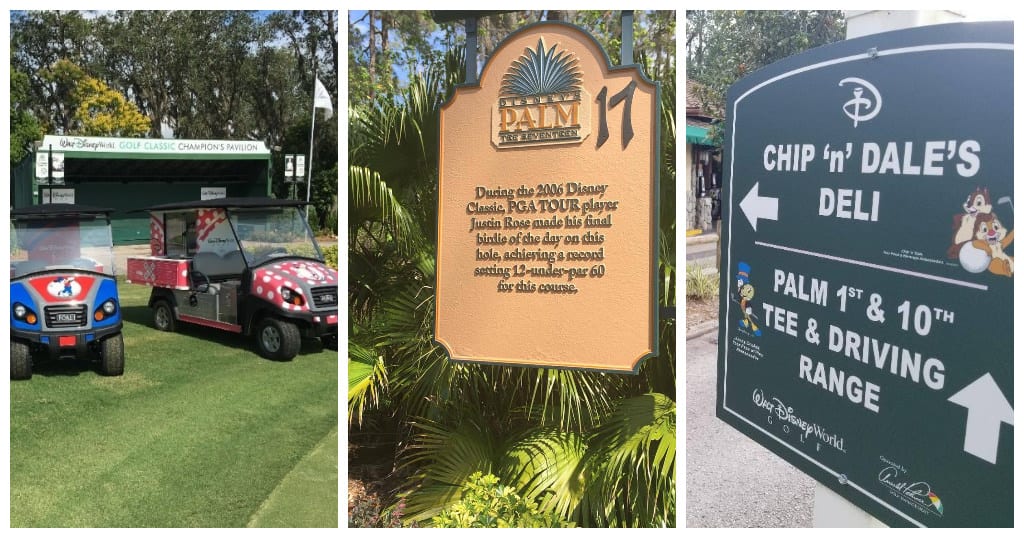 Before booking your tee time at Disney, here are a few tips and some information you will want to know before you go:
Non-metal spike shoes are only allowed on all courses. Players may wear shoes with metal spike alternatives or tennis shoes.
Reservations are highly recommended, but not necessary. (You will have a better chance of walking up and being able to play if it is a single golfer or twosome.)
Arrive at least 30 minutes early to allow time for checking in and getting warmed up.
Non-Players are allowed, but there is a fee.
All four courses have a dress code that must be follows:

Polo-style shirts with collars

Slacks, skirts, or Bermuda-length shorts

Suitable shirts or blouses (with or without collars)

No jean shorts or pants are allowed

Cost depends on many factors from dates, seasons, and courses.
Single players may be paired with other groups. When golfing at Disney, players are usually put into groups of four. If you have a larger group, they will schedule that, however, they try to only schedule four at a tee at the same time.
Depending on the seasons you can usually book your tee time between 6:00 am and 6:00 pm.
You cannot bring personal coolers or food and beverages. All four courses have food and beverage carts that drive around, that offer food and drinks to be purchased. There is also a personal cooler on each golf cart you can use with the food and drinks bought from Disney.
Cast Members do drive around on golf carts to help you throughout your golf game to see if there is anything you need. This is super helpful so if you need something quick you do not need to stop your game to go back.
When you book your tee time, Disney offers many different packages. I highly recommend choosing the Sunrise 9 Package. This includes a 9-hole game, a morning drink, breakfast (usually a breakfast sandwich), and a post round drink, all for one great price!
While Walt Disney World Theme Parks and attractions may be why you choose to visit Disney, don't forget to book your tee time at one of Disney's world class courses. With elegant clubhouses, serene landscapes, challenging courses, and well-kept greens, it may be the best part of your Walt Disney World Vacation. Which course will you pick on your next Walt Disney World Vacation?