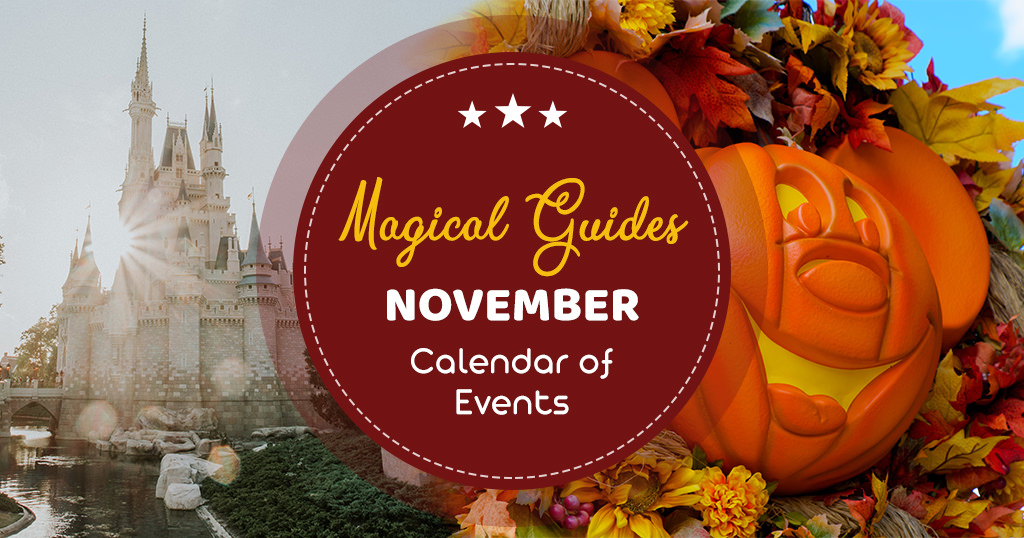 November is a great time to visit central Florida. Is there really a bad time to plan your Disney World magical vacation? My husband likes to tell people that any day in Disney World is a great day and is always better than being at work.
Being from Maine, and now a native to North Carolina I greatly enjoy visiting Florida during November. Cooler temps offer a great opportunity for an enjoyable vacation if you plan accordingly.
Did I mention that it's a great time to visit due to all the Christmas decorations? I love the holiday season tradition of being inside the parks at Disney World. Christmas decorations tops them all for me.
Florida is often referred to as the "Sunshine State" and is well known for its warm weather, but don't let those sun rays fool you. It can get cold during the winters, even at Walt Disney World.
Most of the time the winters in Florida are mild. It can be one of the best times to visit Disney.
If you are wondering if November is a good time to visit The Most Magical Place on Earth, here is some excellent information you will want to know before planning your trip.
Is November a Good Month for Disney World?
November is a great time of the year to visit the parks if you love the holidays. These are a few of the top reasons to visit this month.
Pros of a November Disney Trip
Cooler Weather – If you struggle with hot weather, you'll find November to be a good time to visit Walt Disney World. The temperature drops quite a bit this month, but there are still a few days to enjoy swimming and sunbathing.
Holiday Decorations and Parties – We know that not everyone wants to brave the holiday crowds when it comes to December. For that reason, booking a November trip gives you the best of both worlds. You can still enjoy the decorations and parties without dealing with the high crowd levels all month long.
Epcot International Food & Wine Festival – Enjoy the last few weeks of this popular festival before it closes for the year.
Cons of a November Disney Trip
Thanksgiving Crowds – While it may be unavoidable for you to travel during Thanksgiving week, make sure you plan ahead for the crowds. This is one of the busiest weeks of the year, so accommodation can book up months in advance.
Weather Not as Hot for Water Parks and Swimming – A huge part of an Orlandovacation for many families is swimming and visiting the water parks. The weather can be very hit and miss this month. Some days you'll find that it's warm enough to swim, whereas others you'll want to keep a light sweater on all day.
Is November a Busy Time for Disney World?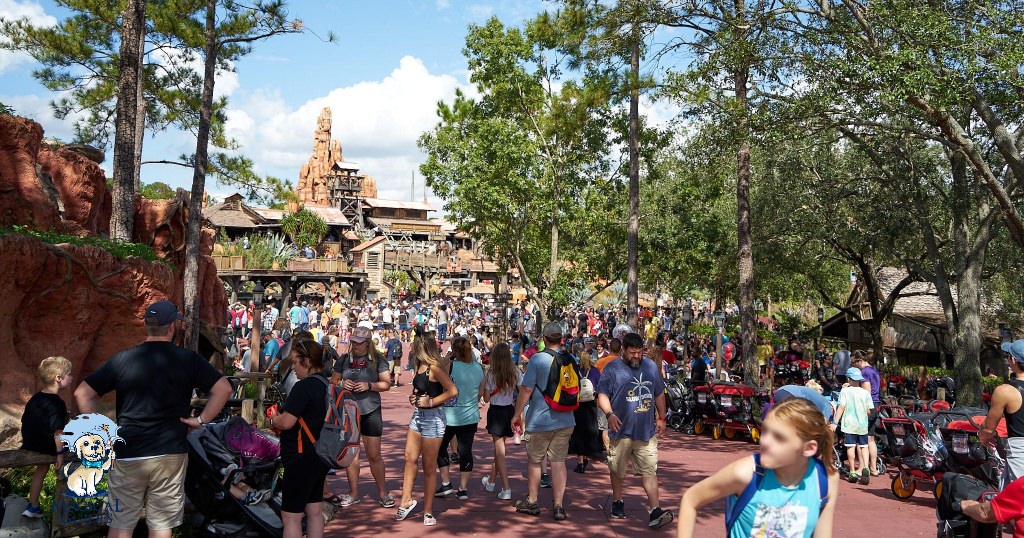 (Photo by Bayley Clark for Magical Guides)
In November, the Disney World Crowd Calendar can fluctuate greatly. The beginning of the month is typically less crowded and a great time to visit if you want to avoid the crowds.
You have the folks that came for Halloween heading back by the 5th of November, and people coming down for the Thanksgiving holiday. November 6th-19th will be the cheapest times to visit especially.
The weekday crowds will be lighter days for Disney World. Avoid Saturdays in November as they will likely be very crowded.
If you wanted to increase your chances of lower wait times, rope drop, particularly EPCOT if you wanted to ride Guardians of the Galaxy: Rewind, my favorite coaster at Disney World.
Special Events in November at Walt Disney World
Walt Disney World is well known for amazing events year-round. Disney always has something fun and new to do while visiting, and November is no exception. If you are visiting Disney in November, here are some events you can experience on your trip
RunDisney Wine & Dine Half Marathon Weekend
The first weekend in November hosts the Disney Wine & Dine event. This will bring big crowds to Disney World.
You will find several events this weekend including the Disney Wine & Dine 5k, Disney Wine & Dine 10k, Disney Wine & Dine Half Marathon, Disney Two Course Challenge, and the Post-Race party.
If you are not a runner, you may want to consider another time of the month for your Walt Disney World Vacation.
Epcot International Food & Wine Festival
This festival is in its final month of the year and usually runs for the first three weeks of November. Make sure you check out any of the food booths you haven't got to yet this year before it closes.
Christmas Parties in the Magic Kingdom
Now that Halloween is over and the Mickey's Not So Scary Halloween Party is over, the Magic Kingdom does a quick turnaround to welcome Christmas into the park. November 1st the Halloween decorations come down and Disney starts to put up Christmas decorations.
Christmas decorations are usually finished by November 8th or 9th. You can enjoy Christmas decorations and holiday treats in the parks the entire month.
Usually, by the end of the first week of November, you can enjoy the after-hours Christmas party. Mickey's Very Merry Christmas Party is a special ticketed event for Magic Kingdom that you won't want to miss!
Read Also: The Best Way To Get To Universal Studios From Disney World
Ticket prices will be around $200 for the party but you will not need an additional park ticket to enter the park at 4pm or later. If you want to go to Magic Kingdom in the morning, you will need theme park tickets.
EPCOT International Festival of the Holidays
If you find yourself at EPCOT after November 25th, good news, expect the park to be starting their Christmas transition and celebration of the most magical time of year. In the America Pavilion most evenings can see the Christmas story retold by a celebrity guest speaker. Grabbing a cup of hot chocolate or a turkey leg and listening to Christmas classic hymns is a great way to spend the evening in EPCOT.
Holiday Celebrations
The Christmas decorations make their way up during the first few weeks of the month. Epcot is usually the last park to get all of their festivities underway, but the others will begin to welcome special entertainment and dining offerings.
Make sure you put aside some time to explore the resorts as well, which look beautiful when they are decorated for the holiday season.
Holidays in November at Walt Disney World
Veterans Day
Veterans Day falls on November 11th each year, which is a Friday in 2022. You'll find that there might be slightly higher crowd levels as it's tagged onto a weekend, but it's not a big issue when it comes to crowds.
Thanksgiving
November 24th, 2022, is Thanksgiving this year, and we expect this to be a hugely popular time to visit the parks. There are special meals on offer throughout some of the Disney resorts, and the resorts book up well in advance for this week. Both locals and visitors will be out in full force during this time, so think carefully about booking a trip over this week.
Christmas
Christmas Day is in December, but you can enjoy the decorations in November at Disney World. Though if you wait to put your Christmas tree up after Thanksgiving, you may not be interested in being festive this early.
Is Disney World Decorated in November?
One of the most asked questions in our Walt Disney World Secrets group on Facebook is, "When Does Disney World Decorate for Christmas?. Disney World begins decorating on November 1st.
Halloween decorations are taken down and replaced with Christmas decorations. If you have ever seen Disney at Christmas time, you know that they go all out for Christmas.
Decorations take between 8-10 days for cast members to fully put up all of the decorations. The last week of October and first week of November is a popular time for guests to plan their Disney World Vacation so they can see the changeover of decorations.
If you want to see the full Christmas picture at Disney World, you will want to book your trip after November 8th.
Operating Hours for November
November starts off a little quieter before crowds ramp up towards Thanksgiving. Park hours usually reflect this, and we expect Disney to extend the hours as we get nearer to the time.
Below is a rough idea of what you can expect from the parks this month. We encourage you to make the most of the early morning hours if you are staying on-site, especially during Thanksgiving.
The Magic Kingdom will close early after the first week of the month, a few days a week. This is for Mickey's Very Merry Christmas Party, which is well worth adding to your vacation if it's in your budget.
Magic Kingdom – 9 am to 9 pm or 10 pm (with some early closing times for the Christmas parties after the first week of the month)
Epcot – 9 am to 9 pm
Disney's Hollywood Studios – 9 am to 9 pm
Disney's Animal Kingdom – 8 am to 8 pm
Water Parks – 10 am to 5 pm each day. One park will usually be closed throughout the month for its refurbishment period.
Disney Springs – 10 am to 11 pm
The Weather at Walt Disney World in November
November sees high temperatures of 78°F and lows of 59°F throughout the month. You'll find that there are only about three days of rain this month, which makes touring much easier.
To put the temperature in perspective anything below 68, Floridians will start dressing in layers, and jackets only to remove them as the day progresses.
Typically, there aren't many rain days in the month of November. It is the last month of hurricane season though so keep in mind it could be rainier than expected if a storm passes through.
Let's be clear about November, it's still hurricane season officially under November 30th. So that means conditions are possible for thunderstorms, rain, and just overcast in general. So check the forecast before you leave out on your trip. Disney is fantastic at preparing for hurricanes, but that doesn't mean you should throw caution into the wind.
One of the biggest perks of visiting Orlando in November is that there is typically much less rainfall than in the summer months. During the summer months, you can expect rain daily, unlike the fall, which rarely gets rain weekly. Orlando can get rain year-round, but November rarely gets much rain.
You will want to be prepared with a cheap poncho in case of rainfall. One of the biggest perks of rain at Disney is that it can clear the park from many guests not being prepared, leaving the parks less crowded and shorter wait times.
Most days at Disney in November will be warm and cold, in the 70s during the day and in the 50s at night. Make sure to pack lots of layers to be prepared for the weather during your stay. If you plan to watch the fireworks inside Magic Kingdom it would be a good idea to bring a light jacket for the cooler temperatures if you get cold easily.
Are Disney World Pools Open in November?
The weather in Central Florida tends to be a little bit cooler in November. This leaves guests wondering if it will be warm enough to enjoy the pools and water rides at Walt Disney World.
Keep in mind that one of the water parks will usually be closed for refurbishment at this time. The water parks are less popular this time of year, but one park will always be open. Guests from Northern states may find that this is the best time to go to the water parks.
All of the resort pools are always open year round for guests even in cold weather.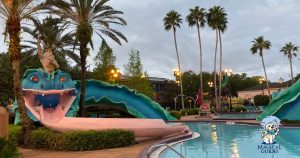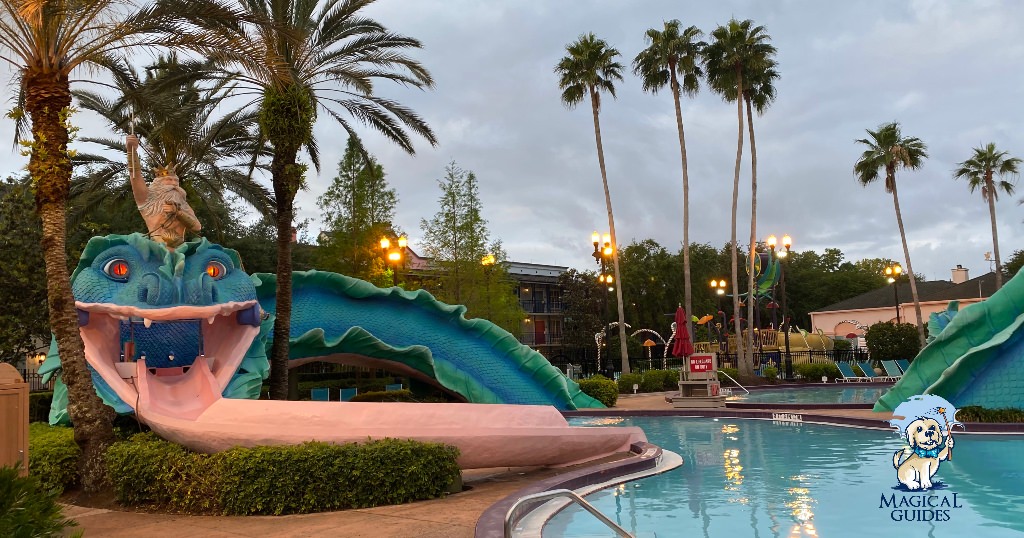 (Photo by Bayley Clark/MagicalGuides)
Is it Warm Enough to Swim at Disney World in November?
The resort pools are always open at Walt Disney World. Whether or not you want to swim is your personal preference. Guests from warm climates may find the 70s too cold to swim while guests from cold climates are warm enough to swim.
No matter the season you visit Walt Disney World, you will always want to make sure you have your bathing suit packed. The Disney Pools are open all year long, no matter the season. It may be cold in November, but typically it is warm enough during the day to take a swim.
The average high temperature in November is 74 degrees (F), warm enough to cool off in the pool. Don't worry about the pool temperatures, Walt Disney World Resort Pools are heated and warm enough to swim in even on cold days. The weather out of the water is what will be cold, so make sure to have the towels ready.
Value resorts do not have hot tubs, but several of the moderate hotels like Port Orleans, or Coronado Springs Resort will. All deluxe Disney resorts will have a hot tub you can enjoy on chilly nights. While it might be a great idea to only pack comfortable walking shoes for your trip, I highly recommend a pair of flip flops for any visit to hot tubs, pools, or either of the Disney water parks Typhoon Lagoon or Blizzard Beach.
Just note that just because the pools at Disney World are heated, the water rides are not. This includes Splash Mountain inside of Magic Kingdom, and Kali River Rapids at Animal Kingdom are just a couple of the unheated water rides. So you could be splashed or potentially drenched, resulting in a miserable time if you attempt to do a lot of walking in hopes of drying off.
What to Wear to Disney World in November?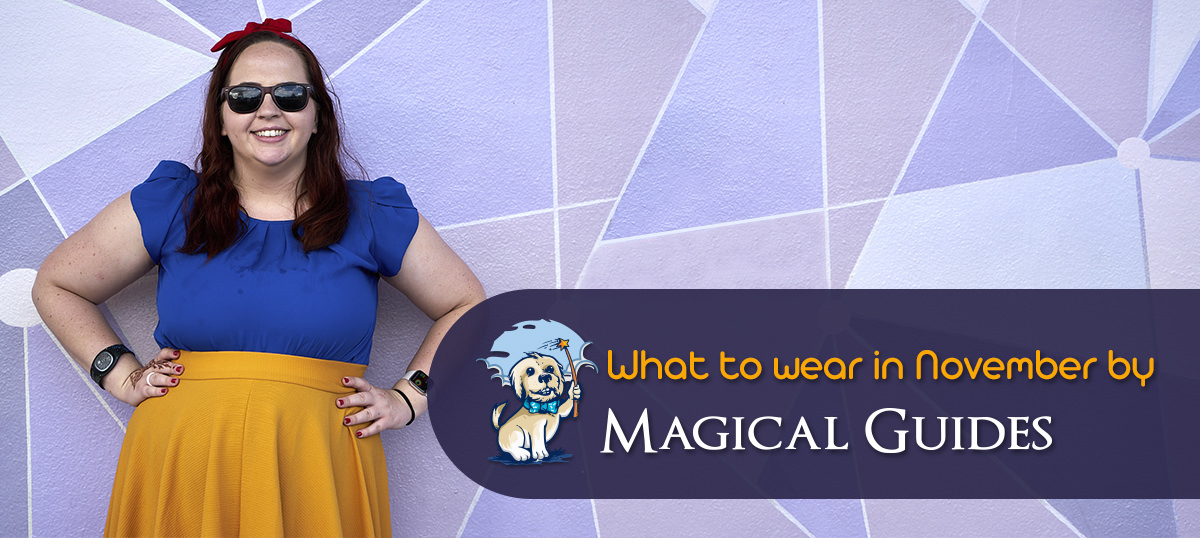 Before taking your Walt Disney World trip in November, plan accordingly for the weather. You won't want to pack your typical outfits you may wear to Disney in the summertime, and you may want to leave your tank tops at home or at least pack some layers.
Even though the high for the day may be in the 80s (F), you will still want to dress appropriately for the cooler weather. I also suspect that if you're from one of the Northern part of the country you might just laugh at us thinking the little bit of cooler temperates are actually quite lovely theme park weather.
Just want to preference that I do not recommend thick winter clothes of any sort, as they take up a lot of room in suitcases, and are not needed when visiting Florida 99.9% of the time.
What Should I Wear to Mickey's Very Merry Christmas Party?
Mickey's Very Merry Christmas Party is held at the Magic Kingdom. It takes place after the park closes early for regular parkgoers.
Your goal here is to pack tons of attractions, see the parades, and get photo opportunities with holiday themed characters (such as Christmas Mickey or Santa Claus).
This year the parties run November 7th – December 21st, so there are a number of days to pick from. The closer to big holidays you can imagine the days will be busier and sold out, to see what dates are left, check the official Disney site, here.
Now what to wear to Mickey's Very Merry Christmas Party? We would recommend busting out comfortable layers or even a light sweat shirt. The parties start officially at 7 pm–midnight each night they run, with admittance into Magic Kingdom starting as early as 5 pm.
The sun will set around 8 pm if not a bit earlier as we get later into the month. It may be a little colder during Minnie's Wonderful Christmastime Fireworks.
Many people wear cute Christmas pajamas like they would on Christmas morning. Others opt for Christmas themed t-shirts, hats, or holiday sweaters.
What to Pack if you are Going to Disney World in November?
Long Pants
Your day at the park may be forecasted to be sunny and warm, but that does not mean it will be warm when you arrive or leave. Wear pants to keep your legs warm and comfortable while you spend your day at Disney in November. Whether you choose leggings or jeans, wearing pants will help keep you warm during the cool days in November.
Long Sleeve Shirt
When heading to Disney in November, pack a few long sleeve shirts to keep warm. Even if it warms up during the day, you can roll off your sleeves to stay cool. The sun may be shining on you, but the air can still be chilly in November in Orlando. Also remember, we aren't talking about bringing your flannel long sleeves with you, we are talking about thinner shirts. Flannel shirts and Florida just don't mix.
Closed Toe Shoes
Help keep your toes warm by wearing closed-toe shoes to Disney in November. To help keep your little one's feet warm, you can even dress them in warm, fuzzy socks. Remember, you will be walking most of the time at Disney, so pack comfortable shoes that help support your feet.
Jacket
Even though you wear long-sleeved shirts, you will want to ensure you bring a warm jacket. Pack a coat you can easily take on and off, and that will keep you warm when the air is cold and windy. If you are able, try to pack a jacket with a hat that can help keep you warmer on those cool nights.
Hat
Keeping your head warm is one of the best ways to feel warm on cool days. Pack a hat that will cover your ears to help you avoid getting too cold while at the Disney Parks. You can even bring along a fun Disney-themed hat to match your Disney outfit.
Dressing in layers is one of the best ways to keep warm in Orlando during winter. You can easily take off your jacket when the sun warms the temperatures and add hats and gloves when it gets cold. Make sure to pack layers for everyone in your family that you can easily bring to the Disney Parks to stay comfortable.
Sunscreen
Sunscreen is a must-have item when packing for Walt Disney World all year long. Even when visiting in the middle of winter, you can still get a sunburn while spending the day at Disney. Make sure to put on your sunscreen before heading to the parks no matter the time of year you can still get sunburned when it's cloudy and cold.
Find my favorite sunscreen here, and as a bonus, you can use your FSA on Amazon to purchase this one. Find an environmentally friendly option here. (Note: I may earn a small commission if you make a purchase by clicking on my links)
November is a great time to visit for anyone looking to get into the holiday spirit. We love seeing the decorations go up in the parks throughout this month, ahead of busy December.
Thanksgiving naturally brings with it higher crowd levels, so if you are looking to come to Orlando in that week, we recommend booking ahead now to avoid disappointment.
Make sure you keep an eye on the weather forecast for November and pack accordingly to prepare for any scenario. Whenever you visit this month, we're sure you will have a great time enjoying everything Walt Disney World has for visitors to enjoy.
November is one of the best times to visit Walt Disney World. The weather is cooler and more manageable to handle than the hot months during the summer. The air is dryer, and you don't have to worry about the afternoon rain storms.
Do you like going to Walt Disney World in November?
Let us know your favorite month to visit the Disney Parks in Florida.