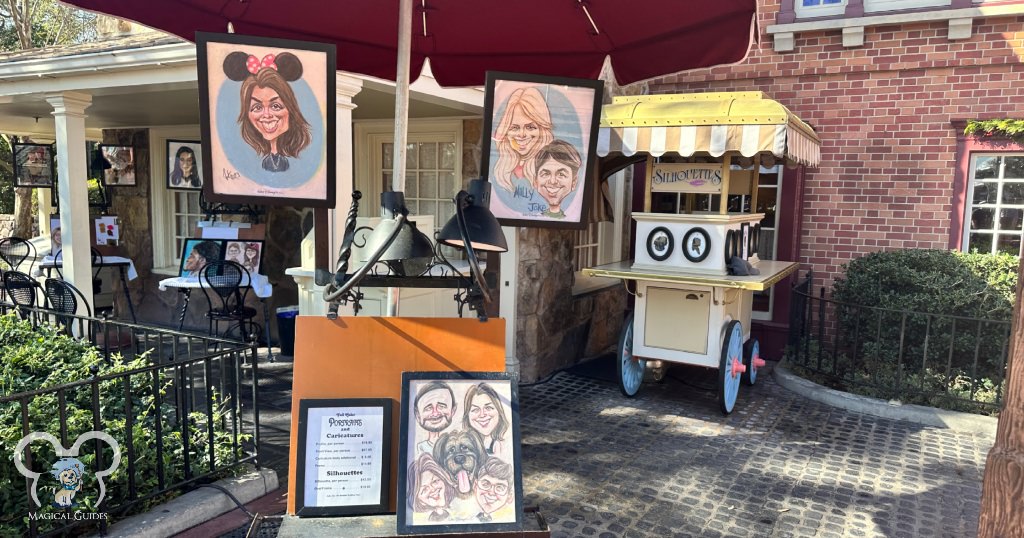 It seems that every day, Disney is releasing new merchandise. You can go to the parks every other month and always find a new gift to bring home for yourself or a loved one.
What many people may not know is that one of the most affordable and unique souvenirs has been around since the parks first opened. Whether it's your first time visiting the parks or your 50th, a Disney Silhouette souvenir should be on your list of experiences to check out.
When I went this last time I sat for this artist to have this complete. The artist and I chatted about where I was from, and I must admit before I knew it, they were complete with my portrait.
What exactly is a Disney Silhouette?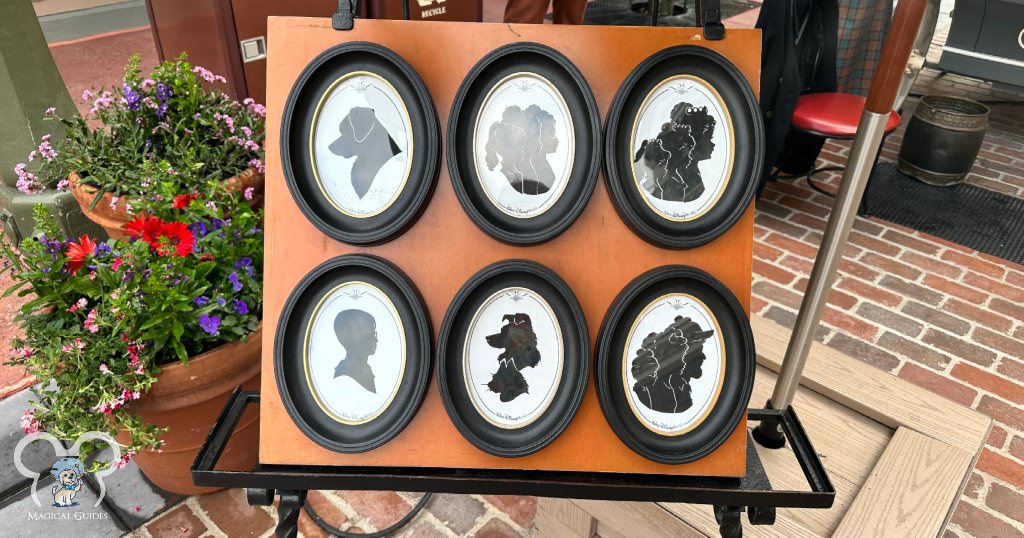 A Disney Silhouette is a hand-cut portrait of your side profile. Disney Silhouette artists look at your face from the side as they cut out the shape of your profile on black card stock.
That cutout is then placed in front of a white background where it can be framed. The finished product will include two silhouettes so that you can have your profile facing either direction.
Traditionally, you'll sit in front of the artist while they create your silhouette. Disney Silhouette artists can also create these memorable souvenirs by using photos!
This is especially helpful if you would like to surprise a friend or family member who didn't join you on your Disney World vacation. You can also put several people in your silhouette, making this a unique way to create a family portrait.
For pet lovers out there, silhouettes can also be made of your feline or canine pals back home. As long as you have a clear photo of a side profile, the silhouette artists can make it happen!
For an additional fee, you can even add your favorite Disney character silhouette to your portrait. Be sure to ask your artist to see which characters they can add if it's someone besides Mickey Mouse.
History of Silhouette Portraits
Disney has offered silhouette portraits since the second day of the original Disneyland Resort was open. Silhouette portraits started back before we had cameras as a way for people to preserve an image of themselves or a loved one.
Walt loved old ways of doing things, even when he was at the forefront of using the latest tech in storytelling. Main Street USA is an example of this, along with his love for trains.
The term "silhouette" comes from a man named Étienne de Silhouette, who would cut out profiles of people on black paper in his spare time.
While the invention of the camera lessened the popularity of the silhouette portrait, the Disney theme parks have kept the art form alive.
Where to Get Disney Silhouettes in Disney World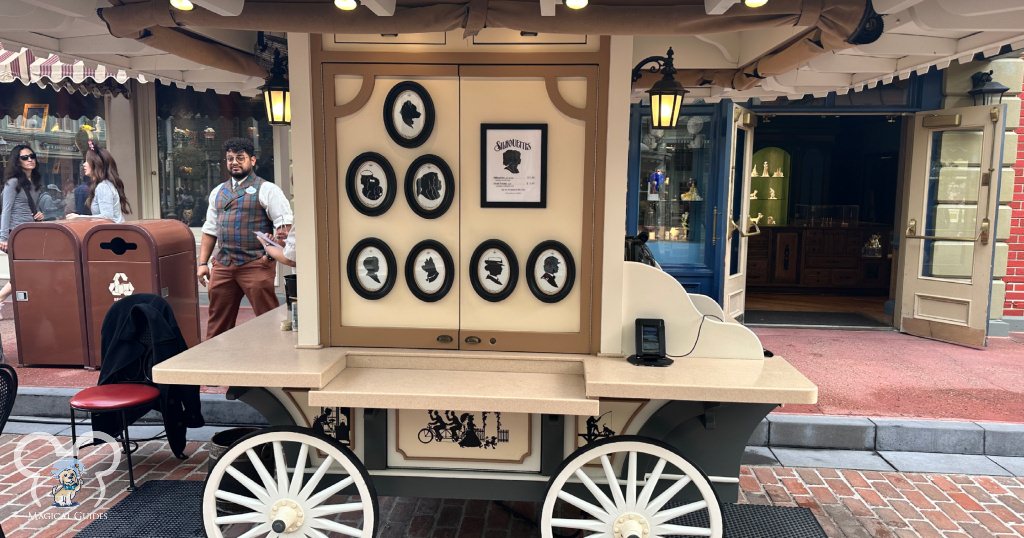 Silhouette Portrait Carts can be found at several locations throughout the Disney World Resort.
In Magic Kingdom, you can find silhouette artists on Main Street USA next to Crystal Arts and Uptown Jewelers. If you reach the Starbucks in Magic Kingdom or Casey's turnaround, you've gone too far!
A second location in Magic Kingdom can be found at the entrance to Liberty Square, near Ye Olde Christmas Shoppe and across from Sleepy Hollow.
I did find this cart would open later in the day.
Since the silhouette originated in France, it is only appropriate that you'll be able to have your hand-cut silhouettes made in the France Pavilion in EPCOT.
If you were unable to get your silhouette while in the parks, you can also get them in Disney Springs. The artist cart is located at Crystal Arts Shop by Arribas Brothers, located near Ghirardelli Soda Fountain & Chocolate Shop.
This is the only location where you can get this unique work of art without needing a park admission ticket.
When are Disney Silhouette artists available?
These talented Disney artists are available during park hours. Since they are located at outdoor carts, it is important to note that they may close due to inclement weather.
How much are Disney Silhouette Portraits?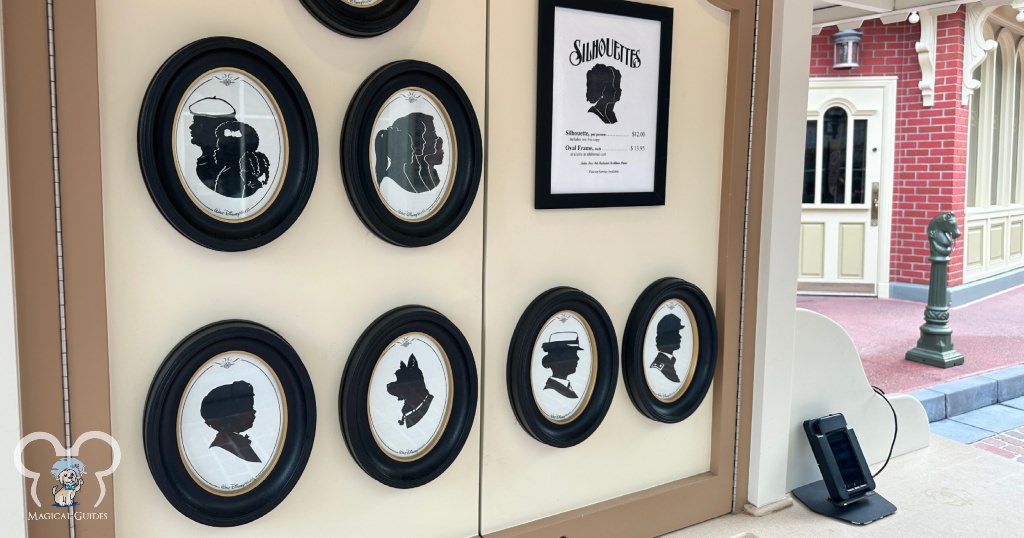 Disney Silhouettes currently cost $11.99. For $19.99, you can add a black oval frame. Not only does this serve as a protective frame for your portrait, but it also creates a classic look that you can hang up on the wall when you get home.
How Long Does it Take to Get a Disney Silhouette done?
For such a personalized souvenir, the entire process is over in minutes! While there may be a line for this underrated experience, it only takes about two minutes for the artist to cut out your image and have your final product ready for you to purchase.
Do I have to keep the Silhouette with me in the park?
Even though this is a fairly small souvenir that could easily fit in your backpack, the last thing you want is for it to get ruined while you're enjoying the rest of your day in the park.
I rode Space Mountain, and several other rides that day, and the white box was never in the way or heavy in my backpack.
You can keep your finished silhouette in a Disney World locker or have it stored for free at guest services, as you would with any other Disney parks purchase.
On this last trip, I was flying Frontier Airlines and Avelo – both with no checked baggage options. I was able to fit the boxed framed into my personal item and stuff it under the seat with no issue. That included my laptop, camera, and Gideon's cookies for my return flight.
What are the hours to get a Disney Silhouette?
Hours to get your silhouette done may vary, so it's best to check the carts throughout the day or ask a nearby Disney cast member. You can also check with the guest relations office to ask for a schedule if it's available.
These carts close before the end of park hours, so try not to wait until the last minute to get yours done.
Will the Disney Silhouette look like me?
Yes! Some of the silhouette artists working in the Disney parks have been doing this for over 30 years. You can expect the finished product to look like your side profile.
Can I get a discount on a Disney Silhouette?
According to the Disney World website, the only available discount is the 10% off that Disney Visa Cardholders get. Unfortunately, you need to spend $50 to get this discount so unless you're purchasing multiple silhouettes or frames, you won't be able to get a discount.
These are one of the more affordable gift options in the park.
Final Thoughts on a Memorable and Treasured Keepsake
The next time you head to the Walt Disney World Resort, be sure not to leave without at least admiring the artists at work at their Silhouette cart. Disney silhouettes souvenirs are a great way to freeze a moment in time with a touch of Disney magic.