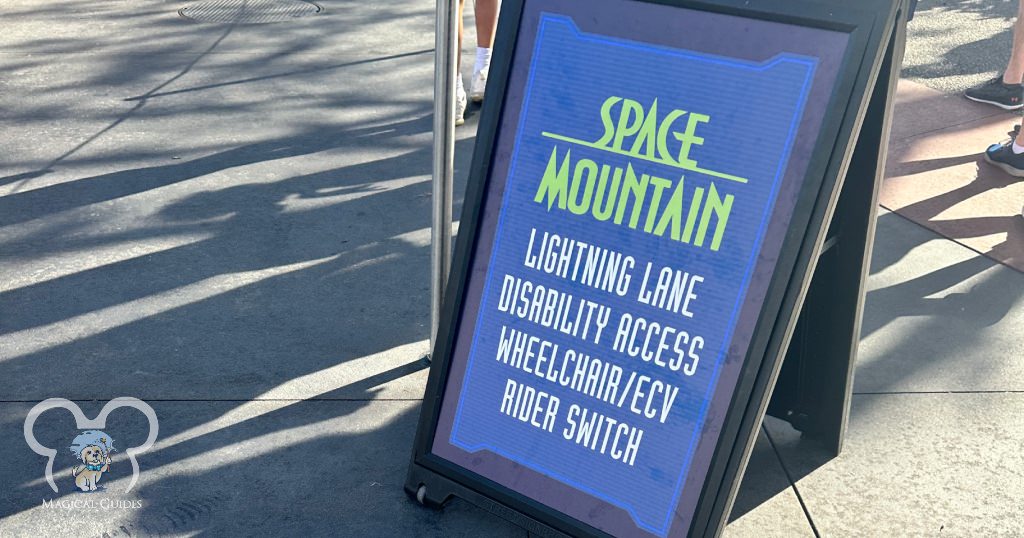 (Photo by Bayley Clark for MagicalGuides.com)
Are you traveling with a young child on your upcoming visit to Walt Disney World? As a parent or guardian of young children, it can sometimes be frustrating to miss out on the latest and greatest attractions if they aren't tall enough or don't want to ride.
To help you out, Disney offers the Rider Switch service (also known as rider swap), which can make for a fun vacation for everyone in your party. If you are traveling with kids, make use of Rider Swap on your next Disney World vacation.
Here's a short story on how we used child swap incorrectly. A while back Annual Passholders were invited to a preview of Guardians of the Galaxy Cosmic Rewind at EPCOT.
Read More: The Guide to Rides in EPCOT
My husband's brother watched his children while my husband, sister-in-law, and I was the first group to go on the ride. He waited outside, and it's an amazing ride by the way, I love the music on Cosmic Rewind.
He patiently waited and my husband was able to go again with him entering via the lightning lanes. He could have just ridden the ride himself, but the cast members suggested using this feature.
What is Rider Switch? Is it the same as Rider Swap?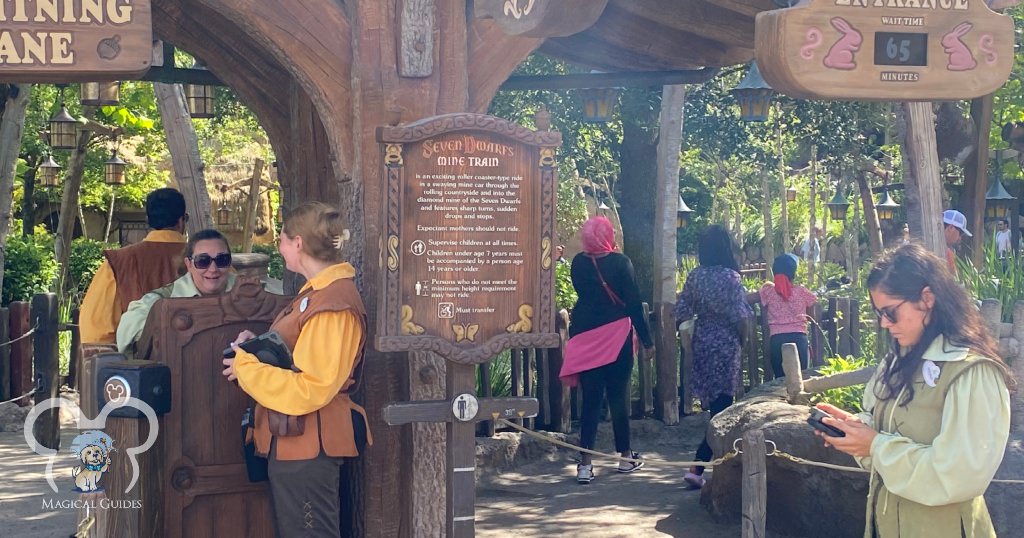 (Photo by Bayley Clark for MagicalGuides.com)
If someone in your travel party can't ride an attraction or doesn't fancy taking part in a certain attraction, then you don't have to miss out on the fun, thanks to Rider Switch. For example, if your child is too small to meet the height requirement, you can simply use Rider Switch so that you and your travel companions can enjoy the experience.
One adult will need to wait with the child or non-rider while the rest of your travel party goes and has a great time on the attraction. After that, the other adults will return, and they will look after the non-riders while you go and experience the ride for yourself.
This takes place without you having to join the regular line again, so you don't have to queue twice for your favorite attractions. Disney knows that adults often want to enjoy the top attractions in the parks, and this means you won't spend all day in lines or hanging around the park waiting for someone to come off a ride.
At Walt Disney World, this service is available in many of the top attractions in all four of the theme parks. Just ask the cast member at the entrance to the ride to check that you can use this service before lining up for the ride.
Keep in mind that these are NOT fast passes, but are a way to have riders switch passes in case someone decides that they're not ready to go on a ride.
How Do You Use Rider Switch?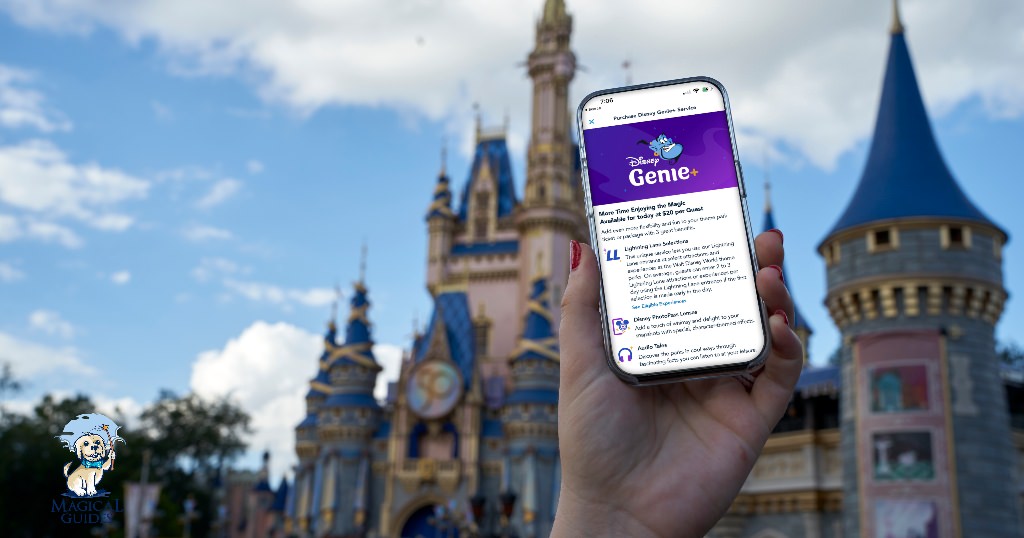 Rider Switch is so easy to use, which is why I highly encourage you to take advantage of this service on your next trip. Firstly, you'll want to double-check if Rider Switch is available on the attraction you are trying to ride.
If you want to check before you go, I recommend that you download the My Disney Experience app from either the Apple or Google Play store.
Once you enter the attraction, you'll need to tell the cast member you want to use this service. The guests who aren't riding and at least one adult will be given the Ride Switch entitlement, and then you'll wait in an area outside of the attraction.
The rest of your party goes off and enjoys the ride once the Rider Switch pass is validated, and the others stay to look after the non-riders. You usually enter via the FastPass+ line, so you won't have to wait at all to ride as this service isn't in use currently.
Who Should Consider Using Rider Switch?
Rider Switch can be used by anyone, and although it's primarily used by families with young children, this isn't always the case. The service is simply available for anyone who has someone in the party who can't or doesn't want to ride an attraction.
There are many attractions in the parks that have specific guidelines when it comes to health and safety, and so if someone in your party isn't happy to ride, it stops you all from missing out or spending your whole day in lines.
For families with young children or children of varying ages, it will ensure that the ones in your party who are able to ride an attraction aren't disappointed at the end of their trip for missing out on something.
Where is Rider Switch Offered in Walt Disney World?
Rider Switch isn't available at every attraction in the parks, so keep this in mind if you are planning to use this service. Here are the attractions where it is currently offered in each of the four theme parks:
Magic Kingdom – The Barnstormer, Big Thunder Mountain Railroad, Seven Dwarfs Mine Train, Space Mountain, Splash Mountain, Tron Lightcycle, and Tomorrowland Speedway
Epcot – Guardians of the Galaxy Cosmic Rewind, Frozen Ever After, Mission: SPACE, Soarin', and Test Track
Disney's Hollywood Studios – Alien Swirling Saucers, Millennium Falcon: Smugglers Run, Rock 'n' Roller Coaster Starring Aerosmith, Slinky Dog Dash, Star Tours – The Adventures Continue, and Twilight Zone Tower of Terror, Rise of the Resistance* only allows parent and one other guest.
Disney's Animal Kingdom Park – Avatar Flight of Passage, Dinosaur, Expedition Everest, Kali River Rapids, Na'vi River Journey, and Primeval Whirl
Top Tips for Using Disney's Rider Switch
When it comes to using this service, there are a few things to keep in mind. While it's a great option for allowing everyone in your party to ride, with a little forward planning, you can make this the best experience possible for everyone involved.
Keeping the Non-Riders Entertained
As you can see from our how to ride guide above, the non-riders will be waiting the whole time while both parties are riding. If you are traveling with young children, make sure you bring something to keep them entertained, as the first party will have to wait in the standard line.
You should have a good idea of the wait time before you settle into the waiting area, so make sure you have snacks or activities to keep them entertained. While it can be tempting to walk around, you'll need to be in the meeting point when the other party comes off in order to switch over with the non-riders or kids.
Use our list above to help plan your visit and see where you can use Rider Switch. For the biggest attractions, you'll still want to consider going to them at the start of the day to avoid any major lines for the rides.
Try to do a mixture of rides throughout the day so the non-riders at these attractions won't miss out on all of the fun and feel like they are hanging around constantly. While it's not available at all of the attractions in Walt Disney World, it's a good option for thrill rides and some of the most popular attractions.
Only One Adult Needs to Stay with the Non-Riders
If you are traveling with a large party, you'll find that only one adult needs to stay with the non-riders. This is great for extended families who still want to enjoy the experience together.
However, if there is another adult in the party who isn't interested in riding, you may want to skip over Rider Switch altogether. They could go off and do another attraction while you are all waiting for the thrill ride and then just meet up after.
This will make it more fun for everyone involved and stop lots of hanging around in the parks.
If you can designate an adult member of your party to stay with the smaller children or to be the one to stay with the rest of the party during these times, this gives all the other party members flexibility to really enjoy the Disney rider switch option.
Be Realistic About How Much You Can Do in a Day
Even with Rider Switch, you need to be realistic about how much you can do in a day. Rider Switch isn't a replacement for Genie+ or skip the line pass for the majority of the group, so only the second rider benefits from this service.
For that reason, don't expect to do every ride in one day, especially around the holidays. Pick out two or three rides you'd like to do each day and try to get to the most popular ones at park opening.
It's a good idea to have the whole party be aware of the rider switch program so that everyone understands how it works. This is a great way for your entire party to be able to go to a particular attraction and not feel like anyone who is eligible or who wants to ride misses out.
While this doesn't skip long lines, it does give a great option for older kids to switch with small children who might not be tall enough for a ride, or who might not be ready to ride a ride for the first time.
This option is a great way to make sure that everyone has the best time! Why stress out people on the Disney vacation when there are options to let everyone enjoy what they want?
Rider Switch is an incredible service that allows everyone to make the most of their upcoming trip to Walt Disney World. You'll no longer have to miss out on the best rides in the parks just because you are traveling with younger kids or someone who doesn't want to join you on the attraction.
This service can be used by anyone visiting the parks and is included with the price you paid with your park tickets. So keep it in mind for your next vacation.
This option is great for a larger family and is a great service to utilize. Using the rider switch system allows the option for first riders to try new rides – or not. It's also great for larger families to be able to be a part of the fun, or sit on the side. Options like this are great for making Disney a dream vacation!