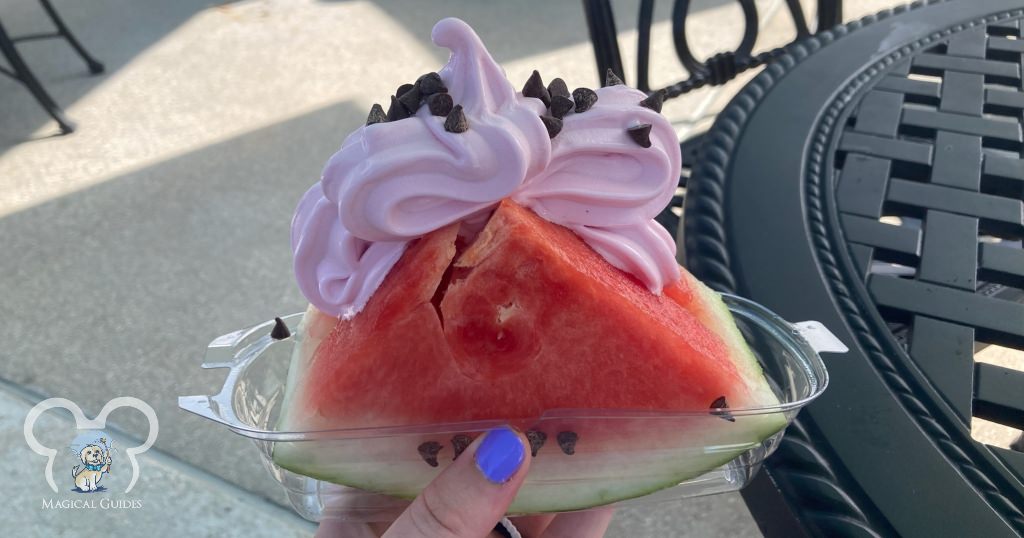 I remember exactly where I was when I tried my first Dole Whip: Disney's Animal Kingdom. I had never tasted anything like it before. The tart and delicious flavors hit my tongue, and I knew this would not be my last Dole Whip from Disney.
Since then, I've loved introducing other people to this tasty treat. Watching friends take that first bite never gets old.
I have yet to introduce it to someone who doesn't love it as much as I do. I know I'm not the only one.
They are delicious, even though they aren't Mickey-shaped. Dole Whip has easily become one of the most popular treats in Disney World.
On a hot day, a Dole Whip is the perfect way to cool off while enjoying your time in the Disney parks. While pineapple used to be the only flavor available in the parks, you can now choose from a variety of flavors (even spicy ones!).
Not only that, but you can also find them all over the Walt Disney World Resort.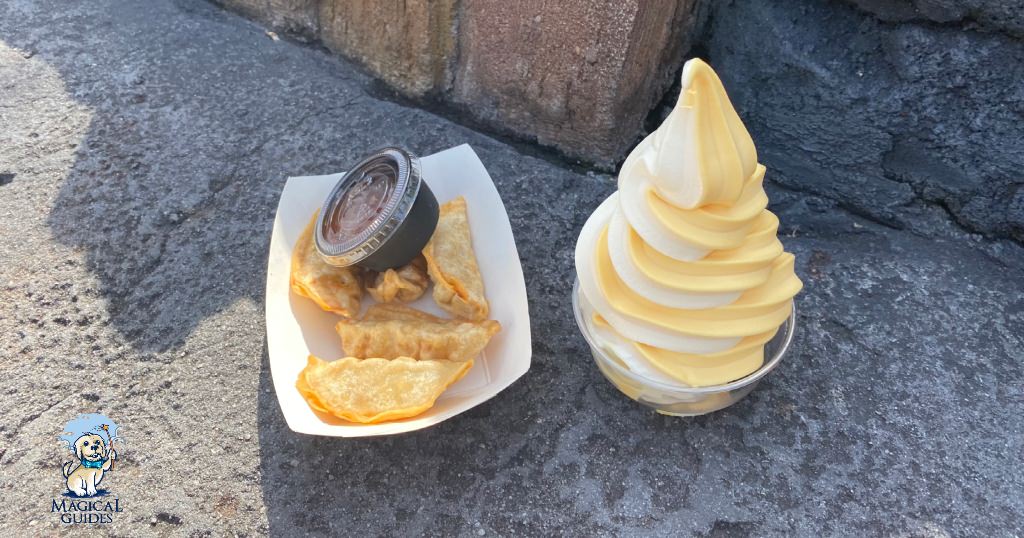 The History of the Dole Whip
Despite popular belief that Dole Whips come from the Dole Plantation in Hawaii, they originated because of Walt Disney's Enchanted Tiki Room in both Disneyland and Disney World.
Dole Food took over the sponsorship of the attraction in 1984. They wanted to create something that complemented the tropical theme.
A sweet pineapple soft serve was the perfect answer. Guests could order this amazing snack and enjoy it while watching and listening to the fun songs of the Tiki Room. It's been over 30 years, and people still adore Dole Whips to this day.
What is a Dole Whip?
The original Dole Whip is a cold pineapple-flavored soft-serve treat. It can be ordered as an original Dole Whip on its own or a Dole Whip Float. The float includes the same creamy dessert but served in a cup of pineapple juice.
Despite its cold and creamy texture, Dole Whips are not the same as ice cream because they have no dairy. That means even those who are lactose intolerant can enjoy them in the parks!
Dole Whips are made using water combined with a pineapple-flavored dry mix. This makes them dairy-free and vegan-friendly.
It is important to note that all locations that serve dole whips also serve other soft-serve treats. Dole Whips that come with a vanilla swirl, for example, are not vegan or lactose-free. Always be sure to check the Disney World App or ask a cast member before ordering.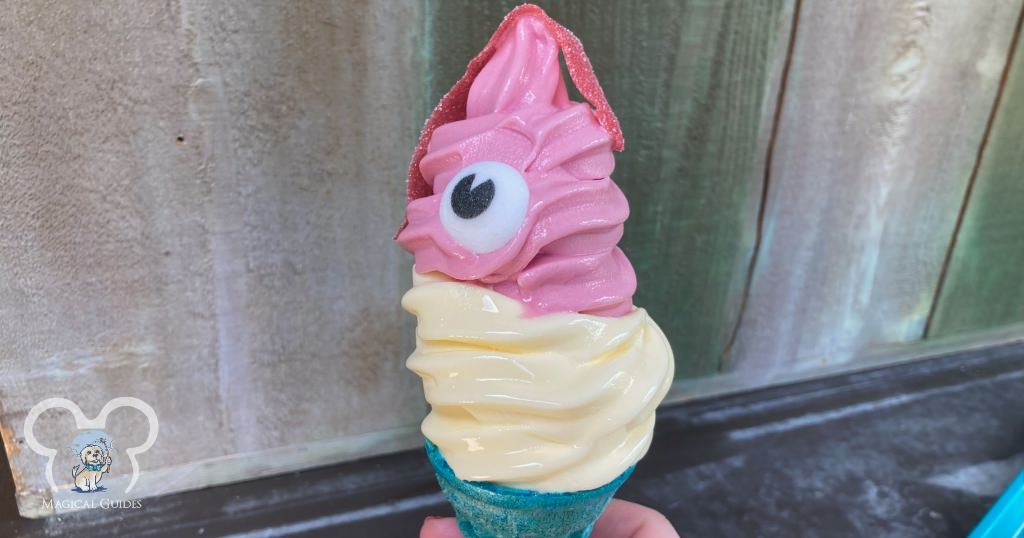 Where to Find Dole Whips
Luckily for fans of this sweet treat, Dole Whips are now fairly easy to find. Aloha Isle used to be the only place you could purchase them. Now, you can get them in nearly every Disney park.
To make things easier, most of them are also available for mobile order. I always do this to skip the long lines and spend more time enjoying the parks.
All you need to do is pull up the Disney World app, pick your flavor, and wait until your order is ready for pickup. Read on to find out where you can find a Dole Whip throughout Walt Disney World Resort.
Magic Kingdom
Aloha Isle
Sunshine Tree Terrace
Storybook Treats
Animal Kingdom
Tamu Tamu Refreshments
Trilo-Bites
Epcot
Epcot does not offer Dole whips year-round. However, if you plan your trip around one of their many festivals, you may be able to get one at the following locations.
Refreshment Outpost – Depending on the time of year, you can get a Pineapple Dole Whip or a seasonal flavored soft serve such as cherry, coconut, or tangerine. Be sure to check the Disney app for the menu, as these are not always offered.
Hawai'i Festival Booth – During the Epcot Food and Wine Festival, this booth offered savory meals, as well as a Dole Whip dessert.
Pineapple Promenade Festival Booth – From March to July, this booth offers unique Dole Whip offerings during the Epcot Flower and Garden Festival. This includes boozy Dole Whips too! In the past, they served Dole Whip with Somus Mango Cream Liqueur.
Hollywood Studios
Unfortunately, Hollywood Studios does not offer Dole whips. Maybe one day we'll get a blue or green milk-inspired Dole Whip? I know I'd try either of those in a heartbeat if they were to ever show up on the menu.
Disney Springs
The Basket at Wine Bar George
Swirls on the Water
Blizzard Beach
Disney's Typhoon Lagoon
Disney's Polynesian Resort
Trader Sam's Grog Grotto
Trader Sam's Tiki Terrace
Pineapple Lanai
Barefoot Pool bar
Oasis Pool Bar
Disney's Boardwalk
Boardwalk Joe's Marvelous Margaritas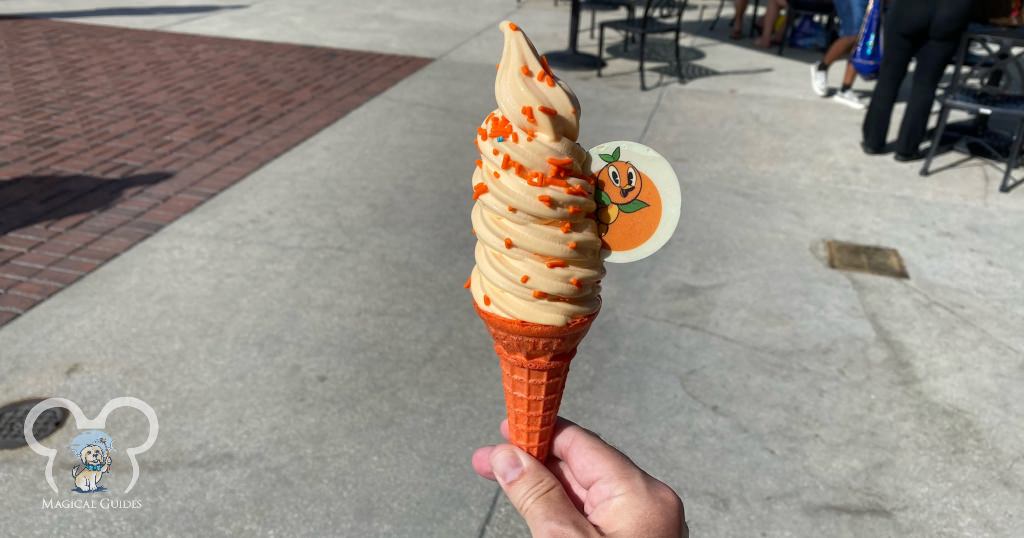 How do the Flavors Rank?
With all the new addition of Dole Whip flavors, there is truly something for everyone. Some are more tart or sour while others are sweet. To help you decide which Dole Whip to taste on your next trip, here are my top ten favorite Flavors.
Lime Dole Whip at Pineapple Lanai

I know lime isn't everyone's favorite. But, as someone who loves limes in all shapes and forms, this is definitely in the top 10. It's the perfect blend of sour and tart and makes for a refreshing snack.
To elevate this lime-flavored snack, Pineapple Lanai also has packets of Tajin, a chili-lime seasoning. It pairs perfectly with fruit, and I love sprinkling a little bit on top of my Dole Whip Lime to bring it to the next level.
If you find yourself near Disney's Polynesian Village Resort, this beautiful green soft serve is a must-try.

Scar's Lair at Tamu Tamu Refreshments in Animal Kingdom

DOLE Whip® Pineapple and Sour Apple
As a fan of anything sour, I had to make sure Scar's Lair made the list. This classic pineapple Dole Whip is given an eerie villain appearance with its sour apple syrup.
This is perfect for fans of the traditional pineapple flavor who want to try something new. The sour apple adds a fun twist without being too overpowering.
For those looking for an adult beverage, this can also be turned into a Lion's Lair, which is the same Dole Whip Float but with Parrot Bay Coconut Rum.

Simba's Sunset at Tamu Tamu Refreshments in Animal Kingdom

Simba Sunset is a Dole Whip Pineapple with Watermelon, Strawberry, and Coconut Syrup. This beautiful treat is a sweet dole whip option at Tamu Tamu compared to the sour Scar's Lair from above.

Coconut Cup at Aloha Isle

Choice of Coconut or Coconut and DOLE Whip® Pineapple Swirl. Aloha Isle is located in adventureland in Magic Kingdom.
Compared to the extravagant floats and cones in Magic Kingdom, the coconut cup is fairly simple. What it lacks in chocolate decorations and bubbly drinks, it makes up for in flavor!
This cup can be served as just a coconut soft serve, but you can also order it with a pineapple swirl. I highly recommend the pineapple swirl option.
This combination makes for a piña colada-inspired snack (without the alcohol, of course). The creaminess of the coconut balances out the tartness of the pineapple.
For fans of coconut, this Dole Whip is not one to be missed.

Tropical Serenade at Aloha Isle

Pineapple-Orange-Guava Juice, Coconut Soft-serve, and an Upside-down Pineapple Cake Pop
If you don't know, POG juice is an iconic Disney drink made up of pineapple, orange, and guava. When I found out there was a POG Dole Whip, I had to try it for myself.
Not only is this a delicious float with the perfect blend of sweet and tropical flavors, but the added cake pop is a nice touch. If I had it my way, every drink would come with a cake pop!

Snow White Cone at Storybook Treats

DOLE Whip® Lemon, Blue Cone, Chocolate Bird, and Sugar Bow
This adorable frozen treat is perfect for people who, like me, enjoy posting pictures of their food on Instagram. Your lemon-flavored Dole Whip will be served to you in a blue sugar cone with white chocolate pieces shaped like a small bird and a bow, all in honor of Disney's first princess, Snow White.
This tart treat is perfect to enjoy while walking around in the hot Florida sun, so don't spend too long snapping that pic for Instagram so it doesn't melt!

I Lava You Float at Sunshine Tree Terrace

Fanta® Strawberry Soda and Passion Fruit flavor served with DOLE Whip® Orange and topped with Popping Candy
Pixar's "Lava" is one of my favorite short films that has come out of the Disney company. When I saw that they had come out with a pineapple float inspired by it, I knew I had to give it a try.
This float is served in a cup of fizzy Fanta Strawberry with Passion Fruit syrup. To give it that true volcano effect, it is also sprinkled with popping candy.
Since its release in 2019, this explosive float has quickly become a favorite among Disney fans. I love the blend of sweet and tangy flavors. As a big fan of Pop Rocks, the sprinkling of popping candy is just the cherry on top.

Dole Whip Strawberry Cup at Sunshine Tree Terrace

This simple cup is perfect for fans of strawberries. This strawberry DOLE Whip® is perfectly sweet and refreshing.
For fans wanting to switch it up, you can also have it served with chocolate or vanilla soft serve. At Sunshine Tree Terrace, any Dole Whip flavor can also be turned into a float with pineapple juice or your choice of soda.
Fun Fact – Disneyland Resort over in California has a Strawberry Shortcake-inspired sundae at Tropical Hideaway.

Citrus Swirl at Sunshine Tree Terrace (sometimes)

Frozen orange juice and vanilla soft-serve
Sadly, one of my favorite Dole Whips is not always available. Right now, it's currently not listed on the official Disney website menu, but you can order it on the Disney World app.
Regardless of its mysterious availability, this fun twist definitely makes it into my top three. What sounds more refreshing than frozen orange juice with a vanilla swirl?
This tangy snack is perfect for ordering right after a trip on the World Famous Jungle Cruise.

Sparkling Sunshine at Sunshine Tree Terrace

Sparkling Apple Cider With Orange Cream Soft-serve
This delicious treat is another Instagram-worthy dessert. Served in a plastic champagne flute, this snack is an elegant version of the orange and vanilla swirl.
What truly sets it apart, is that it is served on top of sparkling apple cider. Just be sure to eat it fast – the thin cup can make this a fairly messy snack to enjoy, especially on a warm day.
* This was a limited time treat for the 50th Celebration served with the EARidescent sugar rim. Fortunately, it is on the regular menu as the FOMOsa Orange Dole Whip, but without the sugar rim.

Hei Hei Cone at Snack Shack in Typhoon Lagoon

This Moana themed treat has DOLE Whip raspberry and pineapple dole whip in a blue cone and topped with a sour candy and sugar eye.
The Hei Hei cone started out available in Magic Kingdom before disappearing for some time. It came back at Typhoon Lagoon and is an extra reason to visit this water park.
Raspberry is my favorite and I loved the Pineapple Raspberry Swirl magic kingdom used to have. Of course I love the cute Hei Hei cone addition to this delicious treat!

Dole Whip Orange and Vanilla Swirl at Sunshine Tree Terrace

I know, I know. I chose one of the simplest Dole Whips as my #2, but hear me out. If you're like me and absolutely love creamsicles, this is the perfect Dole Whip. This one is my husband's favorite, so I had to choose it as number 2.
This soft-serve snack tastes just like a creamsicle with the perfect ratio of orange and vanilla soft serve. While the orange Dole Whip is delicious on its own, nothing beats the creaminess when it is swirled into a cup with Disney's smooth vanilla soft serve.
Sometimes a simple snack is a perfect way to finish off a great day in the parks.

Swirls on the Water in Disney Springs

Swirls on the Water is my absolute favorite place to get Dole Whips in Disney World. They have limited time flavors that change out seasonally and several of these limited time Dole Whips are my top favorites.
Swirls on the Water is located near the water like the name suggests. It's a beautiful spot near Goofy's Candy Company.
If you love a good frozen margarita, you will love the DOLE Whip® Margarita Float.
Watermelon Dole Whip served in an actual slice of watermelon is a refreshing experience in the summer and is my number 1 choice.
Another big hit were the DOLE Whip® Nachos offered here. The flavors for this treat change seasonally as well. The latest offering is DOLE Whip®, cherry pistachio ice cream, cherry popcorn, roasted pistachios, whipped cream, morello cherries, and waffle chips.
This spring the dole whip nachos were DOLE Whip raspberry, cotton candy soft-serve, jelly beans, raspberry sauce, strawberry boba, whip cream, and waffle chips. It was much tastier than it sounds.
They offer a DOLE Whip® Flight containing a dole whip swirl with all of their seasonal flavors so you can try them all. There are so many amazing flavors all year round at this location. What's your favorite?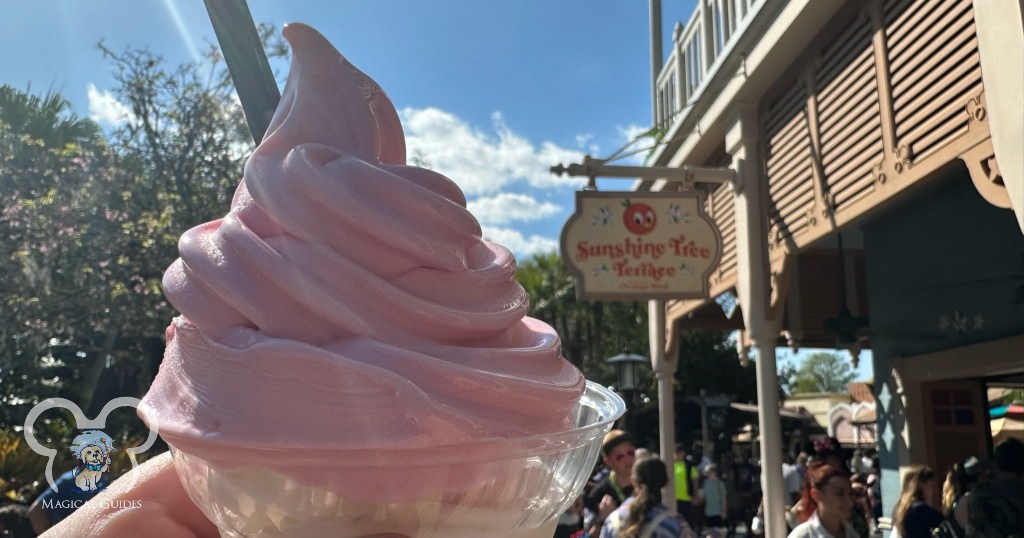 Dole Whips Outside of Disney Parks
Still craving these tropical treats, even when you're not at Disney World? I don't blame you. We've all been there. Fortunately, there are a few ways to treat your cravings between trips to the parks.
If you ever find yourself in Hawaii, the Dole Plantation in Oahu has Dole Whips. Even in your hometown, it is likely that a location near you serves its version of a pineapple soft serve. The Lava Shack Snack Shop at Aulani also serves Dole Whip.
If you are heading out to the sea instead, many cruises offered by Disney Cruise Line now offer Dole Whip®!
Dole sells a mix of pineapple-flavored soft serve if you want to try making it yourself. The internet is also full of copycat recipes, so you can spend weeks experimenting until you try one that makes you feel like you're standing outside of the Enchanted Tiki Room.
Need more? A search for "Dole Whip" on Etsy brings up over 4,000 results. You can find anything from shirts to scented candles.
Disney isn't just about the rides and entertainment. The food also makes it the most magical place on Earth. So, what Dole Whip will you try on your next trip to Magic Kingdom?