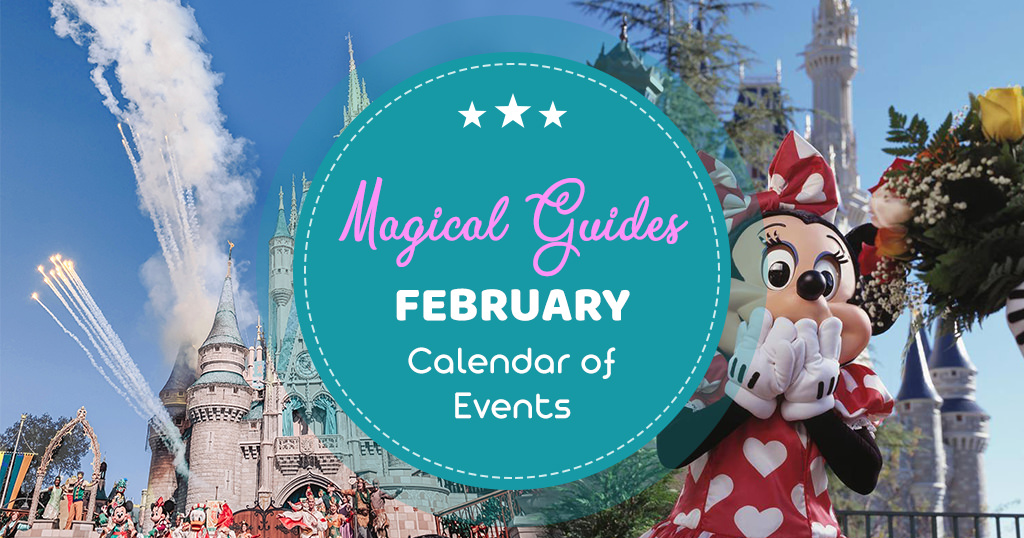 When planning your next Disney World magical vacation, you may already know that February is a great time to visit central Florida. Being from Maine, and now a native to North Carolina I greatly enjoy visiting Florida during February.
Lower crowds, and cooler temps offer a great opportunity for an enjoyable vacation if you plan accordingly. In this article, I will go over what you should pack to wear to Disney in February.
Florida is often referred to as the "Sunshine State" and is well known for its warm weather, but don't let those sun rays fool you. It can get cold during the winter months.
Most of the time, the winters in Florida are mild. It can be one of the best times of year to plan your Walt Disney World Vacation.
If you are wondering if February is a good time to visit The Most Magical Place on Earth, here is some excellent information you will want to know before planning your trip.
Keep reading as we share some of the key highlights for a February 2024 trip to Orlando.
Is February A Good Time To Visit Disney World?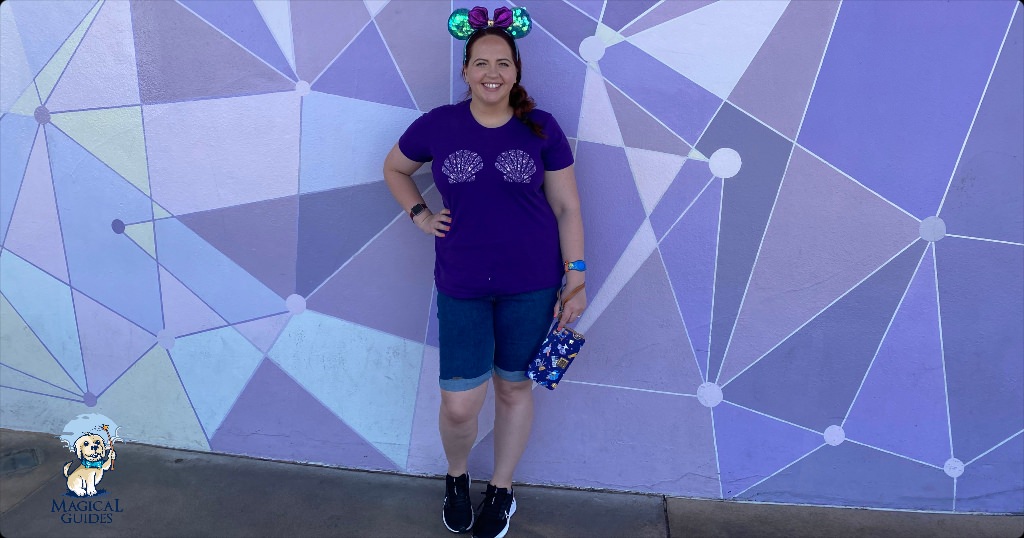 As with any month of the year, there are good and bad things about visiting this month. Keep these in mind when planning your trip to enjoy the best experience in Walt Disney World.
Pros of a February Disney Trip
Low Crowds – February sees some of the lowest crowds of the whole year. While park hours sometimes reflect this, you'll be able to enjoy a lot more attractions in a day.
Festival of the Arts – This is one of the hidden treasures of the Disney events calendar in Epcot. Make sure you dedicate a day to this festival in Epcot.
Good Resort Availability – Apart from the President's Day weekend and the Princess Half Marathon Weekend, you'll find that resorts are quieter throughout this month. It's a great time to stay somewhere new that you can't always get a booking for.
Mild Weather – There will be some cooler days this month, but it's a great time for exploring the parks. You won't experience as much rain this month, so it's easier to keep dry during a day out. The weather will be a lot cooler than in months like July & August.
Cons of a February Disney Trip
Too Cool for Water Parks – Unless you are visiting from the north or the UK and Europe, you'll likely find it's too cold for water parks this month. There may be the odd days you can swim, but it's not a month for sunbathing all day long.
Shorter Park Hours – Due to the lower crowds, expect parks to close earlier than usual. You'll find that you don't need as much time though as the lines aren't as long. The latest parks usually stay open this month is 9 pm, which is great for families with younger children. Magic Kingdom typically closes at 8 pm, so make sure you get there at park opening to see and do all of the top attractions.
What Are The Disney World Crowd Sizes In February?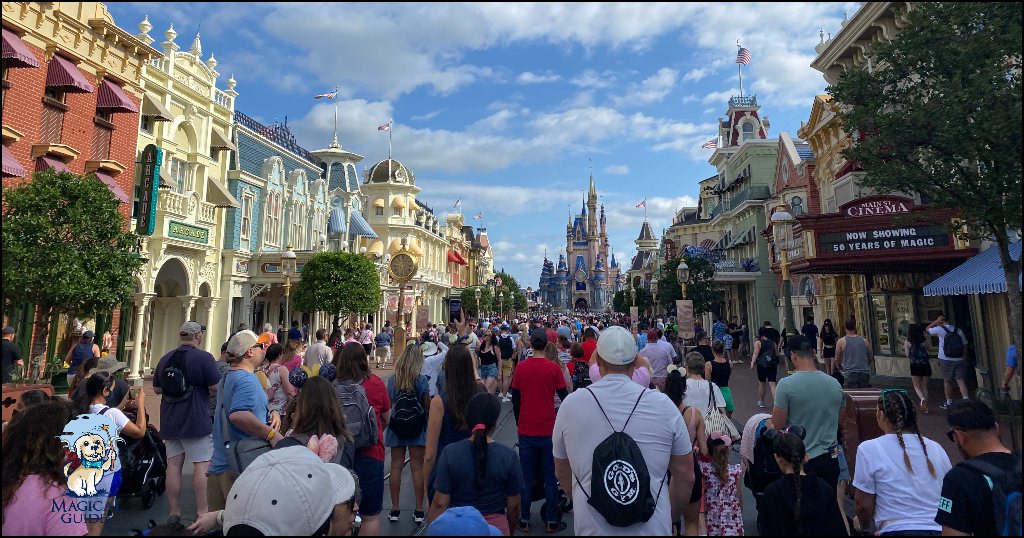 In February, the crowds at Walt Disney World can fluctuate greatly. The beginning of February is typically less crowded and a great time to visit Disney if you want to avoid the crowds.
Presidents' Day week is typically more crowded. It can be more expensive to visit during that week.
Valentine's Day and the runDisney Princess Half Marathon Weekend is also busy time at Disney.
Special Events At Disney World In February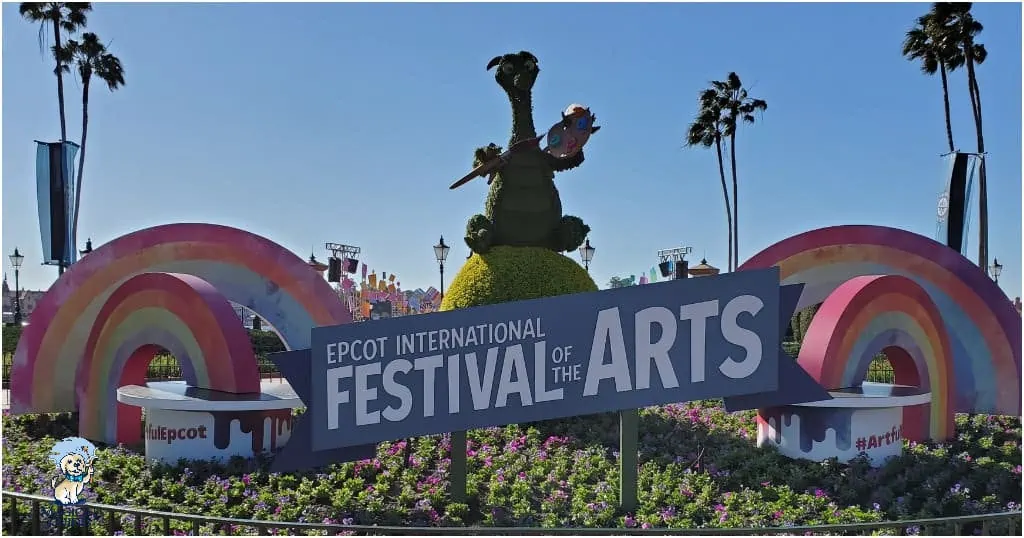 Walt Disney World is well known for amazing events year-round. Disney always has something fun and new to do while visiting, and February is no exception. If you are visiting Disney in February, here are some events you can experience on your trip
· EPCOT's International Festival of the Arts
Immerse yourself in the arts at EPCOT's International Festival of the Arts. This festival has many different types of art.
From culinary arts to performing arts, you can become part of the fun at this one-of-a-kind festival. Make sure to grab a seat and watch a show at the Disney on Broadway Concert Series located at the America Gardens Theater while visiting the festival.
EPCOT's International Festival of the Arts usually runs from the middle of January to the middle of February, exact dates for 2024 have not yet been released.
You can find more information about the EPCOT International Festival of the Arts by visiting the official Disney site: EPCOT International Festival of the Arts.
· Disney's Princess Half Marathon Weekend
The Disney Princess Half Marathon Weekend is a yearly event held in February. Runners from all over the world travel to Disney to participate in this popular RunDisney event.
Runners are treated like royalty and often dress as royalty for their run. The weekend features great workouts such as Disney Princess Sunrise Yoga, a 5K, 10K, and a Half Marathon.
Guests looking for a challenge can complete the Disney Fairy Tale Challenge, completing both the 10K and Half Marathon. Disney Princess half Marathon Weekend will be held February 22-26, 2024.
You must sign up ahead of time for any of the runDisney races. You can book your spot early at runDisney.com. They are posted in June of the year before.
You can still participate in a virtual challenge from your home no matter where you are located.
Holidays In February At Walt Disney World
Valentine's Day – On February 14th, celebrate with your partner at resorts and restaurants throughout Walt Disney World. If you are looking to enjoy a romantic meal on this night, make sure you book an advanced diningreservation well in advance and look out for special menus for this night only.
President's Weekend –This year, the holiday weekend falls on February 18-21, 2022. While there aren't any special events for this occasion, do expect slightly higher crowds in the parks. You'll find that Disney usually extends the park hours this weekend as resorts are at a higher capacity than the rest of the month.
Disney World Theme Park Operating Hours In February
While park operating hours are subject to change, here's a rough guide for what you can expect this month. Remember, resort guests always get 30 minutes for Early Entry in the theme parks each morning. Deluxe resort guests have extra magic hours in the evenings on certain days.
Park hopping starts at 2 pm each day, so keep this in mind if you've upgraded your Disney World tickets to add this feature.
Magic Kingdom – 9 am to 8 pm
Epcot – 10 am to 9 pm
Disney's Hollywood Studios – 9am to 9pm
Disney's Animal Kingdom – 9am to 7pm
Water Parks – Blizzard Beach. Typhoon Lagoon is open daily from 10 am to 5 pm (weather permitting). Usually one of the water parks will be closed for refurbishment in February.
Disney Springs – 10 am to 11 pm
The Weather At Walt Disney World In February
February can be a little hit or miss in Orlando. If you are coming from a colder climate, you'll appreciate the average high temperature of 73°F.
Temperatures drop to an average low of 54°F at night. Make sure you pack a light jacket, cardigan, or sweater for nighttime. You will most likely want layers if you are planning to tour the parks until closing time.
For anyone who's visited at this time of the year in the past, you'll know that it's still a good time for outdoor activities. You aren't dealing with the oppressive heat of the summer months.
Is Disney World Cold in February?
The average temperatures we just talked about are not cold. The weather in February can fluctuate greatly though. It is possible you will experience cold weather in February.
There are days in February when the high temperatures can be as low as the low 40s or 50s (F). Many daytime temperatures can feel cold by Florida weather standards. They are not as cold to those from colder climates.
The early mornings and nighttime can be around freezing in February. Disney World theme parks in Orlando may not get snow, but it does get windy and cold in the winter.
How Warm is Disney World in February?
During the middle of the day in February, Walt Disney World can feel warm. The sun shining helps temperatures to feel warmer.
That warm weather can fool many guests heading to the parks for the night. After the sun goes down, the temperature in February can drop quickly.
Make sure to check the weather before heading to the Disney Parks. Be prepared if you are planning to stay in the parks after dark.
One of the coldest times at Disney is waiting for the Fireworks. If you are standing still and not walking around, it can be very cold for guests, especially the little ones in your family. Tiny fingers can freeze, waiting for the fireworks or lines that are outside.
Can You Swim at Walt Disney World in February?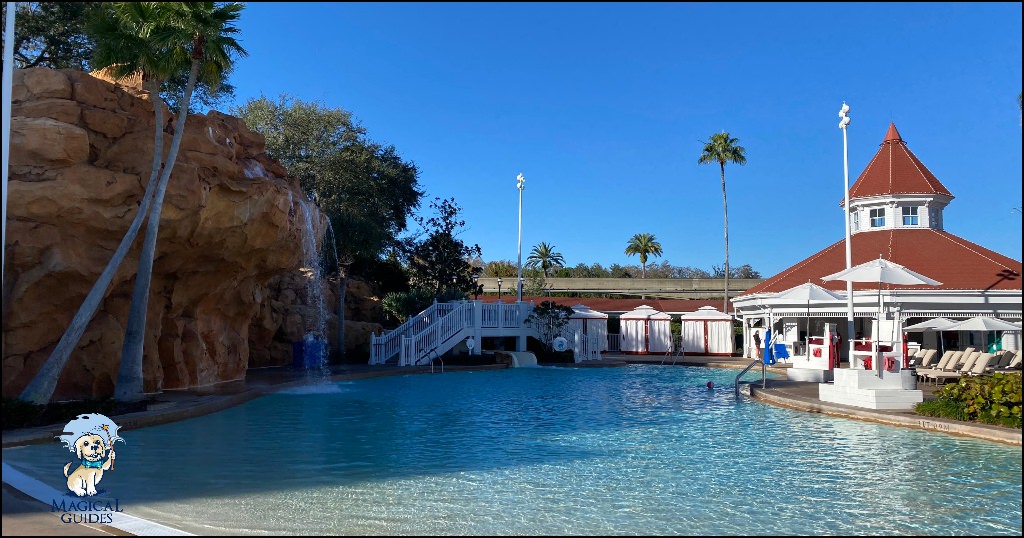 No matter the season you visit Walt Disney World, you will always want to make sure you have your bathing suit packed. The Disney Pools are open for swimming all year long, no matter the season.
It may be cold in February, but typically it is warm enough during the day to take a swim. Don't worry about the pool temperatures, Walt Disney World Resort Pools are heated and warm enough to swim in even on cold days.
The weather out of the water is what will be cold, so make sure to have the towels ready.
Value resorts do not have hot tubs, but several of the moderate hotels like Port Orleans, or Coronado Springs Resort will. All deluxe Disney resorts will have a hot tub you can enjoy on the chilly nights.
While it might be a great idea to only pack comfortable walking shoes for your trip, I highly recommend a pair of flip flops or sandals for any visit to hot tubs, pools, or any of Disney water parks such as Typhoon Lagoon.
Just note that just because the pools at Disney World are heated, the water rides are not. This includes Splash Mountain inside of Magic Kingdom, and Kali River Rapids at Animal Kingdom are just a few of the unheated water rides. So you could be splashed or potentially drenched, resulting in a miserable time if you attempt to do a lot of walking.
Does it Rain During February?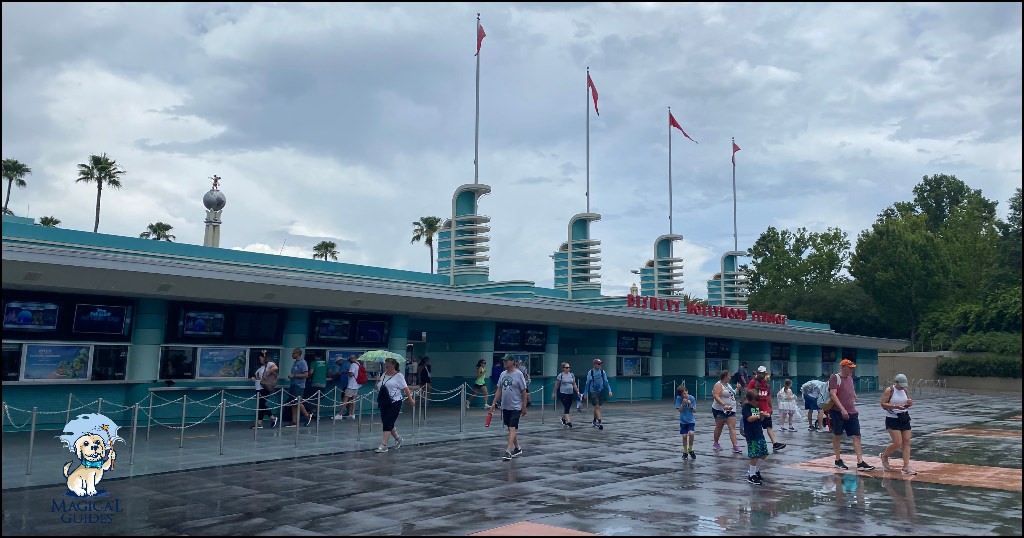 February sees on average five days of rain, so it's one of the driest months of the year in Orlando.
One of the biggest perks of visiting Orlando in February is that there is typically much less rainfall than in the summer months. During the summer months, you can expect rain daily, unlike the winter, which rarely gets rain weekly.
Orlando can get rain year-round, but February rarely gets much rain. You will want to be prepared with rain ponchos or umbrellas in case of rainfall.
If it does rain during February, it usually does not last long. Be prepared that if it rains in Orlando during February, after the rain, the temperatures drop significantly.
One of the biggest perks of rain at Disney is that it can clear the park from many guests, leaving the parks less crowded and shorter wait times.
Do You Need Sunscreen in February?
Sunscreen is a must-have item when packing for Walt Disney World all year long. Even when visiting in the middle of winter, you can still get a sunburn while spending the day at Disney. Make sure to put on your sunscreen before heading to the parks no matter the time of year you can still get sunburned when it's cloudy and cold.
Find my favorite sunscreen here, and as a bonus you can use your FSA on Amazon to purchase this one. Find an environmentally friendly option here. (note: I may earn a small commission if you make a purchase clicking on my links)
What To Wear At Disney World In February
Before taking your Walt Disney World trip in February, plan accordingly for the weather. You won't want to pack your typical outfits you may wear to Disney in the summertime.
You may want to leave your tank tops at home unless you are from a colder climate. Even though the high for the day may be in the 70s (F).
I also suspect that if you're from one of the Northern States you might just laugh at us thinking the little bit of cooler are actually quite warm.
Check the weather before your trip to have the best knowledge for what to wear. If it is closer to the 70s you may want your short-sleeved shirts, t-shirt, and sandals.
If you check the weather and you notice it is closer to the 50s and 60s you may want to pack your long pants, sweatshirt, sneakers, or hoodie. It is also a great idea to pack options for layers to keep you comfortable the entire trip and during different parts of the day.
What To Pack For Disney World In February
Here is what your should add to your Disney packing list when you visit in February:
Your day at the park may be forecasted to be sunny and warm, but that does not mean it will be warm when you arrive or leave. Wear pants to keep your legs warm and comfortable while you spend your day at Disney in February. Whether you choose leggings or jeans, wearing pants will help keep you warm during the cool days in February.
When heading to Disney in February, pack a few long sleeve shirts to keep warm. Even if it warms up during the day, you can roll off your sleeves to stay cool. The sun may be shining on you, but the air can still be chilly in February in Orlando. Also remember, we aren't talking about bringing your flannel long sleeves with you, we are talking thinner shirts. Flannel shirts and Florida just don't mix.
Bring along a pair of gloves to help keep you warm during the cold days at Disney. This will help significantly in the mornings and evenings walking around the Disney Parks. Make sure to pack a pair for your little ones, so their hands stay warm while riding around in strollers during the day. You will not be wearing these all day, but early in the morning, particularly those not staying at the Disney Resort, you might find these useful driving to the parks.
Help keep your toes warm by wearing closed-toe shoes to Disney in February. To help keep your little one's feet warm, you can even dress them in warm, fuzzy socks. Remember, you will be walking most of the time at Disney, so pack comfortable shoes that help support your feet.
Even though you wear long-sleeved shirts, you will want to ensure you bring a warm jacket. Pack a coat you can easily take on and off, and that will keep you warm when the air is cold and windy. If you are able, try to pack a jacket with a hat that can help keep you warmer on those cool nights.
As we talked about earlier, sunscreen is a must. Don't forget to add this to your packing list even in February!
Keeping your head warm is one of the best ways to feel warm on cool days. Pack a hat that will cover your ears to help you avoid getting too cold while at the Disney Parks. You can even bring along a fun Disney-themed hat to match your Disney outfit.
Dressing in layers is one of the best ways to keep warm in Orlando during winter. You can easily take off your jacket when the sun warms the temperatures and add hats and gloves when it gets cold. Make sure to pack layers for everyone in your family that you can easily bring to the Disney Parks to stay comfortable.
You may need to think about a lightweight park bag to carry around your layers this time of year. Loungefly backpacks make great souvenirs and can hold your layers to keep you comfortable!
Don't forget your fun Disneybound outfits or matching family t-shirts. You will also want to pack your Minnie & Mickey ears. Magic Bands if you have them are also a great item to add to your pack list.
Is It Worth Going To Disney World In February?
Yes, February can be a great time of year to plan a Walt Disney World Vacation! This is the perfect time to plan a trip if you are sensitive to the heat.
Lower crowds, greater chance for discounts, and mild weather make February a great choice.
February is an exciting time to visit Walt Disney World. There's plenty to see and do this month.
If you are visiting while the Festival of the Arts is on at Epcot, make the most of this unique festival. The crowds are much lower in February than any other time of the year.
It's a great time to get on some of the top attractions. You'll find that the weather is a little up and down this month. Keep an eye on the forecast each day, and you'll no doubt have an amazing family vacation in Walt Disney World.