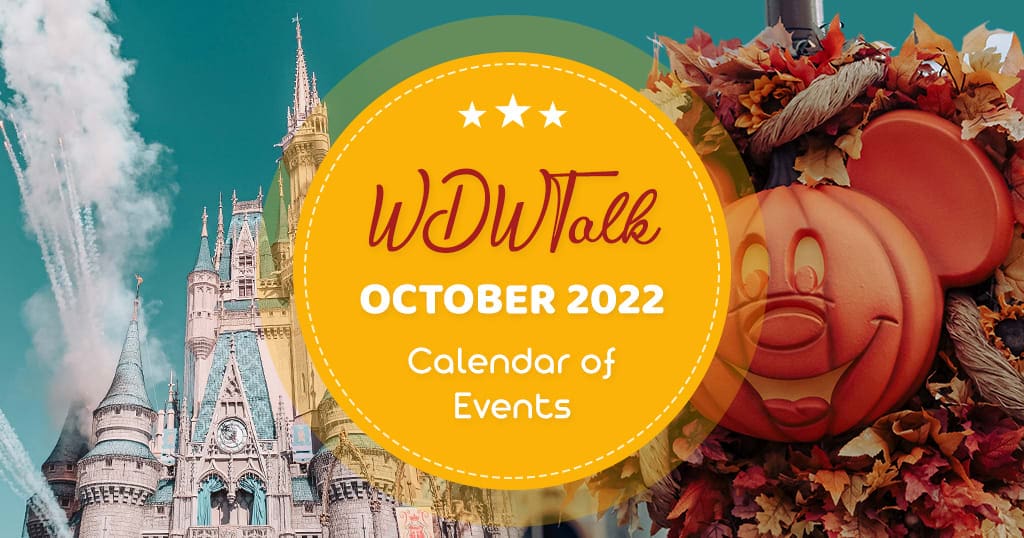 If your family is lucky enough to have a fall break in October, this is a great time of year for you to head to Walt Disney World. Halloween is in full swing throughout the month, and it's one of our favorite times of the year for special events in Walt Disney World. Let's take a look at everything you need to know if you are planning a visit to the parks this month.
Special Events in October 2022 at Walt Disney World
Epcot International Food & Wine Festival –The Epcot International Food & Wine Festival continues this month and carries on all the way through to November. If you haven't been able to visit already this year, make sure you check out this highlight in the Epcot event calendar. Our favorite thing to do is walk around World Showcase and enjoy the food and drink from the various booths. It does get busier with locals during the weekends here, so plan your days in the park accordingly.
Also Read: The Ultimate Guide To The EPCOT Food And Wine Festival
Halloween Parties in the Magic Kingdom – Throughout the month, there will be two or three Halloween parties a week in the Magic Kingdom. For guests who aren't attending these parties, this does mean the park closes earlier than usual. We haven't received confirmation about the type of party, the dates, or the prices just yet, but we hope Disney will release this information soon for 2022.
Also Read: Mickey's Not So Scary Halloween Party Worth it?
The Weather at Walt Disney World in October
October is a very pleasant time of the year to visit. The month is still considered to be in hurricane season, but it usually only gets roughly five days of rain in the month. Expect high temperatures of 85°F and lows of 68°F, making it more pleasant than it's been for the last few months for touring the parks. It's a great time of year to enjoy both of the water parks, as after this month, they usually start to close one at a time for their annual refurbishments. It's still warm enough to wear a t-shirt at night, but you might want to add a light sweater if you are staying out late towards the end of the month.
The Pros and Cons of Visiting Walt Disney World in October
October is one of the most popular months of the year to visit the parks. These are a few of the advantages and drawbacks you'll notice of booking a trip at this time of the year.
Pros of an October Disney Trip
Pleasant Weather – The weather in October is more enjoyable than it has been the last few months. It's still hot enough for swimming without being too humid for touring the parks.
Halloween Decorations and Parties – If your family loves celebrating Halloween, there's no better time to visit Disney. Make the most of the Halloween parties in the Magic Kingdom, or just enjoy the decorations that are up in this park throughout the month.
Epcot International Food & Wine Festival –This is one of our favorite months to experience this festival. It's not too hot to walk around, so you can keep going for longer without a break.
Cons of an October Disney Trip
Increased Crowd Levels – Sadly, the days of October being a quiet time to visit the parks has long gone. Between the special events and Halloween decorations, you'll find that the parks are especially busy at the weekends. Keep in mind that a lot of schools now have fall breaks in this month, which pushes crowd levels up throughout October.
Need to Book in Advance for Halloween – Halloween is incredibly popular here in Orlando, and you'll need to book party tickets as soon as they go on sale for the Halloween dates. Make sure you also book in advance for accommodation around the 31st, as it's a great time to be in Orlando.
Holidays in October 2022 at Walt Disney World
Columbus Day – Columbus Day is on Monday, October 10th, 2022. While there isn't anything special going on at Disney at this time, it does increase the crowds quite significantly in the parks. Both locals and visitors come out for this day, and it's by far the busiest weekend of October in Walt Disney World. Book ahead if you are looking to stay in Orlando during this time, as you may struggle to find last-minute hotel reservations.
Operating Hours for October 2022
October is much busier in the parks now than it was in past years. You'll find that Disney may add extra park hours nearer the time, especially if they notice an increase in bookings to make up for the past two years. Keep in mind that Magic Kingdom closes early a lot throughout the month, especially around Halloween. If you just have one day to spend in this park, try to avoid the weekends and party nights. It can make planning more tricky, but it's worth it to make the most of your time here. On-site guests can enjoy the extra morning 30 minutes each day, which helps to get ahead of the fall break crowds.
Magic Kingdom – 9 am to 9 pm (keep in mind there will be some early closing times for Halloween parties)
Epcot – 9 am to 9 pm
Disney's Hollywood Studios – 9 am to 9 pm
Disney's Animal Kingdom – 8 am to 8 pm
Water Parks – 10 am to 5 pm each day. One park may close this month for its annual refurbishment.
Disney Springs – 10 am to 11 pm
What to wear in October at Disney World
As we mentioned in the weather section of this piece, it's going to be warm in October. So you will want to lighter clothing, no winter jackets, you're in Florida! It is tempting to pack only shorts for your trip, and if you're only going for 3 or fewer nights, I think you could get away with just packing shorts. Any more nights than that, and you might want to pack 1 or 2 pair of lightweight pants, particularly if you are going to enjoy a signature restaurant.
Shirt wise, ladies please do not pack only thin spaghetti straps. Enjoy tanning those shoulders, and wear them with regularly applied sunscreen, but give your skin a break and back those matching family t-shirts you've been dying to wear and take photos in!
Don't forget your bathing suit! One of the perks of going in October is it's still hot enough for perfect pool weather. In the afternoons be aware it can storm, but usually it's not for long. Be sure your bathing suit is family friendly, and comfortable.
What to pack if your going to Disney World in October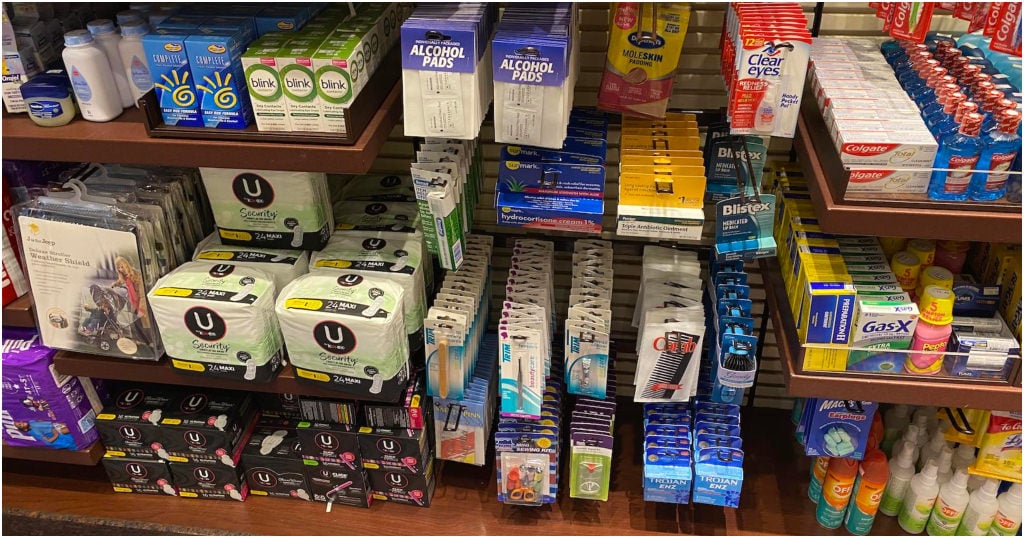 Do not forget to pack and apply sun screen often if you're going to be at Disney World. We would recommend a bare minimum of SPF 30 for your sunscreen protection. You can see get sun burnt any part of the year in Florida, it is one reason why it's called the Land of Endless Summer. If you forget your sunscreen, most resorts will have a store that will have sundries you can purchase. You also have the option to get items delivered from the grocery store or Walmart directly to your hotel. I'll link below the information you need when doing so.
Read Also: Grocery Delivery at Disney World; How to get groceries delivered
Don't forget to pack your favorite pair of sunglasses, and hat as well. Sun screen is a necessity, but what about your scalp and your eyes? Do not forget them, and trust me when I say having a sun burnt scalp trying to apply aloe to, it's not fun to do at night – and can ruin the rest of your trip. So my recommendations is bring a hat, and sunglasses that offer polarization.
I'm a fan of Shady Ray sunglasses, as they donate 1 meal with each order, they are quality glasses at reasonable prices, and even will replace them if you lose them when you don't remember to take them off during Rock 'n' Roller Coaster. That might have happened once or twice to me, and the customer service replacements are quick, and painless.
Read Also: How Fast Is Rock 'n' Roller In Disney World?
October is one of the most exciting times of the year to visit Walt Disney World. Between Halloween and the Epcot International Food & Wine Festival, there's no shortage of things to do even if you've visited dozens of times before. Make sure you book your hotel reservations now, as we expect October 2022 to be particularly popular. People are looking to make up for the past two years, and it's a great time of year for both the weather and events in the parks for visitors of all ages.