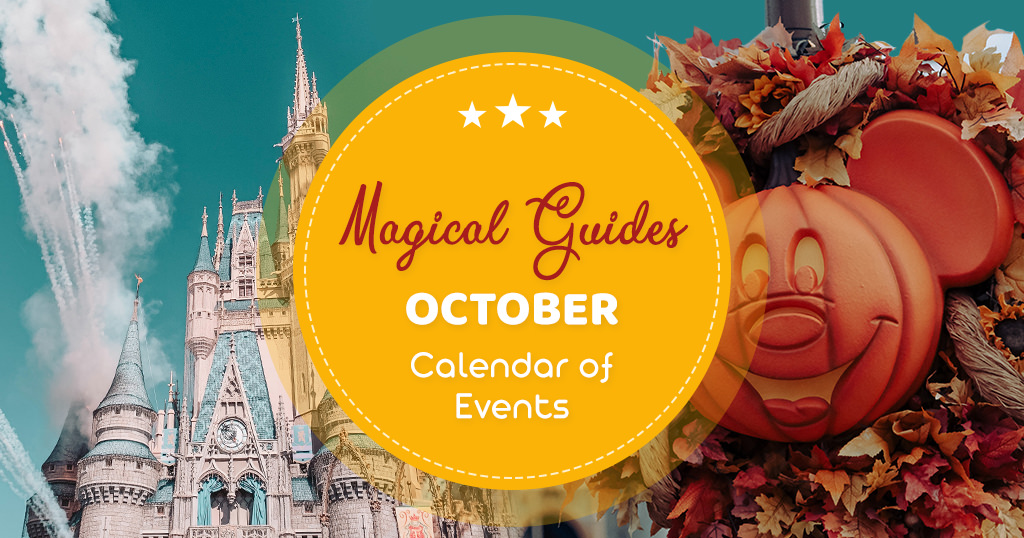 If your family is lucky enough to have a fall break in October, this is a great time of year for you to head to Walt Disney World. Halloween is in full swing throughout the month, and it's one of our favorite times of the year for special events in Walt Disney World.
October is a special month for both my husband and I as we both celebrate birthdays in October. My birthday falls the first week of October and My husband's is usually the third week. Often we go in between our two birthdays for a dual celebration.
Let's take a look at everything you need to know if you are planning a visit to the parks this month.
The Pros and Cons of Visiting Disney World in October
October is one of the most popular months of the year to visit the Disney parks. These are a few of the advantages and drawbacks you'll notice of booking a trip at this time of the year.
Pros of an October Disney Trip
Pleasant Weather – The weather in October is more enjoyable than it has been the last few months. It's still hot enough for swimming without being too humid for touring the parks.
Halloween Decorations and Parties – If your family loves celebrating Halloween, there's no better time to visit Disney. Make the most of the Halloween parties in the Magic Kingdom, or just enjoy the decorations that are up in this park throughout the month.
Epcot International Food & Wine Festival –This is one of our favorite months to experience this festival. It's not too hot to walk around, so you can keep going for longer without a break.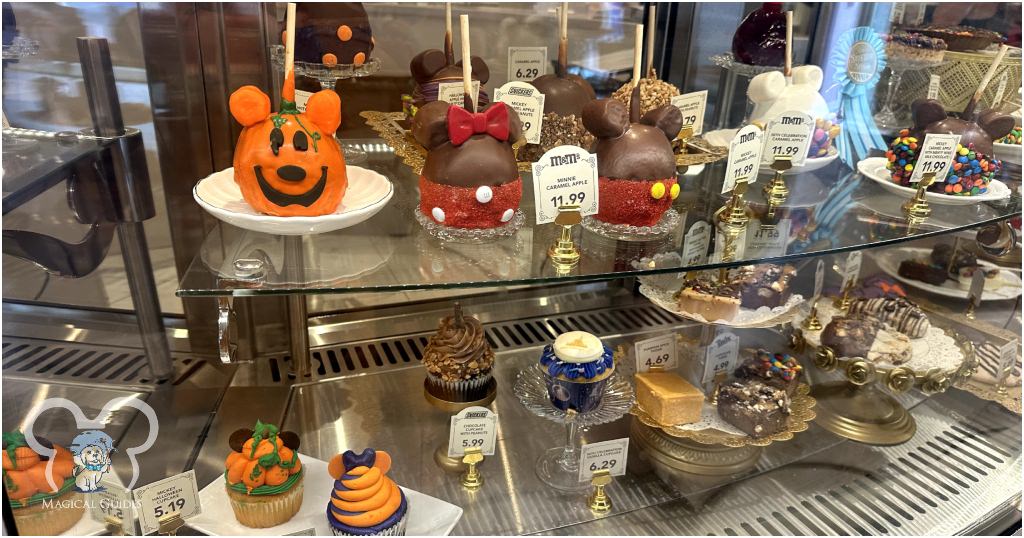 Cons of an October Disney Trip
Increased Crowd Levels – Sadly, the days of October being a quiet time to visit the parks has long gone. Between the special events and Halloween decorations, you'll find that the parks are especially busy at the weekends. Keep in mind that a lot of schools now have fall breaks in this month, which pushes crowd levels up throughout October.
Need to Book in Advance for Halloween – Halloween is incredibly popular here in Orlando, and you'll need to book party tickets as soon as they go on sale for the Halloween dates. Make sure you also book in advance for accommodation around the 31st, as it's a great time to be in Orlando.
How Busy is Disney World in October?
October is the perfect time of year to go to Disney World for the best weather. Cooler than the previous summer months, but not cold like the approaching winter months. The good news is that you can look forward to warm days this time of year.
October is one of the best months to go based on the weather, but not as much for the crowd level. The Disney World Crowd Calendars show October as being a higher crowd month.
The busiest time of the month is fall break mid month, and the two holidays in October. Many guests like to go to celebrate Halloween and see the Christmas decorations start to go up November 1st. The changeover of decorations is a popular time of year for people to go.
Crowds will be lower in October than in the upcoming holiday season.
Special Events in October at Walt Disney World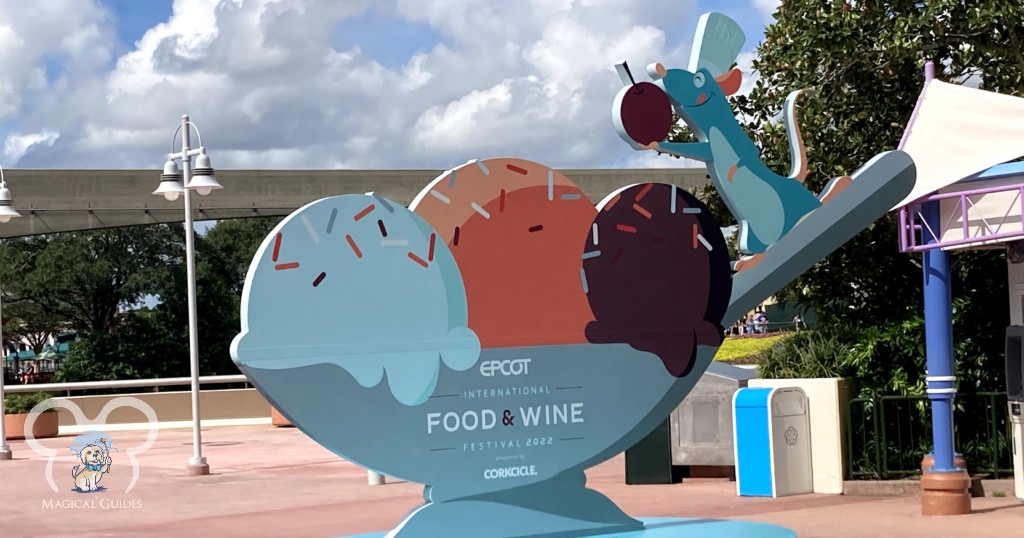 Epcot's International Food & Wine Festival
The Epcot International Food & Wine Festival continues this month and carries on all the way through to November. October is a great month to enjoy this festival.
Guest's favorite thing to do is walk around World Showcase and enjoy the food and drink from the various booths. It does get busier with locals during the weekends here, so plan your days in the park accordingly.
I have a sulfite allergy, so I much prefer EPCOT's Flower & Garden Festival in the spring instead.
Halloween Parties in the Magic Kingdom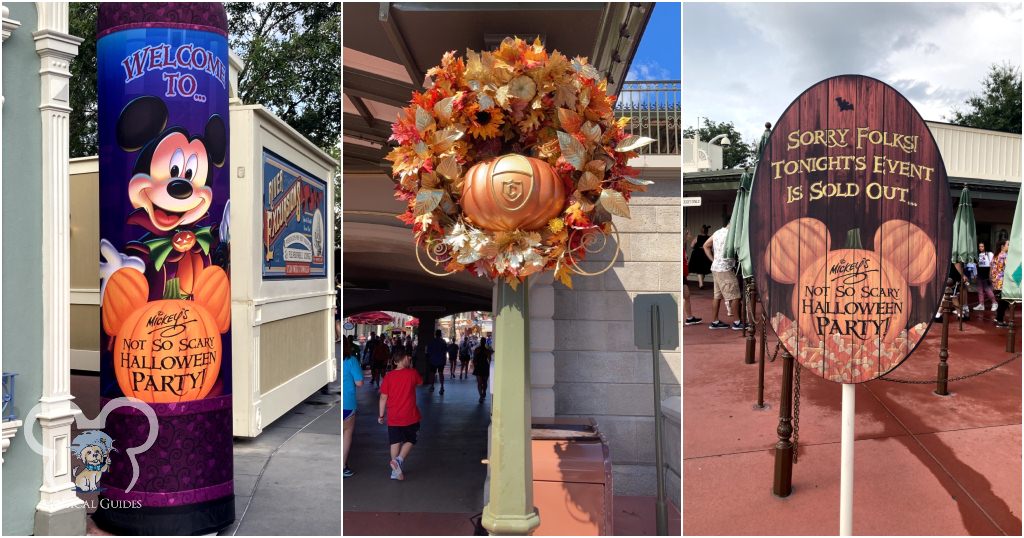 Mickey's Not So Scary Halloween Party is a special ticketed event that requires tickets for entry. The party starts in August and runs until October 31st.
October is your last chance to attend MNSSHP so be sure to book your tickets well in advance! For guests who aren't attending these parties, this does mean Magic Kingdom closes earlier than usual for regular park guests and there may not be fireworks before it closes.
Mickey's Not So-Scary Halloween party will have special fireworks shows, attractions, dining, and parades that you won't want to miss! You can find current ticket prices on the Disney website.
The party is one of the best ways to see your favorite characters that don't come out as often. Your favorite characters that are regularly in the park will be in their Halloween costumes for the party for added fun!
Holidays in October at Walt Disney World
Columbus Day/Indigenous Peoples' Day
Columbus Day Weekend or the weekend of Indigenous peoples' day is in October. While there isn't anything special going on at Disney at this time, it does increase the crowds quite significantly in the parks.
Both locals and visitors come out for this day, and it's by far the busiest weekend of October in Walt Disney World. Book ahead if you are looking to stay in Orlando during this time, as you may struggle to find last-minute hotel reservations.
Halloween
Magic Kingdom is the only one of the Disney theme parks that decorate for Halloween. Mickey's Not So-Scary Halloween Party at Magic Kingdom is an extra magical experience on Halloween itself with more people dressing in costumes to attend.
Check the Walt Disney World Resort you are staying in as they may have trick or treating or other experiences which is a great way to celebrate the holiday without going to the party.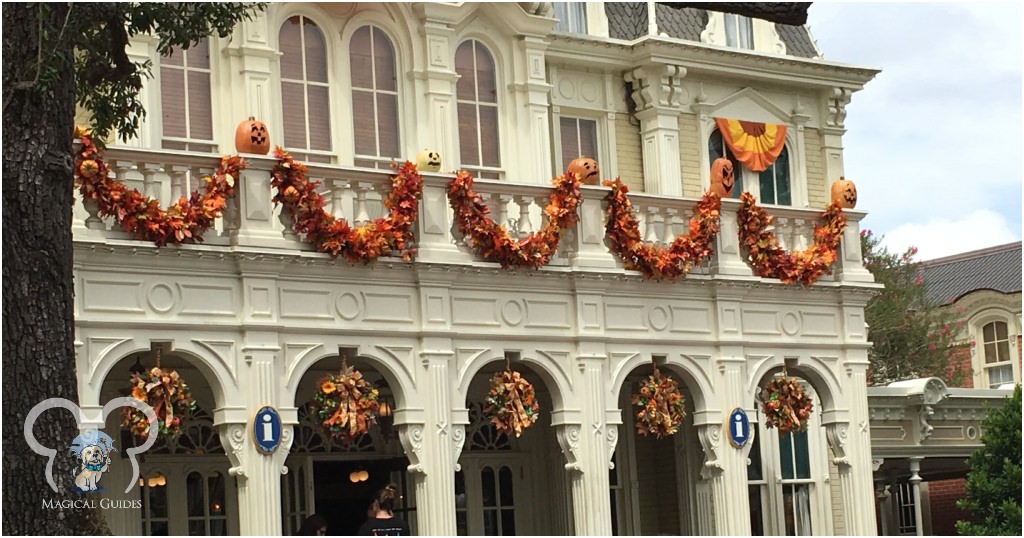 Operating Hours for October
October is much busier in the parks now than it was in past years. You'll find that Disney may add extra park hours nearer the time, especially if they notice an increase in bookings to make up for the past few years.
Keep in mind that Magic Kingdom closes early a lot throughout the month, especially around Halloween. If you just have one day to spend in this park, try to avoid the weekends and party nights.
It can make planning more tricky, but it's worth it to make the most of your time here. On-site guests can enjoy the extra morning 30 minutes each day, which helps to get ahead of the fall break crowds.
I am not a morning person, but low crowds in the early mornings help you avoid the hot weather and long lines on your Walt Disney World Vacation. Another great option that is personal preference, is purchasing Genie+ or Individual Lightning Lanes to avoid long lines.
Magic Kingdom – 9 am to 9 pm (keep in mind there will be some early closing times for Halloween parties)
Epcot – 9 am to 9 pm
Disney's Hollywood Studios – 9 am to 9 pm
Disney's Animal Kingdom – 8 am to 8 pm
Water Parks – 10 am to 5 pm each day. One park may close this month for its annual refurbishment.
Disney Springs – 10 am to 11 pm
The Weather at Walt Disney World in October
October is a very pleasant time of the year to visit Central Florida. The month is still considered to be in hurricane season, but it usually only gets roughly five days of rain in the month.
In case of closures due to hurricanes, be sure to check policies for Disney tickets, airlines, and resorts before booking. You should consider travel insurance for this time of year if anything is nonrefundable.
Expect average high temperatures of 85°F and average lows of 68°F. October is a good time to go for warm weather but not as warm as the previous summer months. It's a great time of year to enjoy both of the water parks, as after this month, they usually start to close one at a time for their annual refurbishments. 
Read More: Discover the Colorful History of Orange Bird in Disney
It's still warm enough to wear a T-shirt at night, but you might want to add a light jacket to your packing list. The end of the month can have cooler temperatures at night.
What to Wear in October at Disney World
As we mentioned in the weather section of this piece, it's going to be warm in October. So you will want to lighter clothing, no winter jackets, you're in Florida! Prepare for hot days by packing things like shorts, t-shirts, or tank tops for the early October Florida Weather.
It is tempting to pack only shorts for your trip, but it's a good idea to also prepare for cooler weather that may happen on your Disney Vacation too. Having one or two long-sleeved shirts, long pants, and a light jacket may be helpful in late October especially at night.
Check the weather forecast before your trip to help you decide what to wear for the time you are going.
It's also a great idea to prepare for rainy days just in case, though it won't rain as much as it would in September. Bring more than one pair of tennis shoes or flip-flops in case your feet get wet.
Don't forget your bathing suit! One of the perks of going in October is it's still hot enough for perfect pool weather and water rides. In the afternoons be aware it can storm, but usually it's not for long.
What to Pack if you are Going to Disney World in October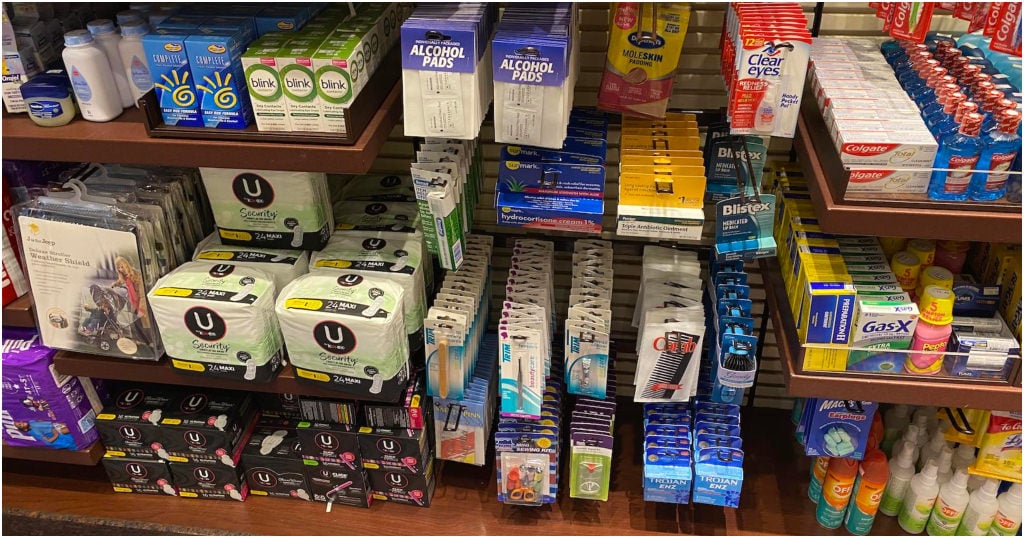 The most important thing to pack is sunscreen especially since it will still be warm at the happiest place on Earth. If you forget your sunscreen, most resorts will have a store that will have sundries you can purchase.
You also have the option to get groceries, toiletries, or sunscreen delivered to your hotel. It is helpful to have waters, snacks, and breakfast in your hotel room too to help save some money.
Don't forget to pack your favorite pair of sunglasses, and hat as well. I'm a fan of Shady Ray sunglasses, as they donate 1 meal with each order, they are quality glasses at reasonable prices, and even will replace them if you lose them at the Magic Kingdom Park. I may have learned that the hard way.
Comfortable walking shoes are definitely important to bring with you any time of the year. In October, it is helpful to bring more than one pair of comfortable shoes in case it rains while you are there.
Disney sells rain ponchos, but you can avoid that extra cost by purchasing some cheap dollar-store ponchos and bringing them with you. It's also smart to bring extra socks to pack in your Disney park bag.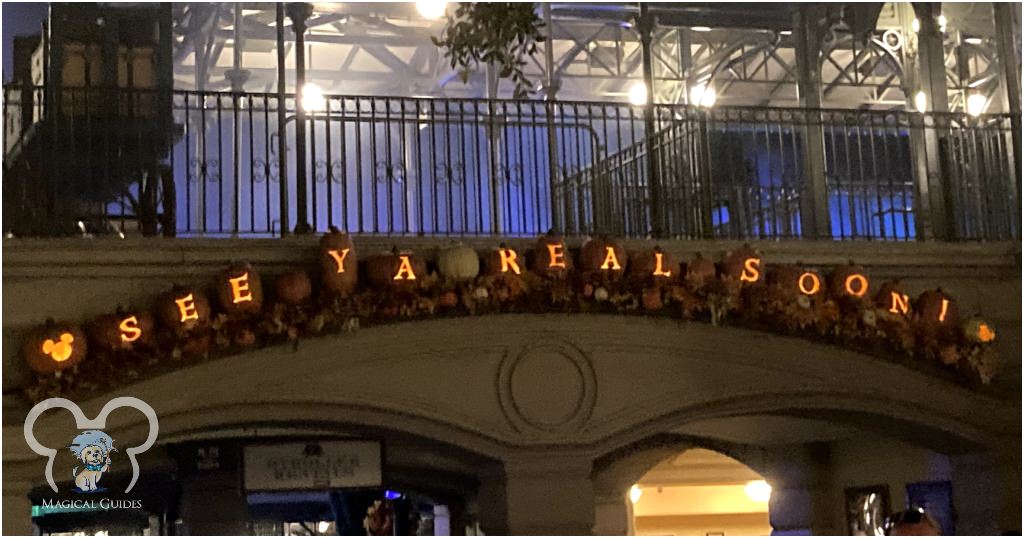 October is one of the most exciting times of the year to visit Walt Disney World. Between Halloween and Epcot Food & Wine Festival, there's no shortage of things to do even if you've visited dozens of times before.
Make sure you book your hotel reservations now, as we expect October to be particularly popular. People are looking to make up for the past two years, and it's a great time of year for both the weather and events in the parks for visitors of all ages.