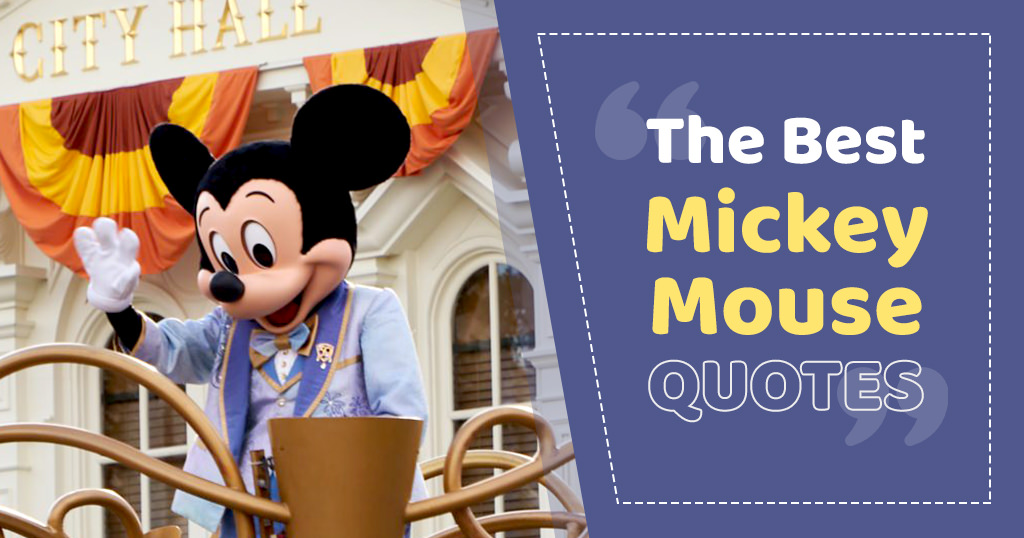 When you think of Disney, you can't help but also think about Mickey Mouse. Whether it's the iconic ears sold in the theme parks, his signature voice, or even the hidden Mickeys found throughout the Disney parks and films, his fingerprints are all over the Walt Disney Company.
There's a reason the line to meet Mickey always has such a long, but worthwhile wait. People, young and old, love this animated mouse.
Mickey Mouse was created in 1928, making him over 90 years old. After losing the rights to Oswald the lucky rabbit, Walt Disney created a new character with the help of Ub Iwerks. Iwerks did the animation while Disney was the original voice of Mickey.
His name was originally going to be Mortimer. Fortunately for Disney fans everywhere, Walt Disney's wife Lillian turned it down.
When the name was pitched to her, she said it wasn't right for the adorable mouse, and sent Walt back to the drawing board. After that moment, Mickey Mouse was born!
His first two movie appearances were Plane Crazy and Gallopin' Gaucho, both released in 1928. Later that year, Steamboat Willie was released, featuring Mickey Mouse whistling while steering a boat.
It was this film that really made Mickey Mouse a star. Walt Disney was even given a special award in 1932 for the creation of Mickey Mouse: the Academy of Motion Picture Arts and Sciences.
Since then, Mickey Mouse has starred in hundreds of movies and television shows. He has multiple Christmas specials on Disney Plus and numerous shows, such as Mickey Mouse, Mickey Mouse Clubhouse, The Wonderful World of Mickey Mouse, Mickey Mouse Roadster Racers, and many more! He's even starred in Disney's takes on classic stories like A Christmas Carol and The Three Musketeers.
Today, Mickey Mouse's appearance is more recognizable than Santa Claus. You can't go into a Disney theme park without seeing people in Mickey and Minnie ears at every turn. When you go into any Disney store, there are dozens of shirts, pajamas, and bags sold that feature Mickey in some form.
Mickey has even been voted for in elections! That's right. Every election, people write in Mickey Mouse, whether it's for president or local elections. This famous animated mouse is the most common write-in candidate.
He's the star of every Disney parade and part of the reason why we all love Disney so much. Mickey Mouse truly is a large part of American culture and has made an impact on people all around the globe.
Meeting Mickey Mouse with his iconic red shorts and white gloves is always our favorite part of the day in the happiest place on earth. I miss the talking Walt Disney World Mickey where you could see a little personality almost like the real thing.
Whether it's in a Disney park nighttime spectacular, a video game, or one of the many hilarious Mickey Mouse shorts, there are dozens of quotes from this lovable mouse. If you're missing the parks or just need a reminder of what makes Mickey so wonderful, I've put together a list containing 100 of the best quotes both about and from the Mouse himself.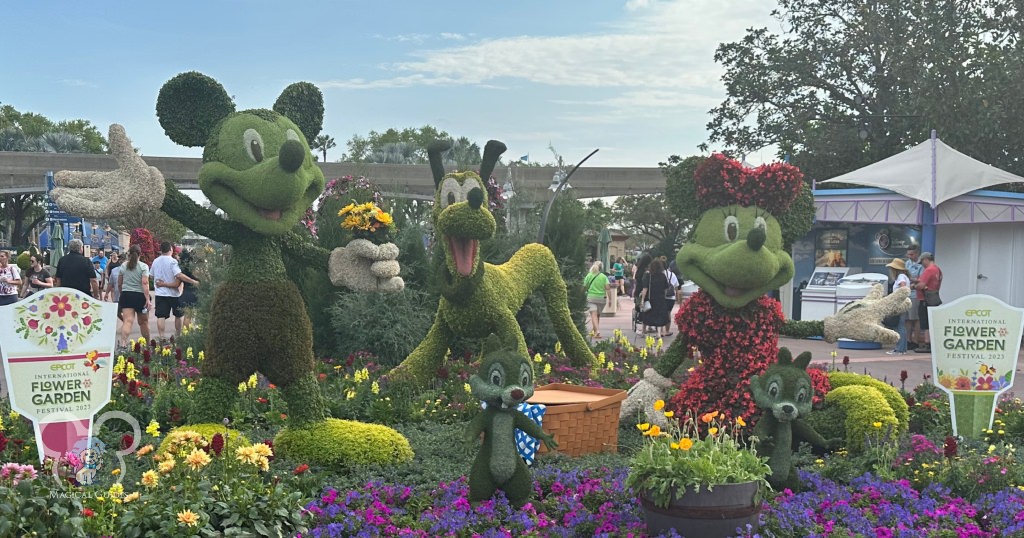 Photo by Bayley Clark for MagicalGuides.com
Walt Disney Quotes about Mickey Mouse
"I only hope that we never lose sight of one thing—that it was all started by a mouse."
"I love Mickey Mouse more than any woman I have ever known."
"When people laugh at Mickey Mouse it's because he's so human; and that is the secret of his popularity."
"I often find myself surprised at what has been said about our redoubtable little Mickey, who was never really a mouse, not yet wholly a man."
"But all we ever intended for him was there he should make people everywhere chuckle with him and at him."
"The life and ventures of Mickey Mouse have been closely bound up with my own personal and professional life. . . He still speaks for me and I still speak for him."
"He popped out of my mind onto a drawing pad 20 years ago on a train ride from Manhattan to Hollywood at a time when the business fortunes of my brother Roy and myself were at lowest ebb, and disaster seemed right around the corner."
"When I was poor, living in a garage in Kansas, I began to draw the mice that scampered over my desk. This is how Mickey Mouse was born."
"We felt that the public, and especially the children, like animals that are cute and little."
"It is understandable that I should have sentimental attachment for the little personage who played so big a part in the course of Disney Productions and has been so happily accepted as an amusing friend wherever films are shown."
Celebrity Quotes about Mickey Mouse
"Mickey's still the same little guy he always was. He's changed in appearance through the years a little bit but he's still Mickey." ~Roy Disney
"Mickey Mouse is always there – he's part of my life. That really is something not everyone can call their claim to fame." ~Annette Funicello
"There are only a couple characters and people in the world where, in history, where you can go anywhere in the world and say that character or person, that name, that song, and everyone knows what it is. Mickey Mouse is one, Disney, in general." ~Jordan Fisher
"I adored Mickey Mouse when I was a child. He was the emblem of happiness and funniness." ~Maurice Sendak
"What about Mickey Mouse? Disney tried very hard to make him a star. But Mickey Mouse is more of a symbol than a real character." ~Joseph Barbera
"Whether it's as the hero of an adventure story, as teacher and friend, as an icon on a watch, shirt or hat – everyone knows Mickey Mouse." ~Warren Spector
"Mickey Mouse to me means safety, comfort and tradition. A general wash of happiness." ~Phillip Schofield
"My Mickey Mouse ears were given to me by a dear friend. They remind me of how I need to be silly." ~Alice Ripley
"Mickey Mouse did not stay the little squeaky guy in Steamboat Willie. He went on to have many different versions." ~Paul Dini
"I'm a Disney fan. Like, seriously, if I see Mickey Mouse, I light up." ~LeToya Luckett
"Mickey makes me feel joyful." ~Leslie Odom Jr.
"I used to give out Mickey Mouse awards to people. I like Mickey Mouse because he represented certain values. He invested in people, was good to his friends, and hard on his enemies. Once a year, I would have our management team from each division come to an offsite, and I would talk about Mickey Mouse." ~Bernard L. Schwartz
Iconic Mickey Mouse Quotes
"See ya real soon!"
"Hot dog!"
"Oh, gosh!"
"Oh, boy!"
"That's swell!"
"Some imagination, huh?"
"Say, you wanna come inside my clubhouse?"
"Meeska, Mooska, Mickey Mouse!"
"We've got ears! Say cheers!"
Funny Mickey Mouse Quotes
"Donald, I can't understand a word you say."
"Arithmetic is being able to count up to 20 without taking off your shoes."
"Sorry I am late, everybody. I had to stop by the bank. I was overdrawn."
"Oh no, age before beauty, your highness."
"I'm just a little guy. Give me a pizza pie."
"All right, Goofy, get ready to feel the burn."
"It's a barbershop quartet! Their mouths are the instruments!"
"Gosh, I love sitting."
Mickey Mouse Quotes About Love
"Oh, Minnie. You're all the music I'll ever need."
"There's room for you in my heart."
"Romance is on the menu."
"To laugh at yourself is to love yourself"
"I will be always there with you, right there in your heart."
"Someone worth having is someone worth waiting for."
"You are and always have been my dream."
"Oh, Minnie, what gift could I possibly give to show you how I feel?"
"Minnie, I'm going to give you the greatest gift I have. It's filled with all my love. Do you promise to keep it safe forever?"
"My heart does not belong to that stuff. It belongs to you."
Mickey Mouse Quotes About Friendship
"Come on, I'll be right beside you because we're friends."
"Donald, good sports don't brag."
"I may be small, but I've got friends that make me feel 10 feet tall."
"Best friends stick together."
"Who's my pal? Who's my pal?"
"You're the best, pal!"
"But we shook hands, in our hearts. We're connected you and me."
"To really enjoy it here… Ya oughta go around talkin' to everybody ya see. Ya never know what kind of fascinatin' friendship ya might end up with!"
"There's nothing too good for my best pals!"
"Besides, we still got each other, right?"
"That's right! We traveled far and wide, inviting new friends to today's festival."
"To bring all sorts of friends together in celebration of what makes this kingdom really unique."
Mickey Mouse Quotes about Nature
"Leaves are droppin', pumpkins are poppin' cause it's fall."
"I love fresh air. Makes me happy!"
"Brr, that wind sure is chilly! Don't be gloomy just 'cause it's cold! C'mon, let's do something fun together."
"Gosh, the night sky sure is pretty, isn't it? Look at all those twinklin' stars!"
"A harvest tilled with honest work."
"I wish for this whole garden to blossom…like our love."
"I was just admiring the snowflakes. It's my greatest dream to make one someday."
"Oh my gosh, it's so beautiful. My perfect little snowflake. I'll cherish you forever."
Inspiring Mickey Mouse Quotes
"Uh, you may think you're so powerful. Well, uh, this is my dream!"
"Musketeers don't run from danger, and as long as we wear these uniforms, neither do we?"
"Come on, gang! Let's show Donald we all believe in our dreams. Just reach down deep inside and find the magic in your heart. Then, on the count of three, we'll all wish together real loud by saying 'Dreams come true!'"
"Donald, that's it! As long as we all believe, then the power of dreams will always triumph."
"By remembering about the power of dreams, you reminded us all that when we believe in ourselves, and our friends, and our family—why, there's nothin' we can't do! Gee, when you find the dream inside your heart, anything is possible!"
"Don't worry. There will always be a door to the light."
"Your darkness belongs to you. Just like your light."
"You'd never let the darkness get the best of you. I'm sure of that."
"Always look up. Never look down. That is how you smile through your day."
"Shine as bright as you can.
Positive Mickey Mouse Quotes
"All you need is a little bit of magic."
"Take the dream with you, wherever you may go!"
"Good times are here to stay."
"Our dancin' shoes will keep us light on our feet."
"Nothing a little elbow grease won't fix!"
"It's all part of the magic."
Cute Mickey Mouse Quotes
"She's worth her weight in gold, all right!"
"Christmas is a time for giving… a time to be with one's family."
"Nothing can stop us now. I'll tell ya how We're gonna make it happen."
"Come inside; it's fun inside."
"The Mystery Mouskatool… that's a surprise tool that can help us later."
"Yes, sir. Janitors today, musketeers tomorrow."
"Oh, boy! Bibbidi Bobbidi Stew!"
"We wanted to make your dream come true."
"Set sail for adventure!"
"It's the Mickey Mouse Clubhouse!"
"When you're curious you find lots of interesting things to do."
"Let's win the day for Goofy!"
"I'll grab some cider and snuggle beside her."
"What do you say, crowd? Do you want more magic?"
"You bet your sweet ears, I do."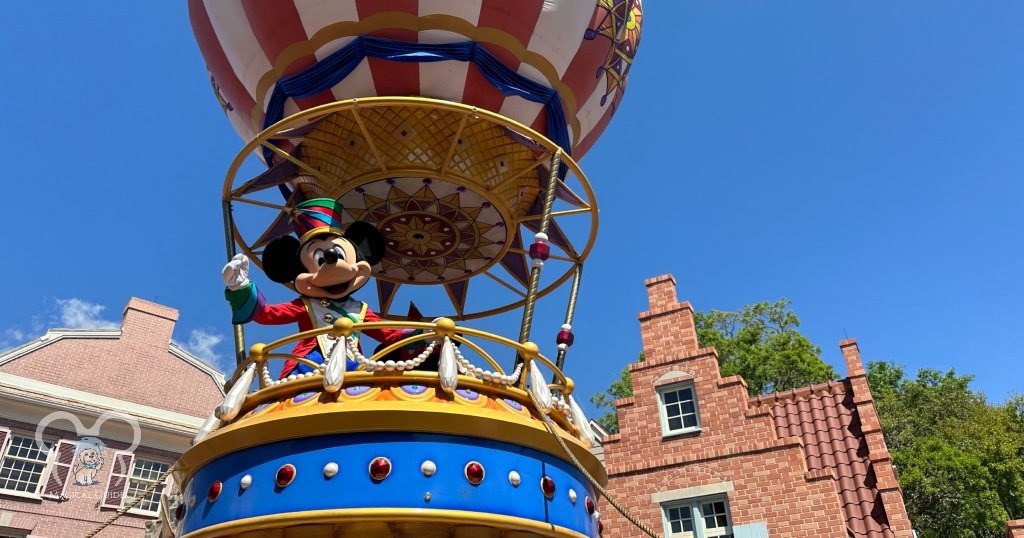 Photo by Bayley Clark for MagicalGuides.com
The Mouse Who Started It All
So there you have it! 100 quotes about and from the beloved Mickey Mouse. I hope these quotes helped remind you of all of the different sides of Mickey.
My favorite Mickey Mouse quotes are the ones with Donald Duck. These two best friends make me giggle. If you enjoyed these Mickey Mouse Quotes, you might also enjoy these 50 of the Best Minnie Mouse Quotes as well.
He can make you laugh one moment, then inspire you the next. Whether he's the star of Fantasmic or being silly in one of the many Mickey Mouse shorts, there is always room for the beloved mouse in our hearts.
What's your favorite Mickey Mouse quote?