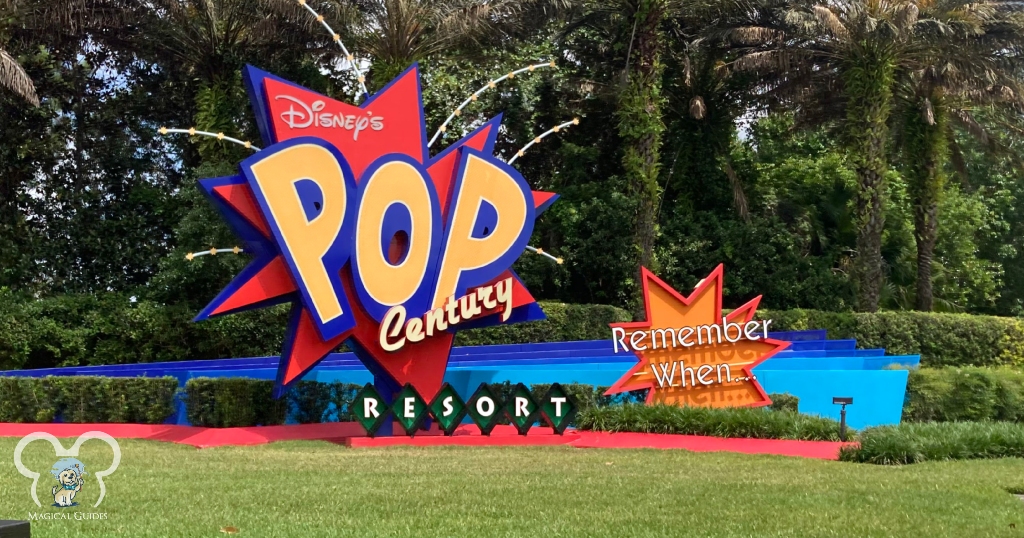 Just West of Disney's Hollywood Studios, you will find Disney's Pop Century Resort. Built in 2003, this resort boasts three themed pools, complimentary transportation, and a giant yo-yo.
The resort celebrates pop culture from the 50's to the 1990's. Guests are greeted with giant bowling pins, Rubik's Cube, and more iconic symbols of history.
As a 90's child, I appreciate the throwback to yo-yos, play doh, and old phones. The theming of this resort is so much fun and one of my favorite value resorts!
Pop Century is typically cheaper than Art of Animation, but nicer than All-Star Resorts. This makes Pop the best value resort to stay at.
Saving money on your expensive Disney Vacation is important. One of the ways to help keep the budget down is to stay at a value resort like Pop Century.
Let's find out why Pop Century is a great choice for your next Walt Disney World Vacation!
Where is Disney Pop Century Located?
Pop Century is a Walt Disney World Resort located in Lake Buena Vista, FL. This is an on property value Disney Resort Hotel. Pop Century is within walking distance of Art of Animation.
The official address for Pop Century is 1050 Century Drive Lake Buena Vista, FL 32830. Pop Century is located near the ESPN Wide World of Sports Complex.
What is the Theming of Pop Century?
The best part of staying at any Walt Disney World resort is definitely the theming. The value resorts in particular have the most Disney theming with characters for families with young kids.
Pop Century's theming is pop-culture by decade from 1950-1990. Each section of buildings represents a different decade in this timeframe. There are also character statues throughout the pop-culture theme as well.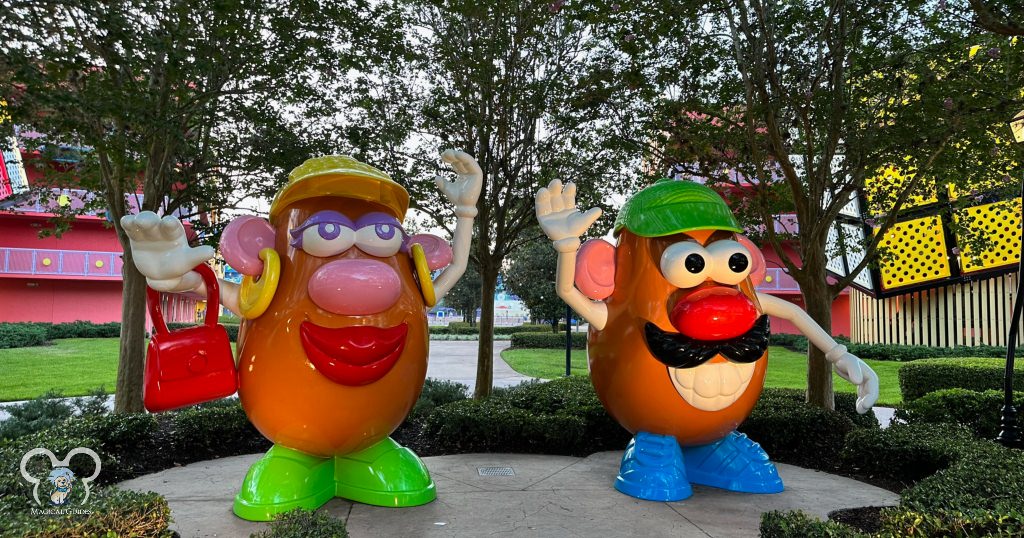 1950s Guest Rooms
The 50s is buildings 1, 2, and 3. 1 and 3 are preferred rooms while 2 are standard rooms.
This decade has a giant bowling pin and a juke box. The character statue featured here is Lady and Tramp.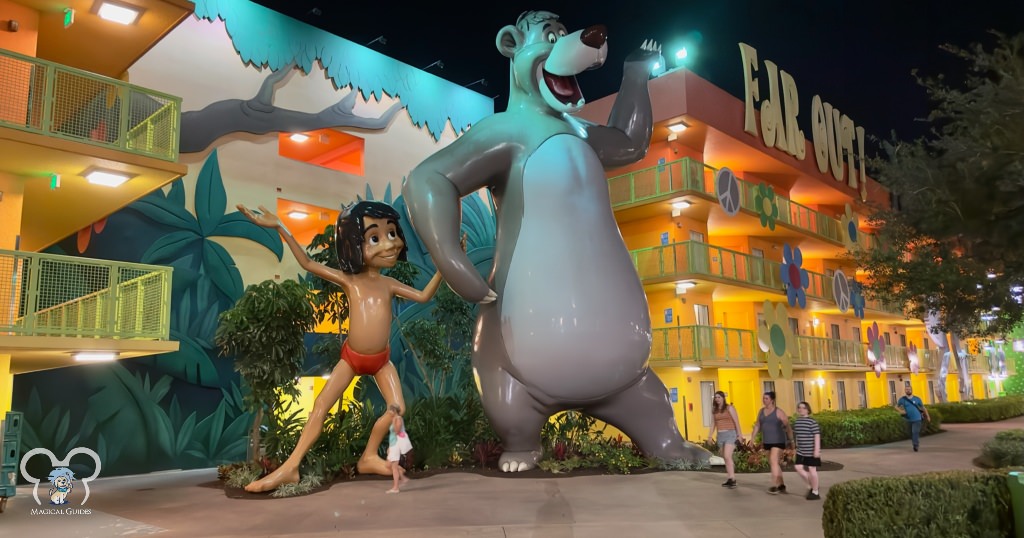 1960s Guest Rooms
The 60s rooms are in the center of the resort. They are buildings 4 and 5 and your room will either be very close to Classic Hall in the front or very close to the Skyliner. These rooms also give you the best access to the Hippy Dippy Pool.
The 60s will take you back to simple toys with a yo-yo and play-doh. Mowgli and Baloo are the character statues in this decade.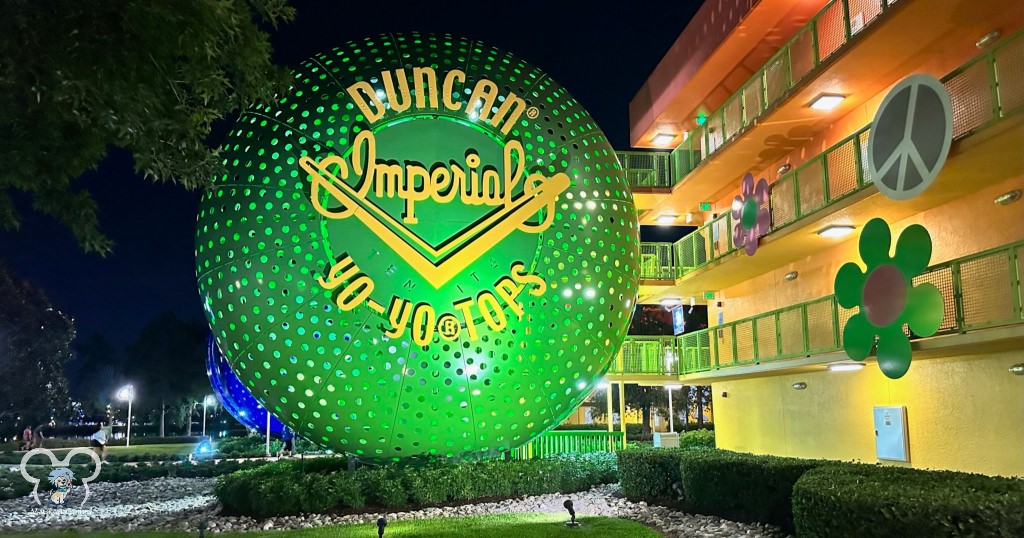 1970s Guest Rooms
The 70s are buildings 6 and 10 which are also preferred rooms.
Here you will see a giant foosball game and Mickey holding an old rotary dial phone from the 70s.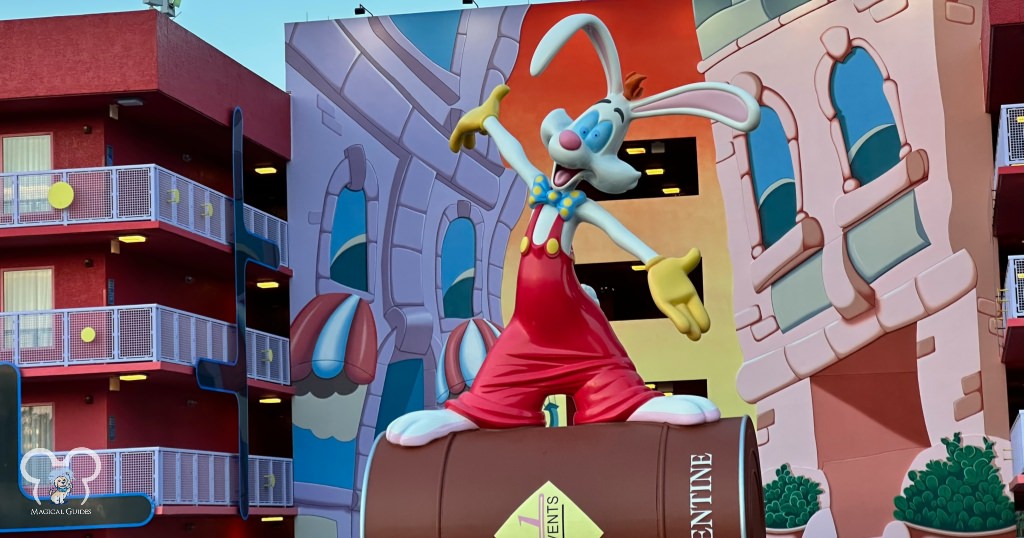 1980s Guest Rooms
The 80s are buildings 7 and 9 which are slightly farther away. It is close to the Computer Pool though.
The 80s features a walkman and Rubix cubes. Find Roger Rabbit's character statue in the 80s.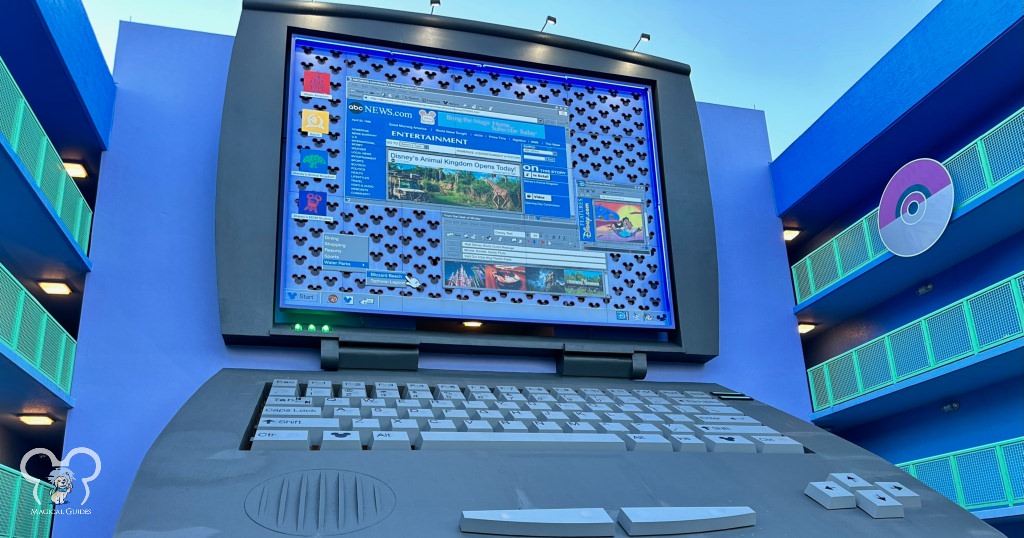 1990s Guest Rooms
The 90s is building 8 and will have the longest walk of any decade.
Computers and cell phones decorate the 1990s area.
Pop Century Resort Rooms
There are four guest room options at Pop Century.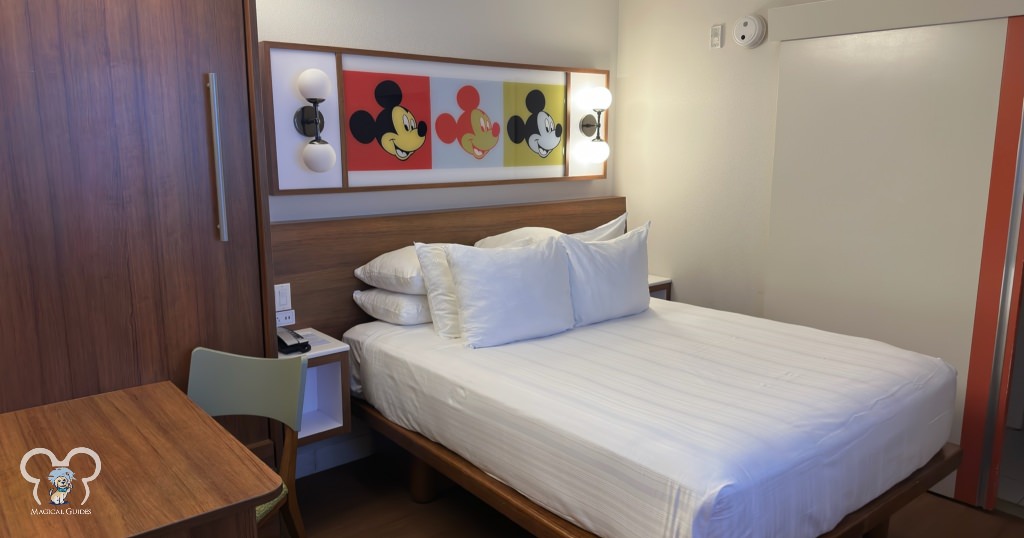 Standard Room
This is a basic room with a view of the resort or of the parking lot. The standard room can either be a king bed or a queen bed with an additional queen murphy bed. To request a king sized bed you would need to call and speak with a cast member. The number you want to call is (407) 939-1936.
Amenities
Hairdryer
Internet – Free WiFi Service
In-Room Safe
Telephone with voicemail
Coffee maker
Iron & Ironing Board
Mini Refrigerator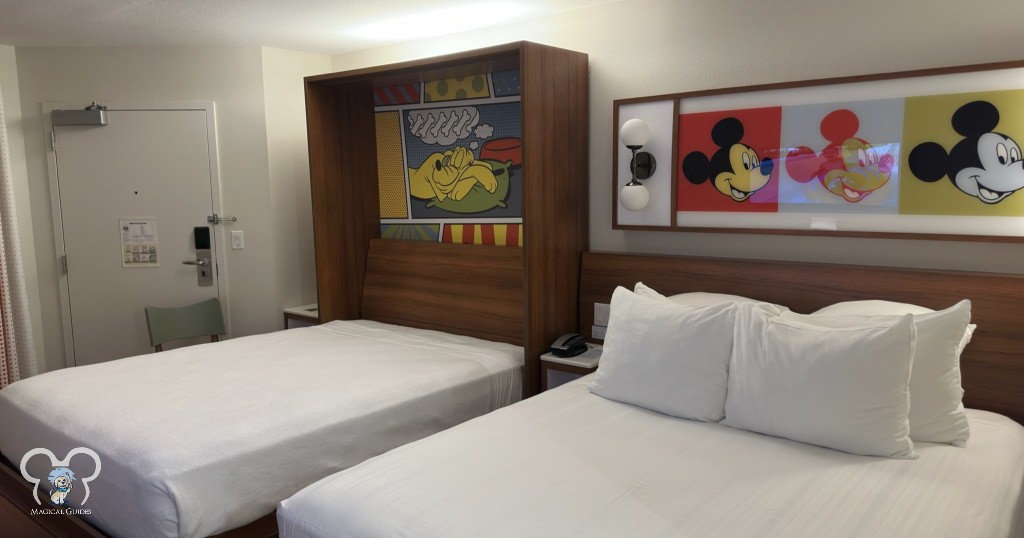 Standard Pool View
This is a standard room just like above, but with a view of the bowling pool or the computer pool. This is usually just a few dollars more per night to have a better view.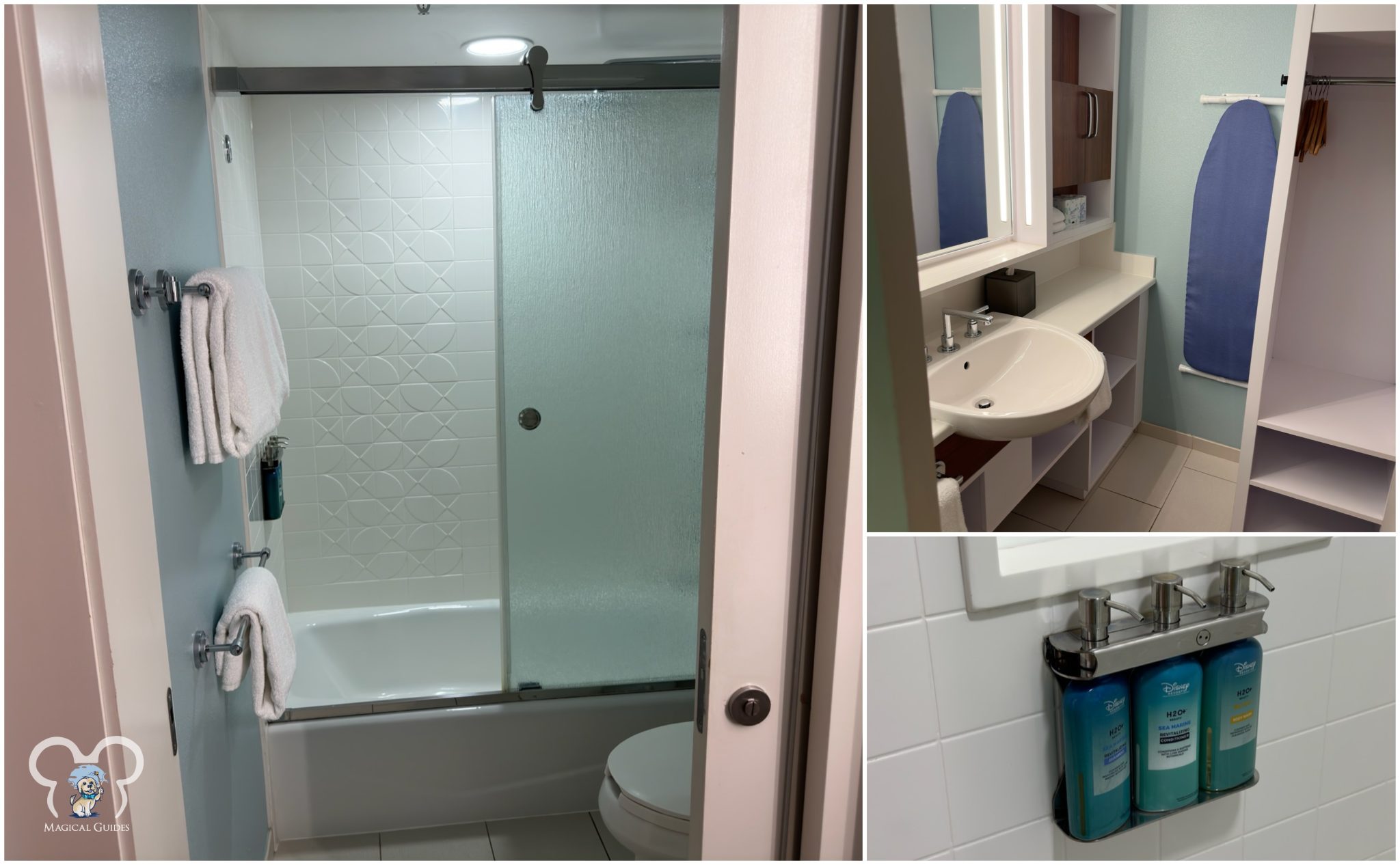 Preferred Room
The preferred room has a better view of landscaping or the courtyard. These rooms are located near the front building where you check-in. This is also where you will find shopping and dining at the resort.
Bus transportation picks up and drops off at the front of the resort. A preferred room means you don't have to walk as far to and from the bus stop which may help your aching feet on your Walt Disney World Vacation.
Similar to the standard room, if you want a king bed you will need to call that same number and speak with a cast member to request a king bed if available.
Amenities:
Hairdryer
Internet – Free WiFi Service
In-Room Safe
Telephone with voicemail
Coffee maker
Iron & Ironing Board
Mini Refrigerator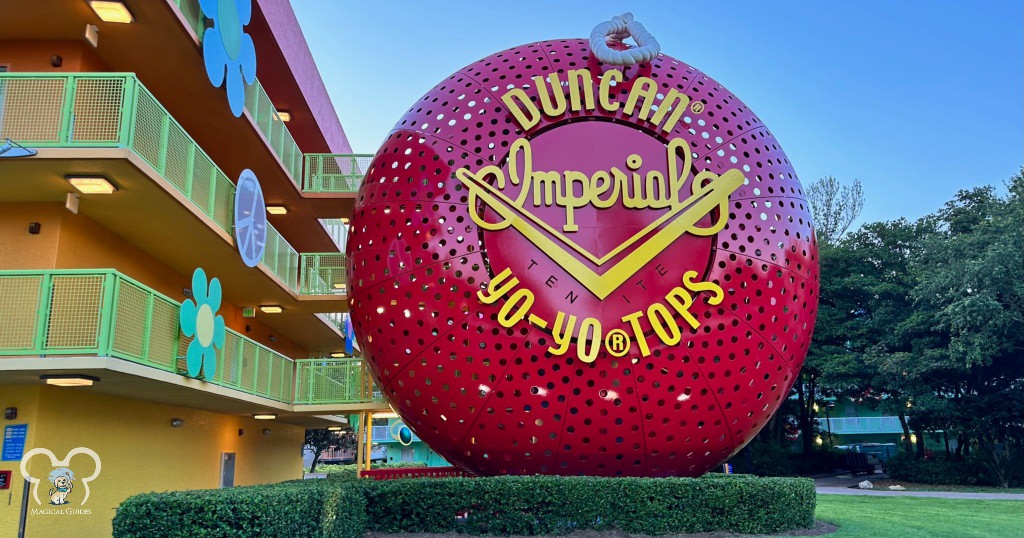 Preferred Pool View
This is a preferred room just like the above with a desirable location. Your view will be the Hippy Dippy Pool at the front of the resort.
What Is Considered A Preferred Room At Pop Century?
Preferred rooms are located near Classic Hall at the front of the resort. A preferred room will be closest to the Lobby, Dining, and Buses. Buildings 1(50s), 3(50s), 4(60s), 5(60s), 6(70s), and 10(70s) are all considered preferred rooms.
What are the room prices?
It depends on the time of year you are going to Disney World. A Standard room ranges from about $170 to $300 per night with a Standard Pool View being just a few dollars higher.
A preferred room ranges from $200 to $325 per night with a pool view being a few more dollars per night. For us, A preferred room is not worth the extra money. We enjoy walking through the resort and appreciating all the theming has to offer.
Pop Century Dining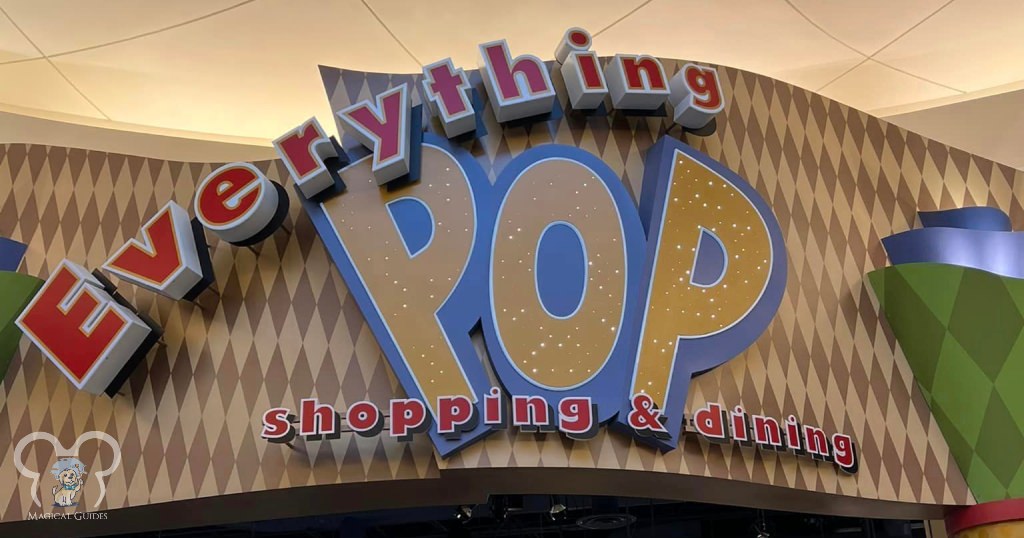 Guests can also enjoy breakfast, lunch, or dinner at Everything Pop Shopping & Dining also known as the pop food court. The large quick service restaurant offers omelets and Mickey waffles for breakfast, as well as burgers and pizza for lunch or dinner.
A pizza delivery service is also available for guests at the resort. If looking for an outdoor dining option, Petals Pool Bar offers a variety of drinks and snacks for children and adults alike. Iced tea, craft beer, and cocktails can be enjoyed by the Hippy Dippy pool.
There are no table service restaurants at Pop Century. The dining at Pop Century is okay, but definitely not our favorite resort food at Disney World. We prefer to eat at the theme parks when we stay here.
What are Rapid Fill Mugs?
One of the benefits of staying at an on property Disney Resort is being able to purchase a 16oz refillable mug. The mug is $21.99 and will remain activated for 14 days. You can enjoy unlimited free refills of your beverages for those 14 days.
You can choose from tea, coffee, hot cocoa, and coca-cola fountain drinks for your mug. I recommend not using your mug for coffee as the plastic tends to hold onto the coffee taste for your other beverages.
Pop Century Resort Pools / Recreation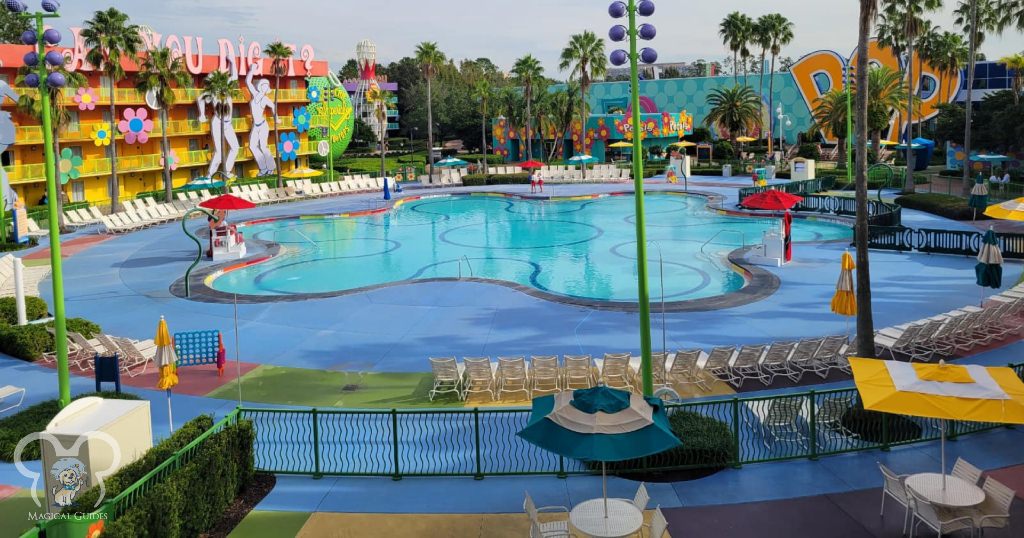 The Hippy Dippy pool, located in the 60's section of the property, holds a staggering 235,613 gallons of water and is adorned with groovy flower-shaped water jets. This is the main pool towards the front of the resort.
The Hippy Dippy Pool offers other recreational activities as well. You can find trivia, pool parties, games and other fun activities at this pool. There is also a kiddie pool just behind the Hippy Dippy Pool.
The resort hotel also offers a 50's themed bowling pin pool. The third pool is a 90's computer shaped pool, accented with a giant floppy disc and keypad.
You won't find water slides at any of the pool areas. You will find bathrooms, laundry room, and showers at all three pools though.
What Other Amenities Are Available Here?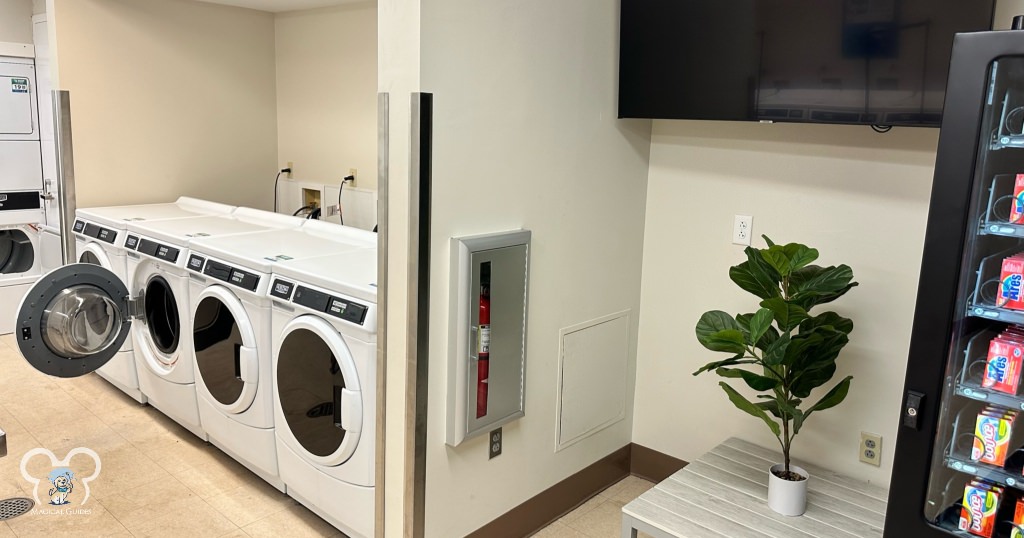 Besides pools, Pop Century offers an arcade, playground, and evening outdoor movies. The Arcade is called Fast Forward Arcade and provides fun for the whole family.
There are plenty of things to do at the resort for days without park tickets. Guests can also enjoy a jogging trail that winds through the resort with numerous pieces of trivia along the way.
There is a Disney gift shop called Everything Pop just before you reach the quick service dining area. Find a limited selection of Disney souvenirs at this gift shop.
Pop Century Resort Transportation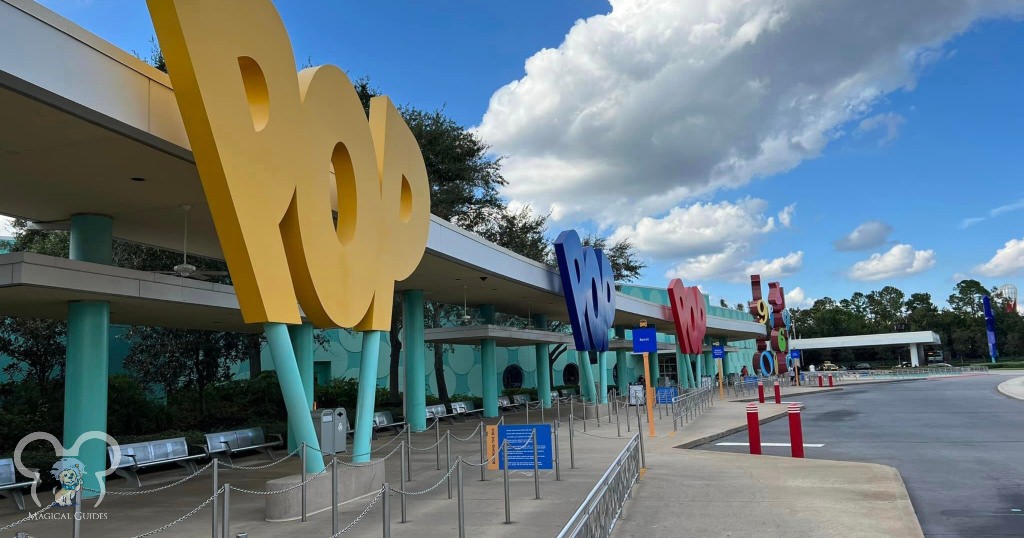 As for transportation, guests can travel to parks via bus or the Disney Skyliner service. Opened in 2019, the colorful gondola system takes guests to EPCOT and Hollywood Studios in minutes.
Guests ride in the gondolas themed after various Disney and Marvel movies while flying over Disney's Caribbean Beach Resort, Riviera Resort, and Art of Animation Resort. The new system definitely makes for an exciting way to get around Walt Disney World.
Magic Kingdom, Animal Kingdom, and Disney Springs still have bus transportation at the front of main building. Buses typically run every 20-30 minutes to each park.
Which section at Pop Century is closest to Skyliner?
The two buildings that are 1960s themed preferred buildings are closest to the Skyliner. These buildings are also the closest to the Art of Animation Resort. The preferred rooms will have the closest access to the Skyliner.
Pop Century is one of the three value resort options on property. Walt Disney World's Pop Century Resort offers guests a variety of activities.
The larger than life accents and world renowned service give Pop Century all of the Disney magic it needs and more. While Disney continues to move into the future, everyone will enjoy the retro fun Pop Century has to offer.
Pop Century is a fun value resort that will delight all ages, especially children. It will also help you save some money on your resort stay.
Frequently Asked Questions
Is there a fee to park at Pop Century?
Since January 10, 2023 parking at all on property Disney Resorts is now free. We were so excited about this news!
What is check-in and check-out time at Pop Century?
Pop Century's check-in time is 3:00PM though sometimes if rooms are available the front desk will allow you to check-in sooner. Check-out time is 11AM.
Is there Internet Access available in the Pop Century rooms?
Yes there is Internet Access at Pop Century. Guests are happier with the free wi-fi here versus the other value All-Star Resorts.
Does the Skyliner go from Pop Century to Magic Kingdom?
No, the Skyliner only services EPCOT and Hollywood Studios so you will need to take bus transportation to Magic Kingdom.
Does Pop Century have free breakfast?
No, Pop Century does not have free breakfast. You will not find complimentary breakfast at any of the on property Disney Resorts. You can find breakfast at the resort at Everything Pop or hop to another resort for breakfast.
What time do Disney resorts start serving breakfast?
Hours can vary based on the opening times of the Disney parks. Typically breakfast begins at 7am. Check the My Disney Experience App for exact hours.
What time do Disney hotels stop serving breakfast?
Typically 10:30am is when breakfast ends and lunch begins.
How big is Pop Century resort?
There are 2880 rooms at Pop Century consisting of queen sized beds and king sized beds. Pop Century cover 177 acres of land. It's not the biggest resort on property, but is a pretty good size.
Can you walk from Disney's Art of Animation to Pop Century?
Yes you can. The two resorts are connected with a bridge over Hourglass Lake. The Skyliner is located between the two resorts. It's a short walk between the two resorts.
Does Pop Century have a resort fee?
No, Pop Century does not have a resort fee.
What park is Pop Century close to?
The closest park to Pop Century is Hollywood Studios. EPCOT is is nearby as well.
Does Pop Century have access to the Skyliner?
Yes! Pop Century and Art of Animation Resort are connected resorts with Skyliner access in the middle of these two resorts.
What parks does Pop Century Skyliner go to?
The skyliner can take you to EPCOT or Hollywood Studios. You can also stop at a few resorts along the Skyliner as well.
How long is Skyliner ride from Pop Century to Epcot?
The ride is about 20 minutes to get from Pop Century to EPCOT. You will have to change cars at Disney Skyliner Station at the Caribbean Beach Resort stop to get to EPCOT.