Dining is a big part of any trip to Walt Disney World! With over 200 restaurants to choose from there is something for everyone!
One of the most popular types of dining is quick service dining. This is where you order your food at a counter and collect your food yourself. This is similar to a fast food restaurant and many visitors to Disney World love the convenience of these type of meals.
With a plethora of quick service restaurants in each of the Disney Parks, Disney Springs and the Disney Resorts, serving a range of different cuisines, you will have plenty of choices when it comes to food!
A big benefit to quick service dining is you don't need to pre-book dining reservations which makes it the most flexible way for many people to dine at Disney World.
Disney have now made eating at a quick service restaurant even easier than ever before with the introduction of mobile ordering!
What Is Mobile Ordering?
Mobile ordering is a way to order food from quick service locations via the My Disney Experience app. The helps you to save time by not queuing and allows you to order at any time, from anywhere and then have your food ready for when you want to eat!
How To Mobile Order
On the My Disney Experience app you can also look at the menus for all the restaurants at Disney World and see the prices which can help you choose where to e.ait times, book Genie+ reservations and book dining reservations for any table service restaurants you would like to dine in.
On the My Disney Experience app you can also look at the menus for all the restaurants at Disney World and see the prices which can help you choose where to eat.
To start your mobile order open the My Disney Experience app. At the bottom of the page click the plus (+) button. A menu will appear with lots of handy features, such as checking dining availability and making a park reservation.
From the list select 'Order Food'. A list of locations that offer mobile ordering will appear. Both quick service restaurants and snacks locations offer mobile ordering.
You can then scroll down the list to find the restaurant you want to dine in.
On the list you will also see the time window that is currently available for each restaurant. This tells you the earliest time you can receive your order. You can either select this or you have the option to see more times and select the time that works best for you and your plans for the day.
If you select the 'More Times' option you will be taken to the restaurant's page and can then scroll until you find the time you wish to select.
Once you select your time you can then get to the good stuff: it is time to select your food!
On the restaurant's page you can also find out the opening hours, what type of cuisine is served, where the restaurant is located on a map and view the menu.
You can either scroll the entire menu or view certain sections by selecting them from the top of the page such as entrees, plant-based, allergy-friendly, kids menu, plus more.
When you select a dish you will be taken to a page that will show you the full details of the dish, the price, any sides you can add and a section where you can customize your selection. You can also select the quantity here.
Customizations can include things like removing tomato from a burger or adding guacamole to your rice bowl.
Once you have added everything you want you tclick on the 'View My Order' button at the bottom of the screen. Here you will get a summary of your entire order. You have the option to Review your order or modify your order at this point.
The order summary page shows the restaurant, the time slot, what you have ordered and the price you will pay. You can also add any promo codes and discounts on this page.
You can then select the payment method you would like to use. Credit Cards, Debit Cards, Disney Gift Cards or Disney Rewards Redemption Cards are available to select from.
To speed to process up add your credit card or debit card details into your My Disney Experience account ahead of time. Not only will this make mobile orders fast and simple it will also help with any table service dining reservations you would like to make as a credit card is needed for these.
At the bottom of the page you see your total bill, including tax. Select the 'Purchase' button to complete your order!
When To Order
The great thing about mobile ordering is it gives you flexibility. If you already know what time you would like to eat to fit in with your plans for the day you can order first thing in the morning for the time you wish.
If you are waiting in a ride queue and are starting to feel hungry this is a great time to order!
Keep in mind that at busy times and in popular quick service locations sometimes if you try to order right away there may be a return time that may be a few hours ahead.
It is a good idea to place your mobile order in just as you start to get hungry so you are ahead of the game and won't need to wait once you are really hungry!
Tips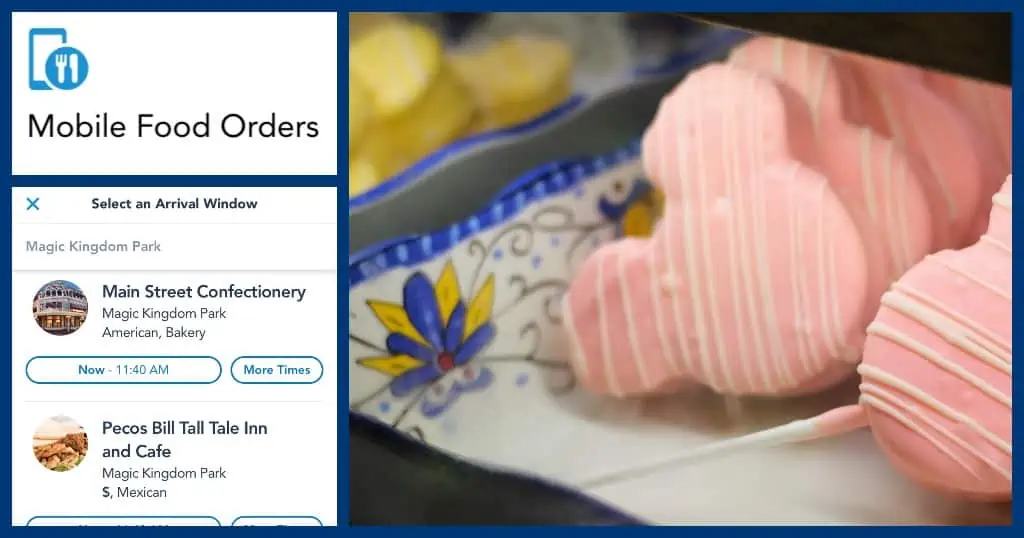 Portions at Disney World can be massive, but this can be a great way to cut costs. Look out for items on the menu listed as platters or combos as these will be the biggest portions. This can then be shared between two adults for a smaller meal or between two children.
At all quick service locations you can ask for a free glass of cold water. This can save you lots of money as a bottle of water can cost over $4!
You can also mobile order from snack locations! If you are waiting in a queue and starting to feel the Florida heat you can order a Dole Whip ready for when you have enjoyed your ride!
Now you know the ins and out of mobile ordering you can use this handy system during your Disney World trip to get delicious food at times that are convenient to you!