Water park fans were thrilled to learn that Typhoon Lagoon would finally reopen in January 2022 after a closure of almost two years. If it's been a while since you visited the park, you are probably wondering if it's worth spending a day here on your upcoming visit to Walt Disney World. Keep reading to discover what makes Typhoon Lagoon so special and the top attractions you'll find at this world-class water park.
What Makes Typhoon Lagoon Worth Visiting?
Typhoon Lagoon is one of the world's most exciting theme parks. It offers something for visitors of all ages, from daring thrill-seekers to those who are looking to just relax in an inner tube on the lazy river. Typhoon Lagoon is one of two water parks at Walt Disney World, but sadly it hadn't been open since March 2020.
The park originally opened back in 1989, and one of the features that sets it apart from other water parks is its outdoor wave pool. This is one of the largest pools of its kind in the world and acts as the centerpiece of the park. You'll find the park is well-themed throughout, and it looks like you've landed in the middle of a tropical paradise that was wrecked by a typhoon. Mount Mayday and Miss Tilly are the first things you notice as you approach the park, and they erupt every half an hour to the delight of swimmers below.
On January 2, 2022, the park finally welcomed back guests after nearly two years. You'll find that there are so many great rides and attractions here, no matter your age or swimming ability. The park is a great place to relax after a busy few days rushing around the theme parks. It's most popular in the summer months when people are looking for a way to cool off from the summer heat. However, you'll find that it welcomes guests throughout the year, particularly those from the UK and Europe who may have the park included in their park passes.
Typhoon Lagoon Attractions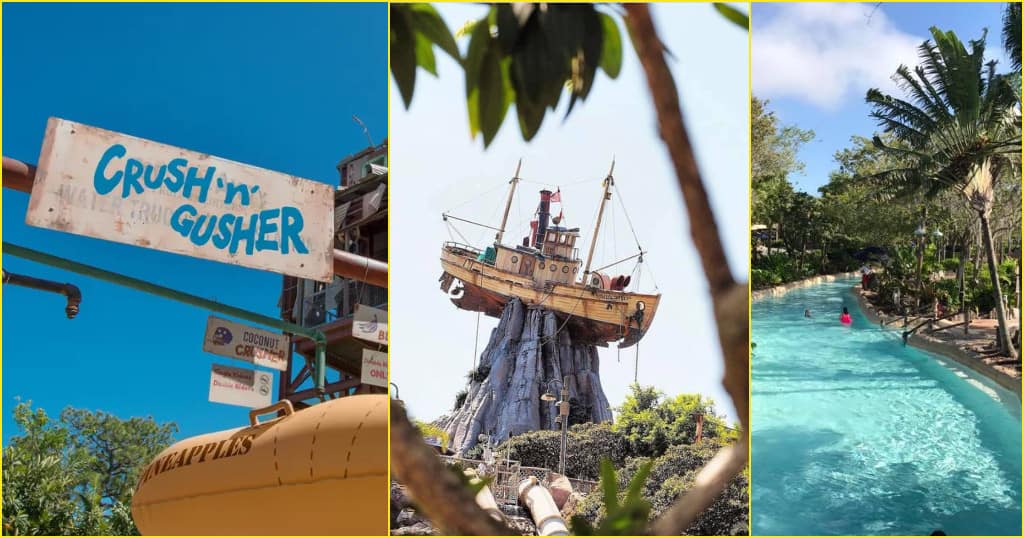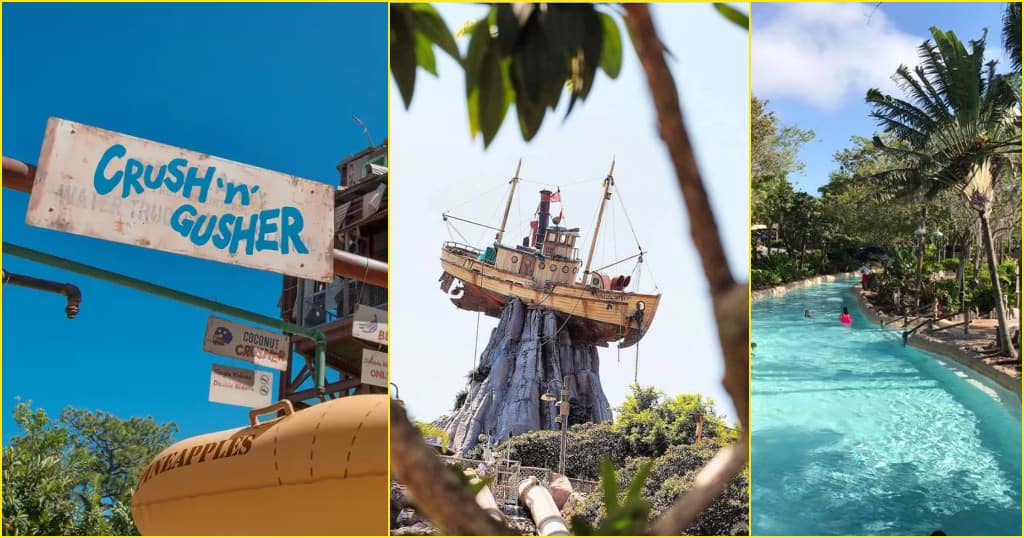 With so many attractions to choose from, you might be wondering where to start during your day in Typhoon Lagoon. These are the main attractions you'll find as you explore the park.
Humunga Kowabunga
As the most thrilling ride in the park, you'll choose from one of the three identical enclosed slides. This ride sends you down five stories and reaches up to 39 mph. It's a great ride for teens and adults, but you will need to be 48" or taller to ride.
Storm Slides
Choose from Stern Burner, Jib Jammer, or Rudder Buster, which are all body slides that twist and turn down the mountain. They travel down three stories before splashing into the pool below.
Gang Plank Falls
Your whole family can join in the fun on Gang Plank Falls. This family raft ride seats up to four people in a large inner tube and takes a twisting ride down the mountain.
Mayday Falls and Keelhaul Falls
These are both individual inner tube rides that travel through caves and waterfalls. Of the two of them, you'll find that Mayday Falls is a little rougher and more adventurous, but both are well worth trying.
Crush 'n' Gusher
One of the highlights of any visit to Typhoon Lagoon is a trip on one of the three slides that make up Crush 'n' Gusher. Coconut Crusher, Banana Blaster, and Pineapple Plunger all require you to be 48" or taller to ride, and you'll find they carry one or two people in the rafts. You'll go through twists and drops in what is no doubt one of the most thrilling rides in the park.
Miss Adventure Falls
As the newest attraction at Typhoon Lagoon, you can't miss out on Miss Adventure Falls. This is another family raft ride that starts with a conveyer belt up to the top before you descend down the slope.
Surf Pool
The surf pool that we mentioned before is ideal for anyone looking to cool off and take a break from the slides. It has six-foot-high waves about every 90 seconds, so it's certainly not the most relaxed of pools. If you aren't very confident in the water, stick towards the edge of the pool to avoid any issues.
Castaway Creek
For those of you who are going to Typhoon Lagoon to chill out for the day, take a ride on Castaway Creek. This is the 2,100 ft lazy river that circles around the whole park. You could easily spend the whole day here drifting in your inner tube as you pass through waterfalls and caves. You can either go alone or in a pair with one of the tubes for two people.
Ketchakiddee Creek
If you are traveling with young children, don't overlook Typhoon Lagoon for a family day out. This area is great for young children and offers both fountains and smaller slides. There's a little sandy beach for them as well, which is a good option if the surf pool is a bit too rough for them.
Dining at Typhoon Lagoon
After all of the fun on the slides at Typhoon Lagoon, you'll have worked up quite an appetite. The good news is that the park is packed with many dining options. These are just a few of the highlights when it comes to dining at Typhoon Lagoon.
Leaning Palms
As the main counter service dining location at Typhoon Lagoon, this is your best bet for lunch at the park. It has a large shaded seating area and is located very close to the main entrance. You'll find all of your typical quick-service meals here, and it's ideal for families with young children.
Typhoon Tilly's
This location is close to the now-closed Shark Reef and offers fish baskets, salads, and chicken wraps. It's a good spot for an afternoon snack as well, as you can pick up soft drinks, beer, wine, and desserts.
Lowtide Lou's
If you fancy something lighter for a day of swimming, Lowtide Lou's is a safe bet. They have a selection of wraps and snacks on offer but also offer an extensive drinks menu. After all your fun in the sun, enjoy a cocktail, beer, or wine here to toast to a great day in the park.
Happy Landings Ice Cream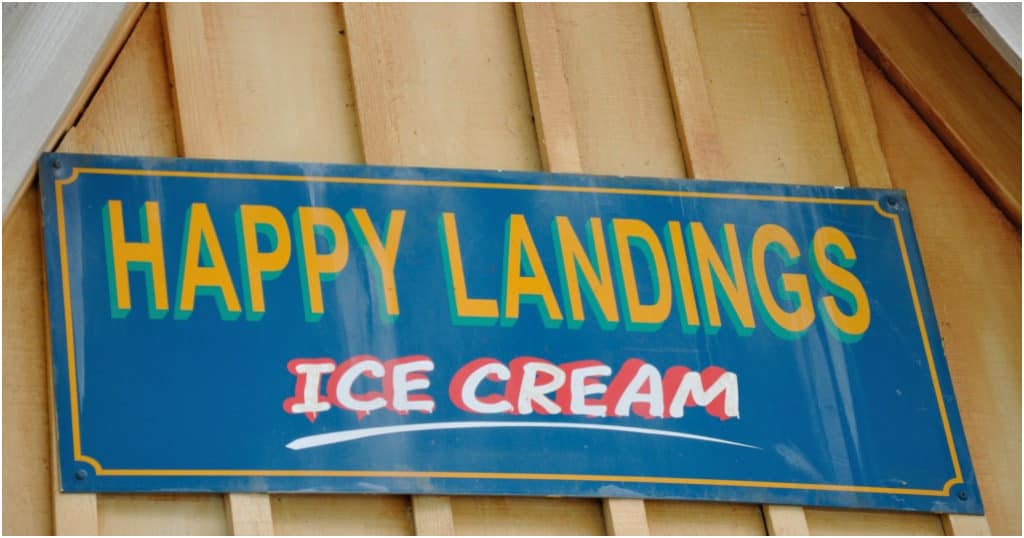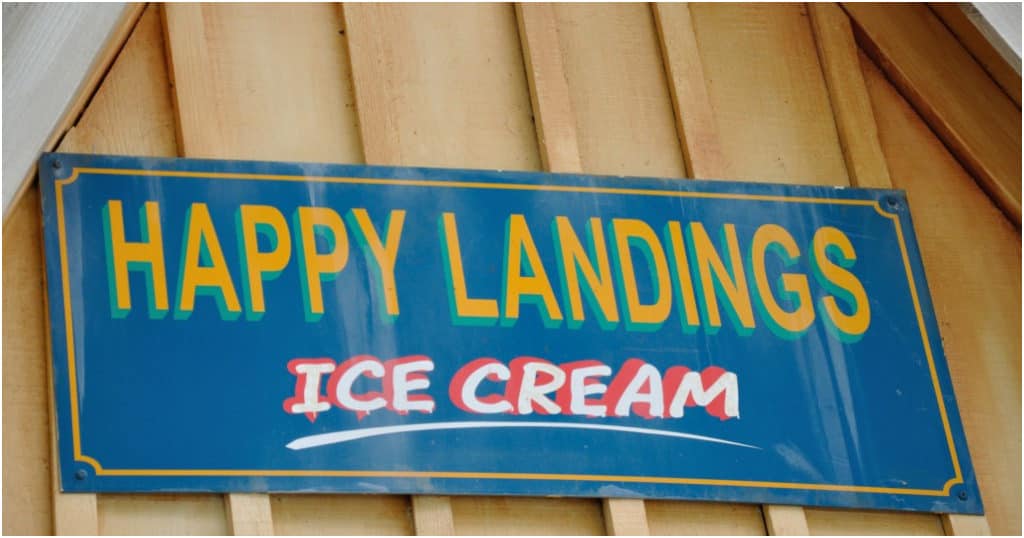 No day at a water park is complete without ice cream. This location is found near Castaway Creek and is perfect for the hot summer months.
Let's Go Slurpin'
Adults will appreciate this bar in the middle of the park, which is a great option if you are letting your kids go off to explore.
Transportation to Typhoon Lagoon
For locals or anyone hiring a car for their trip to Orlando, standard parking is free for anyone visiting Typhoon Lagoon. If you are staying at a Walt Disney World resort, bus transportation is available during Typhoon Lagoon's operating hours. While the park is open from 10 am each day, the buses start an hour earlier, at 9 am. One thing to keep in mind is that there is no direct bus service from the Disney resorts. Instead, you need to take a bus to Disney Springs and then transfer over to the Typhoon Lagoon bus. You'll be able to return back to Disney Springs for an hour after the park closes to transfer back to your resort at the end of the day.
Typhoon Lagoon FAQs
Do you need to bring towels to Typhoon Lagoon?
Towels are available to rent at Typhoon Lagoon, but you are welcome to bring your own from the resort or your home. We recommend having a towel to keep warm on the way back to the resort, as it's often very cold on the Disney buses.
What should you wear to Typhoon Lagoon?
As far as a dress code for the park, Disney simply says your swim attire needs to be appropriate for a family park. Make sure you don't have exposed metal or buckles on your swimwear, as you will need to change before doing any of the attractions. Diaper-age children will need to wear either swim diapers or plastic pants at all times in the swimming pool areas.
When is the best time to visit Typhoon Lagoon?
In order to make the most of a day at Typhoon Lagoon, try to visit on a hot and clear day. During storms, you'll find that they have to close down many of the attractions, which can severely disrupt your day. While some people will be happy to swim in the winter, for many of the locals, it's far too cold. The winter months are much quieter here, and some days you'll feel like you have the attractions all to yourself. Keep this in mind if you are visiting in the summer though, as you'll want to arrive as soon as the park opens to avoid larger lines.
Can you bring food and drinks into Typhoon Lagoon?
One of the things we love about visiting the water parks is that you can bring your own food and drink in. There are designated picnic spots in the park, or you can eat at your loungers during the day. Keep in mind there are prohibited items, and you will be asked to show your bag as you enter. Loose and dry ice, alcohol, and glass are not allowed in the parks, so make sure they aren't in your cooler bag. This is a great way to save money during a day at Typhoon Lagoon, as the food options can be quite limited here otherwise.
Do you need a park reservation?
No! You do not need to use the park reservation system here. Parking is also free here, so if you're staying off property – enjoy the break from parking fees on your ultimate pool day.
We were thrilled to hear that Typhoon Lagoon would finally be reopening in 2022, and we can't wait to return to this incredible water park in the near future. When heading to the park for the day, make sure you arrive early to make the most of your park ticket. You can add this park to your tickets or purchase individual tickets for the day if you prefer. Whether it's your first time visiting the park or it's been a while since you spent the day at Typhoon Lagoon, we hope you enjoy your next day at this family-friendly water park.