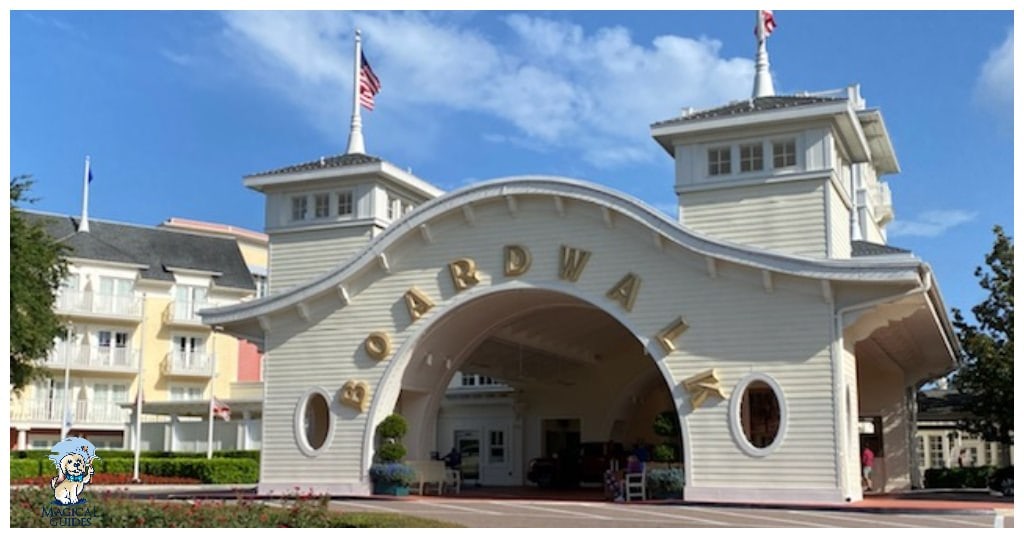 Disney's Boardwalk is one of the most underrated areas of Walt Disney World. Perfectly positioned between EPCOT and Disney's Hollywood Studios, Boardwalk is a great place to take a break from the parks or head to a bar after an adrenaline fueled day. Here you can enjoy quirky entertainment, fantastic stores and exciting nightlife. It is also one of the best places to witness Disney fireworks outside of the parks with incredible views of EPCOT's nighttime spectacular Harmonious. With unique character dining and some of the best food on Disney property, dining at one of Disney's Boardwalk restaurants should make it onto your Walt Disney World itinerary.
Read More: Best Places to Watch Harmonious Fireworks In EPCOT
How Long Is Disney's Boardwalk?
Nestled between two Disney parks, Disney's Boardwalk is a quarter-mile long promenade overlooking Crescent Lake. Disney's Boardwalk connects many of the EPCOT resort area hotels including Disney's Boardwalk Inn, Yacht Club and Beach Clubs resorts in addition to the Official Disney Partner Hotels Walt Disney World Swan and Dolphin. Disney's Boardwalk is reminiscent of a nostalgic Coney Island and along the vibrant quarter-mile, you will find shops, arcades, carnival games and an art gallery. The highlight of Disney's Boardwalk, however, is undoubtedly the dining with a magnificent collection of bars, kiosks, casual and fine dining restaurants.
Read More: The Best Kept Secret Disney Resort, Swan and Dolphin Resort
Can Anyone Go To Disney's Boardwalk?
Visiting Disney's Boardwalk is exactly the same as visiting Disney Springs, 100% free of charge with unticketed entry. You do not need park tickets, a hotel reservation or anything else to spend time at Boardwalk, simply pop on down. There are many things at Disney's Boardwalk that are free making it a great budget-friendly Disney day out. However, there are also some attractions that do have a charge but anyone is welcome to visit Boardwalk to enjoy them. Whether you are staying at a nearby hotel, heading to the parks or simply in the Orlando area and fancy popping by, all are welcome to visit this shopping, dining and entertainment complex at any time.
Read More: Is The Swan Reserve Considered To Be A Disney Resort?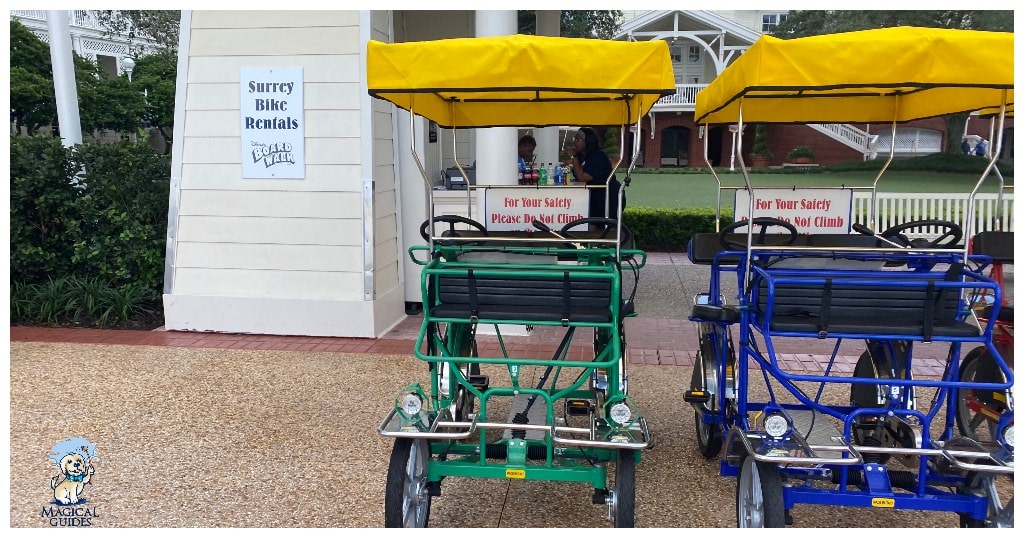 Can You Go To Disney's Boardwalk Without A Reservation?
Whilst the parks still require a reservation to enter, this is not the case at Boardwalk. With free, unticketed entry, there is no reservation required to visit Disney's Boardwalk. You can visit Boardwalk spontaneously, any day or time with no prior organization required. You can come and go as you please at Disney's Boardwalk.
When Is Disney's Boardwalk Open?
Disney's Boardwalk is open 24/7 with constant access for guests to stroll the promenade. However, the opening hours of stores, restaurants and attractions at Disney's Boardwalk vary. Stores and attractions typically open at 8:30am with closing times between 10pm and 11pm. Many of Boardwalk's restaurants are open between the hours of 11am-10pm however, some dining locations are open as early as 7am such as Boardwalk Deli and Trattoria al Forno which is open from 7:30am for Character dining. There are also some locations that are only open in the evening such as Jellyrolls and the Atlantic Dance Hall.
What Time Does The Disney Boardwalk Close?
The Boardwalk itself is open 24/7 and doesn't close. However, shops, attractions and restaurants will close between the hours of 10pm and 11pm. The only exceptions are evening entertainment venues Jellyrolls and the Atlantic Dance Hall which close between 12am and 1:45am depending on the day.
How To Get To Disney's Boardwalk
Disney's Boardwalk is very easily accessible, especially to those staying in the EPCOT resort area or Disney Guests spending time at either EPCOT or Disney's Hollywood Studios.
You can access Disney's Boardwalk on foot from Disney's Boardwalk Inn, Disney's Yacht and Beach Club resorts and Walt Disney World Swan and Dolphin with convenient footpaths direct to Disney's Boardwalk. You can also walk from EPCOT by leaving the park through International Gateway in World Showcase.
You can travel to Disney's Boardwalk by water if you are coming from EPCOT or Disney's Hollywood Studios. The Disney Friendship Boat is a free transportation service running in both directions every 15 minutes until 9:30pm.
Whilst Walt Disney World transportation does not offer a direct bus service to Disney's Boardwalk, you can take the bus transportation to EPCOT or the nearby EPCOT resort area hotels and complete the journey on foot.
Alternatively, driving to Disney's Boardwalk is always an option for those traveling with their own vehicle or opting for car rental. There is no direct parking for Disney's Boardwalk but select visitors can park at Disney's Boardwalk Inn. The only stipulation is that you must have a dining reservation at Disney's Boardwalk to self-park for free.
Read More: How To Avoid Parking Fees at Disney World
Does The Monorail Stop At Boardwalk?
The Walt Disney World Monorail does not stop at the Boardwalk, however, you can take the Monorail to EPCOT and walk the rest of the way to Disney's Boardwalk. Note that to do this, you will need an EPCOT ticket. So if you're hoping to leave the Magic Kingdom area or resorts to hope on over, you can't directly get off the Monorail and be on the Boardwalk.
Read More: A Guide To The Walt Disney World Monorail
Does The Skyliner Stop At Boardwalk?
Walt Disney World's latest transportation service, the Skyliner, does not stop at Boardwalk. However, the Skyliner does stop at both EPCOT and Disney's Hollywood Studios. You can then make the rest of the journey on foot or hop onto the Friendship Boat. If you decide to walk, which we do recommend, as it's a 5-10 minute walk respectively from EPCOT (back entrance of EPCOT) or Hollywood Studios.
Read More: Everything You Need To Know About The Disney Skyliner
Where Do You Park For Jellyrolls?
It is recommended that the Walt Disney World transportation service or a rideshare is used if you are spending the evening at Jellyrolls. However, if you do drive to Jellyrolls, there are a few options available to you.
If you have a dining reservation at Disney's Boardwalk prior to spending the evening at Jellyrolls, you can self-park at Disney's Boardwalk Inn for free. However, if you do not have a dining or hotel reservation, you cannot park at Boardwalk Inn. If you have park tickets or are an annual passholder, you can park at EPCOT for free and walk over. Alternatively, you can utilize valet parking at Walt Disney World Swan and Dolphin. From there, it is a short walk through the hotel and over the bridge to Jellyrolls.
Read More: What to Know About Parking at Walt Disney World
Quick Service Restaurants At Disney's Boardwalk
Boardwalk Deli
Taking over the space where Boardwalk Bakery formerly resided, Boardwalk Deli is the latest addition to Disney's Boardwalk's lineup of incredible dining locations. Serving up sandwiches, bagels and pastries plus so much more, Boardwalk Deli is open for breakfast, lunch and dinner. All breads and pastries are baked on-site freshly throughout the day with a selection of both hot and cold sandwich fillings available. Home to Deli Fountain, Boardwalk Deli is one of the only places on Disney property where you can get a resort mug refill outside of the resort hotels, an excellent perk of dining at Boardwalk Deli. This quick service location is the perfect place to grab lunch or enjoy a snack any time of day.
Boardwalk Ice Cream
The sweetest dining location at Disney's Boardwalk, Boardwalk Ice Cream offers a scrumptious menu of delicious ice cream and sundaes. Inspired by the iconic creations of Beaches and Cream Soda Shop in Disney's Beach Club Resort, Boardwalk Ice Cream boasts incredible treats such as the Strawberry Splash Shortcake and the Shoreside Sundae.
Pizza Window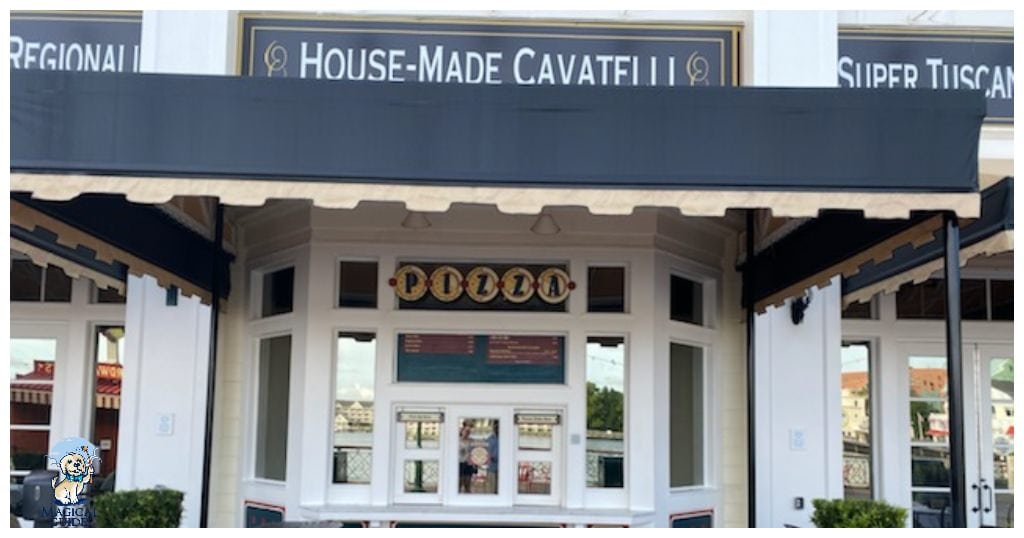 As the name may suggest, Pizza Window is a window-service pizzeria. The Italian style kiosk restaurant sells pizza by the slice or the whole pie allowing you to enjoy exquisite pizza for a light snack or a whole meal. Pizza Window is open late into the evening and also offers resort mug refills.
The To Go Cart
If you need a quick eat and are in the mood for carnival inspired food, look no further than The To Go Cart. This quick service kiosk offers boardwalk classics such as hot dogs, corn dogs, pulled pork sandwiches and loaded fries.
Funnel Cake Cart
Sprinkled with cinnamon, dusted with powdered sugar or drizzled with chocolate syrup, the funnel cakes from Funnel Cake Cart are served fresh, hot and sweetened your way.
Casual Dining Restaurants At Disney's Boardwalk
Big River Grille & Brewing Works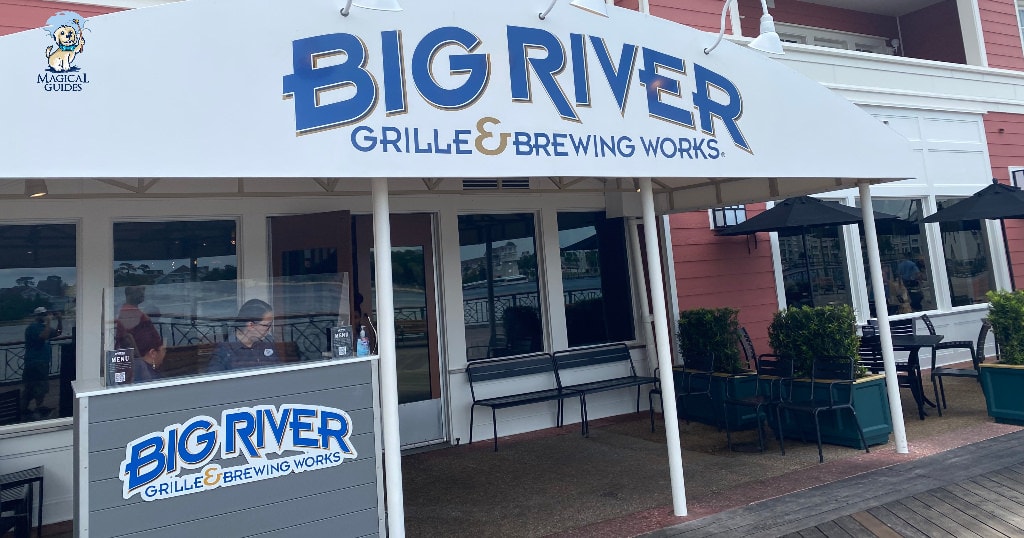 A family-friendly micropub in the heart of Disney's Boardwalk, Big River Grille and Brewing Works serves up an array of American classics such as burgers and ribs. Accompanying the delicious menu, award-winning brews are the perfect refreshment to compliment your meal. Relax outside on the al fresco patio with views of Crescent Lake or dine inside for a break from the Florida heat.
Trattoria al Forno
This phenomenal Italian restaurant delivers hearty and wholesome dishes inspired by classic Italian cuisine. With an exquisite dinner menu, Trattoria al Forno offers quality food in a relaxed casual eatery. Also open for breakfast, Trattoria al Forno hosts one of the most unique Character dining experiences on Walt Disney World property. Join Ariel and Rapunzel with their partners Prince Eric and Flynn Rider for the Bon Voyage Adventure Breakfast.
The Cake Bake Shop – Coming in 2023
Opening at Disney's Boardwalk in 2023, The Cake Bake Shop by Gwendolyn Rogers is taking over part of the ESPN Club's former location. This table service restaurant will offer both sweet and savory menus with delicious desserts the menu highlights. The Cake Bake Shop will also serve afternoon tea for an indulgent treat with a mouthwatering array of sandwiches, pastries and cakes. Make sure to hit up The Cake Bake Shop when it opens in 2023!
Fine Dining Restaurants At Disney's Boardwalk
Flying Fish
As one of the most renowned restaurants at Walt Disney World, Flying Fish has a high reputation to live up to and it doesn't disappoint. The only fine dining restaurant at Disney's Boardwalk, Flying Fish specializes in seafood with a spectacular menu of inventive gourmet dishes. Also serving up impressive oak-grilled steak, Flying Fish is the ultimate steak and seafood restaurant in Walt Disney World.
Bars At Disney's Boardwalk
Abracadabar
A magician-themed cocktail lounge with a creative menu of unique concoctions, Abracadabar is one of the best bars at Walt Disney World. Enjoy extraordinary, handcrafted cocktails with unique flavors and spellbinding twists with a menu so delicious, you'll want to sample them all.
Boardwalk Joe's Marvelous Margaritas
As you stroll along Disney's Boardwalk during an evening's sunset, a refreshing alcoholic beverage may be just what you need to complete the experience. Thankfully, you'll soon be approaching Boardwalk Joe's Marvelous Margaritas, a quick service kiosk on the waterfront of Crescent Lake. Boardwalk Joe's serves up a delicious selection of fruity margaritas plus Captain's Seaside Sensation, a Dole Whip smoothie with Captain Morgan Original Spiced Rum.
Jellyrolls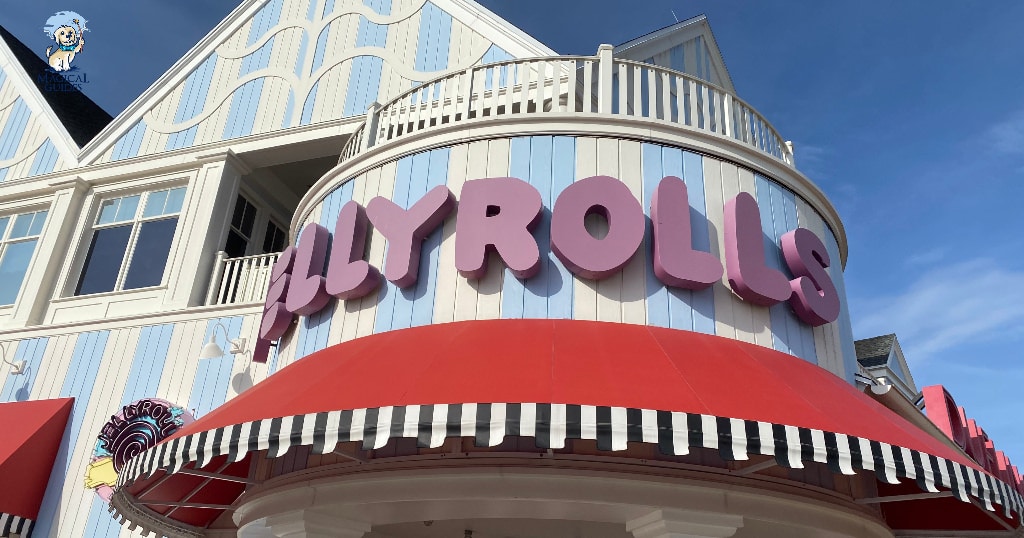 When it comes to Disney's Boardwalk, there is no doubt that Jellyrolls is the star attraction. One of Orlando's leading nightlife hotspots, Jellyrolls is famous for its spectacular evening entertainment. The dueling piano bar is open every evening from 7pm until late with the musical stylings of two incredible pianists and interactive audience sing-a-longs. Whilst there is a nightly charge to attend, the ticket price is worth it for such an entertaining experience. Open to over 21's only, enjoy mouthwatering cocktails including the 'Jellyroll of the day' speciality cocktail whilst you are thoroughly captivated by this raucous bar and its non-stop dueling pianos.