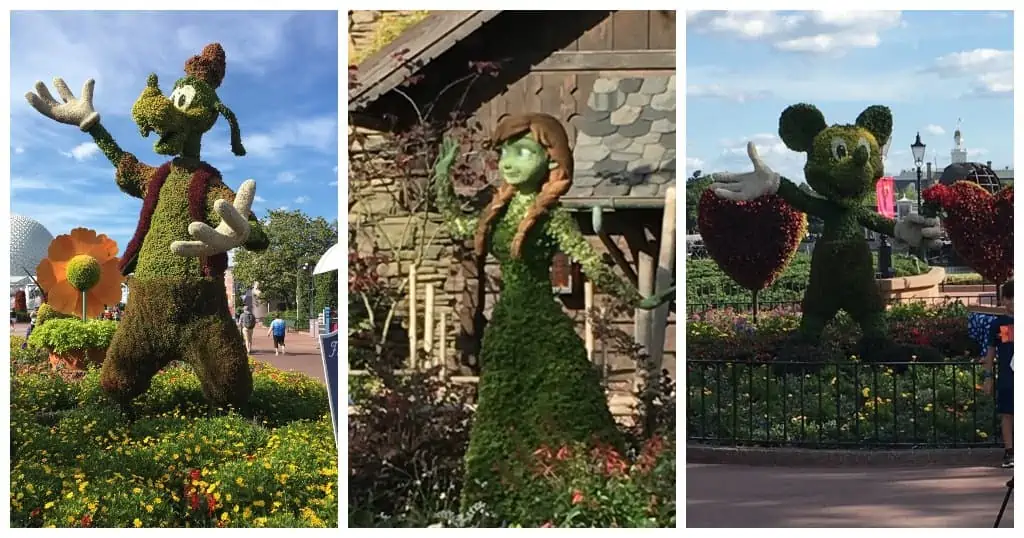 The spring is nearly upon us, and it's time for one of the best festivals of the year in Walt Disney World. The Epcot International Flower & Garden Festival for 2022 will open at the start of March and runs this year through until July. There's so much to see and do during the festival, so you'll definitely want to put at least a day of your trip aside to enjoy this annual event. Let's take a look at everything you need to know about visiting during this time of the year and what you can't miss out on during your day in Epcot.
What is the Epcot International Flower & Garden Festival?
The Epcot International Flower & Garden Festival is an annual event that takes place throughout this one theme park. As the name suggests, it focuses on everything to do with flowers and gardening, but there's so much more to the festival than just that. Guests love strolling around the World Showcase and admiring the beautiful topiaries of their favorite Disney characters. You'll also find dozens of food booths that are open just for the festival, providing you with new dining options and inventive menu items. During this time of year, there's also extra entertainment throughout the park, making it one of the best times to visit Epcot.
When Does the 2022 Epcot International Flower & Garden Festival Take Place?
The event begins this year on March 2nd, 2022, and will run all the way through until July 4th, 2022. In the past, the event was never this long, so it means more guests than ever will enjoy all of the offerings here at this time of the year. The event runs every single day of the week, but you'll find different entertainment offerings throughout the four months. It's included within your park admission, but there are additional costs associated with food and merchandise offerings.
Where in Epcot Does the Event Take Place?
One of the things we love the most about Epcot's festivals is that they really do take over the whole park. The majority of the additions take place in World Showcase, as there's more space for food booths and merchandise stands here. Each country will usually have a topiary associated with it, such as Snow White or the Three Caballeros. On top of that, you'll find that there are more food and drink offerings in every country's outside area. Some of the pavilions also have special events, but you'll need to take a stroll around to see what's going on during your visit. Of course, all of the usual attractions and stores are open as well, so this just adds more for guests to see during a day in the parks.
Each year, the park welcomes roughly 100 Disney topiaries, 700 gardens, and an incredible 30 million blooms. If you've never visited at this time of the year before, you'll be blown away by how beautiful the park looks. Even if you think your children aren't interested in gardening or flowers, they'll absolutely love seeing their favorite characters in a new way. It's a great time to get some new family photos taken with a unique backdrop at the park.
2022 Festival Offerings
While there are still some restrictions and changes to past festivals due to the pandemic, we are excited to see the festival return to some level of normality this year. For anyone entering the park through the main entrance, don't miss seeing the new 50th-anniversary topiary. This features Goofy and a birthday cake and is a fun photo backdrop. As far as the food offerings, Disney adds to their menus and booths each year. Even if you are a local and have visited dozens of times before, you'll have no trouble finding something new to try during a visit this year.
The Garden Rocks Concert Series
Another exciting addition to this year's event is the return of the Garden Rocks Concert Series. This was unavailable last year, but we can't wait to see this return every Friday, Saturday, Sunday, and Monday during the event. You'll find that the shows take place at 5:30 pm, 6:45 pm, and 8:00 pm each night at the America Gardens Theatre, and the park will welcome musical acts including The Guess Who, Melina Leon, and Rick Springfield.
Some of the acts are naturally more popular than others, so make sure you check out who is playing during your trip. Try to arrive as early as possible for the shows, so that you don't miss out. If there's someone you are particularly excited to see, consider booking a Garden Rocks Dining Package. These are available from Friday to Monday each week and offer you a guaranteed seat at the show after enjoying a meal at one of the park's top restaurants. The restaurants on offer for this package this year include Biergarten, Coral Reef, Garden Grill, and the Rose & Crown Dining Room. Packages vary depending on the restaurant you choose, and you'll need to book in advance of your trip on the Disney website.
Special Gardens in World Showcase
The World Showcase offers a few special exhibits and gardens, which you'll want to take time out of your day to explore. In China, you'll find a bamboo garden, and nearby in Mexico, there's a tropical rainforest garden. One of the highlights of the festival is the English Tea Garden in the United Kingdom pavilion. They offer self-guided tea tours here but sadly have yet to offer the group tours again since the pandemic. These gardens offer you a chance to escape the crowds and immerse yourself in the beauty of the park. Almost every country has a small garden for you to see, so you could easily spend a day or two exploring all the new additions to the park during this festival.
Annual Passholder Perks During the Epcot International Flower & Garden Festival
If you are an annual passholder, make sure you take a visit to the parks during this time. One of the best things that Disney offers is the exclusive Festival merchandise which is just available for passholders. These pieces sometimes go quickly at the start of the festival, so try to visit earlier than later. On top of that, you'll receive your standard 20% discount on all of the merchandise at the festival. There are some fun products and clothing items on offer at this time, so it's well worth taking a look at the festival shops and booths during your explorations.
The Highlights of the Epcot International Flower & Garden Festival
With so much to see and do during this time of year, you'll want to make sure you don't miss out on some of the highlights of the festival. These are a few of the things no one should miss during a day in Epcot.
Outdoor Kitchens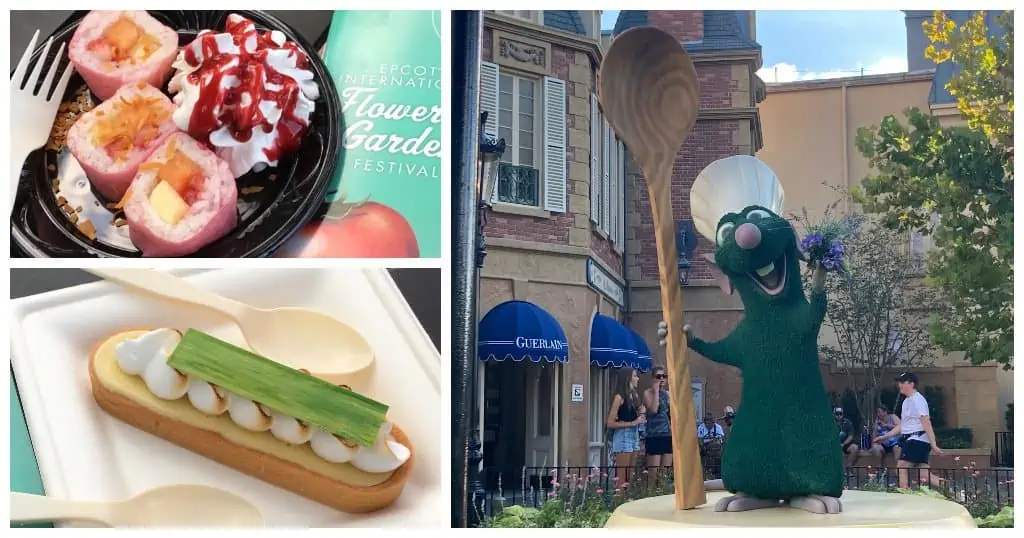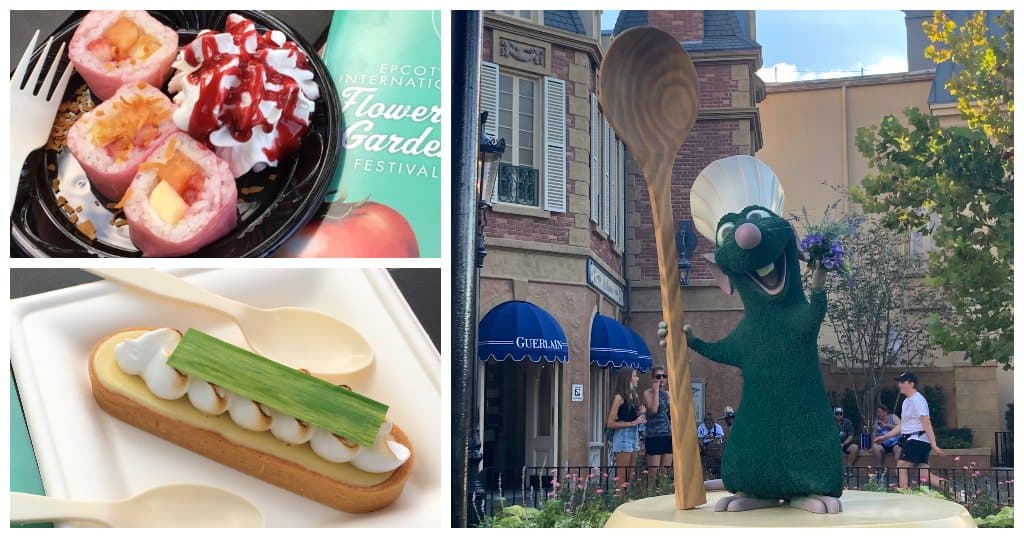 (photos by Bayley Clark/magicalguides.com)
If you've been to the parks during the Epcot Food & Wine Festival, you'll be familiar with the outdoor kitchen setup. This year, there will be 18 different outdoor kitchens for you to try. They are primarily located around World Showcase, and you can spend your whole day walking and snacking between each of them. The menu items at each of the food booths are like nothing else in the parks. While full menus won't be available until the first day, we hope to see favorites such as Frushi in Japan return once again. The food and drink options are usually sample size, so you'll want to buy two or three if you are looking to enjoy a full meal here. Check out this years offerings in this Foodie Guide.
When you enter the park on the first day of your visit, pick up a Garden Passport. This shows you where each of the Outdoor Kitchens is located, and you can also track how many of the boots you've visited. Kids will love joining in with this activity, and it acts as a fun souvenir of your day at the festival. A unique activity you'll find in the passport is called the Garden Graze. It's a plant-based food walk around the park, and if you purchase each item and get the stamp, you'll receive a free item at the end of the trail. It's a great way to try something new in the park as well and see what unique plant-based menu items are available this year.
Entertainment During the Festival
While we've already touched on the Garden Rocks concert series, you'll also want to see some of the other entertainment offerings around the park. While we don't have confirmed listings for this year's event just yet, based on past years, we can expect there to be live music and entertainment around the World Showcase. Check out the Jammin' Gardeners on the Canada Mill Stage and expect other concerts at the America Gardens Theatre when the Garden Rocks events aren't showing. For keen gardeners, you'll also find various events and exhibits on offer throughout the four months, which will help to teach you more about looking after your garden at home.
Butterfly House
For parents with younger children, one of the highlights of a trip to the Epcot International Flower & Garden Festival is a visit to the butterfly house. You'll want to spend at least ten to fifteen minutes exploring this area, watching the butterflies land on your family as you walk through. It's an incredible way to see these beautiful creatures up-close and learn more about how they live and grow in the wild.
Disney Topiaries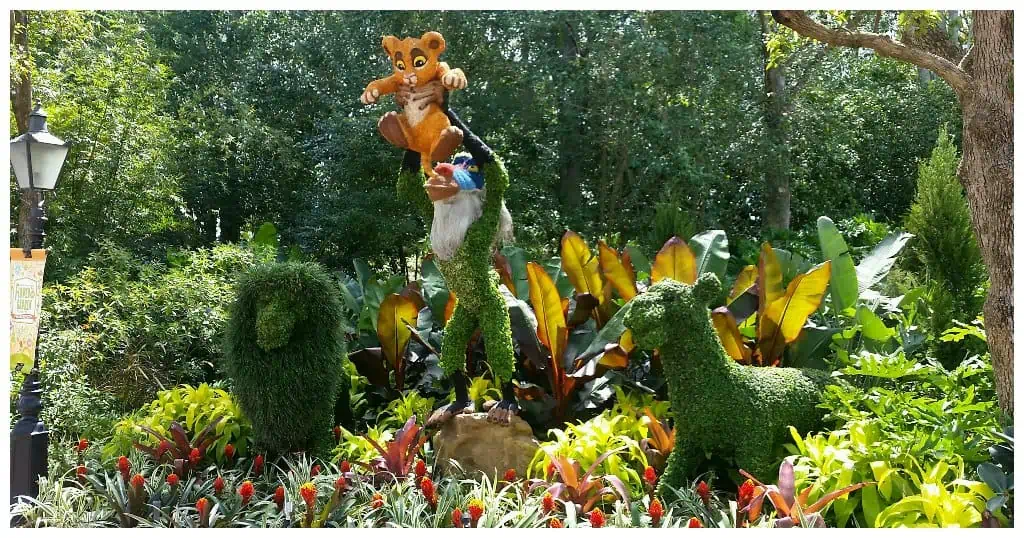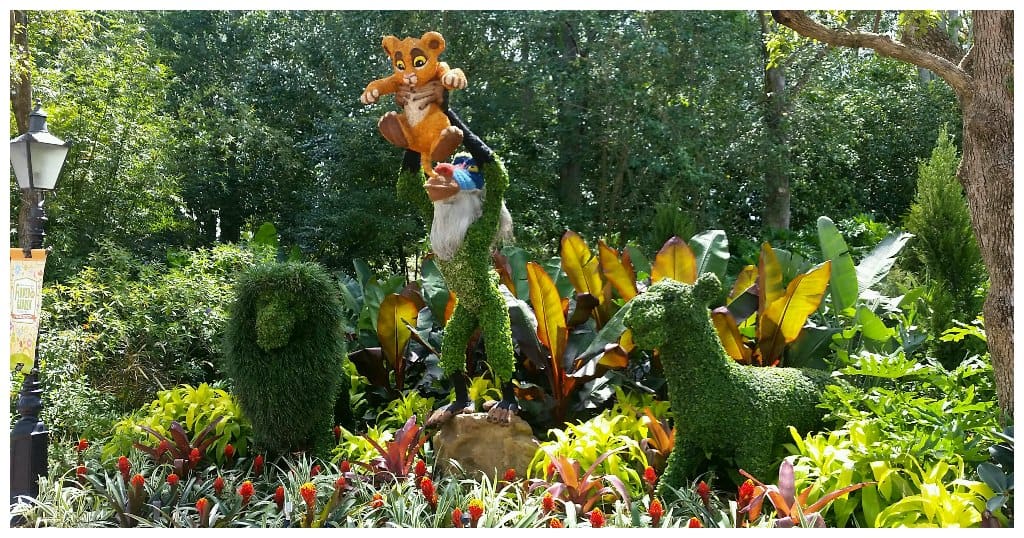 (photo by Bayley Clark/magicalguides.com)
When you are wandering around the park during your visit, you'll notice dozens of fun topiaries based on your favorite Disney movies. Kids will love having their photos taken with their favorite characters, so make sure you take a full lap around the World Showcase. Highlights of the topiaries include Sorcerer Mickey Mouse at the World Showcase entrance, Buzz Lightyear near Mission: SPACE, Anna and Elsa in Norway, and Simba and Friends near The Land. Heading further back into the park, you'll see Lumiere and Cogsworth in France and Winnie the Pooh and Friends in the United Kingdom pavilion. The attention to detail on these topiaries is just incredible, so it's well worth going out of your way to see them all.
Spike's Pollen Nation Exploration
During each of Epcot's festivals in the year, you'll find they offer scavenger hunts for kids and adults. The one during this time of the year is Spike's Pollen Nation Exploration. You do have to pay a small fee to take part, but you'll get a little reward at the end for completing the hunt. For $9.99, you receive a map and stickers, and then you head off on the search for the plants that Spike pollinated during his travels. To claim your prize, just head to the Disney Traders or World Traveler stores. They also offer an Easter-themed hunt during April, which is a fun way to celebrate this holiday.
2022 Festival Merchandise
A huge part of any Disney trip is collecting unique merchandise offerings. This is one of the best times of the year to upgrade your Disney merchandise collection, and the 2022 event will offer collections based on Orange Bird, Spike the Bee, Figment, and many of your other favorite Disney characters. The Mickey Mouse home garden merchandise selection will offer garden tools, drinkware, and bold apparel options. If you love the Orange Bird, you can enjoy accessories and apparel featuring this character. Of course, you'll find popular products such as trading pins, spirit jerseys, and t-shirts, all of which are available only during this four-month event. There are merchandise locations dotted around the park, so you'll have no trouble finding the perfect souvenir to take home to your family.
Top Tips for the 2022 Epcot International Flower and Garden Festival
With so much to see and do during this time of the year, it can be a challenge to fit everything into one visit. These are a few of our top tips for maximizing your time in Epcot during the festival.
Visit on a Weekday Where Possible
If you are just looking to enjoy the beautiful park and try out new food offerings, we recommend sticking to the weekdays. While the weekends do have the benefit of the concerts and extra entertainment, they attract far more locals to the park. This leaves you spending half of your day waiting in lines for food, and it becomes a little rowdier at night-time. A good option is Mondays, where the concerts are still playing but the crowds will be a little lighter.
Pace Yourself
We highly recommend walking around the whole of the World Showcase during a trip to the Epcot International Flower & Garden Festival. However, you need to pace yourself if this is your plan for the day. Especially as the weather gets warmer in April and beyond, make sure you are taking regular breaks. The good thing about this festival is that you can easily pick up a snack or drink on the way round from one of the Outdoor Kitchens. However, if you know that you need something more substantial to eat, make sure you book a dining reservation to enjoy an hour or so sat down, away from the crowds.
Try to Visit More Than Once
For anyone with enough days to spare during their Disney vacation, try to schedule two days in Epcot. There really is so much to see and do during this event, and you'll find that one day is quite rushed to see it all. Add on the classic attractions you no doubt want to ride, and you'll find it's impossible to do everything in one day. You might want to consider using Lightning Lane or Genie+ to skip the lines on some of the attractions, which will give you more time to explore the festival.
Budget for Food and Drinks
There's no denying that a trip to Walt Disney World can soon add up in costs, so make sure you budget for this festival. While the outdoor kitchens offer quite affordable snacks, when you have four or five during the day, this will soon come to $50 or so. For that reason, take a look at the menus online before your visit and budget for your whole family to eat throughout the day. You can then enjoy your day in the park without worrying about how much you are spending.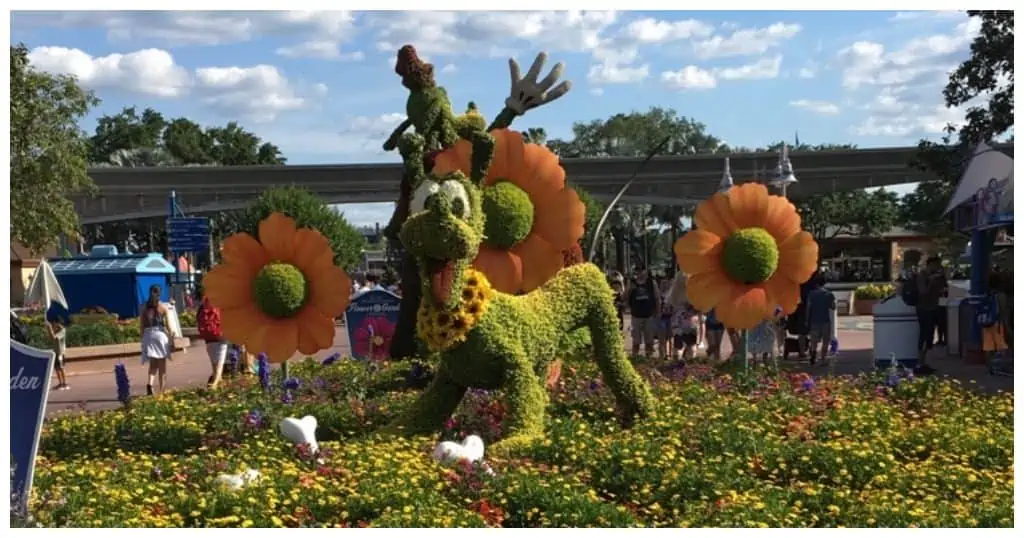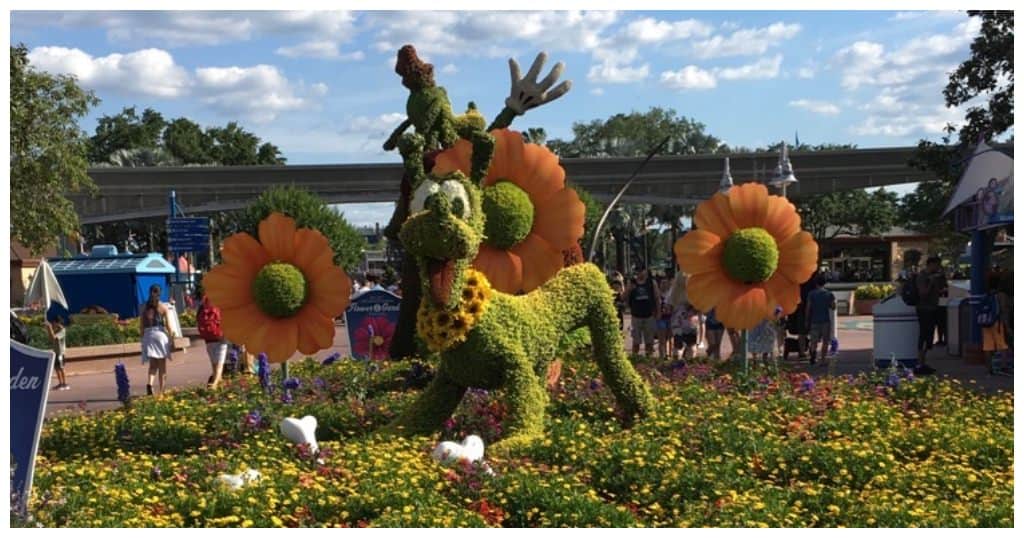 photo by Bayley Clark/magicalguides.com
The Epcot International Flower & Garden Festival is a highlight of any trip to Walt Disney World between March and July. You'll want to dedicate at least a day to this event, but if you can spare a second day, it will be well worth it. The park really comes alive at this time of the year, and you'll love all of the topiaries and gardens on offer. It's a great time to update your family photos and enjoy spending time outdoors with your family in the beautiful spring and summer Orlando weather.