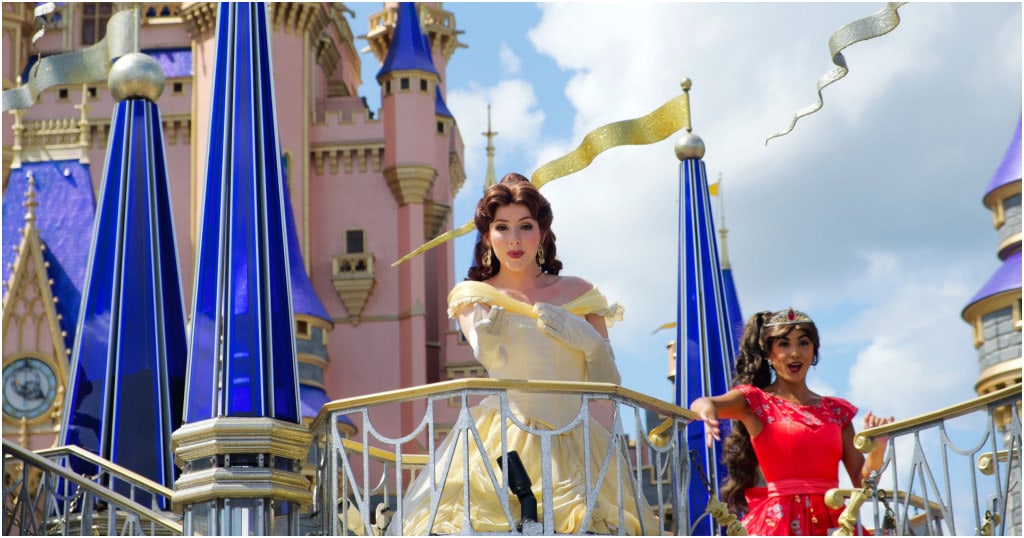 What's more classic and quintessential Disney than the Disney Princesses? Sure, you've probably seen the films countless times, and possibly you know all of the catchy songs by heart. Everyone has their favorite Disney Princess. You might think that you know everything there is to know about the Disney Princesses. But, did you know that Elsa and Anna are not technically official Disney Princesses? Do you know which princesses have Live-Action films? Let's break down all the details and fun facts together!
Going chronologically, by release date of each film:
Snow White (Snow White and The Seven Dwarfs was released in 1937.)
Cinderella was released in 1950.
Aurora (Sleeping Beauty was released in 1959.)
Ariel (The Little Mermaid was released in 1989.)
Belle (Beauty and The Beast was released in 1991.)
Jasmine (Aladdin was released in 1992.)
Pocahontas was released in 1995.
Mulan was released in 1998.
Tiana (The Princess and The Frog was released in 2009.)
Rapunzel (Tangled was released in 2010.)
Merida (Brave was released in 2012.)
Moana was released in 2016.
Elsa (Frozen was released in 2013.)
Anna (Frozen was released in 2013.)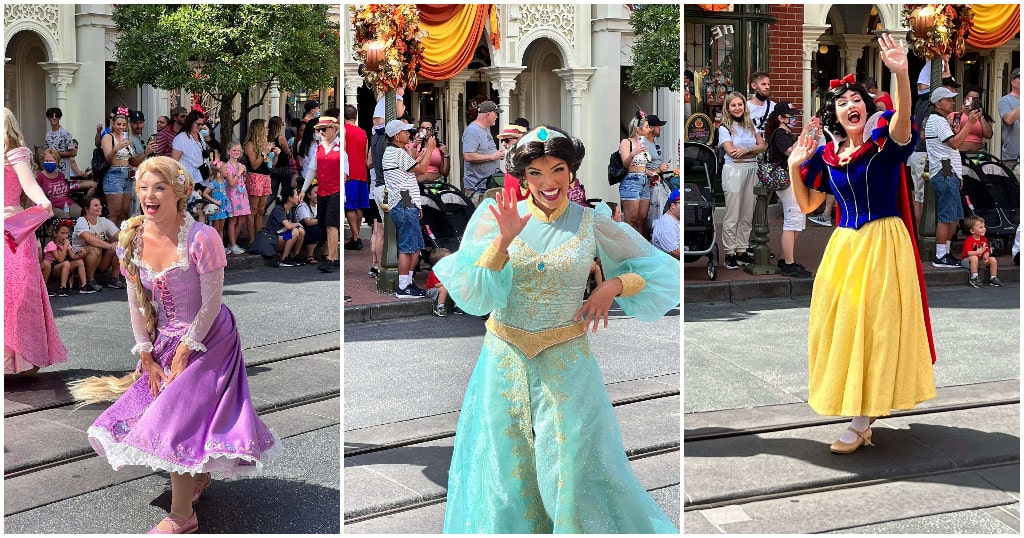 Snow White
Snow White was the first Disney Princess. She paved the way for all the rest of the princesses to come. As the first princess, Snow White began the tradition of talking to woodland creatures, and having animal friends, an essential Disney Princess quality. To give a brief overview, Snow White's film revolves around her journey to hide in the forest away from her stepmother, the evil queen, who is jealous of her beauty. Snow White befriends the woodland animals and also stumbles upon the seven dwarfs. The seven dwarfs are an iconic part of Snow White's story. They work in the local mine, and they sing the famous tune, "Heigh-Ho!"
The evil queen dresses up like an old witch, and tries to poison Snow White with an apple. Snow White falls asleep from the poison apple, so the dwarfs and woodland animals chase after the evil stepmother. She ends up falling off a cliff to her death. True love prevails, however, when Snow White's prince kisses her and the kiss awakens her! They live happily ever after.
A few of the most recognizably classic and oh-so nostalgic songs in Snow White's film:
"I'm Wishing"
"One Song"
"With A Smile and a Song"
"Whistle While You Work"
"Heigh-Ho"
"Someday My Prince Will Come"
Prince's Name: Prince Florian
Family members? None except the evil stepmother.
Is there a Live-Action version? Not yet
Fun Facts:
You can meet Snow White in Magic Kingdom.
The Library of Congress officially declared Snow White's film as one of the National Film registry's first 25 motion pictures, what an honor!
You can ride the Seven Dwarf's Mine Train in Magic Kingdom! The original Snow White ride at Disney, Snow White's Scary Adventures, has been taken down. But, guests love the new ride, the "Mine Train" because it's more of a miniature roller coaster! So fun!
Cinderella
Cinderella's film was released in 1950. Her film is arguably one of the most classic, and most popular. When most people think Disney Princesses, they think of Cinderella. Her castle, is the castle in Magic Kingdom at Disney World, after all. Her story includes so many magical elements: talking mice, pumpkins that turn into carriages, her Fairy Godmother, and the glass slippers, of course!
Cinderella becomes a princess, but she was not born into royalty. She is made to clean the house and treated like a servant by her stepmother and two stepsisters. One day, they all get ready to attend a royal ball at the castle. Cinderella wants to go, but her jealous stepsisters ruin her dress before the event. In tears, Cinderella is greeted by her fairy godmother, who presents her with a carriage and glass slippers. The only catch is that she must return by the stroke of midnight. Once at the ball, Cinderella meets the prince and gets to dance with him. They fall in love, but Cinderella surprises him when she runs away abruptly to return to her house by midnight. In the end, the prince goes on a search to find the girl he danced with, and because Cinderella's foot fits the glass slipper that she left behind, the prince knows she is the one. Cinderella's story really teaches the morals of the importance of being kind, no matter how others treat you. Cinderella is a beautiful masterpiece of a movie!
A few of the most recognizably classic and oh-so nostalgic songs in Cinderella's film include:
"Cinderella"
"A Dream is a Wish Your Heart Makes"
"The Work Song (Cinderelly, Cinderelly)"
"Sing, Sweet Nightingale"
"Bibbidi-Bobbidi-Boo"
"So This Is Love"
Prince's Name: Prince Charming
Family members? Lady Tremaine, Drizella Tremaine, Anastasia Tremaine
Is there a Live-Action version? Yes!
Fun Facts:
You can go inside Cinderella's Castle at Disney World and also eat breakfast with Cinderella and other princesses at Cinderella's Royal Table!
Her talking mice friends are named Jac and Gus
Her dog is named Bruno
Prince Charming's first name is Kit, in the Live-Action version
Cinderella has 3 animated films, Cinderella I, Cinderella II: Dreams Come True, and Cinderella III: A Twist in Time
Cinderella can sew! A skill that not every princess has!
You can stay in the "Cinderella Castle Suite" which is a real suite inside the Cinderella Castle at Disney World.
Read Also: Best Disney World Buffets For Breakfast
Aurora
Aurora is the beautiful princess that stars in "Sleeping Beauty." Aurora's story is made up of talking fairies who have magical powers. Talking woodland creatures, once again, make an appearance in a Disney Princess movie within Sleeping Beauty.
The plot of Sleeping Beauty really kicks off when Maleficent shows up to Aurora's birth. Before her party-crashing, two of the three good fairies, Flora and Fauna, give magical gifts to Aurora. To say that Maleficent is miffed for not being invited is an understatement. To the King and Queen's horror, she casts a curse on Aurora that declares Aurora will die on her 16th birthday when she pricks her finger on the spindle of a spinning wheel. After her exit, the final good fairy, Merryweather, tries to make things right and changes the curse to not be death, but simply a long sleep, which can be broken by true love's kiss. The fairies take her to a cottage in the woods, in hopes of hiding any and all spinning wheels from her grasp. They raise her, away from her parents and the castle, hoping that Maleficent won't find her. One of the best scenes of the movie, is when the fairies bake a cake for Aurora's birthday, and viewers get to see magical fairies trying their best to complete normal human tasks without magic.
Despite their attempts, Aurora does ultimately prick her finger. She falls into her long sleep, and meanwhile, the fairies put everyone in the kingdom to sleep simultaneously. Her prince, Prince Philip, battles Maleficent, who turns herself into a dragon, as Philip slashes away at thorns to rescue Aurora from the villain's clutches. Philip kisses Aurora and awakens her out of her deep slumber. The whole kingdom wakes up and rejoices. Once again, true love prevails! Aurora, much like Cinderella, really showcases true kindness and love throughout her story.
A few of the most recognizably classic and oh-so nostalgic songs in Aurora's film include:
"Once Upon A Dream"
"Hail To The Princess Aurora"
"I Wonder"
"Skumps"
Prince's Name: Prince Philip
Family members? King Stefan and Queen Leah
Is there a Live-Action version? No, but Maleficent has live-action films.
Fun Facts:
Aurora's castle can be found at Disneyland in California!
Maleficent has two live-action films out, released in 2014 and 2019. A 3rd sequel is set for release in 2022!
To keep her identity a secret from Maleficent, the good fairies call Aurora "Briar Rose" while they live at the cottage.
Ariel
Ariel is such an iconic princess. Her film is titled, "The Little Mermaid," because, well, she's a mermaid! The Little Mermaid was released in 1989, and Ariel is voiced by Jodi Benson, whose singing voice is fit for a princess! In a nutshell, (or should I say seashell?)
Ariel grows up with her mermaid sisters and her father, King Triton down in the ocean. She has lots of fishy friends, such as Flounder and Sebastian, the sea crab. Early on in the story, Ariel actually saves Prince Eric, from a shipwreck. She sings, and then disappears. Eric becomes determined to find the girl with the voice. One of Ariel's favorite hobbies, however, is swimming around looking for human artifacts and storing them in her treasure trove. One day, King Triton discovers her treasures and loses his marbles! He forbids her to swim to the surface.
Heartbroken, Ariel accidentally finds her way to the evil sea witch, Ursula. Ursula convinces her to give up her voice, if Ursula promises to turn her into a human so that she can meet the prince she saw on land previously, Prince Eric. Ariel agrees to give Ursula her voice, and Ursula grants her 3 days on land to try to get Eric to kiss her before time will be up. If she succeeds, she can be a human forever. If not, she will belong to Ursula forever. Not quite a fair deal. Ariel does her best to figure out how to be a human, and she spends lots of time with Prince Eric on land. She stays at the castle and Eric takes her to see the local village. Suddenly, a new girl arrives, Vanessa. Prince Eric, under a spell, agrees to marry her. Ariel's seagull pal, Scuttle, informs her that Vanessa is actually Ursula in disguise. Ariel goes to try to stop the wedding along with the help of Scuttle and other fish friends. Ariel gets her voice back when Ursula's magic necklace breaks, however Eric is too late with his kiss. Not only is Ariel a mermaid again, but Ursula captures her, until King Triton says he will take her place.
Through a large sea battle, and with the help of Prince Eric on a ship, they manage to destroy Ursula and her attempts to take over the sea. King Triton returns to his normal self, and accepts his daughter's wish to be married to a human. Eric and Ariel are happily wed! True love, once again conquers all. Ariel really risks it all. She shows courage, unmatched bravery, and independence.
A few of the most recognizably classic and oh-so nostalgic songs in Ariel's film include:
"Fathoms Below"
"Daughters of Triton"
"Part of your World"
"Under the Sea"
"Poor Unfortunate Souls"
"Les Poissons"
"Kiss The Girl"
Prince's Name: Prince Eric
Family members? King Triton, Queen Athena, Sisters: Attina, Alana, Adella, Aquata, Arista, Andrina, Daughter: Melody
Is there a Live-Action version? To Be Released in 2023!
Fun Facts:
You can meet Ariel at Ariel's Grotto in Magic Kingdom.
Ariel has 3 films: The Little Mermaid, The Little Mermaid II: Return To The Sea, and The Little Mermaid: Ariel's Beginning (A Prequel)
The Little Mermaid actually had a TV series, which also functioned as a prequel to the first film. The series aired from 1992-1994.
Read Also: Unique Disneybound Outfits For Women
Belle
Belle's story is one of the most popular. You might know the story of Beauty and The Beast, even if you are not familiar with the Disney Princesses. Belle and her father live together in a small French village. Her father is an inventor.
Belle's favorite pastime of all is to read. Her love of books is made apparent from the start of the film. Meanwhile, through the forest, there is an enchanted castle where the prince, aka the Beast, lives. He has been cursed by an enchantress who saw his selfishness and punished him for it by enchanting the entire castle, servants included. Everyone who works in the castle has been turned into a household object, and the prince has been turned into a Beast. The only way to break the spell is if the prince learns to love someone else before he turns 21. However, they have to love him back too, or they will all be stuck under the curse permanently. The enchantress leaves the Beast with a rose. When the last petal falls, the curse will be forever. Belle is often being pursued by the arrogant and annoying, Gaston from the village. He wants her to fall in love with him. Belle has no interest. In an effort to save her father, who becomes captured in The Beast's castle, Belle offers to take his place. Belle is sad to be away from her father, but she is greeted with kindness from the servants in the castle.  They make her a feast, and sing the famous song, "Be Our Guest." As she starts to get a bit more comfortable, Belle wants to explore, so she walks around the castle, until the Beast demands that she leave the castle because she finds "the West Wing" where the enchanted rose is kept. Belle runs away in fear, but she runs into a wolf pack in the forest. The Beast has to rescue her and bring her back to the castle. The more time they spend together, Belle and the Beast begin to fall in love.
Belle's father convinces the village that the Beast has his daughter locked up. The townspeople go to attack the Beast, but not before Gaston, has Belle's father locked up for being "crazy." The village people attack the castle servants and Gaston goes after the Beast. The castle servants fight back and Gaston kills the Beast to Belle's horror. Just as the very last petal falls off the rose, Belle cries out that she loves the Beast. The spell breaks, and the Beast is a human prince once again. Belle and the Prince live happily ever after.
A few of the most recognizably classic and oh-so nostalgic songs in Belle's film include:
"Belle"
"Gaston"
"Be Our Guest"
"Something There"
"The Mob Song"
Prince's Name: Prince Adam
Family members? Father: Maurice
Is there a Live-Action version? Yes!
Fun Facts:
You see a live performance of Beauty and The Beast at the show in Hollywood Studios at Disney World and you can meet Belle at "Enchanted Tales with Belle" in Magic Kingdom.
The live-action film of Beauty and the Beast stars Emma Watson and Dan Stevens
Beauty and The Beast ran on Broadway from 1994-2007
Read Also: Guide To Rope Dropping EPCOT In Disney World
Jasmine
Jasmine is the 16-year-old princess of Agrabah. She stars as the princess in the Disney film, Aladdin from 1992. Her father, the Sultan insists that she meet numerous suitors, and she hates them all. Jasmine doesn't agree with the law that she has to marry a prince, she would rather marry for love. Jasmine is desperate to leave the palace, so one day she sneaks out to do so and almost loses her hand for giving a child an apple at the market. She meets a young man named Aladdin and he helps her escape. Aladdin falls in love. The castle guards capture Aladdin and take him to the palace. Jafar, the villain of the story, disguises himself and tricks Aladdin and his monkey sidekick, Abu to enter a magic cave and get him a magic lamp. Once he realizes that the villainous disguised Jafar doesn't care if he lives or dies, Aladdin manages to keep the lamp in his possession, although he ends up trapped in the Cave of Wonders. Aladdin rubs the lamp which brings forth the magical Genie. The Genie offers him 3 wishes and they escape the Cave of Wonders. Aladdin asks the Genie to make him a prince so that he can go find Princess Jasmine at the castle. Aladdin fools everyone into thinking he's really a prince, but Jasmine doesn't care for the arrogant demeanor of his prince personality. Aladdin takes Jasmine on a magic carpet ride that evening. Jasmine figures out who he really is, but Aladdin insists that he's really a prince. Jafar captures Aladdin once again and tries to drown him, however the Genie comes to Aladdin's rescue. Aladdin and Jafar face off in the end, and Jafar has taken ownership of the Genie. Jafar's arrogance ends up getting the best of him, and Aladdin and Jasmine end up together in the end. You know the next part: True love conquers all!
A few of the most recognizably classic and oh-so nostalgic songs in Jasmine's film include:
"Friend Like Me"
"Prince Ali"
"One Jump Ahead"
"Arabian Nights"
"A Whole New World"
Prince's Name: Aladdin
Family members? Father: The Sultan
Is there a Live-Action version? Yes!
Fun Facts:
Jasmine's tiger is named "Rajah"
You can meet Princess Jasmine in Magic Kingdom and at Epcot in Disney World
Jasmine is featured in 3 animated films: Aladdin, Return of Jafar, and Aladdin and The King of Thieves
Read Also: Where to Find Turkey Legs at Magic Kingdom inside Disney
Pocahontas
Pocahontas is a Native American princess, and the daughter of an important Algonquin chief. His name is Chief Powhatan. Pocahontas wants to protect her heritage and remember what has been taught and what has been passed down to her. She understands things that the newcomers to her land don't.
Pocahontas also carries on the Disney Princess tradition of talking to animals. As he and the other settlers invade Virginia, Pocahontas's father does not approve of her falling in love with this man. He has already chosen a warrior for Pocahontas to marry. Pocahontas seeks out the advice of "Grandmother Willow," who is a spirit inside a talking tree. Pocahontas and John Smith begin to enjoy each others' company and Pocahontas falls in love with John Smith, a settler of the New World.  Pocahontas sings the classic song, "Colors of the Wind" and explains to John Smith all about the beauty of nature, the importance of thinking about things differently than he may have been taught to, and that there is beauty in difference. The song starts with the line, "You think I'm an ignorant savage." She sings about the "voices of the mountain" and the "blue corn moon." Pocahontas challenges him to look at the world with open eyes and an open mind. Later on, Pocahontas's father rules that the settlers are bad and should be avoided after one of his scouts is shot for seeking out the white men. One night, Pocahontas and John Smith meet and discuss the current conflict from their conflicting worlds. They kiss, and things escalate as Kokoum and Thomas, the two who have come to spy on John Smith and Pocahontas, intervene. Kokoum dies. Because of this, John Smith is to be executed by order of Pocahontas's father.
Pocahontas stands up to her father and says that she loves John Smith. In the end both the settlers and Chief Powhatan's men stand down. However, the settlers' leader, Ratcliffe, unfortunately shoots towards Chief Powhatan. John Smith blocks the gunshot and saves Powhatan. John Smith does not die. Pocahontas tells him goodbye as he leaves to sail back to England.
A few of the most recognizably classic and oh-so nostalgic songs in Pocahontas's film include:
"Steady as The Beating Drum"
"Just Around The Riverbend"
"Colors of The Wind"
"Savages"
"If I Never Knew You"
Prince's Name: John Smith
Family members? Father: Chief Powhatan
Is there a Live-Action version? No
Fun Facts:
You can meet Pocahontas at Discovery Island in Animal Kingdom in Disney World!
Pocahontas has a sequel: Pocahontas II: Journey To A New World
Pocahontas is the first Disney princess to be based on a real person!
Read Also: What To Know When Pregnant at Disney World
Mulan
Mulan is a champion story. Mulan, wants to bring honor to her family. She fails to do so during the matchmaking appointment that she is required to attend. She is taught how to dress and walk like a suitable bride. When the Huns invade China, her aging father gets called to serve in the army. She knows that her father will probably not make it out alive, and so to protect her father, Mulan chops off her hair, dresses up like a man, and steals off into the night to take his place. She knows this is the only way to keep him alive.
Mulan takes a humungous risk, knowing that if anyone figures out that she's a woman, she will die. She does this for her father and out of immense bravery and strength. The ancestors send Mulan a tiny, sassy dragon, Mushu, to be her guide. Mushu does his best to help, but also somewhat out for his own gain, at times hinders more than helps Mulan. Mulan enters into training with the other soldiers and befriends a few of them: Ling, Yao, and Chien Po. Mulan trains incredibly hard and prepares to fight. She gains the respect and trust of Captain Li Shang. During actual battle, Mulan is brave, however she is injured. It is discovered that Mulan is a woman, and the soldiers are shocked, as is Shang. Shang would normally have executed a woman for posing as a man for battle, however he spares her life, because she saved his. Mulan will now return home, however she doesn't yet, because she notices that the Huns are going to attack the city. Mulan tries to warn the fellow soldiers but they ignore her.
Mulan outsmarts the Huns, and with the help of the soldiers, Mulan saves the Emperor's life. Mulan fights, outsmarts, sets off an explosion, and saves China. She comes home to her family, bringing honor to them all. Shang comes to visit Mulan.
A few of the most recognizably classic and oh-so nostalgic songs in Mulan's film include:
"Honor To Us All"
"Reflection"
"I'll Make A Man Out Of You"
"A Girl Worth Fighting For"
Prince's Name: Captain Li Shang
Family members? Father: Fa Zhou, Mother: Fa Li, Grandmother Fa, The Ancestors
Is there a Live Action version? Yes
Fun Facts:
Mulan has a fantastic sequel, Mulan II. It's worth a watch!
You can meet Mulan in the Chinese Pavilion at Epcot in Disney World.
The recent 2020 live-action version of Mulan, is very different from the animated story
Read Also: What Is Reflections Of China At Disney's Epcot?
Tiana
Tiana's story is based off of a classic fairytale, The Frog Prince. The Princess and The Frog is set in New Orleans. Tiana, dreams of owning her own restaurant one day and she works incredibly hard to get there. She works day and night shifts regularly, and keeps her head up, all the while dreaming that she will own a restaurant on day soon. She even selects the space that she wants to purchase for her restaurant. Tiana's best friend is a "Southern belle" Charlotte La Bouff and she asks Tiana to make beignets for her upcoming ball being held in honor of Prince Naveen's arrival to New Orleans. Naveen arrives, freshly cut off from his royal life and wealth. Naveen is tricked by the voodoo man, Dr. Facilier, to turn into a frog.
Tiana's life is turned upside down when she meets the talking frog-version of Naveen, and she does as he asks and gives him a kiss to hopefully break the spell. She only helps him because Naveen promises to help purchase her restaurant. Naveen's mistake is that Tiana is not a princess. So, rather than break his spell, it simply turns Tiana into a frog as well. The two frogs go on an adventure together into the bayou. They come across a collection of characters including Louis, the alligator who wants to be a jazz player, and Mama Odie, who is much wiser than the voodoo man. They also meet Ray, a little tender-hearted firefly. The frogs have to make it to the Mardi Grad parade, in hopes of Charlotte, a "Mardi Grad princess" for the day to kiss them and break the spell. Tiana and Naveen have fallen in love. Charlotte kisses them but its too late after midnight for them to change. They are stuck as frogs. Tiana and Naveen still decide to get married. When Madam Odie weds them, they both turn back to humans, because Tiana becomes a princess. In the end, Tiana does finally open and run her restaurant, and they all live happily ever after.
A few of the most recognizably standout songs in Tiana's film include:
"Down in New Orleans"
"Almost There"
"Friends on the Other Side"
"When We're Human"
"Gonna Take You There"
"Ma Belle Evangeline"
"Dig A Little Deeper"
Prince's Name: Prince Naveen
Family members? Father: James, Mother: Eudora
Is there a Live Action version? No
Fun Facts:
Princess Tiana is the first African American Disney Princess
You can meet Princess Tiana at the Liberty Square Bridge in Magic Kingdom
Splash Mountain is being planned to be re-imagined to feature Tiana and the story from there
Read Also: Secrets You Didn't Know About Splash Mountain
Rapunzel
Rapunzel's movie, Tangled, is another classic fairytale turned Disney Princess. Rapunzel has magical hair, so because of this, she was locked away in a tower and taken from her parents when she was a baby. Mother Gothel, raised her as her own daughter, so that she could use Rapunzel's magical hair to keep herself looking young forever. Mother Gothel is centuries old, but the magic in Rapunzel's hair is the same as in a certain kind of flower that Gothel used before Rapunzel was born, so she has stayed alive all these years. Rapunzel knows nothing about the outside world, let alone that she is a princess or that her parents live in the kingdom nearby. For her birthday, Rapunzel asks to go see "the lights" that she always notices outside her window. Mother Gothel will not allow this and she explains in song to Rapunzel that the world is a dangerous place and she would not like it. While Mother Gothel is out running errands, Flynn Ryder, a local thief shows up in Rapunzel's tower looking for refuge. Rapunzel defends herself against Flynn Ryder and locks him in a closet. When Mother Gothel goes off on a trek to get paint for Rapunzel, Rapunzel asks Flynn Ryder to take her to see the lights. He agrees if she gives the crown back to him that she confiscated. Flynn hopes to dissuade Rapunzel from furthering this journey, so they go to the Snugly Duckling, made up of a lot of thugs and ruffians. Rapunzel sings a song with them and brings them all joy. Mother Gothel happens to be nearby and witnesses what has happened. She teams up with Flynn Ryder's ex-thieving buddies to capture Rapunzel back in her clutches. Rapunzel and Flynn, on the run, become closer and more honest with each other. The two adventurers visit kingdom, where Rapunzel finally gets to see the lights, and she gives Flynn Ryder the crown back. The two are falling for each other, when Mother Gothel's plan with Flynn's ex-thieving buddies unfolds. Mother Gothel finds Rapunzel and brings her home with her. Flynn comes back to the tower to rescue Rapunzel, however Mother Gothel kills Flynn. Rapunzel begs Mother Gothel to let her heal him so that he doesn't die. She allows her to do so, and before she can heal Flynn, he cuts off Rapunzel's hair. Because of this, Mother Gothel dies instantly. Rapunzel no longer has magical hair, but she and Flynn have each other. The magic is still inside of her she her tears of sadness heal him. They are wed and live happily ever after. Rapunzel is reunited with her parents and the "lost princess" is found.
A few of the most recognizably standout songs in Rapunzel's film include:
"When Will My Life Begin"
"Mother Knows Best"
"I've Got A Dream"
"I See The Light"
"Healing Incantation"
Prince's Name: Eugene aka Flynn Ryder
Family members? Father: King Frederic, Mother: Queen Arianna, Villain: Mother Gothel
Is there a Live Action version? No
Fun Facts:
You can see Princess Rapunzel's Tower in Magic Kingdom!
You can watch the spinoff television series, "Tangled: The Series" on Disney+
Rapunzel's chameleon best friend is named Pascal
Read Also: Great Gift Ideas for the Disney Loving Teachers
Merida
Merida is an independent, self-sufficient Scottish princess. The last thing she's interested in is looking for a man, and she truly just wants her mother to understand her (and vice versa.) Merida has so much strength, energy, and well, bravery! She can outshoot anyone with a bow. She goes against the norm, and challenges old ways. Merida loves archery. When Merida refuses to go along with tradition, she upsets the partnering kingdoms, causing problems for everyone. She doesn't want to watch young men compete for her hand in marriage, she'd rather compete for her own hand. When Merida disagrees with her mother and runs away, the will-o'-the-wisp appears, and she is led to a magical witch. The witch provides Merida with cake, which ultimately turns Merida's mother into a bear, when she eats it. Due to this enchantment, they must "mend the bond torn by pride" according to the witch. Merida and her mother, currently a bear, learn more about the history of Mor'du, who was a prince who's pride destroyed his kingdom. Merida returns to her home and insists on updating the outdated traditions. She wants to be allowed to decide her own fate, including whom she wants to marry and when. Elinor, still a bear, becomes more bear-like and less human-like as time moves. Merida's younger triplet brothers ultimately turn into bears as well, through the same cake that Elinor ate. The King fights Elinor, unaware of who she really is. Suddenly, the real Mor'du shows up. Elinor protects her daughter against Mor'du. The spirit inside Mor'du escapes, and Merida and Elinor make up for their disagreements. Merida's mother and brothers are human again.
A few of the most recognizably standout songs in Merida's film include:
"Touch The Sky"
"Into The Open Air"
"Learn Me Right"
Prince's Name: Merida doesn't need a prince.
Family members? Father: King Fergus Mother: Queen Elinor, Brothers: Harris, Hubert, Hamish
Is there a Live Action version? No
Fun Facts:
Merida is the first Disney Princess created by Pixar!
Merida's Clydesdale horse is named Angus
You can meet Merida in the Fairytale Garden in Magic Kingdom.
Read Also: Is EPCOT Better Than Magic Kingdom?
Moana
Moana is the daughter of a chief but also has no interest in a man. It's never even mentioned. Moana lives in a Polynesian village. All that she wants to do is go out to sea, but her father won't let her. In the beginning, it's almost a reverse version of The Little Mermaid, if you will. Moana ultimately goes out on the sea anyway because her island is dying and she needs to find the goddess Te Fiti, to have her fix the island. The island's crops are failing and the situation is becoming crucial. Her goal is to save her community. Moana comes across Maui, the demigod. He tags along to help her on the way. Along the journey, Moana and Maui meet a coconut crab named Tamatoa, who serenades them with the song, "Shiny." Moana and Maui learn to be friends and trust each other. When they finally get to Te Fiti's island, the chaos does not end. Maui's hook is broken, and so Maui backs down and leaves Moana. Moana discovers who Te Fiti truly is, and Maui comes back just in the nick of time to help Moana when she needs it most. Maui and Moana are friends again and Moana goes home again to be with her family. She is now known as the wayfinder, and her true calling has been found.
A few of the most recognizably standout songs in Moana's film include:
"How Far I'll Go"
"We Know The Way"
"You're Welcome"
"Shiny"
"Where You Are"
Prince's Name: Moana doesn't need a prince
Family members? Father: Chief Tui, Mother: Sina, Paternal Grandmother: Tala
Is there a Live Action version? No
Fun Facts:
Lin-Manuel Miranda wrote many of the songs on the Moana soundtrack!
You can meet Moana at Disney World in the Main Street Train Station
EPCOT will feature a Moana water feature, it's coming soon, expected in 2023-2024.
A Note: Elsa and Anna are not technically official Disney Princesses, even though many feel they should be. They were both born into royalty, however Elsa is a queen, so that may contribute to this delay in naming them official Disney Princesses. We all know that the heroic and incredible sisters and princesses of Arendelle deserve to be on the Disney Princess Official List. Here's hoping that happens soon!
Read Also: Big Ways Save Money At Disney World
How many of the facts above did you already know? Should the princess list be extended to the other properties that Disney has acquired such as Princess Leia from Star Wars?