The simple answer: yes! Animal Kingdom is a toddler-friendly environment with many activities for them to enjoy. Animal Kingdom is just like a typical zoo full of animals to look at, but also has the added element of rides and shows. This combination helps keeps toddlers (and adults) entertained all day long.
So, what are some things to do with your toddler at Animal Kingdom?
What are the best rides for toddlers at Animal Kingdom?
The first thing you are going to want to know is how tall your toddler is. Many rides do have a height requirement at Animal Kingdom. The height requirements go from 38 inches to 48 inches depending on the ride.
Kilimanjaro Safari
The Kilimanjaro Safari is a ride that is both entertaining for toddlers as well as every other member of the family. It lasts about 20 minutes (give or take some minutes). Riders sit in a bus that closely resembles what you would see in a real African safari. Small children are required to sit in the middle away from the open windows, which is something to keep in mind. If your toddler loves animals, they will enjoy the up-close encounters on this ride.
The cast members who drive the safari bus give you facts and information about each animal you come across and they even stop and allow you to take pictures and enjoy the beautiful views. If you're lucky, animals are even able to come close to the safari bus! I once had a giraffe come so close to us that we could almost touch it. There are some great opportunities for photos of your toddler on this ride. It also is a nice break from walking around the park.
Read Also: Everything You Need To Know About Disney's Kite Tails
TriceraTop Spin
The TriceraTop Spin is a ride that resembles the Dumbo ride at Magic Kingdom. There is no height requirement on this ride and is a really great ride for toddlers. After sitting in a dinosaur shaped vehicle, riders will go around in a circle and you can move the dinosaur up and down. One down-side to this ride is that it is completely exposed to the weather. If you are unfamiliar with Florida weather it can get very extreme! On a bright sunny day, this ride could potentially be very hot to be on. Consider putting on a hat or sunscreen on your toddler for this ride!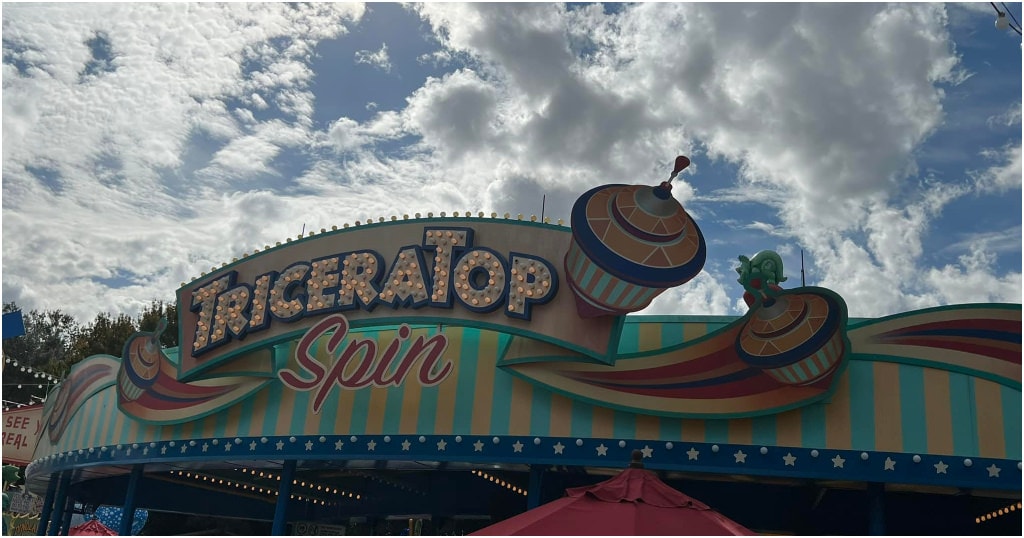 Wildlife Express Train
Although this one is meant purely for transporting to the other side of the park, it is still a great option for toddlers. Just like the safari ride, it gives you a nice break off your feet and brings you through some areas where you can see animals.
It's Tough to be a Bug
This show is located inside the tree of life. It lasts about 10 minutes and is "hosted" by Flick from A Bug's Life. It is an air-conditioned 3D show and is a great escape from that Florida heat. Toddlers love wearing the 3D glasses and going inside the tree of life. If your toddler gets easily overwhelmed, you might want to check out the show ahead of time before bringing them in there. There are flashing lights, loud sounds, and 4D type effects.
Na'avi River Journey
This is one of the newer rides at Animal Kingdom and is located inside the newly opened Pandora- The World of Avatar area. If you haven't seen the Pandora area yet, you are in for a wonderful surprise! Pandora is home to two Avatar themed rides. The Na'avi River Journey is an immersive experience that is fun even for a toddler. The ride takes you on a boat ride through the Kasvapan River in Pandora. Even the que line is extremely detailed and themed to make you feel like you are a part of the Pandora world.
On the boat ride, you go through a peaceful journey down the river. This is a great ride for toddlers as they have so much to look at and experience. The wait times are usually pretty long so if you are able to do the Genie + service for this ride I highly recommend it to avoid waiting in line in the heat or rain!
The Boneyard
The Boneyard is located in Dinoland U.S.A in Animal Kingdom. If you visit the TriceraTop Spin you are not far from this attraction. It is the perfect place for toddlers and many parents say it's their toddler's favorite part of Animal Kingdom. At the Boneyard, there is a huge playground area that kids and toddlers can run around and get some energy out. Next to there, they have a mock fossil excavation site for the kids to dig around in. Basically, it is a huge sandbox filled with
smaller rocks and stones for the kids to dig up. It is very interactive and a great experience for the little ones to do!
Other Experiences
There are also many animal encounters that you can experience with your toddler. Look for the different trails that are offered that will lead to seeing tigers, gorillas, monkeys, and more! There are animals everywhere here so walk down different walkways or explore new areas and you could come across some amazing animals with your toddler.
Read Also: Animal Kingdom Bird Show: Everything You Need to Know
There are also two shows that are worth mentioning: The Festival of the Lion King and the Finding Nemo show. Both are colorful and geared toward younger kids. They are even enjoyable as an adult, bonus!