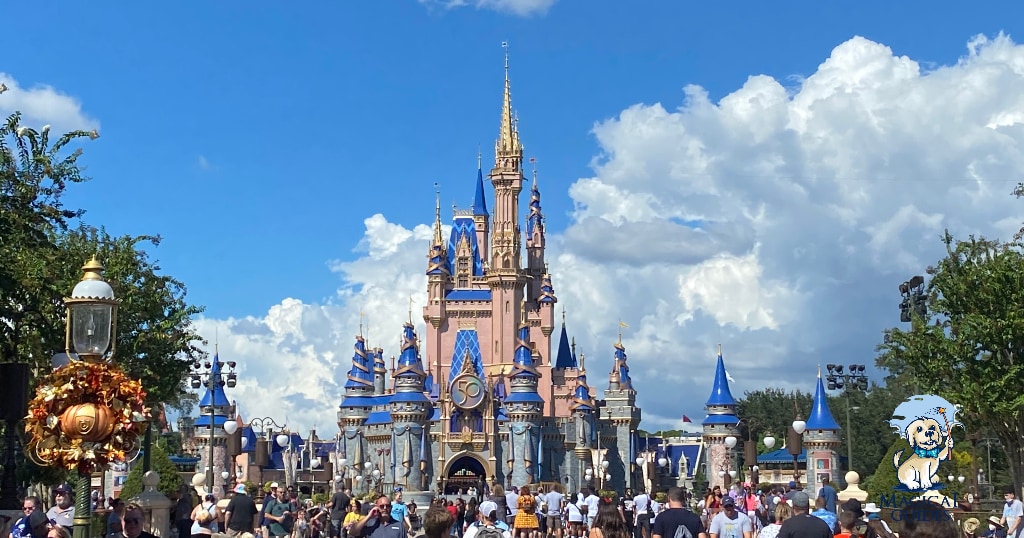 If you're in a time crunch on your trip to Disney World and only have one day for your Magic Kingdom visit, you'll need a plan to ensure you get as much done as possible. How many rides can you do in one day? What's the best strategy to avoid time in line? Where are the best places to eat? The answers to all of these questions and more are found below in our step-by-step guide for managing the Magic Kingdom in a single day. Whether your family consists of toddlers, kids, teens, or adults, you can find the best information to get the most out of your day in the park below.
Before we get started, an important thing to keep in mind is that there are multiple factors that could increase or decrease your wait times in the park. Crowd levels, Early Entry, Genie+, Lightning Lane access, and the time of year can all drastically impact how fast or how much you're able to get done in one day. This guide will assume that your family is skipping the extra $15 per person per day cost of Genie+ and skipping out on the paying the same amounts for individual Lightning Lane access. If you're willing to take on the additional cost of these services, check out some of our other guides on making the most of Genie+ and Lightning Lane. If you're staying at a Disney Resort, be sure to check early entry times for the parks to get an even better head start to your day!
Assuming an average crowd day, if you're planning to stay in the park all day, you can ride nearly every ride and see most shows if you're willing to work for it! The key is to maximize the times of the day when the parks are less busy – the morning and nighttime – to ride the most popular attractions while they have the lowest wait times. Here are some general tips which will help you get the most done, regardless of your park priorities:
Get to the park BEFORE opening time and take into account the trip over from the parking lot (or your resort) to get to the actual park. If you're visiting the park from an off-site hotel, you'll be parking at the Ticket and Transportation Center (TTC). After a walk or tram ride to the TTC, you will still be a mile from the park entrance! You'll need to hop on the monorail (usually slightly faster) or ferry boat to get all the way to the park entrance. You should account for about 30 minutes of travel from the time you park until the time you're able to scan into the park. If you're extra early, you're still allowed into the park to peruse Main Street, so you can always grab a coffee or tea before heading down towards Cinderella Castle to be first in line to get to the rides!
During the afternoon when the park crowds are at their peak, you'll want to spend your time viewing the continually running shows, which often require little to no wait time. Choosing to save the shows for the afternoon also helps you rest in the glorious air conditioning to avoid overheating out in the Florida sun. Note that Cast Members will instruct you to slide all the way down your row, so letting a few guests in before you can secure you a seat closer to the middle!
Plan your next move while you're waiting in line. While you and your family wait in line, explore wait times, show times, and food menus to make sure everyone is aware of the plan and has clear expectations about what to expect – especially with kids. Avoiding a meltdown because your toddler wanted to meet Mickey first thing in the morning when your time is better spent elsewhere can make or break your day.
Don't excessively wait around for the parade or fireworks. The Festival of Fantasy Parade can be seen from multiple areas in the park at different times, so you don't need a front row view to still wave to your favorite princess. The fireworks will require a bit of a wait, but you only need to show up 30 minutes or so before the show to get a spot on Main Street where the show was designed to be viewed from – equidistant between the Ice Cream Shop and Casey's Corner. After the fireworks is also a great time to get a few more rides in – especially back in Adventureland and Frontierland, which usually completely clear out at night!
Move quickly but stop and smell the roses. Though you are rushing around to do as much as possible, always take time to look around at all of the amazing scenery and details of the land!
Simply following these tips will put you ahead of most guests and help you avoid excessive waiting throughout the day. However, to make sure you're getting the most out of your day, you should establish your priorities based on your type of family preferences. Have young girls? Multiple meetings with their favorite princesses could be the highlight of their trip. Have more thrill-seeking teens? You'll need to hit up all of the roller coasters. Finding a balance and understanding exactly what you want to accomplish are the key to having an amazing day at Magic Kingdom! Here are two examples of daily plans with different priorities that can keep you on track to get through the most attractions possible in a single day:
Family of Adults, Teens, or Thrill-Seekers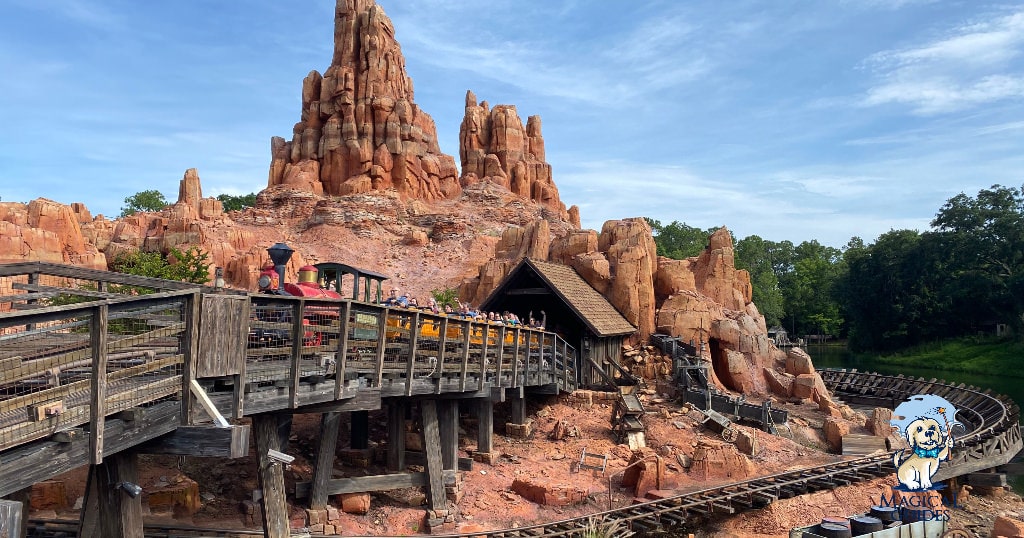 Summary of your day and the must-do rides:
Frontierland (Big Thunder Mountain & Splash Mountain)
Adventureland (Pirates of the Caribbean & Jungle Cruise)
Liberty Square (Haunted Mansion)
Fantasyland (it's a small world, Peter Pan's Flight, & Seven Dwarf's Mine Train)
Tomorrowland (Space Mountain)
If your family wants to experience the most exciting attractions, you'll need to prioritize the three mountains: Space Mountain, Big Thunder Mountain, and Splash Mountain (soon to be re-themed to "Tiana's Bayou Adventure" or, a better name… The Princess and the Log!). Here's a daily strategy to ensure you get the most from your day:
At park opening, head to the left of the castle towards the entrance to Liberty Square. At rope drop, follow the cast members into Frontierland and start your day at Big Thunder Mountain Railroad. Immediately after, you can head next door to Splash Mountain to check 2 of the big 3 rides off the list in your first 30 minutes!
Since it's still early in the day, you can head directly to Adventureland to ride the Jungle Cruise and then Pirates of the Caribbean. If you want, Aladdin's Magic Carpets shouldn't have much of a wait either! If you're already getting a bit hungry, you can indulge in a pineapple Dole Whip at Aloha Isle before continuing. Another great pick would be the Nutella and Fruit Waffle, located at Sleepy Hollow in Liberty Square. You'll be heading that way next anyway on your way to ride the Haunted Mansion – a true Disney classic.
The park will definitely be getting busier soon, so you only have another hour or so to really take advantage of the lower crowds. You'll want to make your way into Fantasyland to hop on board Peter Pan's Flight (if the wait isn't too long) or it's a small world, and then head towards the back of Fantasyland to ride Under the Seas – Journey of the Little Mermaid. On your way, it might be a good idea to take a quick stop at Gaston's Tavern for LeFou's Brew or one of my favorites – a giant cinnamon roll! The quaint little restaurant is dark and quiet, and perfect for a quick recharge!
Depending on how quickly you were able to move, you'll either want to head straight into Tomorrowland or double-back into Liberty Square. The Festival of Fantasy Parade will usually start in Frontierland at 3:00, be in Liberty Square at 3:08, in front of Cinderella Castle at 3:14, and down Main Street at 3:20. Be sure to use this timing to your advantage! If you have enough time before the parade to eat lunch and go on a couple of rides, you should go to Tomorrowland and eat at Cosmic Ray's Starlight Café (being sure to eat in the main dining area to be serenaded by the smooth sounds from the one and only Sonny Eclipse), ride Buzz Lightyear's Space Ranger Spin, the TTA Peoplemover, and see the Carousel of Progress. If, once you're finishing up in Fantasyland, it's approaching parade time, head back into Frontierland or Liberty Square to get lunch at Pecos Bills (Tex-Mex) or Columbia Harbor House (sandwiches and seafood – plus great atmosphere on the second floor) and watch the Hall of Presidents (30 minute show), the Country Bear Jamboree (~15 minute show), or Walt Disney's Enchanted Tiki Room (~15 minute show). Each of these shows will have a wait time displayed or you can ask a cast member how long it is until the next show, so you can easily squeeze them into a short window of time!
Depending on your choices, the only things you have left in the park are the rides in Tomorrowland (be sure to ride Space Mountain!), Seven Dwarfs Mine Train in Fantasyland, or the shows previously mentioned, plus Mickey's Philharmagic in Fantasyland and Monster's Inc. Laugh Floor in Tomorrowland. You can also take some time to meet characters! You should have a few hours to work with to cover these rides and shows, though you're guaranteed to be spending time waiting in longer lines. Seven Dwarfs Mine Train usually has a much lower wait at nighttime, and the posted wait time is usually inflated, so keep that in mind if you're wanting to ride!
To round out your day, you'll want to be sure to get to Main Street about 30 minutes prior to the fireworks show. Wander further down Main Street to avoid the crowds in the hub, and stake out a spot behind guests that aren't going to block your view of the castle. Immediately after the fireworks, plan to rush out of the park to beat the crowd out OR rush back to the back of the park to re-ride Splash Mountain, Thunder Mountain, Pirates, and anything else you enjoyed!
Family of Toddlers, Young Girls, or those Timid of Thrill Rides
Summary of your day and the must-do experiences:
Fantasyland (meet princesses, Peter Pan's Flight, Winnie the Pooh, & Dumbo)
Adventureland (Pirates of the Caribbean & Jungle Cruise)
Liberty Square (Haunted Mansion)
Tomorrowland (Buzz Lightyear's Space Ranger Spin)
Your plan for the day will look a lot different if your family is on the younger side, more interested in character meet and greets, or generally just want to avoid some roller coaster. I do highly recommend that parents encourage their timid little ones to try out Disney's thrill rides – they are very tame and rely more on tight turns than speed and drops. Starting out with the Barnstormer or Seven Dwarfs Mine Train as a kiddie-coaster and gradually working your way up can prove to be an effective strategy to coax timid kids onto the more exciting rides. Keep in mind that the thrill rides tend to also have the longest waits, so you may need to balance meet-and-greet time with thrill ride time.
That being said, you'll probably want to start your day in Fantasyland by riding either Seven Dwarfs Mine Train or Peter Pan's Flight. Afterwards, quickly ride the rest of the Fantasyland rides including Winnie the Pooh, Dumbo, it's a small world, and Under the Sea – Journey of the Little Mermaid. You'll also need to visit Princess Fairytale Hall to meet with some of your favorite Princesses – usually Rapunzel and Tiana and Cinderella and Elena of Avalor are together in pairs. Enchanted Tales with Belle is also a must-do for any Beauty and the Beast fans and is a great way to grab a picture of your kids with Belle. Speaking of characters, here's a list of where to find more:
Merida – Just to the right of Cinderella Castle in Fantasyland
Jasmine & Aladdin – Adventureland by Aladdin's Magic Carpets
Mickey Mouse & Tinkerbell – Separate areas both in the Town Square Theater on Main Street
Donald, Goofy, Daisy – Pete's Silly Sideshow in Storybook Circus at the back of Fantasyland
Belle – At Enchanted Tales with Belle in Fantasyland
Ariel – Near her ride at the back of New Fantasyland
Peter Pan – Near his ride in Fantasyland
Festival of Fantasy Parade – Features Belle and the Beast, Anna and Elsa, Prince Naveen and Tiana, Alice, Ariel, Merida, Peter Pan and Wendy, Snow White, Mickey, Minnie, Donald, Goofy, and much more!
After riding all of the great Fantasyland rides and few great character meetings in, you'll head to Liberty Square to ride the Haunted Mansion. After that, continue down the Rivers of America into Frontierland and ride Splash and Thunder Mountain if you're brave, or skip them entirely to ride Pirates of the Caribbean and Jungle Cruise. Taking a climb through the Swiss Family Treehouse is also a cool experience for the little ones!
Depending on how fast you've moved, you can grab lunch at Pecos Bill's in Frontierland or Columbia Harbor House in Liberty Square for the reasons included above. Note that a few other great snack options you'll be passing by are the classic churros in Frontierland and egg rolls in Adventureland! Again, to make sure your timing for the parade is perfect, you can watch any of the shows (Country Bear Jamboree and Walt Disney's Enchanted Tiki Room especially!) while you buy some time. Also keep in mind that the stage show in front of Cinderella Castle has multiple showtimes throughout the day, and is another great opportunity to see some of your favorite characters!
After the parade, the only other must-dos in the park are in Tomorrowland. Kids really love the chance to blast lasers at Zurg on Buzz Lightyear's Space Ranger Spin, and will probably enjoy Monster's Inc Laugh Floor a lot. Be sure to track down any other characters you've been dying to meet, but be warned that their wait times can be rather long in the afternoon! You can also head back to meet more of your favorite characters, but be warned that their wait times, like all of the other rides in the park at this time of the day, may be long.
Depending in how busy you're wanting to be, you may have time to sit down for dinner and relax for a bit. The princess atmosphere at Be Our Guest and Cinderella's Royal Table are always great, but the cost and quality of food may not be worth if for your family. My favorite option is the Jungle Navigation Company's Skippers Canteen in Adventureland, though picky eaters may have trouble with the menu. Be sure to snag a reservation for Be Our Guest or Cinderella's Royal Table if that's a priority for your family!
Summary of a 1-Day Trip to Magic Kingdom
No matter what type of family you are, you can get a lot done at the Magic Kingdom in just a single day as long as you have a plan in place. Both of the example itineraries provided are great options for your family but be sure to adjust them as needed to make sure everyone in your family gets to do exactly what they want. As you plan your trip, talk with everyone in the family about their priorities and manage expectations about waiting in line, what snacks or souvenirs will be bought, and how much can realistically be accomplished during your trip. By doing this, you'll be able to put together a perfect plan for your family and make the most of your time in the park!