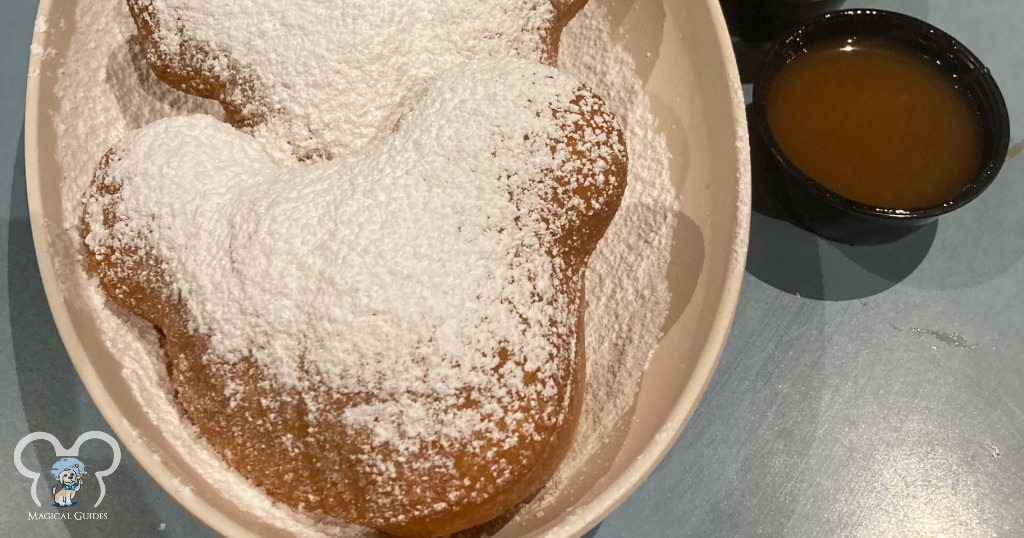 My husband and I were considering moving to the Orlando area during the pandemic. I wasn't the only one to have that bright idea, but we still haven't moved to Florida yet.
But it was during our house hunt we stayed at Disney's Port Orleans Resort – Riverside. This led us to a sweet discovery that I can't wait to tell you about.
We were tired after spending the afternoon looking at homes in Celebration, Florida. So we went to Sassagoula Floatworks to fill our refillable mugs. It was after we filled our mug that we smelled a sweet treat filling the air. I've only smelled something similar when I used to live near a Krispy Kreme, so I knew it was fried dough of sorts.
You know what I'm talking about. It's like when I walked into my grandma's house cooking cookies or fresh bread. It was a heavenly smell, that makes me happy.
Unsure of what it was, we found our answer was coming from the hotel lobby at the Scat Cat's Club Cafe. Folks were coming out with mickey shaped doughnuts covered in powdered sugar.
The Mickey beignets are starting to rank up there with Mickey waffles for a favorite snack.
What Are Disney World Beignets?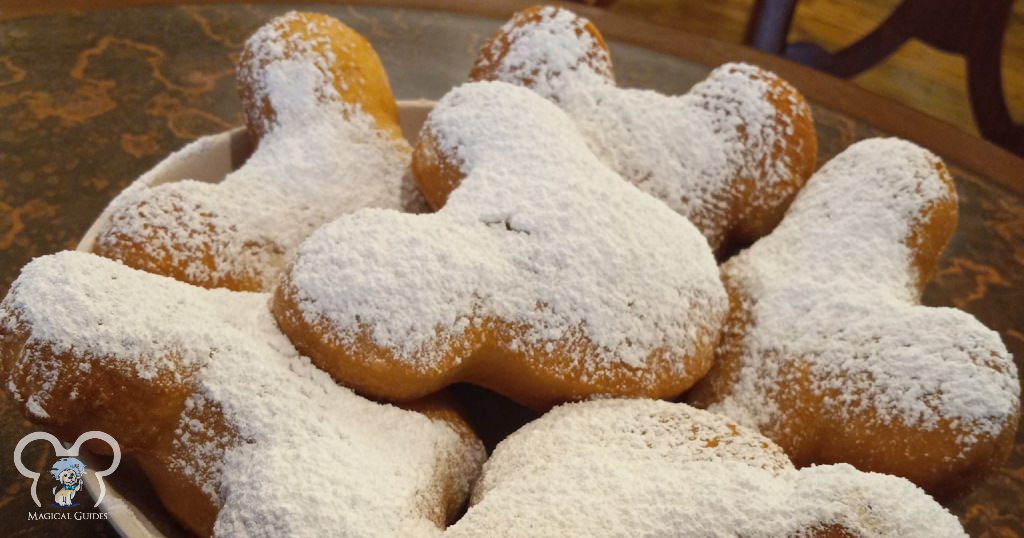 Do you like hot and fresh Krispy Kreme doughnuts? If you've ever had one of those, warm glazed airy pillow clouds you must have one of these.
Instead of being glazed with sugar, they are covered in way too much powder sugar. They are light and airy and should only be enjoyed hot.
So take it from me, and get some extra paper towels before you enjoy.
How much are Disney World beignets?
Disney offers the Mickey-shaped beignets in a 3 pack 9($7.49) or 6($10.99) pack. Both come with your choice of one (1) dipping sauce. Extra sauce can be yours for $.99 each.
You have your choice of three dipping sauces such as:
Salted Caramel
Strawberry
Chicory Chocolate Ganache (chocolate sauce)
If you are looking to bring ice cream into the mix, consider the Mickey-shaped beignet sundae for $8.79. The sundae is served with your choice of flavor of ice cream and sauce topped with whipped cream.
If you're going for the sundae, I recommend salted caramel with vanilla ice cream.
For the adults looking for boozy treats, they offer the Baton Rouge Beignets. For $11.99 for a pair(2) of jazzed-up beignets with your choice of:
Bailey's Irish cream
Kahlua
RumChata
What are the opening hours for Scat Cat's Club Lounge?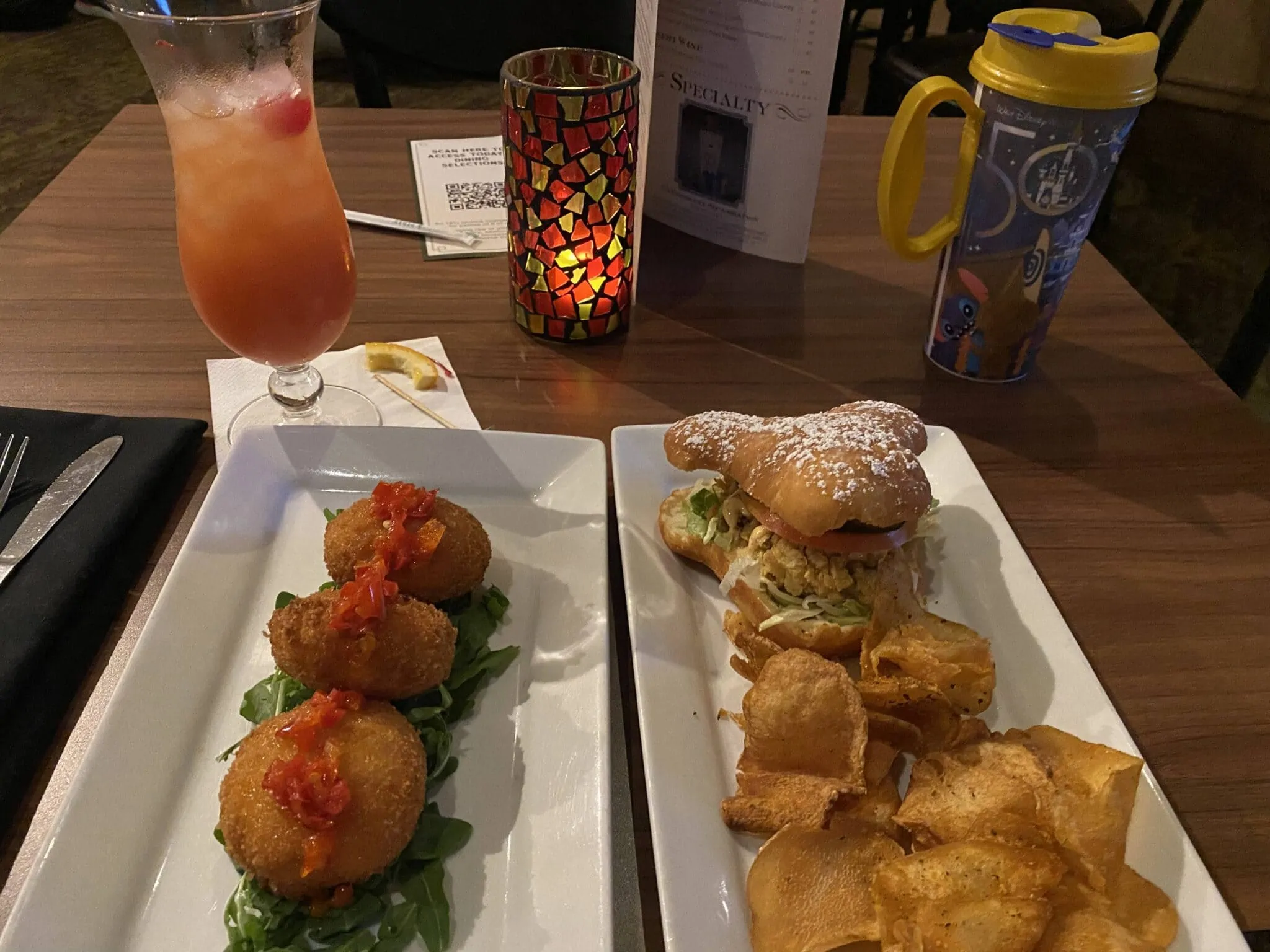 The Scat Cat's Club lounge does not sell sugary beignets like they do in the cafe next door. It's a small, new orleans-style lounge where they sell light bar food and drinks while you enjoy jazz music.
You can enjoy Scat Cat's Club Lounge daily from 5 PM – 12 AM (Midnight). It was my first time visiting the lounge and the cast member serving at the bar was friendly with recommending a few appetizers and drinks.
My meal for that night consisted of:
Mardi Gras Fritters
Oyster Beignet Po'Boy
Southern Hurricane
Overall the fritters were my favorite part. The Po'Boy was served on a Mickey-shaped Beignet, but that Mickey shape did not help the overall appeal of the sandwich.
I ended up walking from the lounge back over to the Sassagoula Floatworks Food Factory (Port Orleans quick service food court) to fill up my refillable mug before walking back to my room at the Riverside part of the resort.
Bottom line, unless you're looking for drinks, stick to the Scat Cat's Club Café for the beignets.
Are The Mickey Beignets at Disney World Allergy Friendly?
Disney does offer allergy-free beignets using Bob's Red Mill flour. These mickey-shaped beignets may be enjoyed by vegans meaning they contain no dairy, egg, or soy.
The dipping sauces that go along with the beignets are also gluten-free.
Can I Grab Disney World Beignets Without Being a Hotel Guest?
Of course, you can, you have to get there to be able to enjoy this delicious treat.
You can drive or take an Uber to Port Orleans French Quarter. Just let the guard at the gate you are there to get some beignets, ask them if they'd like you to bring them one when you leave.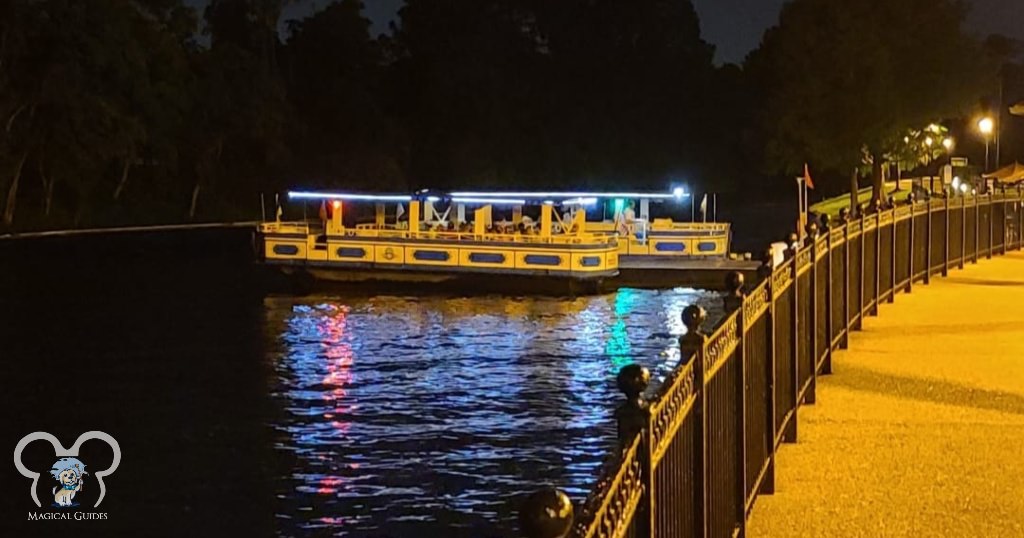 If you're at Disney Springs tired of waiting in line for Gideon's Bakehouse, consider a boat ride. Ride down the Sassagoula River Cruise to the French Quarter. This is a free river cruise so save the money you'd use for an Uber and buy a few more beignets.
If you're staying at Port Orleans Riverside (one of our favorite Disney moderate resorts), you have a 10-minute walk over Disney's Port Orleans French Quarter.
Final thoughts on Mickey Beignets at Disney World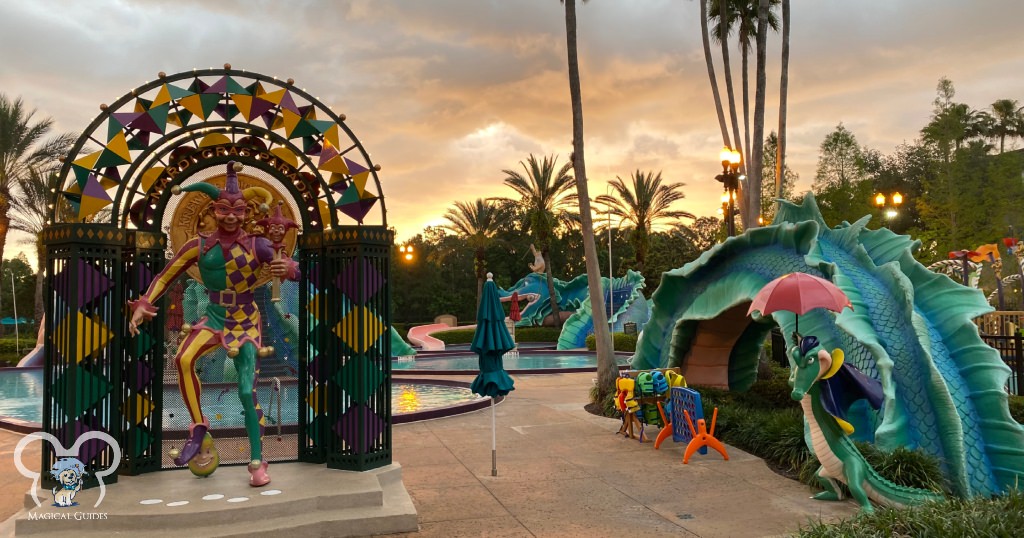 Port Orleans French Quarter resort is an under-appreciated resort. The beignets seal the deal, as you can only get them at this moderate resort.
I know some readers will want to know how these beignets compare to the famous Cafe du Monde beignets. They are on the same level, and the atmosphere is matched with excitement.
So next time you're in Magic Kingdom, thinking you'd like a turkey leg, or Mickey pretzel skip them both. Consider taking a bus to the French Quarter and getting a 3 pack of beignets. This will change your experience visiting Disney World.
Read More: Guide to Finding Turkey Legs at Disney World
Disney did release the recipe back in April 2020 (back when the parks were closed).
Official recipe for Mickey Mouse Shaped beignets at home
Mickey Mouse-shaped Beignets 10 large Mickey Mouse-shaped beignets or 2 dozen small beignets
Ingredients:
1/2 teaspoon dry yeast
1/4 cup warm water (105°)
1/4 cup sugar
2 tablespoons vegetable shortening
1/2 teaspoon salt
1/2 cup heavy cream
1 egg
4 cups all-purpose flour
1/2 cup boiling water
Vegetable oil for frying
Powdered sugar
Directions:
Sprinkle yeast over warm water in a small bowl, stirring to dissolve. Let stand for 5 minutes.
Combine sugar, shortening, salt, heavy cream, egg, flour and boiling water in a large bowl; stir in yeast mixture. With the dough hook attachment of an electric mixer on medium speed, mix the dough until combined and smooth. Let dough rest for 30 minutes.
Roll to 1/4-inch thickness and cut individual beignets with a Mickey Mouse-shaped cutter or cut into 2 1/2 to 3-inch squares. Cover with a towel and let dough rise until doubled in size in a warm, draft-free area, about 1 to 1 1/2 hours.
Using caution, heat 3 inches of vegetable oil to 350°F in a deep, heavy pot over medium-high heat. Fry beignets until golden brown, about 2 to 3 minutes, turning as soon as they brown on one side. Remove with tongs and place on paper towels to drain. Dust warm beignets with powdered sugar and serve immediately.
Have you made these yet?