When visiting Disney World if you are looking for a resort with beautiful surroundings, Southern charm and a relaxing atmosphere then the Port Orleans hotels are for you!
Port Orleans Riverside and Port Orleans French Quarter are moderate resorts on the banks of the Sassagoula River.
These are some of the smallest resorts at Disney World. The quiet, intimate feel of Port Orleans Riverside makes this hotel perfect for couple and adults only trips. Port Orleans French Quarter brings the lively, colorful Mardi Gras feel straight from the streets of New Orleans which makes this resort great for families.
Being smaller in size is a great benefit as there are fewer guests and the grounds are less spread out, which makes them easy to walk around and explore.
Both resorts sit next to each other so you can enjoy walking around the grounds, dining in the restaurants and taking part in the activities on offer at both.
These resorts also benefit from complimentary transportation. Disney Buses will take you from your resort to the Disney Parks and Disney Springs. Port Orleans also has a boat that will take you on a relaxing river journey to Disney Springs.
Let's look at each resort to see what sets them apart from each other and which one may be the best fit for you!
Riverside
Port Orleans Riverside is the larger of the two resorts. There are two distinct areas, the rustic Alligator Bayou which has bayou cottages and Magnolia Bend which has grand Southern mansions.
Magnolia Bend is made up of 4 two and three-story stately white buildings and Alligator Bayou is made up of 16 two-story buildings.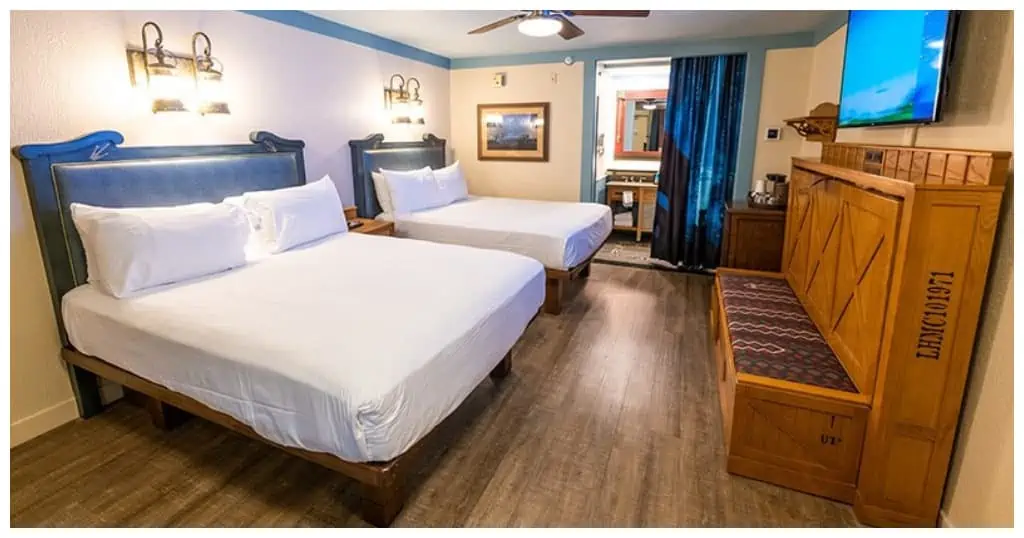 Port Orleans Riverside has 2,048 rooms over 200 acres of land. Although set across a large area this resort still feels intimate and easy to get around, unlike some other moderate resorts which are very spread out and require a lot of walking, which is not ideal after a long day in the Disney Parks!
As well as the buildings that transport you straight to the heart of Louisiana the grounds are beautiful and lush with lots of manicured gardens, oak and magnolia trees lining the sidewalks plus azalea, camellia and rose bushes decorating the grounds.
Port Orleans Riverside is best for couples and for adult only trips because of the romantic air, quiet setting and the more adult feel to the resort.
Riverside is also home to the Royal Guest Rooms, which look exactly like a bedroom you would find inside a castle and are fit for royalty! These beautifully themed rooms are exactly what you would hope a Disney room would be like and are a big reason to stay here!
Port Orleans Riverside reopened on 14th October 2021.
Rooms
There are multiple room types at Port Orleans Riverside which gives you lots of variety.
Standard Rooms come with two queen beds and can be selected with a range of different views, such as a river view, woods view or a pool view. You are also able to select a preferred room, which is closest to the main lobby, restaurants and Disney transportation.
There are a select number of king rooms that come with one king sized bed, suitable for two adults.
This resort has 5th sleeper rooms that have a pull-down murphy bed, which is the perfect size for a child, making these rooms a great choice for families.
For a truly special experience you can choose to stay in one of the Royal Guest Rooms. These majestic rooms will make anyone feel like royalty!
The décor in the Royal Guest Rooms is very grand and would fit right in inside a castle! The color scheme is made up of regal reds, blues and gold. Ornate furniture and beautiful drapes really set the scene!
These rooms are themed around The Princess and the Frog and include a headboard that features artwork from the movie and that also glitter with fiber-optic lights!
You will also find artwork showcasing Disney Princesses and their Princes, as well as nods to other Disney films such as bathroom taps in the shape of the Genie's lamp in Aladdin and the luggage bench shaped like Sultan, the dog from Beauty and the Beast!
If you are looking for a truly special, Disney-themed room then this is perfect for you!
All rooms are 314 square feet and come with amenities such as a mini fridge, coffee maker and iron and ironing board.
The rooms in the Magnolia Bend and Alligator Bayou section both have slightly different décor to incorporate the story of their setting.
Magnolia Bend rooms have beautiful, elegant décor, fitting with old Southern charm you would expect to see in a grandiose mansion. The rooms are tastefully decorated in muted greens and blues with dark wooden furniture that look like they are right out of a fine estate.
The rooms at Alligator Bayou are more rustic and are made to look like the inside of a bayou lodge. Here you will find a similar color scheme as in the Magnolia Bend rooms. The wooden furniture is designed to look handcrafted and the murphy bed looks like a wooden crate.
You will also find nods to The Princess and the Frog in the rooms at this resort, such as in the shower curtain design. If you have a 5th sleeper room be sure to look out for Louie the alligator as his image is hidden behind the murphy bed!
Dining
Port Orleans Riverside has one table service restaurant, one quick-service restaurant and two bars. The cuisine you will find here is southern fare which is totally in keeping with the Port Orleans theme.
Boatwright's Dining Hall is a table service location. At dinner time come here for Creole, Cajun and Southern foods such as fried green tomatoes, jambalaya, Nashville hot chicken, shrimp and grits and pecan pie. The décor is themed around boat building and there is even a half-built boat suspended in the air!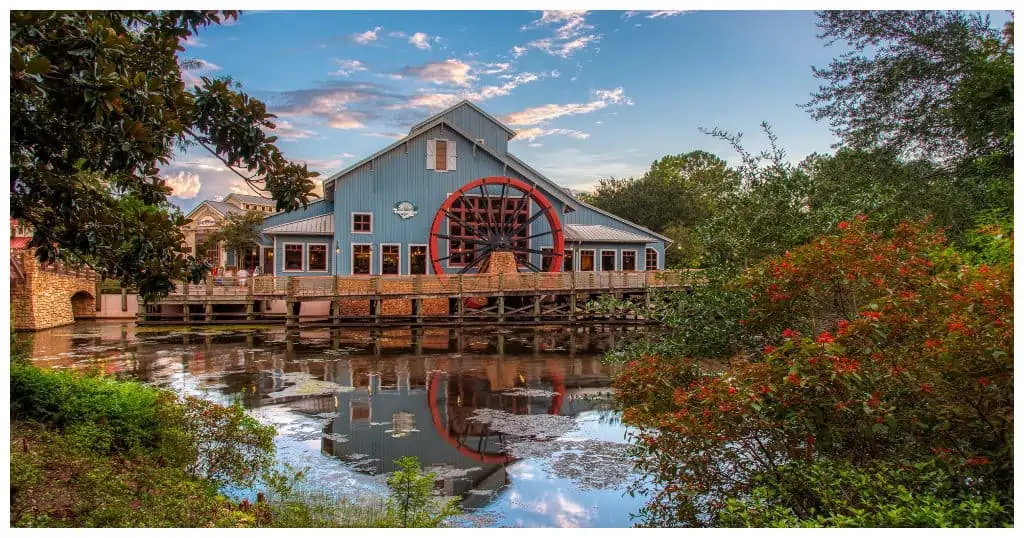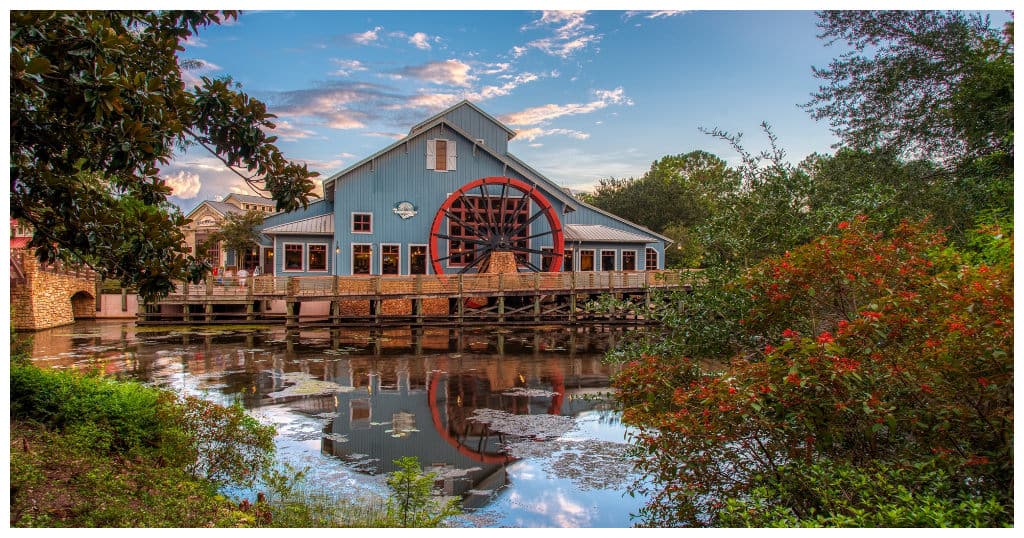 Riverside Mill Food Court is a quick service location. Breakfast, lunch and dinner are available here. Traditional American fare can be sound here with dishes such as pizza, pasta, burgers, sandwiches and salads that have a Southern flair to them. This restaurant is set up like a food court, with 5 stations serving different foods. Be sure to take a look at the working mill wheel outside!
River Roost is a bar that serves cocktails and beers as well as appetizers such as bayou wings, andouille sausage-cheese dip and hummingbird cake. There is also entertainment on offer from the Disney legend Yahaa Bob. This is a great place to unwind and enjoy yourself in the evenings.
There is also a pool bar called Muddy Rivers found on Ol' Man Island. Here you can cool down with a range of cocktails, including the famous Frose as well as beers, wines and sangria.
Pools
Port Orleans Riverside has 6 pools in total!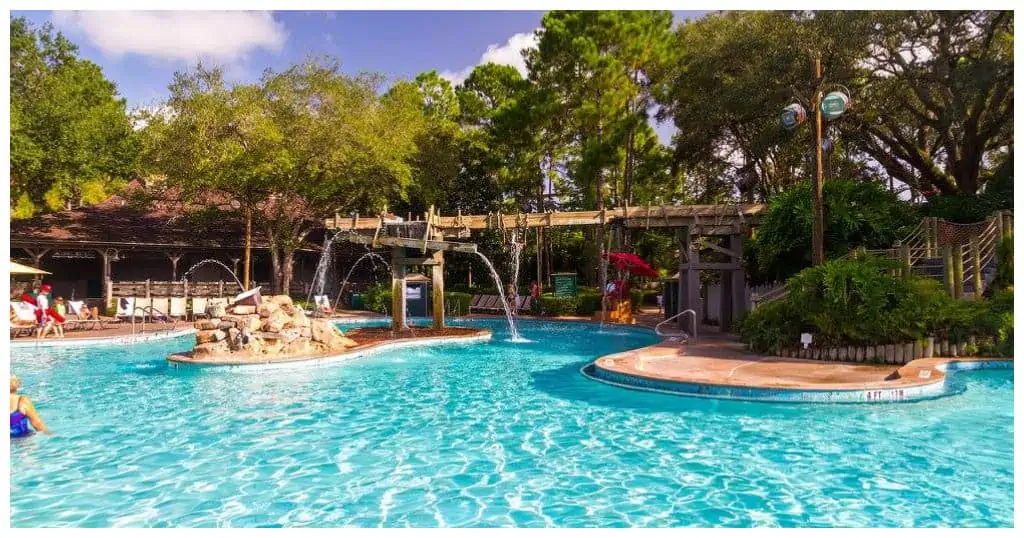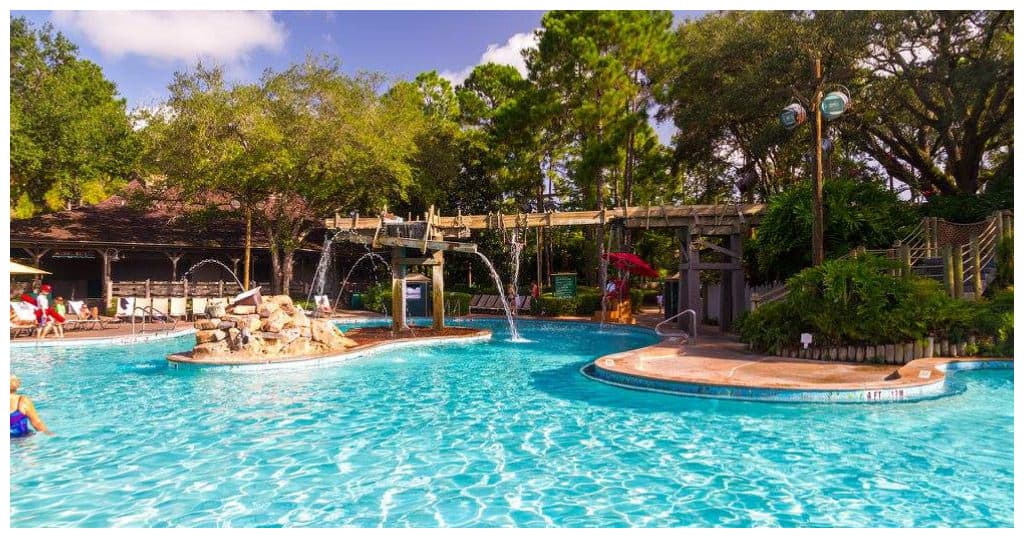 Ol' Man Island is a 3-acre wooded area, lush with nature, that is inspired by Tom Sawyer. It is home to a lot of the activities on offer at this resort as well as the main pool. The pool is designed to feel like a swimming hole and has a 95-foot long sawmill slide.
There is also a kid's pool nearby and there are activities that take place throughout the day in and around the pool. Be sure to check out the Old Man Island pool party which happens daily!
Muddy Rivers Pool Bar can be found here for some poolside beverages plus there is a hot tub for adults to enjoy.
There are 5 quiet leisure pools around the resort: three in Alligator Bayou and two in Magnolia Bend. These pools are perfect for swimming and lounging, rather than playing and splashing.
With a total of 6 pools there will always be somewhere to cool off and relax!


French Quarter
Port Orleans French Quarter lets you step into the charm and excitement of the famous French Quarter in New Orleans. Walk along cobblestone streets decorated with gas lamps and marvel at the colorful buildings with the iconic wrought-iron balconies!
French Quarter is the smallest of the moderate resorts at Disney World. This is a big bonus as you can walk almost anywhere in this resort within five minutes!
The small size and fun theming make this resort a great choice for families. Your children will love the playful pool design plus there is an aquatic play area to enjoy too!
Port Orleans French Quarter reopened on 28th October 2021.
Rooms
Port Orleans French Quarter has 1008 rooms across 7 two-story buildings.
The rooms at this resort are 314 square feet and have two queen beds and can sleep up to 4 adults. There are a select amount of rooms with a king bed that can accommodate two adults. You can choose between a standard view, river view, garden view and pool view.
All rooms come with a coffee maker, mini fridge, iron and ironing board.
The décor in the rooms is similar to Riverside. You will find beautiful muted colored walls and dark wood to be in keeping with the Southern feel alongside Mardi Gras green, purple and gold touches.
Dining
Port Orleans French Quarter is unique for a Disney World moderate resort as it is the only one that does not have a table service restaurant.
The sole restaurant at this resort is called Sassagoula Floatworks. This quick service location serves breakfast, lunch and dinner and is known for being one of the best resort quick service restaurants at Disney World.
Come here for classic Cajun and Creole foods such as jambalaya, gumbo, shrimp and grits, po' boy sandwiches, a beignet cheeseburger plus pizza, pasta and salads.
Dinner has all this and even more with dinner specialty dishes like barbecued ribs, fried chicken and blackened rib-eye steak.


Port Orleans French Quarter also has a bar called Scat Cat Club. Come here for music and drinks and the New Orleans classic sweet treat beignets! You can also order appetizers such as crawfish etouffee, crab dip and chicken and waffles.
Pools
Port Orleans French Quarter has one pool called Doubloon Lagoon. This Mardi Gras themed pool is playful and fun and is known for the 51-foot slide themed as a serpent-dragon-snake called Scales. Slide down his tongue before splashing into the pool! The pool area is also decorated with a troupe of jazz-loving alligators!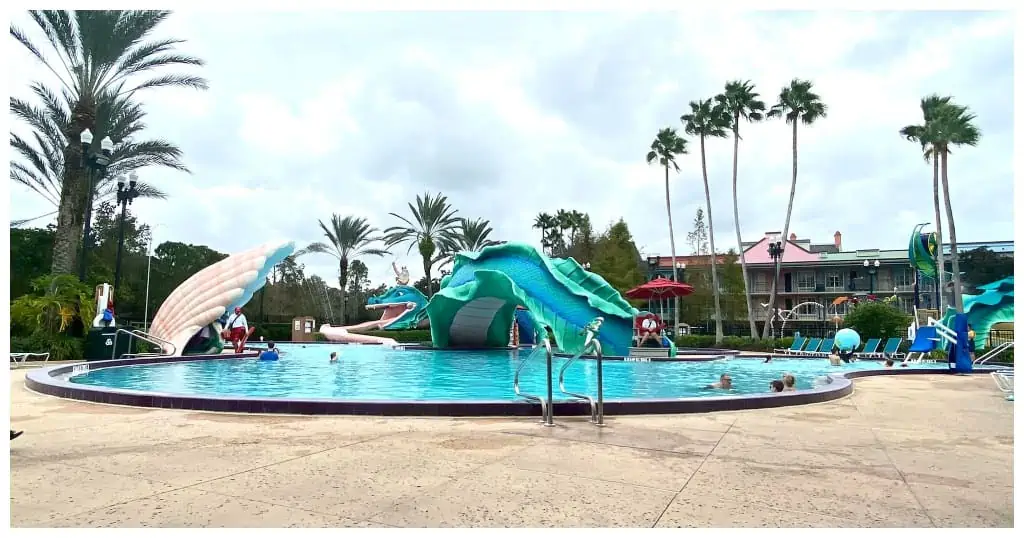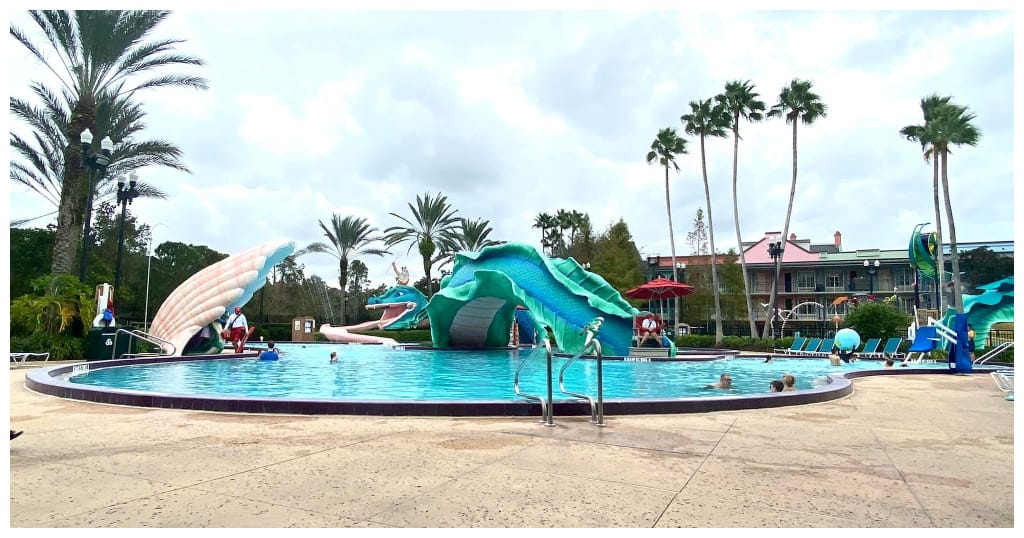 The theming of the pool is particularly great for children as it is very fun and colorful. There is also an aquatic play area for kids which has child slides, water cannons and fountains.
A range of poolside activities are on offer, which are perfect for a day spent at your resort.
There is a hot tub for adults to enjoy plus Mardi Grogs pool bar is nearby, where you can buy specialty cocktails as well as snacks like wraps, salads and pretzels.
Differences Between Riverside and French Quarter
With so much on offer at each of these resorts how do you decide which one to stay at? Here are the main difference between each of these resorts to help you choose.
French Quarter is smaller in size, which makes it easier to walk around. This is particularly great for families with children as there is no long walk to your room at the end of the day. It is also a fun resort for children because of the brighter colors and the aquatic play area.
Riverside is more sprawling but is really picturesque and has a laid back, romantic feel which is perfect for couples and adults.
Riverside has the fantastic Royal Guest Rooms, which are a real treat to stay in for fans of Disney Princesses or if you are celebrating a special occasion.
Riverside also has 5th sleepers bedrooms, which are ideal for families.
French Quarter only has one type of room and can sleep a maximum of 4 people.
Riverside has more restaurants to choose from. French Quarter only has one quick service restaurant.
Riverside has four bus stops whereas French Quarter only has one. People find it easier to catch a bus to the Disney Parks at French Quarter because of this. If the bus at Riverside is full before reaching your stop they may not stop to collect you, which can lead to longer waiting times.
Riverside has 6 pools to enjoy whereas French Quarter only has one.
The French Quarter pool may be more fun for kids because of bright colors, jazz loving alligators and the serpent slide.
Each resort has its own unique theming. Riverside is reminiscent of the relaxed atmosphere of Louisiana whereas French Quarter really transports you to the French Quarter of New Orleans.
The quick service restaurant at French Quarter is known to be one of the best in the whole of Disney World. People love the menu filled with Cajun and Creole cuisine.
Riverside has Ol' Man Island which is 3 acres of fun and activities for you to enjoy.
Port Orleans Riverside is a dog-friendly resort. You are able to bring along your canine companion, up to 2 dogs per room.
Similarities Between Riverside and French Quarter
Although both resorts have their own unique theming and charm there are also a lot of similarities between them.
The room sizes in both resorts are the same. They also have the same facilities on offer in the rooms, such as a coffee maker and mini fridge.
They both have free transportation for you to use. Enjoy the boat journey to Disney Springs and hop on a Disney Bus to the parks.
The Port Orleans complex is set amongst beautiful grounds. There is a very relaxing atmosphere across both these resorts which make them perfect places to relax after a busy day in the parks.
As the resorts are right next door to one another you can partake in the activities on offer at either resort. These include activities such as:
Movies Under The Stars where you enjoy watching classic Disney films outdoors to unwind in the evenings.

Evening campfires complete with roasted marshmallows

Carriage Rides along the banks of the Sassaloula River are available for an additional charge.

Grab a Bike Rental and take a lovely ride along the riverfront and all around the Port Orleans Resort. You can also rent a Surrey Bike, which carries 4 people under a canopy.

There is a mile-long jogging trail alongside the Sassagoula River. Enjoy the beautiful landscapes whilst jogging or walking along a paved path.

Both resorts have a children's playground and both have an arcade in their lobby.
Port Orleans Riverside and Port Orleans French Quarter have so much to offer and are a fantastic retreat to relax in after busy days in the Disney Parks!
Book Port Orleans Riverside for:
A great resort for couples or adults

A peaceful and quiet setting

Beautiful buildings and grounds
Book Port Orleans French Quarter for:
The smaller resort size making it easy to walk around

A great resort for families

Easier to get a bus to the Disney Parks