Every visit to Walt Disney World is the ultimate, magical vacation, but everyone does it differently. For some, it is a trip of a lifetime with no expense spared, whilst for others, it is more of a regular occurrence, so budgeting comes into play. With the extensive menus throughout the resort and some of the world's most Instagrammable snacks, eating on-site can soon add up. If you are looking to save money though, grocery delivery is a great way to reduce costs on your upcoming Walt Disney World vacation. Let's take a look at the top grocery delivery options when staying in the Orlando area.
Why should you order a grocery delivery when staying at Walt Disney World?
Having groceries delivered to your Disney accommodation is a great way to save money on your Walt Disney World trip. Many guests who use grocery delivery services in Orlando have found they can save several hundreds of dollars by not eating in Disney dining locations. It's a great way to enjoy breakfast and snacks at your resort each day or create packed lunches you can take into the parks with you. As well as saving you money, it can also save you time. You won't have to worry about using the mobile order service or booking advanced dining reservations before your trip.
If you are traveling with anyone with food intolerances or special dietary requirements, you may also find grocery delivery helpful. Whilst Walt Disney World caters to a wide variety of dietary requirements and can accommodate your individual needs, it can take the stress out of finding a suitable dining location. Almost any family looking to save a little money on their next trip can benefit from this option, and it's conveniently delivered to you in your Walt Disney World resort.
How do you order grocery delivery to your Walt Disney World accommodation?
Shortly we'll share a selection of the top grocery delivery options when staying at Walt Disney World. When you are ready to order, simply head to the website of your chosen delivery service, add your items to your basket and check out with the address of your Walt Disney World property. Your delivery will then arrive within your chosen delivery window, just like when you order groceries to your home. All Walt Disney World properties will accept a grocery delivery on behalf of their guests, and the delivery will be left with bell services. You can also order perishable items that need to be refrigerated, as bell services will keep those items chilled for you until you collect the delivery.
Shipping a package to your resort before your stay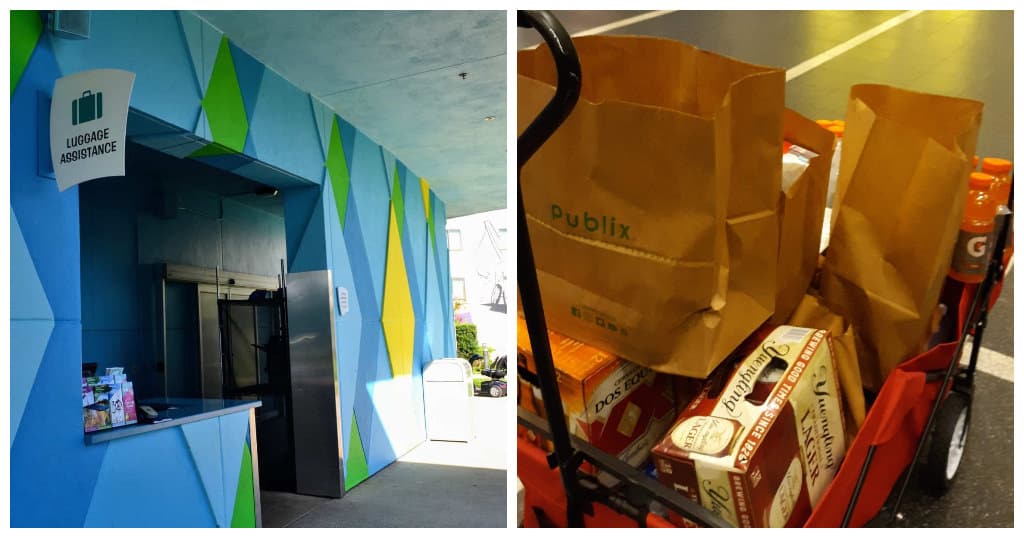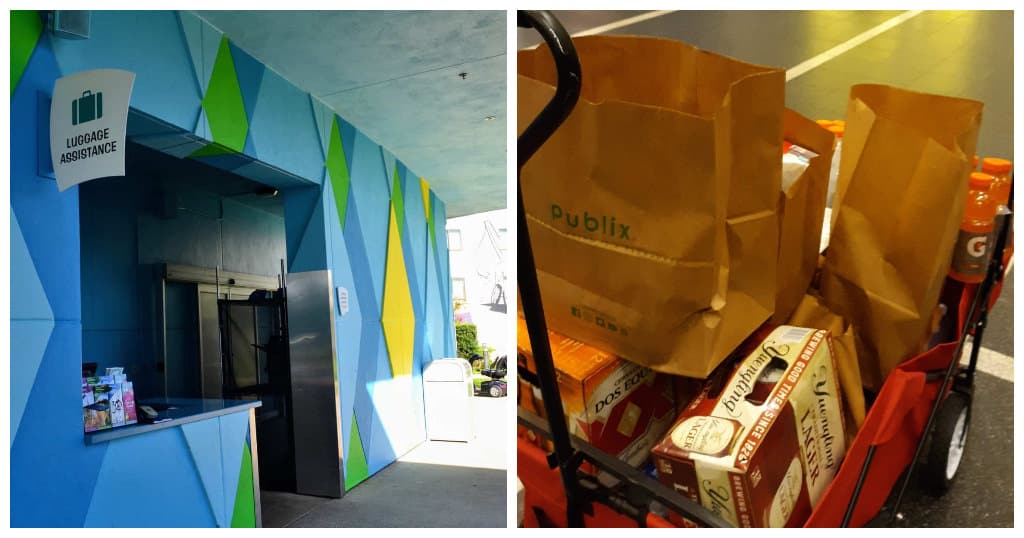 While we'll shortly get into your options for grocery delivery, another good solution is shipping a package from home to your resort. Make sure you arrange this no earlier than a week before your arrival and use the official shipping address on the Walt Disney World hotel website. Address the package with the word guest and your arrival date, along with the name the hotel room is registered under. As well as shipping snacks this way, it's a great option for any other items you can't fit in your suitcase for your trip.
At the end of the trip, you can also ship a package back home. Disney purchases can be sent from any store in the resort, but non-Disney packages can go through a convention or business center. You'll still pay for shipping, but it is likely to be cheaper than paying for extra luggage.
Before we go into the options, if you use a service, it's suggested that you consider tipping for grocery delivery. I know tipping is highly controversial, and how much exactly is really up to you. Guidelines for tipping a service like this would be around 10-15% of your total bill. Don't forget to give a few dollars if bell services holds your groceries etc.
What are your options for grocery delivery when staying at Walt Disney World?
There are many different options for grocery delivery at Walt Disney World. Let's take a look at some of the most popular choices with families staying on-site.
Garden Grocer
Garden Grocer is the top choice for Disney regulars who opt for grocery delivery. Garden Grocer only delivers to Walt Disney World and has been offering this service for ten years. They don't require a minimum order purchase, and the basic delivery fee is just $14. If your order is over $200, delivery will be free with Garden Grocer. It's best to order a few days in advance with Garden Grocer as there is a $30 upcharge for same-day delivery and a $20 upcharge for next-day delivery. While they do have a more limited selection of items than some of the other options on our list, you'll find they have some great online promotions. Garden Grocer only delivers between 4 pm – 9 pm to Disney's Yacht Club Resort, Disney's Beach Club Resort, Disney's Boardwalk Resort, and Disney's Fort Wilderness Resort, so keep this in mind if you are staying at any of these resorts.
Garden Grocer does use Publix as their source of a number of groceries such as deli meats and cheeses. However their prices might be bit higher than using Instacart, which we mention later on in this article.
Website: https://gardengrocer.com/
Amazon Prime Now
Amazon Prime Now is a great option for visitors who already pay for an Amazon Prime membership. Amazon Prime Now allows you to shop from both Amazon and local stores, including Whole Foods for your groceries. They have no minimum order, and two-hour delivery is free if you order over $35, or delivery is just $4.99 under the threshold. One-hour delivery is also available for an additional $9.99 regardless of your order amount.
Website: https://www.amazon.com
Walmart+
If you use Walmart+ grocery delivery at home, you might want to place your usual order in Orlando. They shop from the five Walmart stores closest to Walt Disney World, and there is a minimum order amount of $30. The delivery fee varies depending on the delivery slot you choose, and they also offer a same-day delivery service which is great for emergency items.
Walmart will have the best prices of most of the options here, but will lack a bit of the variety. That said it's our go to when we are looking for reliable delivery of staples like distilled water, sun screen, or swim trunks. So if you are looking for the cheapest grocery delivery while staying at a Disney resort, consider Walmart for your delivery options.

You can also get delivery service within 2 hours if you're willing to fork over a $10 surcharge.
Website: https://www.walmart.com

Instacart
Instacart uses personal shoppers to handpick and deliver your groceries, allowing you to shop multiple stores in one order. The minimum order is only $10, and the delivery fees vary based on the size of your order and your delivery slot. Their delivery slots coincide with store opening times, allowing you to have a grocery delivery from early until late, and they are one of the few services delivering alcohol.
Does Publix offer delivery? Yes, via Instacart you can get your favorites from Publix delivered. When comparing prices of shopping via the app/website there were about $3-5 difference in our total orders than shopping in the store. This is a great option to get higher quality deli meat, or more organic options.

Website: Instacart
We Go Shop
We Go Shop will visit both Whole Foods and Trader Joe's, allowing you to order healthier supplies and meet various dietary requirements. They will also stop at Walmart and Publix, charging you just $5 for each additional store. Keep an eye on the fees with this site though, as they soon add up with your order.
Website: https://www.wegoshop.com/
Orlando Grocery Express
Orlando Grocery Express serves many other resorts and vacation homes in the Orlando and Kissimmee area, in addition to Walt Disney World hotels. You can only order from the website's pre-selected list of groceries, and there's no minimum purchase order. They charge $14 for delivery on orders under $200, but otherwise, it's free. They prefer if you order 72 hours in advance, so make sure you place the order before traveling to Orlando.

Website: OrlandoGroceryExpress.com
Top tips for grocery delivery at Walt Disney World
If you are planning to order groceries for your next trip, these are a few of our top tips to help you benefit more from this service.
Sign up for notifications via text or email to track your order while you are spending the day at the theme parks.
Consider your room facilities before ordering. Whilst most hotel rooms have a mini fridge, many will only be able to hold a few drinks and snacks. However, if you are staying in a villa, you will have a full kitchen with enough space to prepare and cook meals.
Keep some cash to hand to tip bell services to thank you for holding your delivery. It is worth noting that Walt Disney World resorts now charge a $6 fee per package received at the front desk or delivered to your hotel room. As the grocery delivery is delivered to bell services, you may be able to avoid this charge.
The Swan and Dolphin do not accept grocery deliveries, so plan to visit a store yourself when staying at either of these hotels. Another option would be to meet the delivery drivers, potentially taking away from the vacation waiting for them.
Limited grocery items are available in the resorts, but these are usually much more costly than standard grocery shopping prices. The exception to this is DVC resorts, with stores such as the Front Porch located on the Board Walk.
Grocery delivery at Walt Disney World offers a cost-effective and convenient solution for your next vacation. You'll be able to stock your room with your favorite snacks and meals, ready for a busy day ahead at the parks. By comparing the options listed above, you'll find a solution that's right for your family's needs for your upcoming trip.