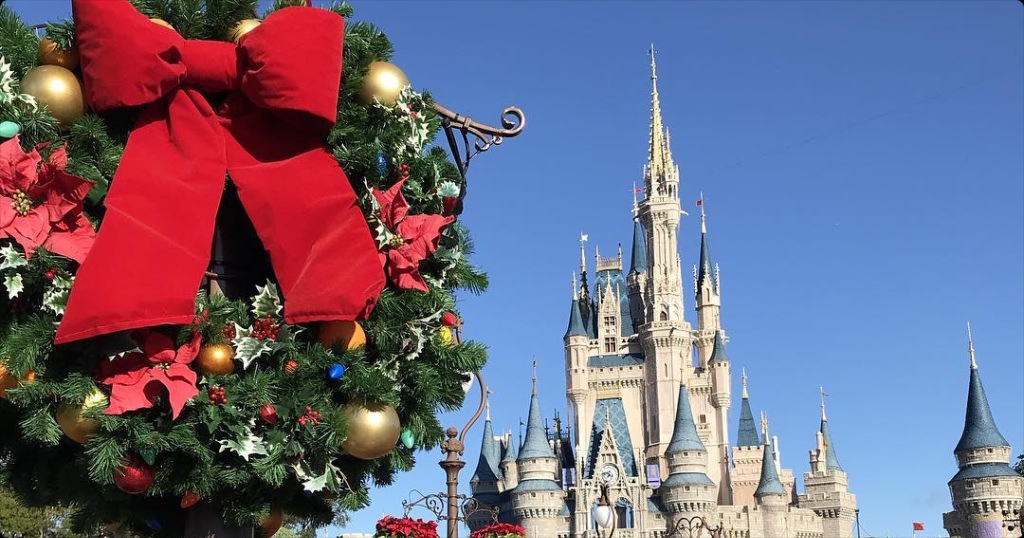 Every year my husband's family takes turns hosting Christmas. This year is my brother-in-law's turn, who happens to live in Celebration, Florida. So that means we will be spending Christmas time down in Florida.
For years we would go to Disney a few days after Christmas, but this will be my first actual Disney Christmas that we may go into the parks.
I will be driving with my husband and Walt, our GoldenDoodle, down a few days before Christmas. Whenever we drive, we have to stop at Buc-ee's along the way!
Let's walk through the planning I'm doing to ensure we have a great time on Christmas Day.
Is Disney World Open on Christmas Day?
Christmas is one of the most magical times of the year to visit Walt Disney World. A common question we receive is whether the theme parks will be open on Christmas Day and how to make the most of your time here.
Yes, Walt Disney World operates like normal every single day of the year. This is why so many people opt to spend their Christmas vacation here.
You will want to plan ahead if you're thinking you want to spend Christmas down at the most magical place on earth.
What Park Is The Best To Go To On Christmas Day?
All four Walt Disney World theme parks will be open on Christmas Day, so it's up to you which you think will be the best option for you and your family. Remember, you need to book your park pass reservations in advance of your visit still.
This may have an impact on which park you can visit if you are booking last minute. Reservations will most likely be full during this busy time of year.
Also, park hopping may not always be an option if the parks are full, so double-check how the parks are looking before leaving the one you are currently in. This is rare though and most of the time you will be able to park hop.
They do offer some additional entertainment during Christmas week. Park hours are much longer to reflect the higher crowd levels.
You'll want to do your best to arrive for rope drop or Early Entry if you are hoping to fit in some of the top attractions. Otherwise, you may find that crowd levels are too high by the middle of the morning. 
Book any dinner reservations you want early. Consider purchasing Disney Genie plus to use Lightning lanes. You will also want to pack plenty of patience as parks hit capacity by mid afternoon.
Disney has reported that the decorations on Cinderella Castle will not be returning this year. These were called Castle Dream Lights and Disney stopped putting them up in 2022.
They are still going to turn the Jungle Cruise into the Jingle Cruise once more. They put Santa Claus hats on the animatronic animals on Jingle Cruise.
The skipper of your cruise will also have holiday jokes waiting for you. It's cute, but I wouldn't be waiting in a 90 minute line or pay an extra $15 to ride it.
If you are looking for less crowds, I would also consider making a theme park reservation for Disney's Animal Kingdom park on Christmas Day. The Tree of Life Awakenings nighttime special has a special holiday edition to check out.
I would still arrive early to any park you choose. I strongly urge you to consider rope dropping any Disney park if you're hoping for shorter lines on attractions.
What if you don't want to spend Christmas Day in a Disney theme park?
No worries! There are a few other options you can do, if you want to get out and experience some Disney magic and have a great time. I'd consider visiting Disney Springs, or a water park.
If you want to eat a meal with your loved ones consider booking one of the many special events like a Christmas brunch at Homecoming. If you want to avoid buying more things, Disney's Typhoon Lagoon is sure to help you avoid those long lines you might run into at the parks.
If you are a Disney annual pass-holder be sure you're not blacked out during this time. If you are you will have to purchase full price tickets to gain entry.
If you have the Incredi-pass like I do you can still go into the parks. I plan to go see Santa Goofy in the parade. I love Disney this time of year.
Read Also: When does Disney World decorate for Christmas?
What Time Does Magic Kingdom Close In December?
Throughout December, you'll find that the opening hours for all four of the theme parks are longer than they are during the rest of the year. The Magic Kingdom will typically close as late as 11 pm in December.
During select nights in November and December, Mickey's Very Merry Christmas Party will take place here. 
This means the park closes earlier than usual unless you have a ticket for the party already. If you are hoping to attend this party this year, make sure you look at buying tickets now.
The parties have been very popular this year as they have finally returned to the pre-pandemic format, attracting locals and visitors who are excited to get in the festive mood. 
Disney has raised the price of a party ticket. Expect to pay extra if you want to be a part of their after hours holiday celebrations.
One of my top tips for anyone staying on-site during the holiday season is to take advantage of the early opening hours for Disney resort guests. This is a great way to get ahead of the crowds and ensure that you can get in a few of your favorite rides before the crowd levels get too high.
If you are staying in a Deluxe Disney resort, you can also benefit from the evening hours a couple of nights a week. This offers you the chance to enjoy attractions with much lower wait times.
Do You Need Reservations For Disney World On Christmas?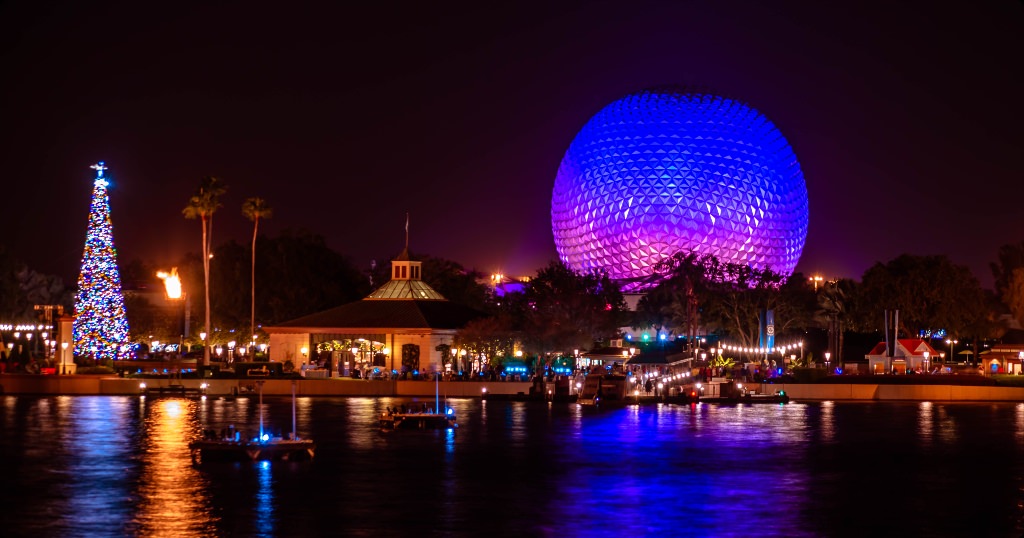 As of the current time, you still need to book theme park reservations for a Christmas visit to Walt Disney World. Make sure you book your theme a park reservation as soon as you have your park tickets.
This is especially important if you are hoping to be in the Magic Kingdom or EPCOT on Christmas Day and New Year's Eve. These are the two busiest days of the year. Expect reservations to be booked up well in advance of this time.
On top of your park reservations, you also need to think about booking your walt disney word resort hotel well in advance of your stay. This is particularly important for anyone looking for larger accommodation options or the most popular resorts in Walt Disney World.
You'll also want to book your dining reservations on the day these open up. Dining will go extremely quickly at this time.
Taking a break from touring the parks is essential during these busy times in the park. A sit-down meal is one of the best ways to rest your feet and legs after rushing around to ride all of your favorite attractions.
What Is There To Do At Disney World During Christmas?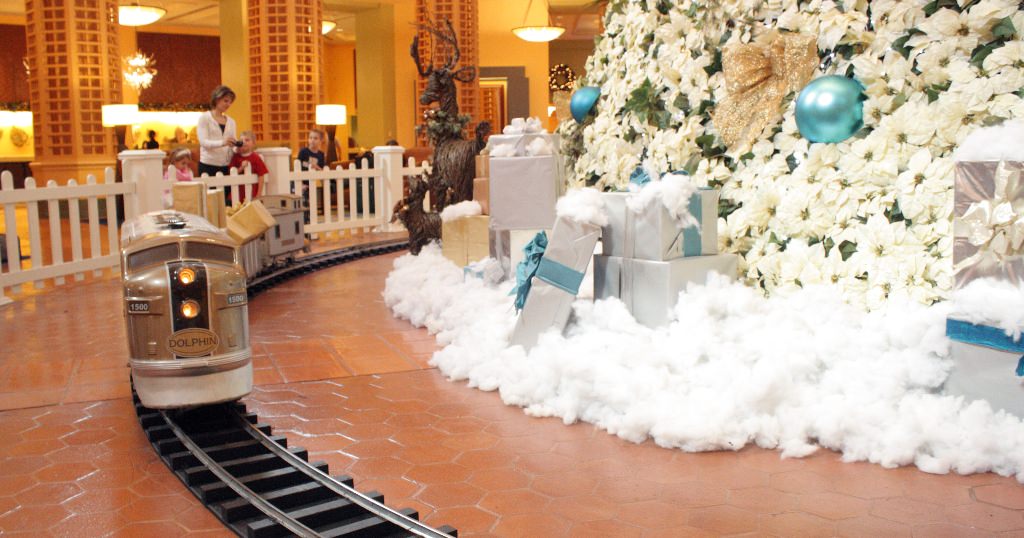 – Photo by VIAVAL/DepositPhotos
One of the reasons that so many people opt to visit the parks at this time of the year is that there are many unique offerings for the season. These are a few of the highlights that you can expect to experience when you are visiting over the holidays.
The Christmas decorations in Walt Disney World are some of the best in the world, with huge Christmas trees at the entrance to each of the four parks. They start to put up the decorations in early November.
Even if you aren't visiting on Christmas week, you'll be able to experience the beauty of the parks during this season. 
Throughout the resort, there are over 1,500 Christmas trees. Many of them are themed to the areas they are placed in, so it's fun to tour the various resorts to see them all during your stay.
As well as Christmas trees, expect 8.5 million lights to be put up around the resort during this time of the year. The incredible thing about the decorating process is that everything goes up within just a few days.
You can wake up one morning to a resort that looks completely different from how it did the night before. Make sure you have your phone ready at all times to take some fun family photos with the beautiful backdrops that are available until early January.
Parades and Holiday Entertainment
It wouldn't be Christmas in Walt Disney World without unique entertainment options to celebrate the festive season. The Magic Kingdom is home to Mickey's Once Upon a Christmastime Parade, with many of your favorite characters and St. Nicholas riding on a sleigh.
Each of the parks has its own unique entertainment offerings, including the EPCOT International Festival of the Holidays. This is included in your park admission.
The highlight of this event is the Candlelight Processional, where they host a celebrity narrator to tell the Christmas story each night. The celebrity storytellers are accompanied by an orchestra and choir.
Hollywood Studios welcomes a holiday edition of the Frozen show, and throughout the four parks, you'll find the characters dressed up in their holiday costumes.
A new party is happening this year at Christmas as well in Disney's Hollywood Studios. Disney Jollywood Nights is premiering this holiday season.  
Watch the Jingle Bell, Jingle Bam fireworks show again during the party! You might be wondering, what is Jingle Bell, Jingle BAM!? Jingle Bell, Jingle BAM! was a nighttime holiday fireworks and projections show in Hollywood Studios that guests were sad to see not return in 2022.
If you are visiting ahead of the Christmas week, you may want to consider attending Mickey's Very Merry Christmas Party. You'll need to book this party ahead of time, as it is likely to sell out in advance.
That being said, it's a great way to experience the parks with lower crowd levels, and you'll enjoy festive treats and drinks throughout the evening. You can also watch Minnie's Wonderful Christmastime Fireworks.
The Frozen Holiday Surprise can be seen in front of Cinderella Castle in Magic Kingdom. This show features all your favorite Frozen characters including Olaf, Elsa, Anna, Kristoff, and the Snowgies.
Holiday Food and Drink Offerings
The decorations and entertainment aren't the only things that change during the holiday season. The food and drink offerings throughout the parks are tailored to the holiday season.
In EPCOT, you'll find booths that offer holiday treats from around the world as you stroll along the World Showcase. It's quite similar to the Food and Wine Festival, with dishes from Canada, Japan, Germany, and Mexico.
They are a good option for anyone who was unable to obtain a dining reservation on the busier Christmas week. You'll be able to snack throughout the day and try small portions from around the world.
In the other parks, you'll find plenty of sweet treats to keep you going during a busy day. Disney's Hollywood Studios also offers alcoholic beverages for adults to enjoy, such as spiked hot chocolates.
Make sure you look out for signs at any of the quick-service dining locations to see what's on offer so that you don't miss out on any of the special menu items.
One final must-do on any Christmas vacation to Walt Disney World is to head over to Disney's Grand Floridian Resort & Spa, where you can see their gingerbread house. This life-size house is an incredible sight to witness.
You can also pick up some gingerbread to take home to share with your friends and family. I highly recommend hopping between the monorail resorts at this time of the year as well, as they are all so well-decorated for the season.
Is Magic Kingdom Open on Christmas Day?
Yes, Magic Kingdom is open 365 days a year and will be open this year 9am to 11pm on Christmas day. In fact, all of the parks are open for regular park hours on Christmas day.
Magic Kingdom and other parks have longer hours during the Christmas Season to accommodate the higher crowds.
The most popular park with families on Christmas Day is the Magic Kingdom. This classic Disney park will put anyone in the festive mood but is certainly a busy place to be on this day. The decorations here are absolutely stunning along Main Street, U.S.A., and you'll find there are plenty of rides and attractions to keep the whole family busy.
The holidays at Walt Disney World are one of the best times of the year to visit. If you are planning to be in any of the theme parks for Christmas Day, make sure you book your park reservations, resort, and dining well in advance.
You'll find that with a little patience with the crowds, you can still enjoy this festive day and make the most of your visit. I love seeing all of the Disney World Christmas decorations that are put up around the resort at this time of the year.
Make sure you put aside some time to explore places besides the parks. If booking a Walt Disney World vacation at Christmas time stresses you out, consider going the first week in January after a number of the crowds go home or plan a trip in early December.
If it's the first time you're going to Disney World at Christmas time, consider using one of the many Disney travel agents. They do not charge you to book your vacation so you don't miss out on any of the holiday decorations.