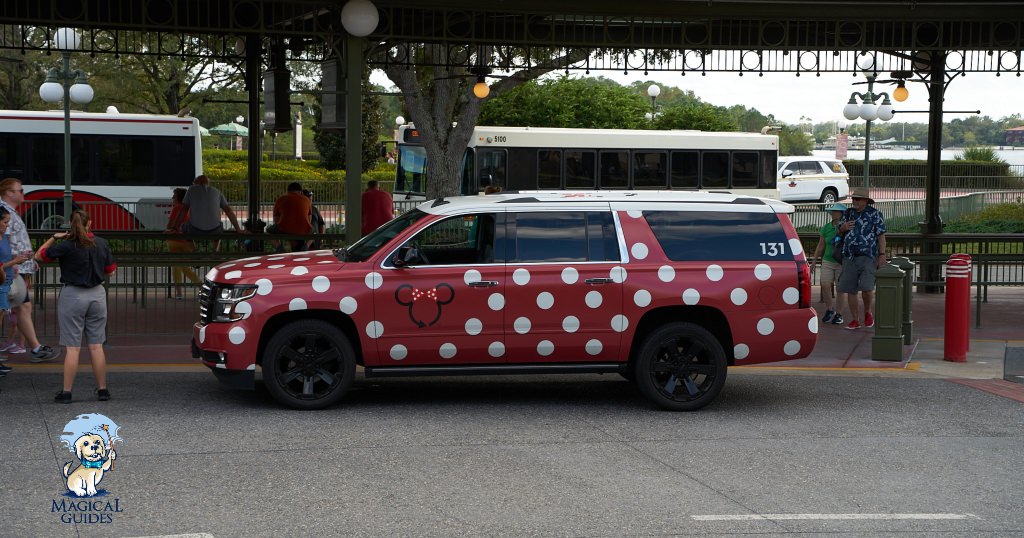 Photo by Bayley Clark for Magical Guides
For many visitors to Orlando, seeing both the Walt Disney World and Universal Orlando theme parks is part of their dream vacation plans. If you are staying in a Disney resort, you may be wondering if it's possible to travel between the two resorts and how long it will take you.
Today we're going to share our complete guide to the best way to get to Universal Studios from Walt Disney World to help you plan your next vacation. We highly recommend trying to see both sets of theme parks if time allows on your next trip, as they both offer a very unique experience for visitors.
How Far is Universal Studios from Disney?
The distance between the Universal and Disney theme parks is just nine miles, so it's not far to go at all during your stay in Orlando. If you rent a car, the drive should take about 15 minutes in good conditions, but of course, you'll need to add on extra time during the peak morning and evening rush hours. Universal Studios is located towards the south-west of the city, closer to the Orlando city center itself.
This close proximity to Disney is why many people opt to stay in a Disney resort and enjoy all of the perks of these hotels then travel to Universal Studios Florida for a day. You may want to do this in reverse and stay in a resort at Universal Studios Orlando, but that's completely up to you when it comes to what you are most excited to see and do in Orlando. Both resorts have their own benefits but you'll want to check out which one is most suited to your travel party before deciding on one in particular.
How to get to Universal Studios from Disney World Without a Car
You have a few options when it comes to getting to Universal Orlando resort without a car. We know that many people have no interest in driving on their vacation, especially when traveling from overseas and navigating driving on the other side of the road.
The first option is to book a traditional taxi or rideshare to Universal Studios. From Walt Disney World resort, the taxi would take you about 20 minutes.
We don't generally recommend booking a taxi service, as these can be very pricey. Instead, most visitors opt to use a rideshare service such as Uber or Lyft. Unless prices are increased during peak times, you can expect to pay between $22 and $25 for this journey each way.
These services are readily available across Orlando, but you may need to wait a little longer in the morning when they are in high demand. Either pre-book a taxi or order one well in advance of park opening to avoid delays.
Public transportation is very limited between Orlando International Airport, Walt Disney World and Universal Orlando. Mears offer a shuttle between Universal and Disney, which is an option you may want to consider. However, we find this offers less flexibility than using a rideshare service, which is typically the best option if you aren't hiring a car during your vacation.
If you are planning to see a lot of other attractions outside of Walt Disney World, you'll certainly want to think about hiring a car, as this is often the most cost-effective solution over a week or so.
How Much is an Uber from Walt Disney World to Universal?
Uber will set you back about $22-25 each way when traveling between Walt Disney World and Universal Orlando. Keep in mind that this is the price for a basic car at the quieter times of the day, so the price will increase if you travel during peak times or need a larger vehicle for your travel party.
The good news is that Uber and Lyft offer options to fit everyone's needs now, so even if you are in a large group, you'll likely find something to meet your needs. Just make sure you allow adequate time in the mornings when using this service, so you don't miss out on Hagrid's Magical Creatures Motorbike Adventure and other popular attractions on the Universal property.
Is There a Shuttle Between Disney World and Universal Studios?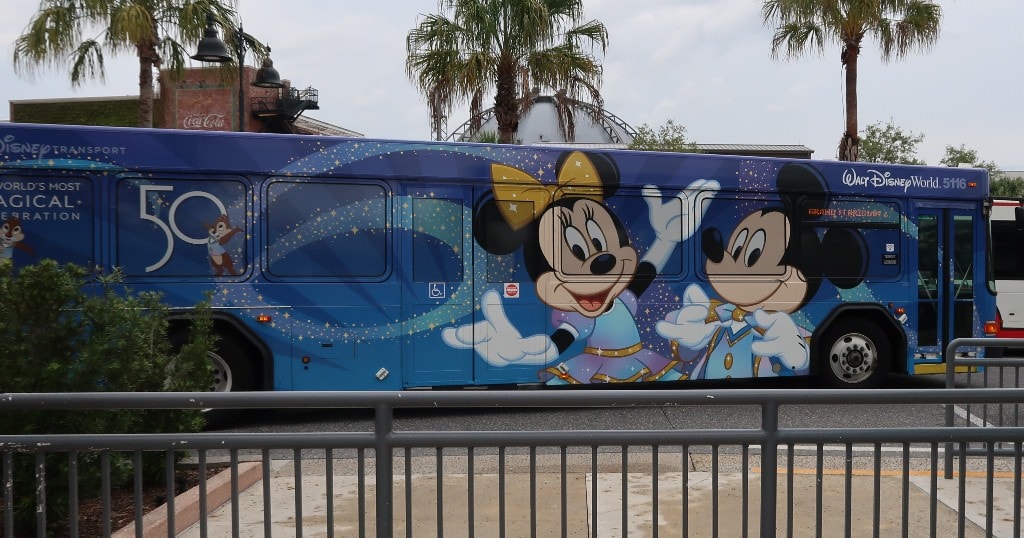 Photo by Bayley Clark for Magical Guides
When looking to visit Islands of Adventure, Volcano Bay, or Universal Orlando, you won't find an official shuttle between Walt Disney World and these theme parks. Instead, you can opt to book the one from the Mears Transportation Group, which is a well-known and trusted company in the Orlando area.
For those under three years old, the shuttle is free, but everyone else will need to pay. You'll soon find the cost adds up if you are traveling in a large group though, so make sure you budget ahead of time if this is something you are planning to do.
Many of the local hotels and resorts also offer transportation to both sets of theme parks. This is why we see many international visitors opt to stay on International Drive and other touristic spots, where the hotels offer transportation to a variety of local attractions.
If you don't have your own car, this can often be the best way to maximize your time in Orlando without having to choose one area in particular to stay in. We recommend making an itinerary before arriving in Orlando, so you have a good idea how much you'll use a car if you decide to hire one.
You can then figure out the cost and decide if it's the right option for you and your family.
Should I Hire a Rental Car in Orlando?
When arriving at the Orlando International Airport, a common option that many travelers go for is to pick up a rental car straight away. Any travel agent will be able to help you with this booking, or you can find good prices online.
For many people, this is the easiest way to get around Orlando, especially if you are looking to enjoy Walt Disney World and the Wizarding World of Harry Potter at Universal Orlando Resort.
Read Also: Secret Disney Outlet to Buy Gifts and Souvenirs – Magical Guides
If you are just looking to stay in one of these areas, you'll generally find you don't need a car, but to see the greater Orlando area or visit the beaches, it's certainly a good idea. There are many different hire companies to choose from, so you'll have no trouble finding a vehicle to fit your travel party's needs.
One thing to keep in mind with car rental is that parking fees and toll roads can soon add up. The Walt Disney World hotel collection all charge for parking now, which can add a huge amount to your vacation bill if you are staying here for an extended period of time.
If you will be traveling to the theme parks each day, you'll also need to pay for parking, which is why many people choose to stay at Disney hotels or somewhere like the Hard Rock Hotel at Universal Orlando to avoid these fees. We recommend calculating the complete cost of renting a car before your vacation to see if it's the right choice for you and your family.
If you do decide to go this route, one consideration is to use a company that was founded by folks that were laid off during the pandemic. Famously mentioned in the Ears for Each Other Facebook Group.
You won't necessarily save money, but you will get a higher level of personal service you won't get from a service like Uber or Lyft.
Do City Buses run in Orlando?
If you are used to traveling to other major cities around the world, you might be wondering what the public transportation system is like in Orlando. Unfortunately, the city doesn't have the best bus setup, which means the travel time on buses to anywhere you need to go can be extremely long.
For that reason, most people will opt to take a rideshare instead, as it's just a much more effective use of your time. The good news is that if you have time to spare, buses are available to take you around and see more of Orlando than just the area your hotel is located in.
LYNX is the local bus service in Orlando, which offers journeys from just $2 each way. They have a variety of passes on offer, so it's cheap and easy for locals and visitors to get around.
Line 50 is the one you'll need to take from Universal Orlando to Walt Disney World and then Line 302 will bring you back. Keep in mind they don't offer a direct bus service though, so you have to switch buses to get to your favorite theme park and roller coasters.
For most people, this just isn't worth the time and hassle, and you are much better off with a car rental. It may be the cheapest option but if you want to get to the park for opening, it's very unlikely to happen this way.
Is It Worth Going to Universal Studios from Walt Disney World?
This is a very subjective question based on your personal preferences, but for first-time visitors to Orlando, we highly recommend seeing both theme park areas during your vacation. Universal Orlando is perfect for teenagers and adults, especially during Halloween Horror Nights.
This is one of the highlights of the holidays in Orlando and will be a great night out that you'll remember long after your vacation is over. Walt Disney World is the world's most popular theme park resort for many reasons, and kids and adults alike can't visit Orlando without spending a day here. Review our site for a complete guide to what to see and do here and how to make the most of your time in Orlando.
In order to see both the Disney and Universal theme parks, we recommend spending an absolute minimum of a week in Orlando. Off-site hotels can be a good option for anyone looking to book an extended stay, as they offer the perfect location and best deals for a two-week or more vacation.
Keep in mind there's also SeaWorld and other local attractions, which you'll want to consider as well if you have spare time.
How Many Days Do You Need to See Both Sets of Theme Parks?
Most visitors to Orlando spend at least a week here, but this is generally just about enough time to only see Walt Disney World. With four theme parks and two water parks, you can easily spend a whole week here even without a rest day.
Universal Orlando Resort has two theme parks and a water park, so allow a minimum of three days here to experience everything on offer. During the holidays, you'll need to add extra time to make sure you can see everything, and factor in travel time for both ways if you are staying off-site and coming to and from the theme parks each day.
You'll notice that many visitors from the UK and overseas opt to stay in Orlando for two weeks, which gives you a good amount of time to see all of the attractions. When traveling from overseas, it makes sense to stay as long as possible, as you'll be able to make the most of the beautiful weather and great attractions the city is so well known for.
It's all about planning your vacation to fit you and your family's needs and ensuring you can see and do the things you've been most excited for in the run-up to your vacation. Remember to always pace yourself when traveling here though, as with the hot temperatures in the summer and large crowds, it can be quite an exhausting experience at times.
As you can see, it's easy to get to and from Universal Studios and the Magic Kingdom when staying at the other resort. Make sure you book your shuttle or Uber ahead of time where possible or leave extra time first thing in the morning to avoid issues.
The more time you can save traveling, the more time you'll have to enjoy the roller coasters and attractions that these theme parks are so well known for. When planning a visit to either resort, check out the guides on our site to make the most of your time and enjoy everything that Orlando has to offer.
For your next Disney World Vacation don't limit yourself to just staying on Disney property. Get outside of the bubble, and explore. If you're feeling up for a split stay, consider staying at a Universal hotel, so you can truly compare the two experiences.
Or if you want to enjoy both areas but not do a split stay, consider staying at an off-property around Disney Springs so that you can be a bit more central, and save a considerable amount, especially if you drive your own vehicle down to Central Florida.
I hope this helps, and remember I love feedback, so please consider leaving a comment below!
Do you make time in your Disney World itinerary to go to Universal?