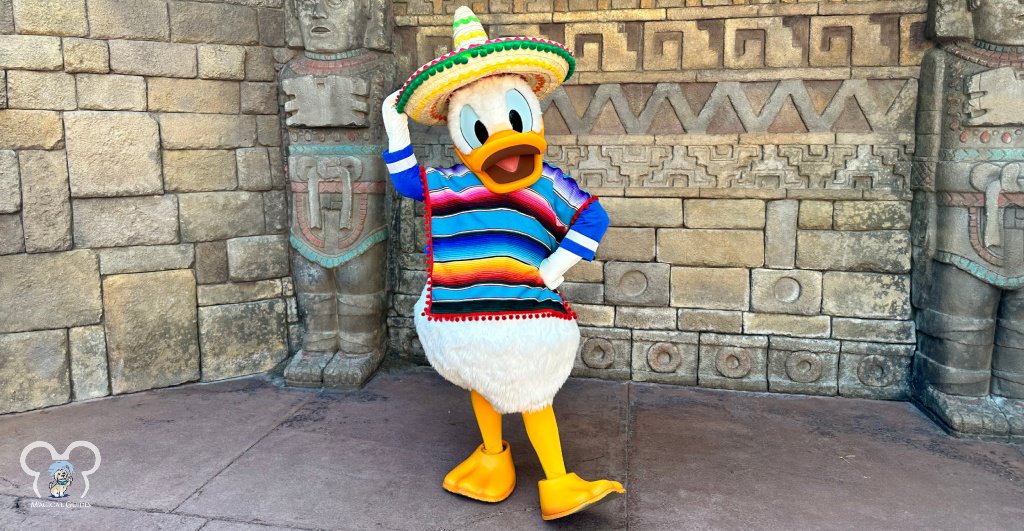 I'm not sure EPCOT turned out to be the Experimental City Prototype of Tomorrow that Walt had envisioned, but I will tell you it's one of the best places to meet famous characters. EPCOT
A day in the Disney World theme parks isn't complete without meeting some of your favorite Disney characters. Whether you are excited to meet Mickey Mouse and friends or your daughter loves the Disney Princesses, the good news is that EPCOT is home to an extensive range of character meet and greets.
Let's take a look at who you can meet in the park and the best character meet and dining opportunities.
What Makes Meeting Characters at EPCOT Different?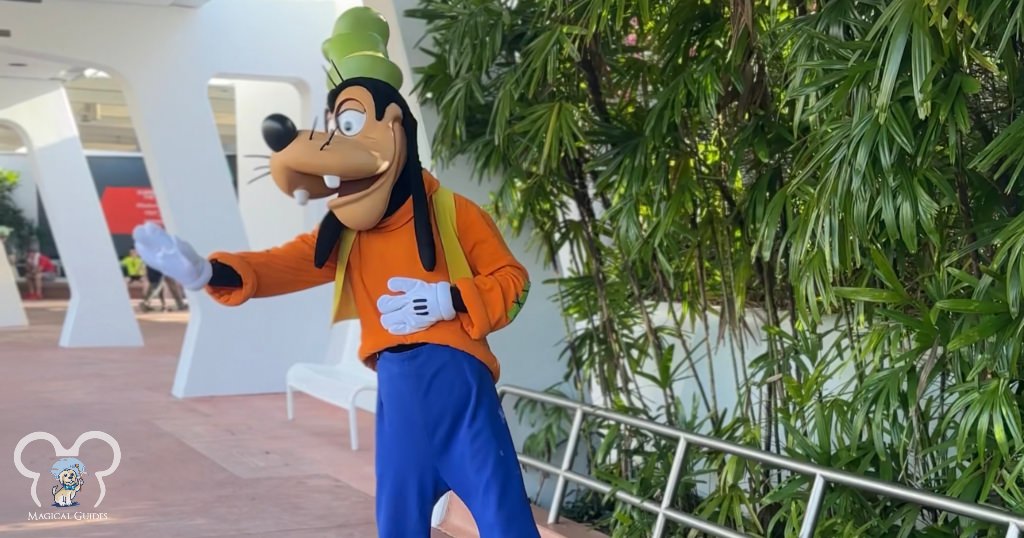 One of the reasons I love meeting characters in EPCOT is due to World Showcase. The countries are home to various characters that either live or visit these places in their movies.
You'll be able to meet Donald Duck in his unique Mexican costume or see Snow White in Germany. The backgrounds of these meet and greets are often very picturesque and unique, such as the United Kingdom's tea garden.
Some guests will think EPCOT is more suited for adults, when you find out just how many characters you can meet here, you'll find there's so much for kids to enjoy during a day in the park too.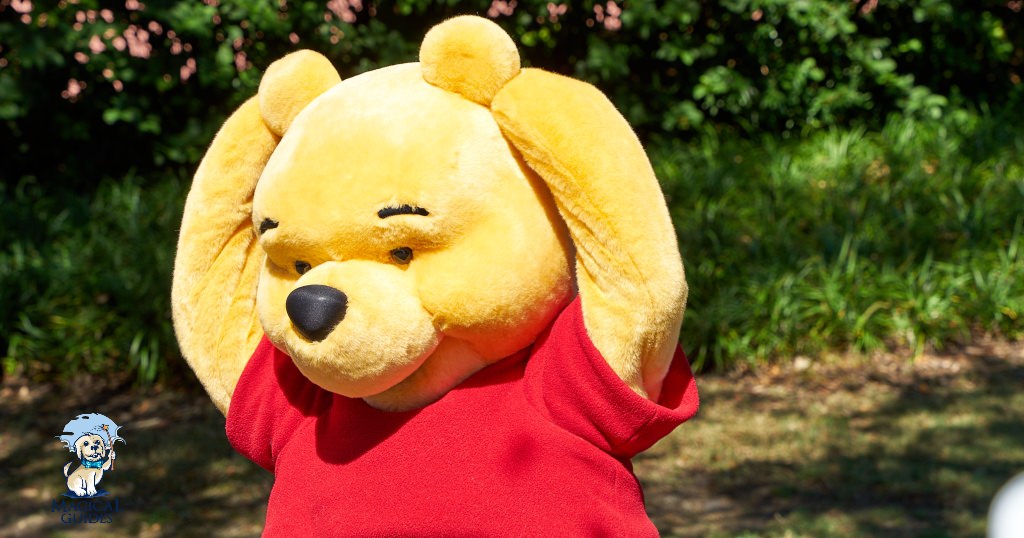 We loved seeing Winnie the Pooh trying to catch butterflies in the back area of the World Celebration. You can now find Pooh walking through EPCOT for random meet and greets, that will allow for a picture with him.
Another completely random character experience happened when my husband and I was walking around the World Showcase. In the American pavilion, we happened to stumble on Goofy.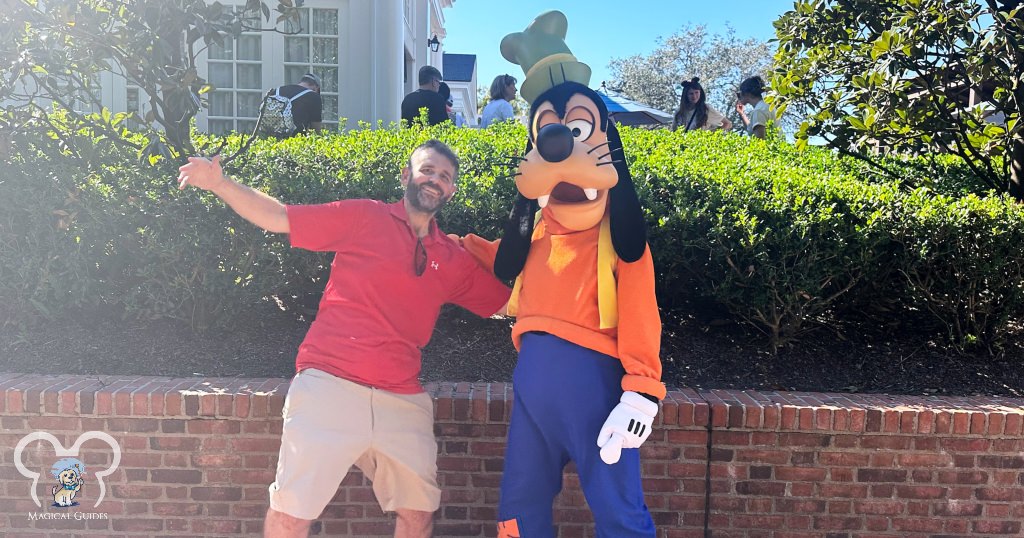 It was a fun experience as it was unexpected and my husband tends to be a bit goofy himself. So getting them together my husband embodies a big kid all over again.
What characters are featured in Epcot?
You'll be surprised by how many Disney characters you can meet at EPCOT. Here's a complete list of characters you can see in the park. Some of these characters are available to meet every day, while others are harder to find. Make sure you download the My Disney Experience app ahead of your visit so that you can see when and where you'll be able to find them on any given day.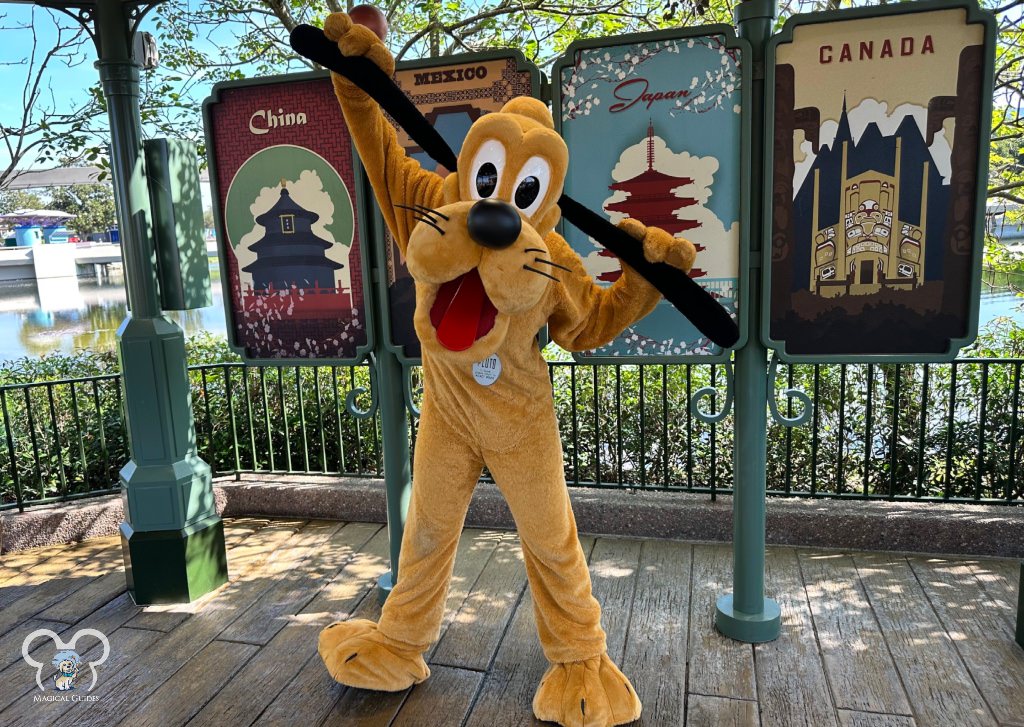 You can meet the following characters at EPCOT (check the schedule daily):
Aladdin – Morocco Pavilion
Alice in Wonderland – United Kingdom
Anna – Royal Sommerhus in Norway Pavilion
Ariel – Akershus Royal Banquet Hall in Norway
Belle and Beast – France Pavilion and Akershus Royal Banquet Hall in Norway
Chip – Garden Grill
Daisy Duck – Future World at Epcot's Main Entrance
Dale – Garden Grill
Donald Duck – Mexico Pavilion
Elsa – Royal Sommerhus in Norway Pavilion
Goofy – Future World
Princess Jasmine – Morocco Pavilion and Akershus Royal Banquet Hall in Norway
Joy from Inside Out – Imagination! Pavilion
Mary Poppins – United Kingdom Pavilion
Mickey Mouse – Imagination! Pavilion and Garden Grill
Minnie Mouse – World Showcase
Mulan – China Pavilion
Pluto – Future World, Garden Grill Restaurant, Showcase plaza gazebo
Sleeping Beauty – Akershus Royal Banquet Hall in Norway
Snow White – Germany Pavilion and Akershus Royal Banquet Hall in Norway
Vanellope von Schweetz – ImageWorks
Winnie the Pooh – Journey Into Imagination With Figment
Wreck It Ralph – ImageWorks
What time can you meet princesses at EPCOT?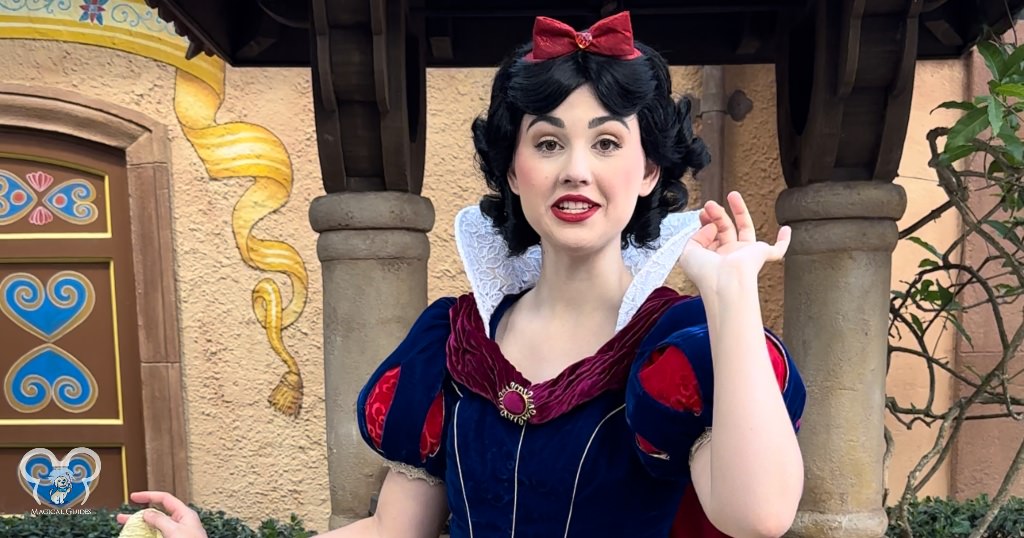 You'll find that the characters are available throughout the day, which is why I recommend downloading the My Disney Experience app for full information about who you can meet on your day in the park. Keep in mind that the World Showcase area of the park doesn't fully operate until after 11 am, which is when you can expect most of the characters to start appearing.
Read More: A Guide To Seeing Snow White At Disney World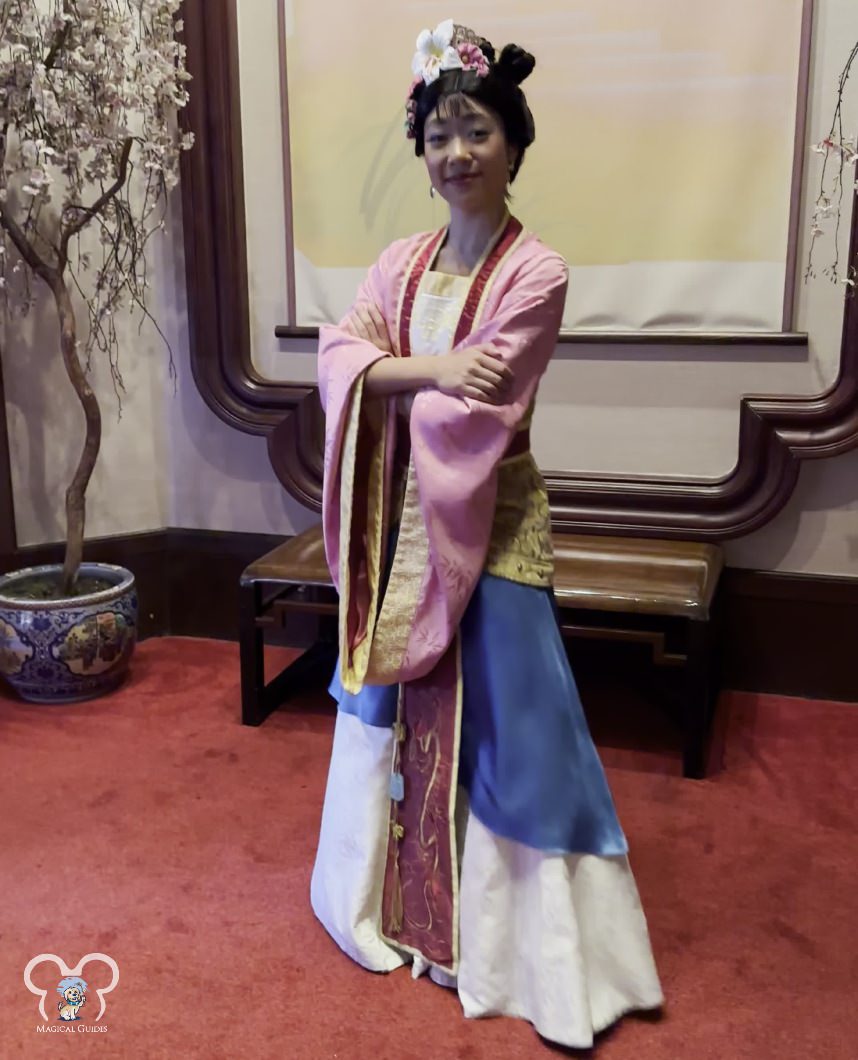 That said I met Mulan with no wait around 10 am, it was a complete accident, and it was my first time meeting this Disney princess. It was so much fun to meet her and she spent so much time chatting with me about her new dress.
Can You Meet Them Anywhere Else?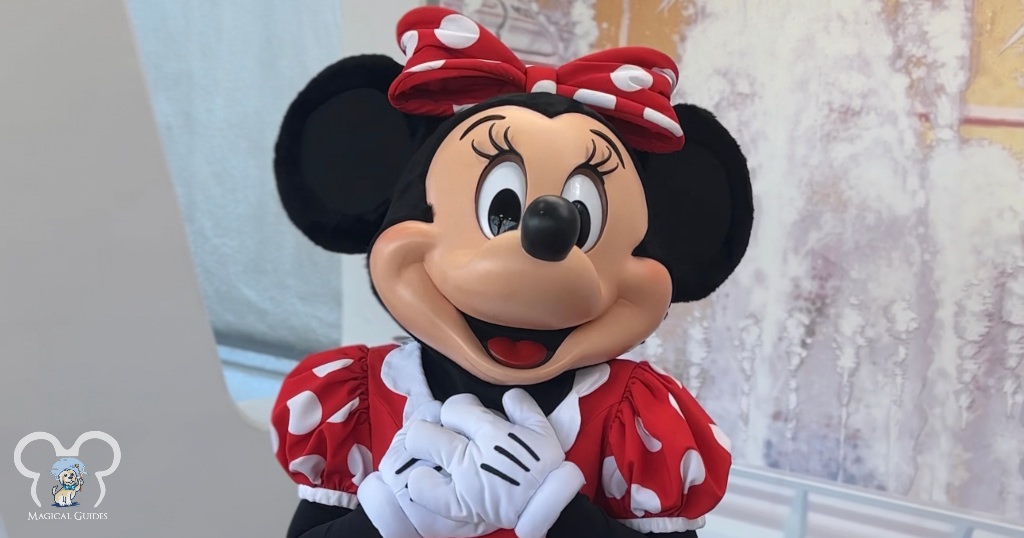 Many of these characters can be found in the other parks as well. Expect classic Disney characters such as Mickey and Minnie Mouse to be out and about in the Magic Kingdom on Main Street and Town Square Theater each day. One thing I love about EPCOT is that it typically has the largest variety of characters.
Read More: How Old is Minnie Mouse? Minnie facts
The Disney Princess offerings are excellent here and you'll often find special pop-up appearances by rare characters. Disney's Hollywood Studios is a great option for Star Wars and Toy Story Fans, who can visit Star Wars: Galaxy's Edge and see Chewbacca and Kylo Ren.
One other thing to keep in mind is that many of the attractions in the park now feature Disney characters as well. Remy's Ratatouille Adventure, Frozen Ever After (where you can see Olaf), Pixar Short Film Festival, the Gran Fiesta Tour, The Seas with Nemo & Friends, and Journey into Imagination with Figment all offer visitors of all ages the chance to see some of their favorite characters come to life.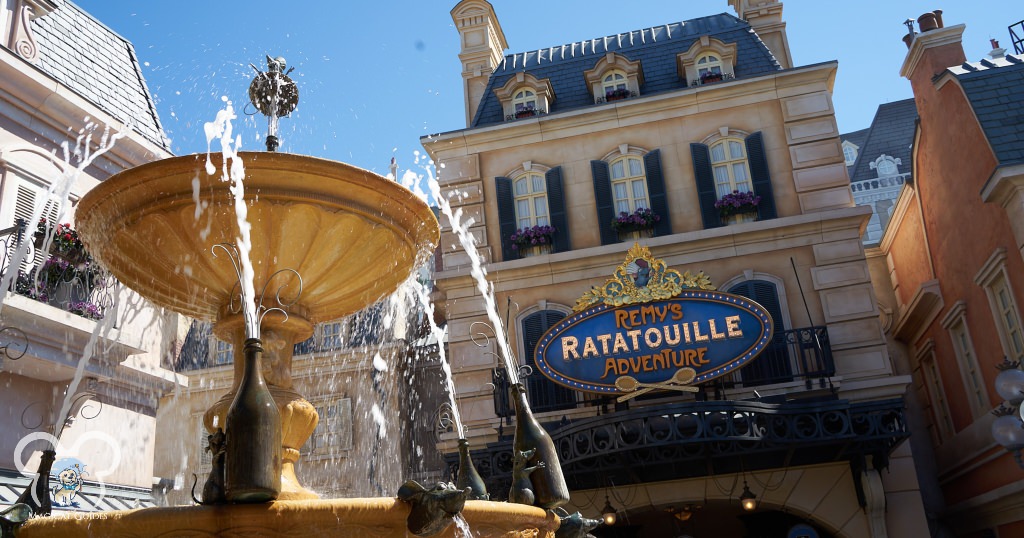 Don't underestimate the appeal of EPCOT for visitors of all ages, who will be delighted by the Disney magic that's sprinkled throughout the park.
Another way to enjoy meeting characters during a day in EPCOT is to head out to one of the nearby resorts and enjoy their character dining opportunities. These are often a bit quieter than in theme parks and will give you a much-needed break.
Topolino's Terrace in Disney's Riviera Resort offers a more upscale character breakfast and is quickly becoming one of the most popular character meals in Disney parks. You can also head to Cape May Café in the Yacht & Beach Club (Minnie Mouse and some of her friends), which is open for character breakfast as well.
Both of these have classic Disney characters in unique costumes, which makes for some wonderful family photos.
EPCOT Character Dining
A great way to guarantee time with the Disney characters is to book a character dining meal. There are two great options in EPCOT, both of which are open throughout the day. Make sure you book in advance if you are interested in either of these offerings though, as they typically book up very quickly.
Garden Grill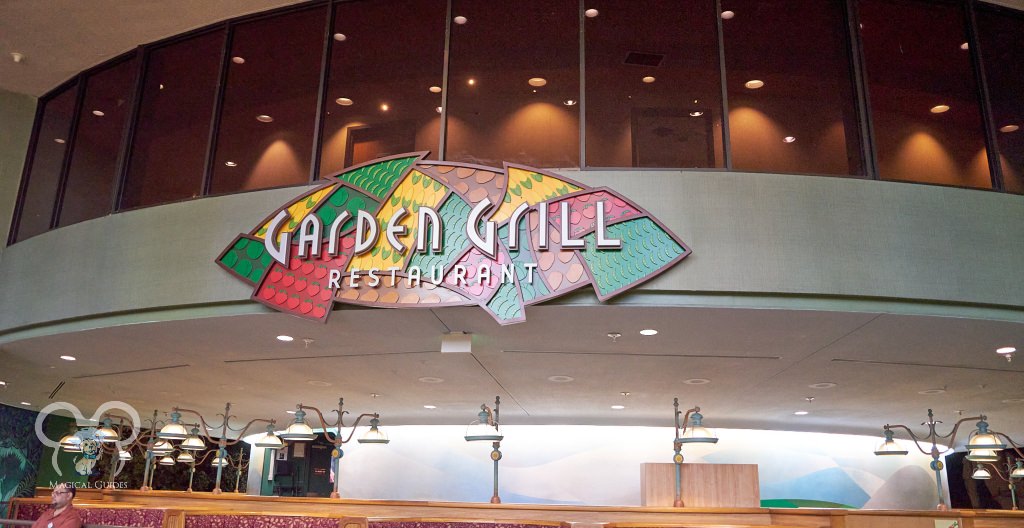 Located in The Land pavilion, this restaurant slowly rotates in a 360 degree motion above the Living with the Land attraction. As well as this unique setting, it offers fresh food that's grown in the attraction below. Garden Grill is hosted by the mischievous Chip and Dale, but you'll also get the chance to meet Mickey Mouse and Pluto most days here.
Mickey Mouse is dressed up in an adorable farmer outfit, making it a unique character photo opportunity. The restaurant is open throughout the day and is a great option for families and picky eaters. It appeals to both boys and girls, so is ideal for families looking for a classic Disney meet and greet opportunity.
Akershus Royal Banquet Hall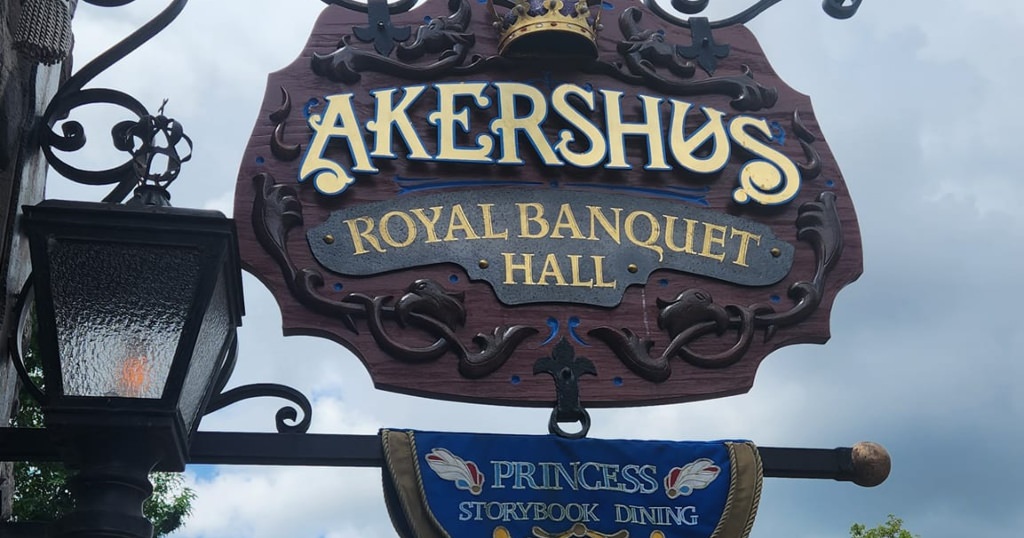 Families with young girls or Disney Princess fans won't want to miss the chance to dine at Akershus Royal Banquet Hall. Open throughout the day, this is one of the toughest reservations to come by. Make sure you try and secure your reservation on the day they are offered, as you may find you miss out otherwise.
Here you'll get a chance to meet a whole selection of Disney princesses, as well as dine on classic Norwegian dishes. Even fussy eaters will enjoy dining here though, as the menu is extensive to choose from.
How Do You Find Where the Characters in EPCOT are on the My Disney Experience App?
The My Disney Experience app has a separate drop-down tab on each theme park for the character experiences. Here you can filter to EPCOT and then see who is out and about on any given day.
You'll be able to view the location to meet the characters on the map, as well as the times they are expected to be there. I always recommend that you arrive well in advance of the final time listed on the app though, as they sometimes have to close the lines when it gets too busy.
This is a great feature for anyone spending a few days in the parks to ensure you don't miss seeing your favorite characters before you go home. If you find that you've missed out on seeing one of your top characters in EPCOT, you can use the app to see if they are at Disney's Animal Kingdom, the Magic Kingdom in the Princess Fairytale Hall, or Disney's Hollywood Studios in the Animation Courtyard instead.
Is Baymax still at EPCOT?
Before construction started at EPCOT and they reimagined EPCOT's Character Spot you could meet Baymax. The official word is he's off on another mission, and you can only meet him in California's Disneyland. So no, you can no longer meet Baymax from Big Hero 6 at EPCOT anymore.
Top Tips for Meeting Characters in EPCOT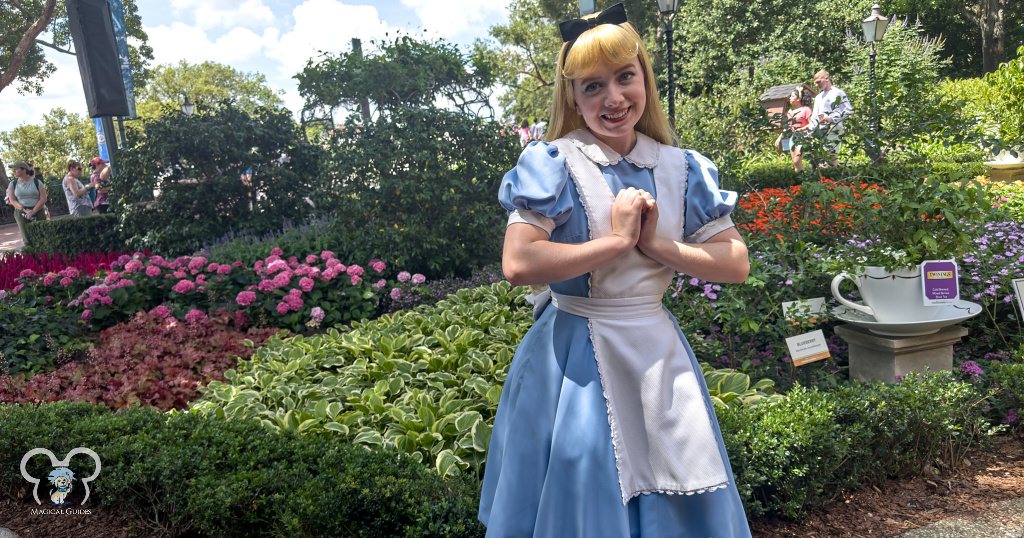 Now that you know how to make the most of your time in EPCOT, here are a few tips to help meet as many characters as possible on any given day. Children may enjoy having an autograph book of their character meets, allowing them to collect the signatures of all the characters they meet to look back on in the future.
Make sure you bring a thick pen or buy one in the theme parks as these are easier for the characters to hold.
Character meet and greets do gain long lines, so try to get to each location ahead of the start time. If you are traveling with young kids, bring snacks and water, as these lines are sometimes outside in the hot Florida sun.
You can't expect to meet every character in one day, so come up with a plan for which ones will be your priorities. This will help you to be realistic with younger kids and see the characters that they'll be most excited about.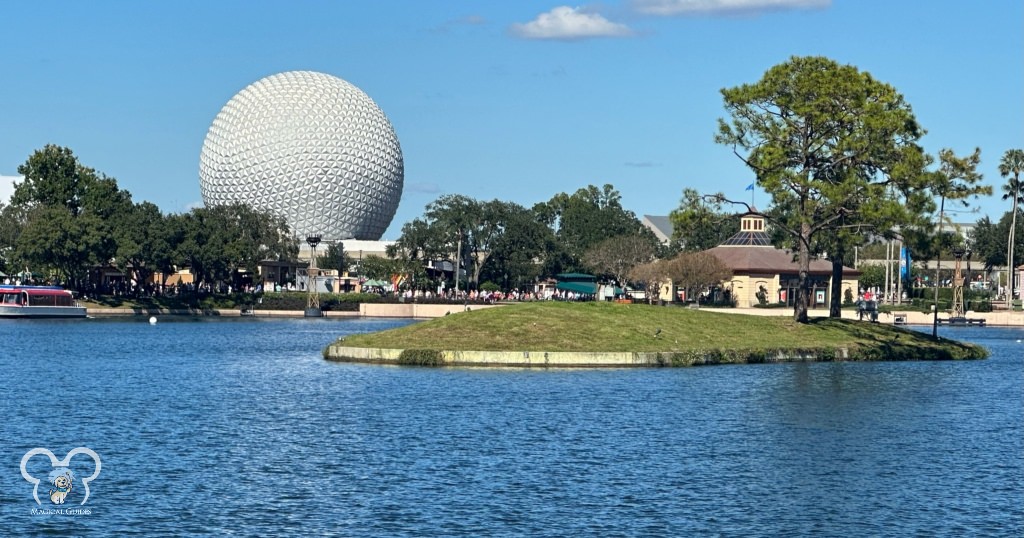 EPCOT is often overlooked by families with younger children, but as you can see, it's an amazing theme park for anyone wanting to meet a huge variety of Disney characters in one day. Use the My Disney Experience app to plan out your meet and greets and ensure you don't miss out on meeting any characters your family particularly loves.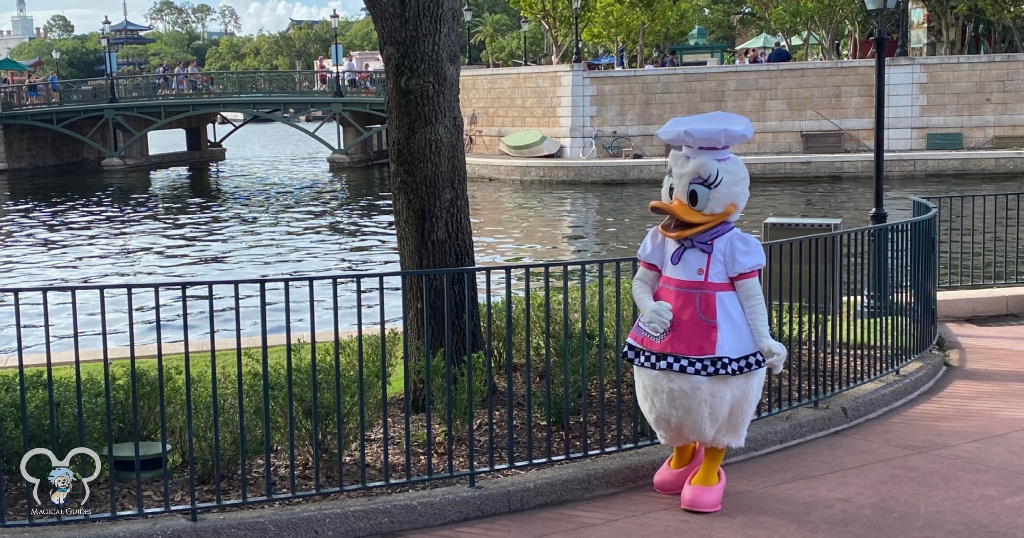 If you are interested in either of the character dining opportunities here, make sure you book them well in advance to avoid disappointment. You could easily spend the whole day walking around and meeting characters here, so be sure to pace yourself during your next visit.
Where to meet Mickey at EPCOT in 2023?
When Mickey makes an appearance in EPCOT, it's in his original classic outfit. You can find him at the Magic Eye Theatre in the Imagination Pavilion. If you're not sure where that is, head over to the Land pavilion, and look for a waterfall that shoots upward.
What are the 11 countries at EPCOT in order?
Mexico, Norway, China, Germany, Italy, the United States, Japan, Morocco, France, the United Kingdom, and Canada.
Depending on how you enter Epcot's main entrance, or from the back entrance at the International Gateway, the United Kingdom will be the first country you come into. I love coming into the International Gateway entrance when I'm staying at Disney's Swan Hotel.
What makes EPCOT unique?
EPCOT brings cultures from around the world to the Walt Disney World resort. With the multiple festivals that happen throughout the year, EPCOT is a great theme park for the entire family
If you're a foodie or love to see unique things about the countries that are hosted inside the World Showcase, be sure to plan a whole day at EPCOT.