One of the longest-standing attractions in Walt Disney World still attracts thousands of visitors each day in the Magic Kingdom. The Tomorrowland Speedway opened with Walt Disney World back in 1971 and is often known as the race car ride. Kids love getting the chance to travel around the circuit in a gas powered go-cart that is designed especially for the theme park.
Today I'm going to share everything you need to know about the ride and discover the future of this attraction.
What is the Tomorrowland Speedway?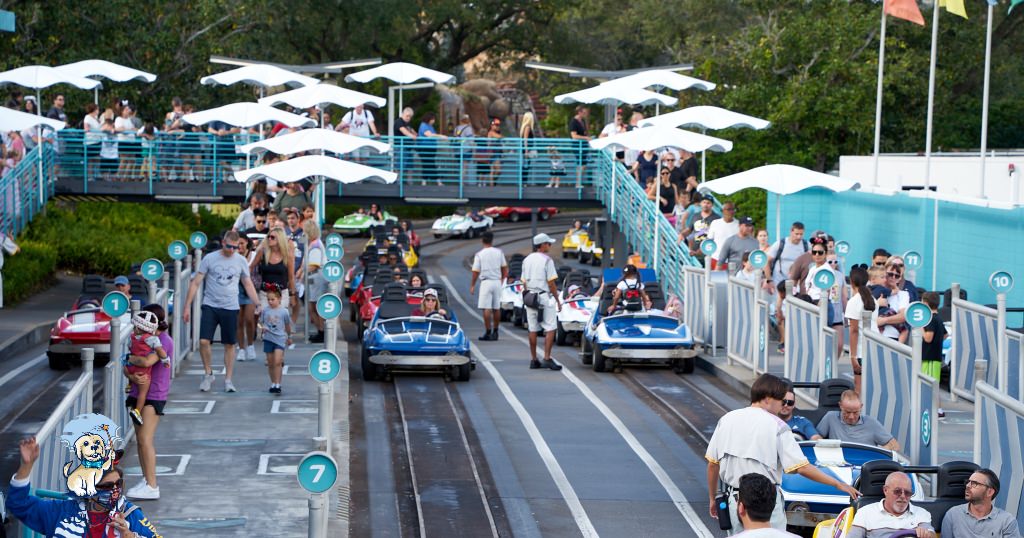 Photo by Bayley Clark for Magical Guides
The Tomorrowland Speedway is located within Tomorrowland in the Magic Kingdom and it's an opening day attraction dating back to 1971. When it first debuted in 1971 it was called the Grand Prix Raceway.
The name change occurred in 2008 for those Disney Word historians out there. This Disney speedway ride is fun for the whole family, and first-time visitors to the park won't want to miss the chance to drive their vehicle around this futuristic land.
Of course, back when the attraction opened, it was extremely high-tech and fascinated guests from around the world. Today, the attraction still attracts long lines, as guests enjoy the retro theme of the ride and the interactive element of getting to drive their own car.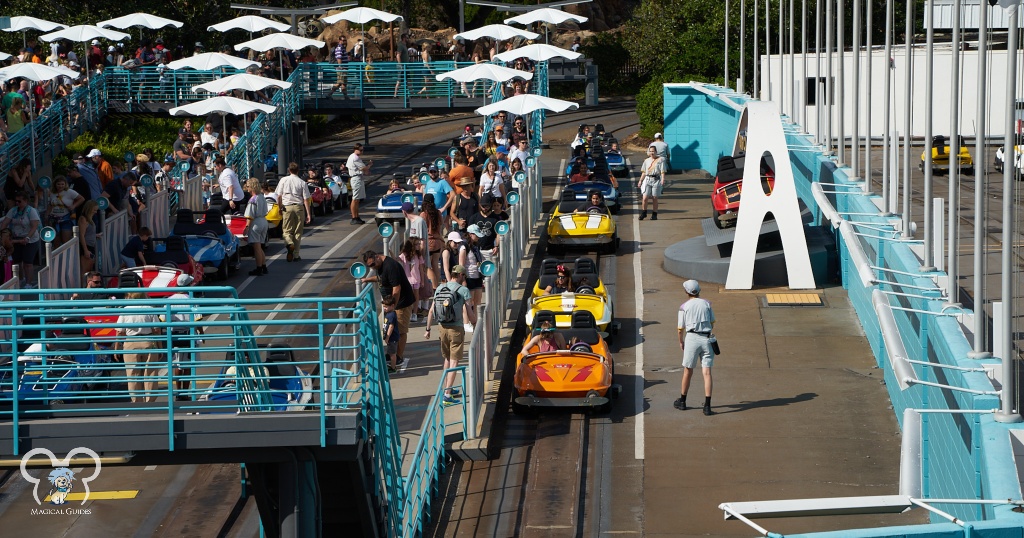 The Disney speedway ride is located outdoors and cast members will load you into your car in an area that's based on three of the major Indianapolis Motor Speedway races. The track that you travel along stretches over 0.4 miles, with turns and banks to add more of a challenge on the way.
You'll arrive back at the finish line at the end of the ride, where you'll be able to see the other riders behind you enjoying their lap around the circuit. You'll find that the lines for this attraction often reach up to an hour on a typical day in the park, but the good news is that you can ride it using Genie+ and sometimes during extra magic hours.
Keep in mind that a lot of the line for this ride is unshaded, so it's best to try and ride early in the morning or early evening if you can.
Is Disney Getting Rid of the Tomorrowland Speedway?
With all of the recent changes in the Magic Kingdom and the recent opening of the TRON attraction, you may be wondering if Disney is going to keep this ride open alongside other classic attractions such as the Tomorrowland Transit Authority Peoplemover.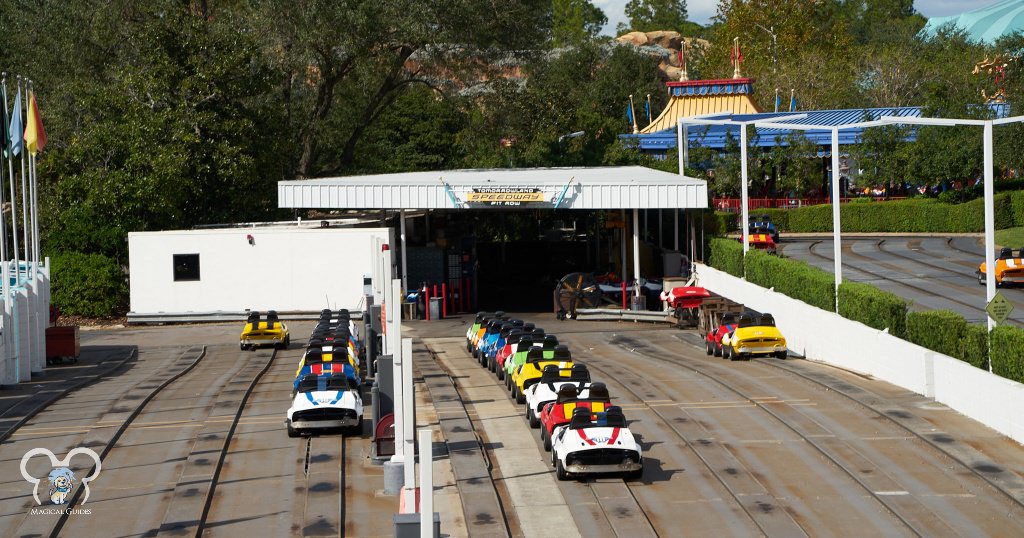 There have been rumors over the years about the opening and closing of various rides, the good news is that we don't think this attraction is going anywhere in the near future.
It still gathers lines each day to rival those of Space Mountain, and other popular attractions, so we would be surprised if Disney did decide to remove it entirely from the Magic Kingdom. Of course, the parks are always being updated and changing, and I'm here to provide you with any updates in the future about attractions in the Walt Disney World resort.
Can Kids Drive on the Tomorrowland Speedway?
The Disney speedway ride in the Magic Kingdom appeals to visitors of all ages, especially those who dream of driving a car alone for the first time. The main thing to keep in mind is that it's not about age when it comes to who can ride the attraction.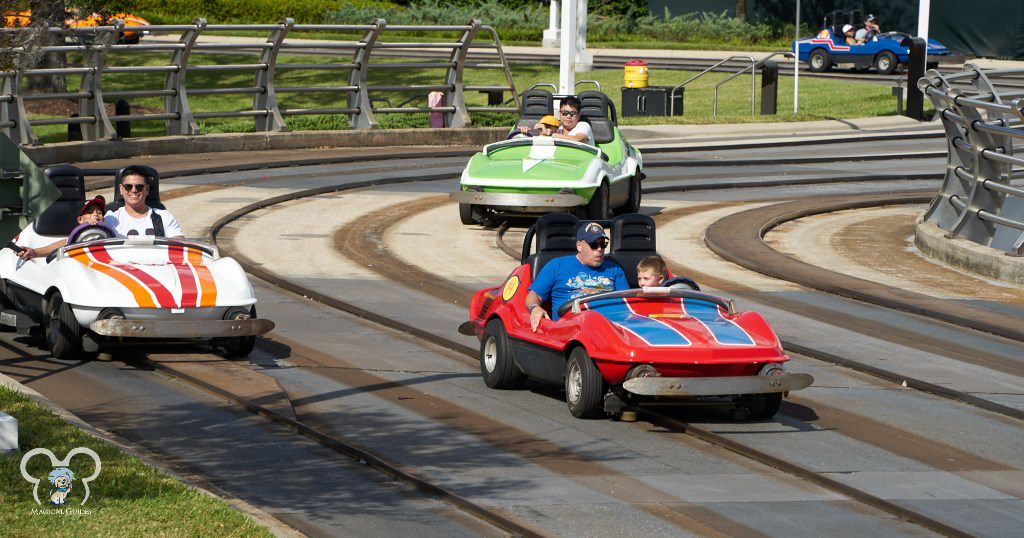 It's all about meeting the minimum height requirement of at least 54 inches. If your child meets the ride's height restrictions, then they are allowed to drive a vehicle. It's a great experience for young children who are impatiently waiting for the day they can receive their driving license and have their own car.
Don't worry if you decide to let your little one take control of the gas pedal, as the race cars are on a guide rail. Just be alert to any cast member instructions as you navigate one of the original Walt Disney World attractions.
Also note, that when you leave the Tomorrowland Speedway ride you and your little ones will need to cross a small bridge so don't let younger kids just run off, and if you have any mobility issues take note as it stays relatively busy during peak time. Don't feel rushed crossing it, as it can offer some great views of the race track.
How Tall Do You Have To Be To Ride the Tomorrowland Speedway By Yourself?
When discussing the height requirements for the Tomorrowland Speedway, there are two different heights to keep in mind. In order to drive alone, you need to be at least 54 inches.
Shorter children reaching 32 inches in height can drive a vehicle, but they'll need to be accompanied by someone over 54 inches in height at all times. As far as the ride's accessibility, guests will need to be able to transfer out of a wheelchair or ECV in order to ride.
Also note that if you have bags such as diaper bags, backpacks, or shopping bags you will have to carry them with you and if you have too much you won't be able to ride on the attraction. If you have extra in your party that doesn't want to ride, there are some covered bench seating they can go and wait will you speed around the racetrack.
Should Pregnant Women Ride Tomorrowland Speedway?
Expectant mothers are warned against riding Tomorrowland Speedway. It's generally quite a smooth ride, there are some sharp bends and it can be a little bit jolting on the way round.
In order to ride the Tomorrowland Speedway, individuals need to be in good health and shouldn't have high blood pressure, suffer from motion sickness, or be experiencing neck, back, or heart issues. Being agile, and turning your head is important, so if you have any neck problems, I'd avoid this ride.
The seats are quite restrictive in size, which is another reason expectant mothers may not feel comfortable.
Many guests opt to ride alone instead of with a partner or family member in the passenger seat, as there is quite limited leg space in front of you. For families traveling with young children that don't meet the height requirement, you can opt to use the Rider Switch feature when you reach the front of the line.
Another issue for expecting mothers is the exhaust fumes that they encounter on this ride. Simply walking by it you can catch a wif, and it's even more so if you're down in the first loading area of the attraction. Sometimes when pregnant smells can make you feel nauseous and if you have any other small children this is nothing something you'd want to experience at Disney World (any more than you might already).
If you do take a minute and go sit in the stands of the attraction that are covered, and if you need to, you're a short walk to one of the first aid centers at the front of the park.
Can larger guest fit in the Tomorrowland Speedway?
My husband has experienced Disney World at a lot of different waist sizes, so I asked his advice on this. At his heaviest, he was a little over 530 lbs. with a waist a little over 62 inches, and wore a 5XL t-shirt.
He said he could fit in a two-ride vehicle, but it was borderline not going to work. The seat belt that must be secured really wasn't an issue, it was the stomach to the steering wheel that was the issue.
He was able to scoot himself pretty much in the middle of the car and get some clearance. Overall he would not recommend this attempting this ride if you have any difficulty on other tight rides like the Mad Tea Party or Seven Dwarfs Mine Train to name a few.
If you have less than a 48-inch waist you should have no issue with fit.
He hopes that when Disney does their next refurbishment of this ride, they will make the ride vehicles are bit more exclusive.
Fun Facts About the Tomorrowland Speedway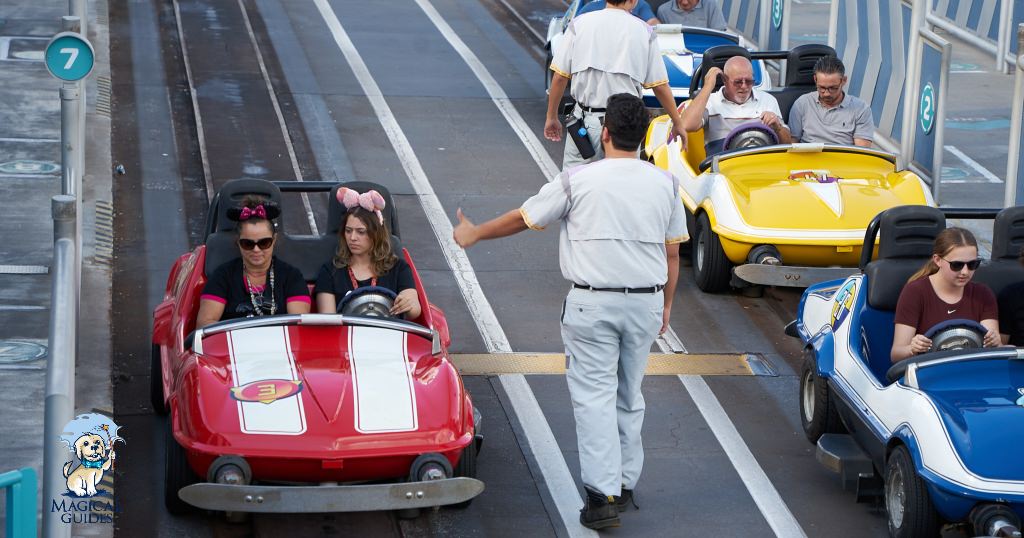 Photo by Bayley Clark for Magical Guides
In total, your ride around the Tomorrowland Speedway will last about five minutes. You will reach a maximum speed of about 7.5 mph.
The engines that the cars are equipped with are Briggs & Stratton 9hp engines. If you are a nervous driver, don't be, as your car will follow a guided track all the way around.
The cars are notoriously difficult to control, so you may find people stop suddenly, which is why it's not recommended for expectant mothers. Once in a while, cars also drive into the back of you, so expect the unexpected on your way around the track.
All in all, it's a fun ride that will take you back in time to the opening of the theme park and make you feel like you are in a streamlined race car from the past.
How long is Tomorrowland Speedway?
Did you know the Tomorrowland Speedway is a .4 mile-long racetrack, that's more than 2000 feet of tracks inside Magic Kingdom, 2114 feet if you want to be precise. You can also see the track when you are on Tomorrowland's People Mover, so feel free to wave when you pass by.
When is the Best Time to Ride the Tomorrowland Speedway?
The Magic Kingdom is known for being the busiest of the four theme parks in the Walt Disney World Resort. For that reason, I recommend trying to get here as early as you can and making sure you take advantage of the early entry hours if you are staying in a Disney resort.
This is a ride that quickly gets a long line, and in the hot summer months, it can be very unpleasant to stand outside waiting for a long time. After visiting some of the parks biggest attractions, try to ride the Tomorrowland Speedway first thing in the morning to avoid the heat.
You can wait until later in the day, when the crowds sometimes die down around the time of the fireworks.
The Tomorrowland Speedway is a classic Disney attraction that still attracts huge crowds each and every day. I recommend getting here early to avoid waiting outside in the heat, but do keep in mind there are sometimes fumes from the attraction which can be unpleasant for kids and adults alike.
The next time you are in the Magic Kingdom, head back to the past and enjoy driving your own car around the tracks as you compete with your friends and family to see who will be the best driver of you all.
I'll be honest, I don't rope drop Tomorrowland Indy Speedway, in fact, I usually only ride it when I'm feeling a little nostalgic. It's a ride that I will hit up with my cousin later in the afternoon when the crowds are lighter, and afterward, we go share a meal at Cosmic Ray's Starlight Cafe.
I think it's a great way to cool off, and just fuel up for the evening. If you're waiting for your boarding group to be called for Tron, this is a more popular area to be in so folks will keep the lines long.
Avoid riding in this attraction in the middle of the day like I mentioned to avoid the heat (can you tell I dislike being too hot?)