Taking a Disney vacation can be a magical time for any family, but it can also be an expensive one. So we have gathered the tips we use to save money through out the years, and we hope they will help you stretch the magic just a little further.
Here are a few things to remember as you try to save on your trip:
Avoid going into debt for your vacation (it's not worth the stress later on).
Don't feel bad if you don't buy a souvenir, chances are it won't be used for long.
No matter what, you're in Disney World, so smile.
You are on vacation, so slow down, breathe, everything will be okay.
It's alright to indulge some, this isn't everyday life, just budget for the extras.
Order kids meals / Avoid Disney dining Plans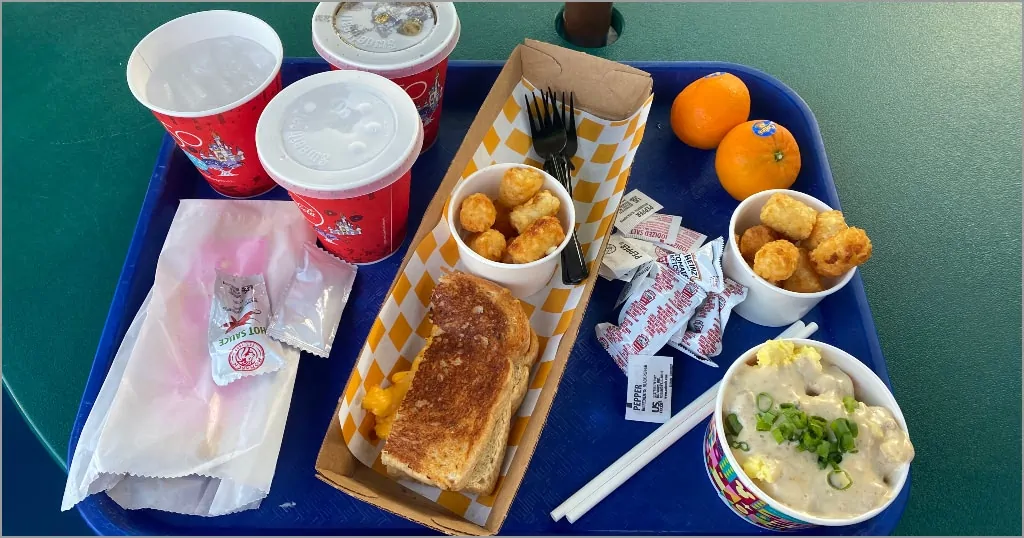 You have to eat when you go on vacation, and Disney counts on you spending big money when you dine out. Although Dining Plans are rumored to be making a come back, we would advise you to avoid the dining plan offerings. If the house is offering you odds in Vegas, would you take them? No, because you know the house always wins. So save the money, and if you can consider sharing a meal with the folks that come with you. If you want to save even more consider…
Ordering from the kids menu. We have been ordering from the kids menu for years now at quick service restaurants, and table service (non-character meals). Each kids meal comes with a half portion of whatever the adult size is (or basic items like chicken tenders, basic cheeseburgers)
Read Also: Does Disney World have pickles?
Lounges for Signature Restaurants Offer Great Food for Less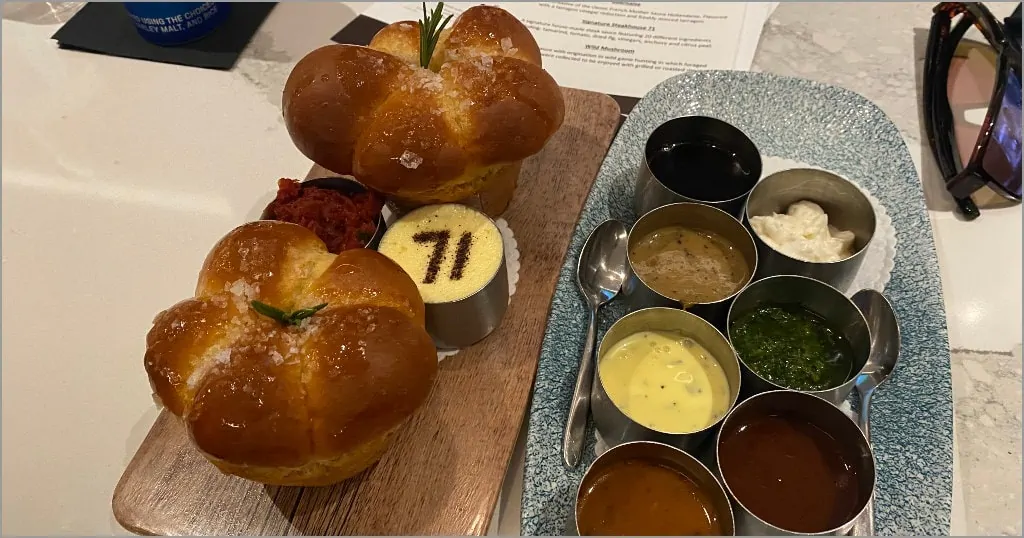 This is a great way to enjoy a last minute trip to Disney World, and save money. We rarely book signature restaurants and opt for sitting in the lounges and bars. We have the best luck when we go to the lounges such as Steakhouse 71, Shula's steakhouse, Il Mulino, or California Grill. My husband and I can share appetizers or larger meals along with a few beverages.
If you have a larger crowd, example 2 adults and 2 kids, try the lounges at Steakhouse 71 inside the Contemporary Resort, Ale and Compass Lounge or Crew's Cup both located at the Yacht Club. The perks at all three of these lounges is they have a more relaxed place to sit with like love seats, and couches. Not to mention they are quieter, and air conditioned from the Florida heat.
Ordering off the menu's there usually allow you to smaller version of the larger meals. One of our favorite things at Steakhouse 71 for example was getting the rosemary bread, with the sauces they have to offer. It was an excellent value at $15 versus paying $150 for a full on dinner. During the warmer months at Walt Disney World, I don't always feel like eating a heavy full on meal.
Skip paying for Lightening Lane or Genie Plus while at Disney
One of the largest profit makers for the Disney Company per their shareholders call was the adoption of Lightening Lane by park goers. At $15 per day, per person, a family of four visiting just each park each day is looking at shelling out an extra $240. This does not include include more popular rides that can charge just up to $15 for just a single ride. Does anyone else miss the FREE fast pass system?
If you're like me and want to still ride everything the top attractions without waiting 3 hours, there is an answer. Rope Drop. We've written articles for rope dropping each park, and the basic note is, get up early for each park.

Also Read: Guide to Rope Drop at Walt Disney World
Buy your Disney souvenirs ahead of time
One of the things I learned when getting rose gold ears for our wedding, my husband looked on eBay and found brand new ears for $10 shipped from a seller that bought them in Disneyland Shanghai. So instead of paying $30+tax for each pair, we were able to pick them up for $10 ahead of time.
We were also able to find discounted Disney merchandise at the Disney Vineland outlet. Just a heads up, it's a crapshoot sometimes going to the outlets. So if you have to take an Uber/Lyft there, considering checking out a few other shops and make it a short adventure. Earlier in the days are recommended, as you can see the latest things before the Disney shoppers come in and buy the good stuff to resell on eBay or their own Facebook groups.
Another tip, is to go hit up Walmart, or Target nearby. They have large sections dedicated to Disney products, and they won' be knock off tshirts, or in a questionable area. Along with that you can pick up some groceries for snacking, double bonus win!
Skip Character Meals at Disney World to Save Money
You're not paying for the food, you're paying the high prices for the characters. Even if this is your first visit, try to see if the characters have a meet and greet somewhere else in the parks. If you research it out, you can find freebie opportunities to find where characters will be within the parks, and resorts such as hanging out by campfires, and there will be minimal to no waits to hang out with them.
Save Money Staying at Disney Resorts on Priceline
We love to plan trips when resorts are cheap, as it helps indicate that Disney predicts that the crowds will be low during the visit. So that means less time waiting in lines, and more time in the actual attractions and saving money! That is how you win Disney in our minds!
So we go to Priceline.com, putting in the dates we are thinking about. We search for the area "Lake Buena Vista, Florida". Once the site loads it will show the discounts for Disney Onsite Resorts. Sometimes you can even check out just Disney Resorts via a click from Priceline. You can get discounts on the deluxe resorts, but the real savings is when you see Pop Century or Coronado Springs Resorts being shown. Compare them to what they are listed for on the official Disney website, but often times, often times you can see a $50 a night savings on Priceline. If they aren't listed, then it's going to be a busier time, and suggest looking at another time.
Check the Laundry Rooms At Disney World for Souvenirs
Now this is going to be an ultra cheap skate, along with being a hit or miss opportunity. A number of guests leave items in the hallways, and laundry rooms such as snacks, drinks, and souvenirs. Some folks even leave their refillable mugs they didn't want to take, now that might be a bit cringe worth post-pandemic, but hey if you're down with it, no judgements here.
Read More: Secret Disney Outlet to Buy Gifts and Souvenirs
The best way to get a heads up on a laundry room find, is to follow the resort you're staying at Facebook groups. These are unofficial channels, but you can see if anyone has left something you can use while on your trip. You can also pass it on, by giving back this way as well. If you're looking for some great Disney Groups to join, check out Walt Disney World SECRETS! and Walt Disney World Swan and Dolphin groups hosted by Magical Guides.
Don't buy the refillable mugs at Disney World resorts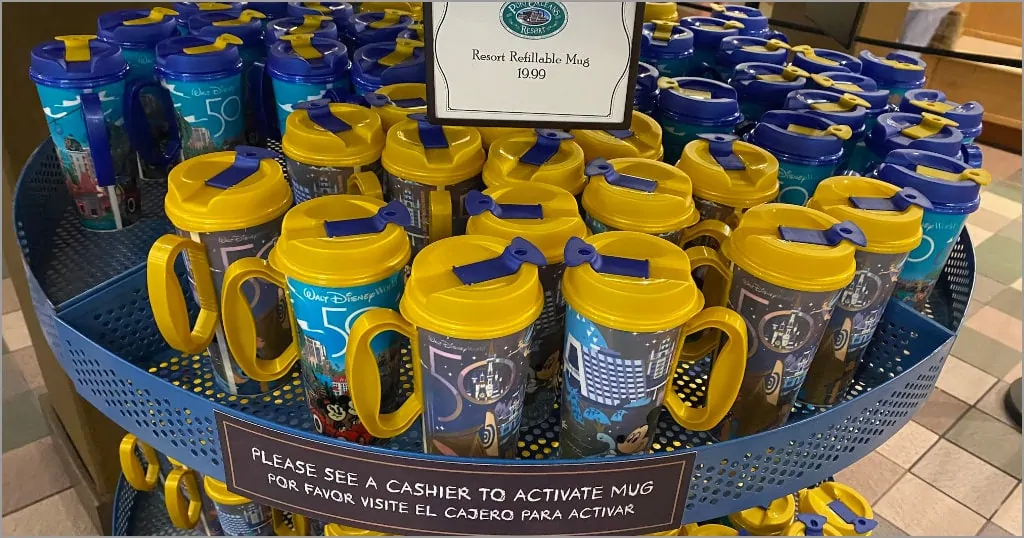 Seems easy enough right? Don't be tempted by sodas and you can save quite a bit at every meal while at Disney World or anywhere really. You can refill the mugs at any Disney resort while there, in case you decide to do some resort hopping after hitting up the parks. However you can no fill up the mugs while in the parks, including the water parks. You can ask for a free cup of ice water at any location that serves fountain drinks, including bars. That in itself is a park hack, to get ice water often, and stay hydrated! You will combat the often salty foods, and avoid dehydration.
That said, if you're staying on site for 3 or more nights, and you're going to drink soda consider purchasing the refillable mugs at your resort.You can refill often, and you would need to get at least 2 refills per day to make it worth your while. Please note, that means coffee, tea or soda.
What is your favorite way to save money for your Disney trips? Do you have multiple ways to save money?