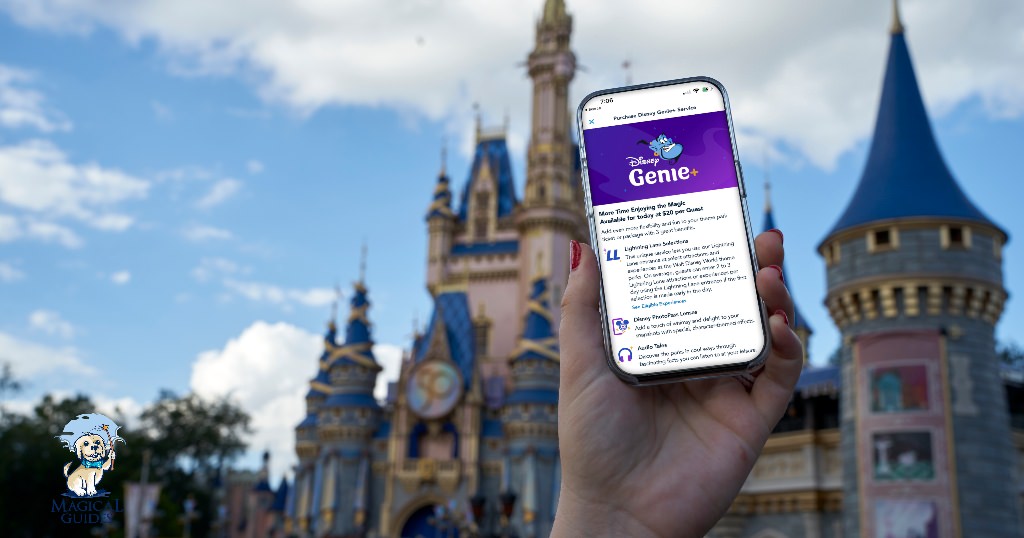 We recently shared a full guide to Disney Genie and the Lightning Lane, but since that time, these services have finally launched in the parks. Today we're back to answer some of your most frequently asked questions about Genie+ and how it's going to impact your upcoming vacation.
There's a lot to consider when deciding whether or not to purchase this tool for your upcoming trip, so let's dive into some of the most common concerns about this new service.
What is the Difference Between Disney Genie and Disney Genie+?
Disney Genie is a new service that anyone can use on the My Disney Experience app. The aim of this new service is to help you to design your perfect day in the parks.
It will offer you a personalized itinerary, which suggests where and when you should visit the attractions in that park on any given day. It showcases the current and potential future wait times for rides, helping you to make the best decisions to make the most of your day in the park.
On the other hand, Disney Genie+ is a paid service that replaces the FastPass service that previously existed in each of the parks. It's available at both Walt Disney World and Disneyland Resort, and it allows you to enter the Lightning Lane on certain attractions.
At the moment, it costs $15 per day in Walt Disney World, but you need to keep in mind that some of the most popular attractions are not included in this service. Instead, they can be purchased for an additional cost as an individual attraction pass.
Which Attractions Can You Buy Individual Passes for?
Even if you decide to forgo purchasing Genie+, you'll have the opportunity to buy individual ride passes for some of the newest and most exciting attractions in the parks. At the current time, there are two attractions per park offering this service:
Seven Dwarfs Mine Train – Magic Kingdom
Space Mountain – Magic Kingdom
Frozen Ever After – Epcot
Remy's Ratatouille Adventure – Epcot
Mickey & Minnie's Runaway Railway – Hollywood Studios
Star Wars: Rise of the Resistance – Hollywood Studios
Avatar Flight of Passage – Animal Kingdom
Expedition Everest – Legend of the Forbidden Mountain – Animal Kingdom
The prices for each ride vary between the attractions, and these prices also fluctuate depending on the day you are visiting. The lowest cost is generally about $7 per person for Expedition Everest – Legend of the Forbidden Mountain, whereas you can expect to pay up to $15 per person for Star Wars: Rise of the Resistance.
One thing to note is that these passes aren't unlimited, and you can only buy two each day for different attractions.
Are There Any Perks for Staying On-Site At Walt Disney World?
For guests of Disney resorts and other select hotels, you'll be able to purchase your Lightning Lane passes at 7 am each morning. All other guests will have to wait until the park opens, so you have a good advantage with this if you are looking to secure a pass for some of the most popular attractions. One thing to note is that the passes are still selling out for this paid service, particularly for Star Wars: Rise of the Resistance and Remy's Ratatouille Adventure. We highly recommend being online as soon as possible to avoid disappointment if you plan to use this service.
As far as Genie+ and staying on-site, there is no real advantage in this area. All guests can make their first selection at 7 am, ahead of their day in the park.
How Does Genie+ Work? How Many Attractions Can I Ride in a Day?
Genie+ offers guests the opportunity to ride more attractions than you would during a typical day in the park. However, you need to keep in mind that you'll only be able to select one attraction at a time during the day.
Once you use that attraction pass, you can then pick your next ride. The exception to this is that if it's been over two hours since your last selection, you can go ahead and make another one at the same time.
This is worth keeping in mind during lunch or dinner, where you might have a break from riding attractions for a little while. You can use this to stack up reservations and cut down your time waiting in the park.
What Happens If I Don't Want to Use Genie+?
If you don't fancy adding Genie+ to your vacation expenses, we completely understand. All attractions will still have a standby line, with the exception of those using the virtual queue.
Right now, it's just Remy's Ratatouille Adventure using the virtual queue, and you'll need to be up at 7 am to have the best chance of securing your place in line. One ride that has been heavily impacted by this new system is Star Wars: Rise of the Resistance.
Since the start of the Genie+ and Lightning Lane systems, the ride has reached capacity earlier in the day. As it's now using a traditional standby line, this could mean you miss out on riding altogether. This is one reason to consider buying an individual attraction pass if your budget allows for your next trip.
How Do You Purchase Your Ride Passes?
All of the features we've mentioned so far can be found in the My Disney Experience app. This is the main app for a trip to Walt Disney World, and we'd highly recommend downloading it before your next vacation.
As well as accessing all of the features we've shared today, you can also check in to your resort and make dining reservations for your visit. The app is available for both Android and iOS, and we recommend downloading it before leaving home.
You'll find that it offers you current wait time information as well, so you can get a good idea of what to expect before your next trip.
Can I Buy Disney Genie+ For My Whole Trip?
The great thing about Genie+ is that you can use it as much or as little as you want for your next vacation. You have complete flexibility over the number of days you use it for, and you can just wake up one morning and decide you want to use it for the day.
If you purchase it ahead of time, you can add it to your ticket as part of your vacation package. However, you might want to wait and see how busy the parks are if you are traveling in the off-season. You'll then be able to save money on days where the park is quieter to use on other vacation expenses.
How Can I Pay for Disney Genie+?
You'll pay for Disney Genie+ via the My Disney Experience app, which accepts a wide range of payment forms. These include Disney Gift Cards, Disney Rewards redemption cards, most major credit and debit cards, or click to pay.
There's so much to think about when it comes to using Disney Genie and the other new services on your next vacation. We think these services are going to change the way you navigate the parks completely.
The great news is that you don't have to use the service or plan ahead so much. If you turn up to the parks and find them very busy, simply opt to buy Disney Genie+ for one day of your trip. We hope these FAQs help you to understand the new service more and that you'll now feel more prepared for your upcoming Walt Disney World vacation.