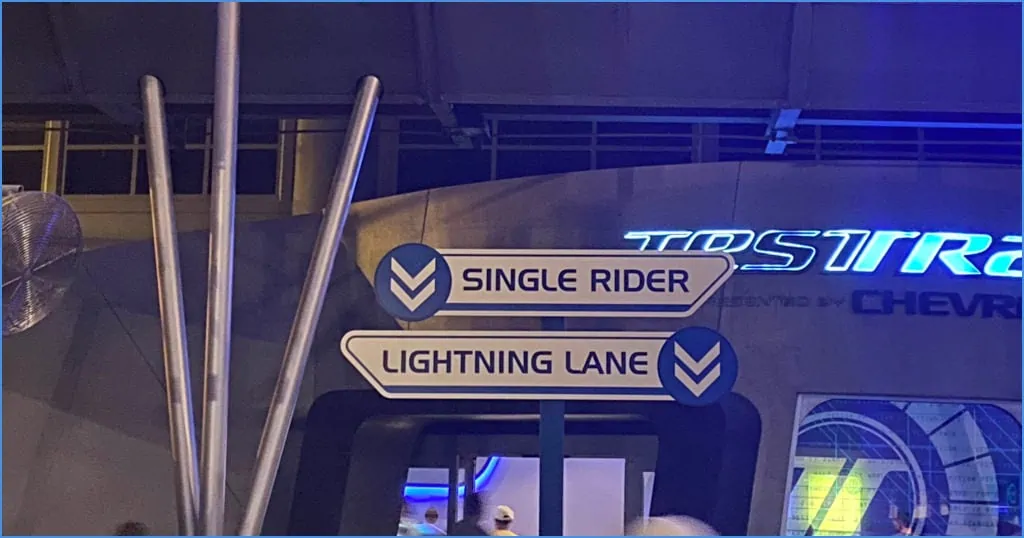 So maybe you decided to take a break from the family for a day and hit the parks by yourself. Or maybe you're the only one daring enough to hit the big rides. Whatever the case may be, a single rider queue line might be what you're looking for during your trip to Walt Disney World Resorts.
What is a single rider line?
A single rider line is a line designed just for people who are not traveling in a group onto an attraction. You can still ride solo in the normal line, but the idea behind the single rider line is to make the queue move quicker. But, does it actually do just that?
Let's explore the basics behind the single rider queue lines at Walt Disney World.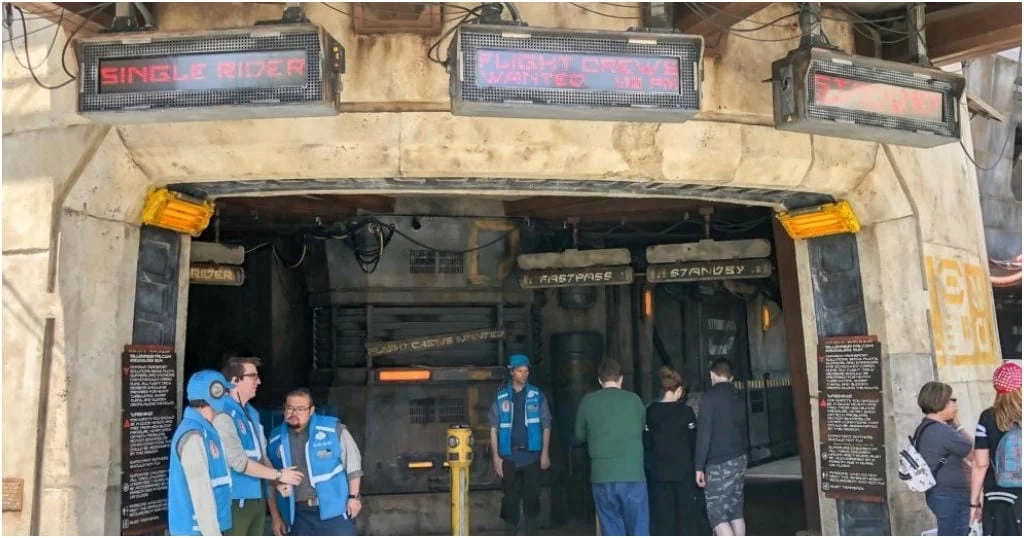 Rides at Disney World That Offer Single Rider Lines
Disney World Resorts currently have four rides that offer a single rider line that is separate from the main stand-by line.
Test Track
Millennium Falcon: Smugglers Run
Expedition Everest
Rock 'n' Roller Coaster
It is important to note that Magic Kingdom does NOT offer any attractions with a single rider queue. The single rider lines are spread out among the three other theme parks:
Epcot- Test Track
Hollywood Studios- Millennium Falcon and Rock 'n' Roller Coaster
Animal Kingdom- Expedition Everest
Remy's Ratatouille Adventure in EPCOT does have signage for Single Riders, but currently is not offering single rider lines. If the virtual queue slows down, we would anticipate this ride to offer single rider, but as of March 2022, it does not.
Read More: 10 Interesting Facts You Must Know About Remy's Ratatouille Adventure
Is the Single Rider Line Worth it?
This is going to depend on your individual needs and expectations for your day. When traveling to Disney parks with your significant other, for example, you may not want to risk be separated on the rides. Sometimes, families will jump into the single rider line because they don't mind being separated on the attraction. Although it is not guaranteed that the single rider line will be faster, in my experience it normally is a faster option than waiting in the stand-by line. On a normal, busy day the single rider lines may not be faster than the stand-by line so it's important to see all your options before heading into the single rider line.
A cast member once shared with me that a general rule of thumb is the single rider queue line will be 1/3 the wait time of the stand-by line. This is not always true, but on average it is true.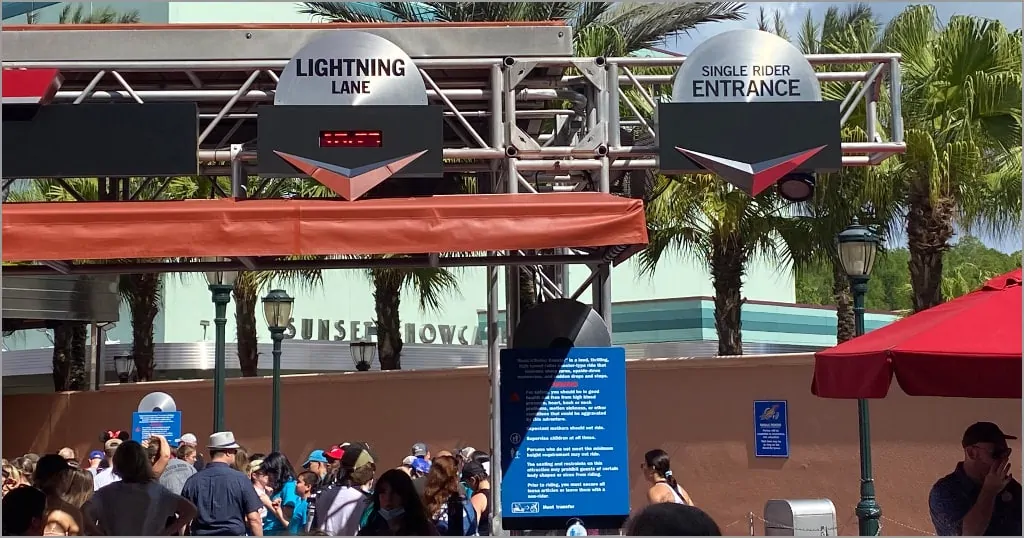 Pros of Single Rider Lines
The very obvious pro to a single rider line at Disney World is that you can potentially move through the line quicker. With the new paid lighting pass lanes at Disney parks, single rider lines could be the key to getting through a line faster for free. More on lightning lanes vs. single rider lanes to come in this post!
Another pro is if you are one of those adventurous people in a family or group that wants to ride the more thrilling rides but no one else around you does, the single rider line would be perfect for you. It's a chance to get through the line, on the ride, and back to your group as quickly as possible.
If there is an open seat on the ride, the single rider line is the first place to fill the gap. They pull from this line to ensure that every time the attraction goes around the track, it is using its full potential and getting as many people on the ride as possible.
Cons of Single Rider Lines
When it comes to single rider lines at Disney World there could be some things that are unappealing to some guests. For starters, you would most likely be riding on the ride with strangers. If you did decide to go through the single rider line with your group, you do have a small chance of being sat next to a member of your party. However, you have a bigger chance of not being sat with anyone that you know. If you're like me, this is a huge con. Many people feel that it is an important part of the Disney experience to ride the attractions with your group.
Another con is that you have no idea how long you'll be waiting in the single rider line. You could hit the jackpot and fly right through the line, or you could be in the line the same amount of time as the stand-by line. It is sometimes a gamble with the single rider line. Most of the time, most single riders just want to get through the line as quickly as possible. This risk of not getting through the single rider line quickly could be a con for some Disney World Guests.
Also, Magic Kingdom not having a single rider line is a con. It is the only park without this option and it could be useful on some of the bigger rides at Magic Kingdom such as Space Mountain, Splash Mountain and Seven Dwarfs Mine Train. A single rider line on these attractions could help to shorten the extensive wait times that people are experiencing on these attractions every day.
Lightning Lanes vs. Single Rider Lines
Walt Disney World just recently launched their new program that will replace the fast pass system that was once in the parks. The new system is called Genie + and offers guests a chance to get into a virtual queue and gives them a time to return to the ride where they will (essentially) walk right onto the attraction. The Genie + service is $15 per day per person which is something very important to note. You can access the Genie + service on the Disney World Experience app. Once you book your Genie + services for the day, you can now reserve attractions that you can enter through the Lightning Lane. If you have been to Disney World in the past, this whole system has replaced the fast pass system and attractions now have Lightning Lanes rather than Fast Pass Lanes. Same basic concept of moving through the line quicker, but a much different way of obtaining the reservation time to come back to the ride.
Read More: How to Use Genie+ and Lightning Lane at Disney World
With the Genie + service guests can choose an attraction that they want to experience and pick an available time to come back to the attraction. On some of the more popular rides, guests must also make an additional purchase to be able to go through the lightning lane at the attraction. For example, Space Mountain costs Genie + members an additional $7 to book the ride reservation for the day. So that means to ride Space Mountain with the Genie + service each guest would have to pay $22 for the entire day for this attraction ($15 to sign up for the Genie + services for the day and an addition $7 to reserve a time to come back for the attraction). Most of the bigger and more popular attractions now require this to book the attraction. You can still wait in the stand-by line for each ride in case you are not willing to spend that money.
How is Lightning Lanes different from the single rider lines?
The single rider lines are completely free. Not only that, you don't need a reservation to enter the line. The Lightning Lane requires that each guest has a return time to go through the line. For example, if I booked Soarin' through the Genie + app and purchased the Lightning Lane pass, I will now be able to choose the next available time to return to the ride. You will have an hour window to get to the attraction before your reservation disappears. With the single rider lines, there is no app to use and no money to be spent. Many attractions also have one or the other (either the single rider line or lightning lane) so you won't have to choose between the two.