Blizzard Beach is one of the two water parks at Walt Disney World, but it's the only one that has reopened since the recent pandemic. If you've never visited here before, it's well worth taking a day off from the parks to relax and enjoy its many water rides. Let's take a look at what you can expect from a day here and how to prepare for your visit to Blizzard Beach.
What is Blizzard Beach?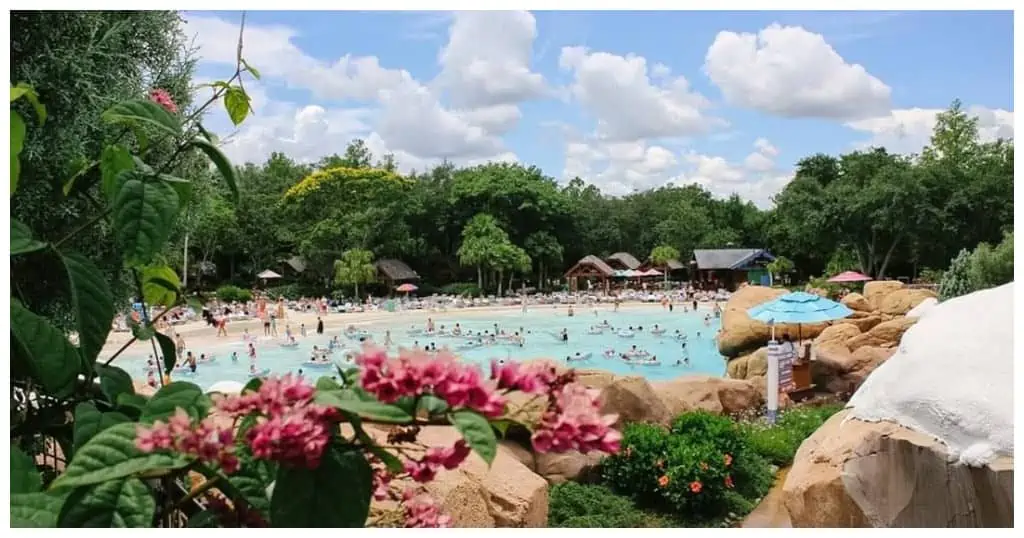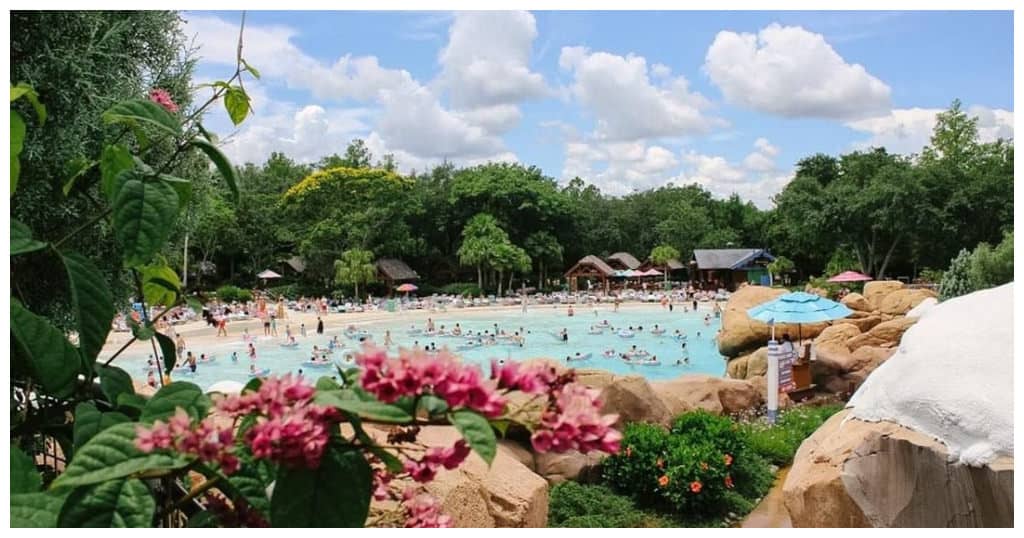 Blizzard Beach is one of Walt Disney World's water parks, which is located not far from Animal Kingdom. You'll see it from miles away, thanks to the tall ski slopes that the attractions are based around. It's a 66-acre water park that first opened in 1995, and it's suitable for little kids through to thrill-seeking adults. It's inspired by the idea of a ski resort in Florida and is open all year round. At the moment, Typhoon Lagoon has yet to reopen, so you'll find this is the only option if you have the additional ticket option which includes the water parks. When it comes to riding the attractions here, you don't need to worry about booking or paying for additional passes like in the theme parks. However, in the summer months, prepare for long lines on some of the most popular rides.
Attractions at Blizzard Beach
If you've never visited the park before, you'll be blown away by the attractions on offer here. In the summer, expect them to get very busy, and in the hot sunshine, this can be very brutal to wait outside for. For that reason, try to arrive when the park opens to make the most of your ticket here. Head up to Slush Gusher or Summit Plummet to start the day if you dare, and then take in Downhill Double Dipper, which is quite a slow-loading ride. Let's take a look at the main attractions here, which the park is so well known for.
Summit Plummet
As soon as you approach the park, you'll notice Summit Plummet, which is one of the world's highest free-falling slides. It starts at 120 feet above ground level, so it's certainly only for the most daring ones in your travel party. It goes straight down in a matter of seconds, so you do need to be at least 48 inches tall to ride. We found this to be one of the most exciting rides in the park, but you'll want to be prepared for the adrenaline rush if it's your first time riding it.
Slush Gusher
Next to Summit Plummet is Slush Gusher. While it might look a little tamer, many people find this ride to be just as thrilling as the other one due to the bumpy nature of its design. Once again, you'll need to be 48 inches tall to ride, and you can travel at up to 50 mph. You might find that you lift up a little over the drops, which is why many people find this to be worse than Summit Plummet. You can reach both of these rides by either the chair lift or walking, and the views from the top over Walt Disney World are incredible.
Chair Lift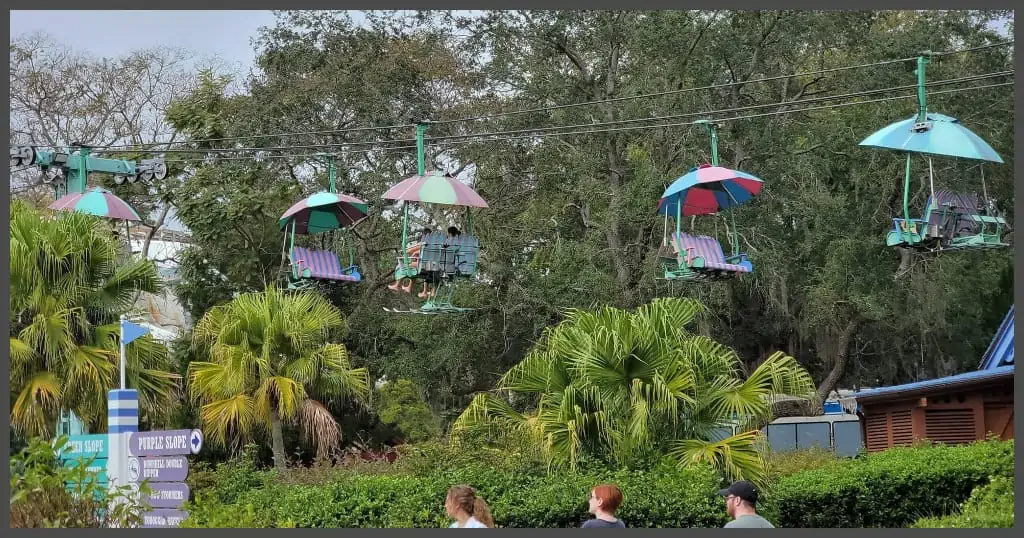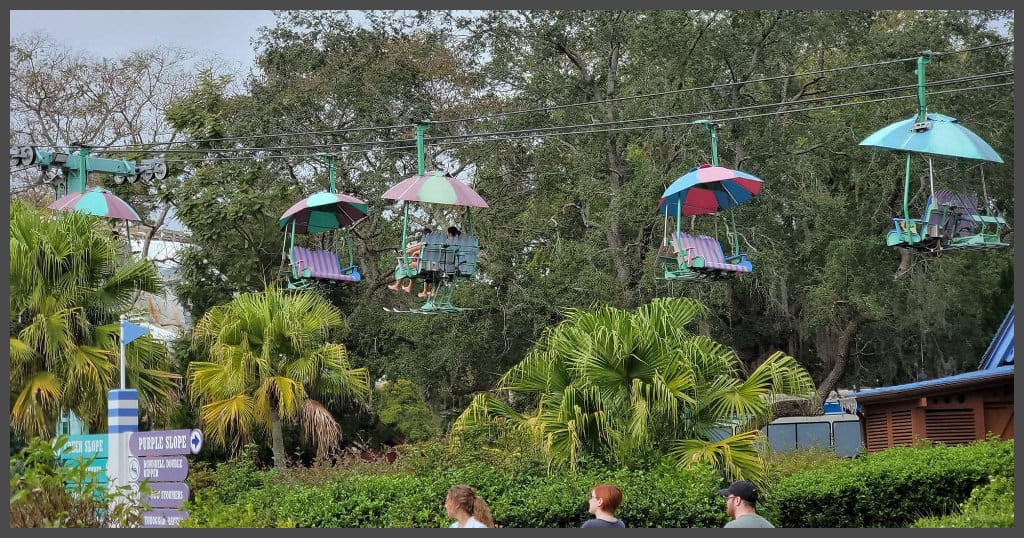 If you are looking to enjoy a more leisurely day in the park or you aren't a swimmer, make sure you take a ride on the chair lift. This is a relaxing way to see more of the park and enjoy the amazing views from the top. It only goes up, so you will need to be able to walk down if you don't want to catch one of the slides from the top. Children will need to be at least 32 inches if they want to ride the chair lift, so keep this in mind before getting too excited about this attraction. In the middle of the day, this can be just as busy as the other rides in the park, so it might not be worth waiting for if the slides are your main priority.
Downhill Double Dipper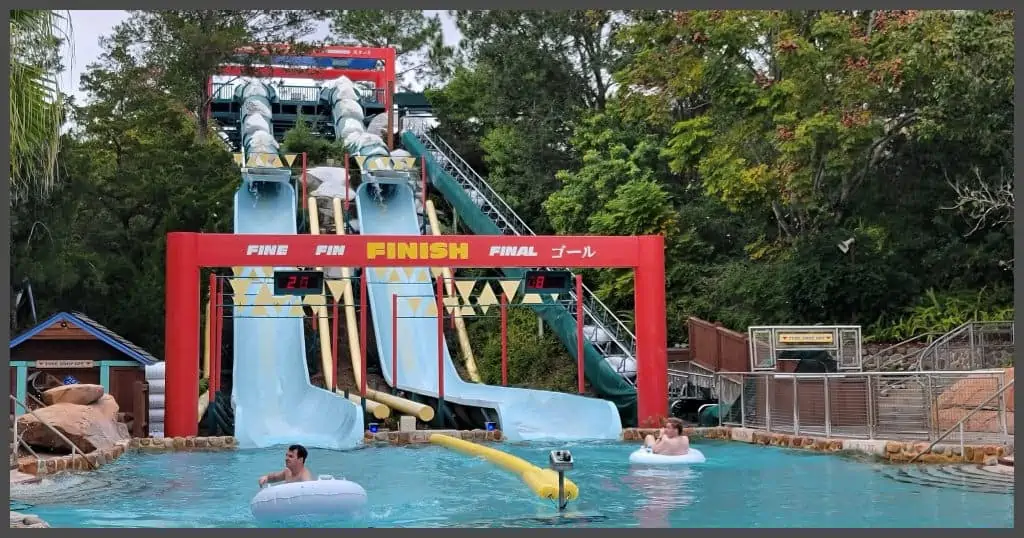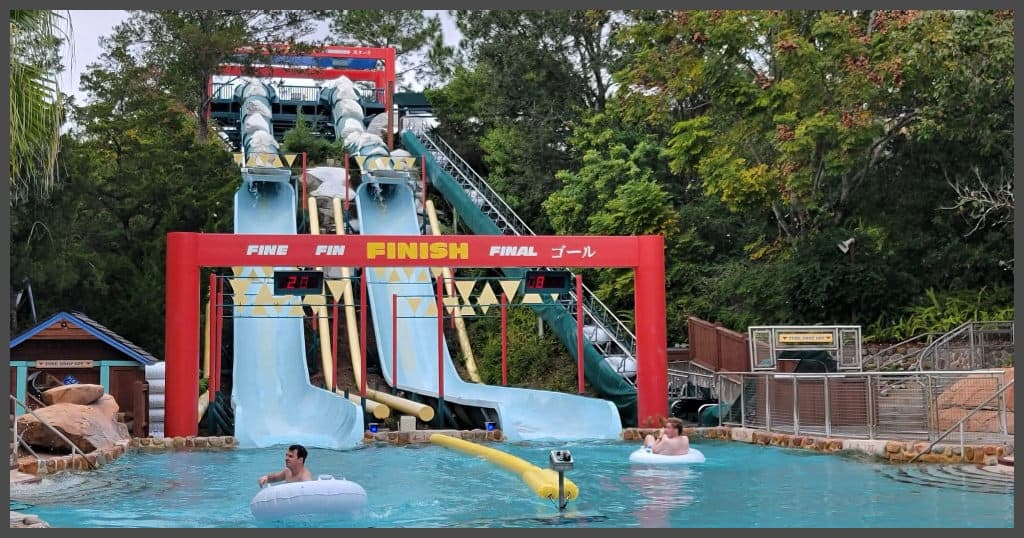 The next most popular ride in the park is Downhill Double Dipper, where you'll go head to head with your neighbor in an inner tube slide. It is quite slow to load, as only two people can ride at one time. You'll collect a tube first when you reach the top and then join the final part of the queue in order to ride. The height restriction is set at 48 inches here as well, and you'll end up in a pool of water which you'll need to be able to swim out of when you find the slide. It's over in a few seconds, but it's still one of the most thrilling and fun rides in the park.
Runoff Rapids
Runoff Rapids offer you three different tube rides, two of which are open and one which is closed. You can ride the open ones in a double tube if you prefer, but the closed one requires you to go alone. You'll find that as these slides are at the back of the park, they don't always get so busy until later in the day. Children can enjoy this attraction too, but you'll need to make sure they are safe in the tube and the water at the end. You carry the tube up to the slide yourself as well, so it's quite a workout getting up to the slides each time.
Toboggan Racers
No ski-themed water park would be complete without a toboggan-themed ride. You'll grab a mat and then head down the rapids against other riders in this eight-lane ride. There's no water depth at the end, so it's a good option for children, but it does require some confidence as you'll travel headfirst down the slide.
Teamboat Springs
A great ride for the whole family is Teamboat Springs, where you need at least four people to ride. It's a large raft ride and is known as the world's longest ride of its type. Lasting 1200 ft, you'll find this to be a great way to introduce younger children to the park.
Snow Stormers
Snow Stormers uses the same mats as on Toboggan Racers, but this time you go down a typical winding slide. It's a really unique attraction that you don't see in many water parks, and you'll twist and turn as you head down the mountain. You'll end up in a pool at the end, and guests of any age can enjoy the ride.
Cross Country Creek
One of the most relaxing parts of the park is the Cross Country Creek. This lazy river ride stretches all the way around the park, and you'll find inner tubes are available at many different joining points. With seven areas to enter and exit, you can make a complete loop of the ride in about 30 minutes. If you don't fancy going on any of the bigger rides, you could literally spend the whole day here soaking in the atmosphere and the sun during your ride.
Melt-Away Bay
For anyone who just wants to enjoy a more typical swimming experience, head to Melt-Away Bay. This one-acre pool is at the base of Mt. Gushmore and has gentle waves throughout the day. You can sit on a tube here as well, and it's a great spot for older and younger members of your family who might not be up to riding the main attractions.
Attractions for Kids and Pre-Teens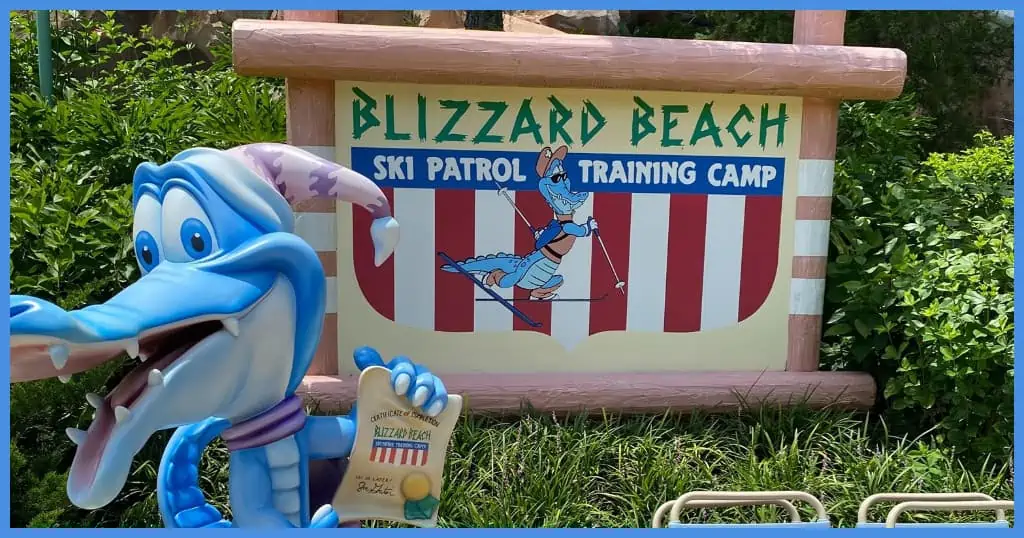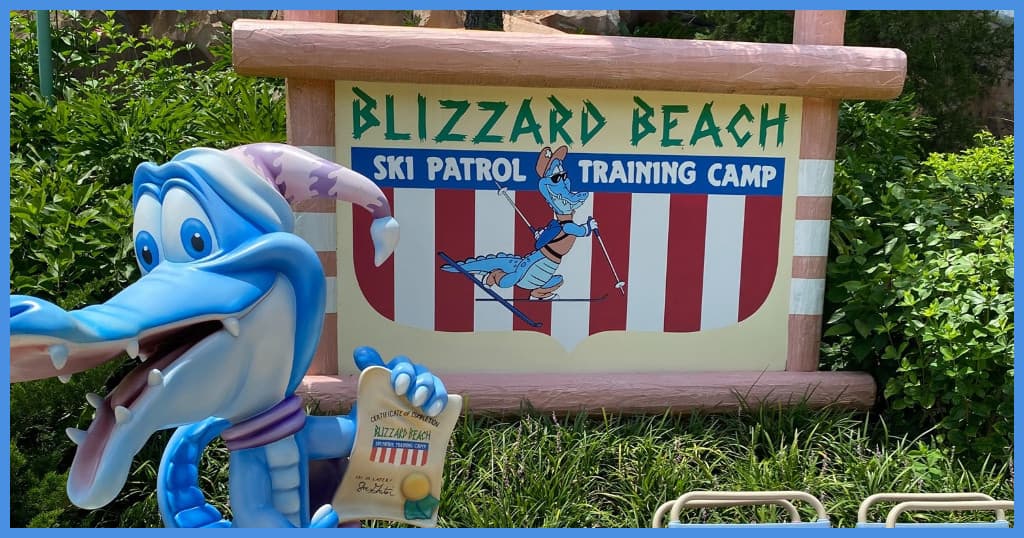 While the attractions we shared above are great for older kids and adults, we love Blizzard Beach for the other areas it has to offer younger kids. The Ski Patrol Training Camp is a pre-teen area that is packed with fun attractions that will challenge and excite this age group. Tike's Peak is for much smaller children, and your child will need to be under four feet in height to play here. In the summer months, this area is busy throughout the day, so make sure you get here early to make the most of your time in the park.
Dining at Blizzard Beach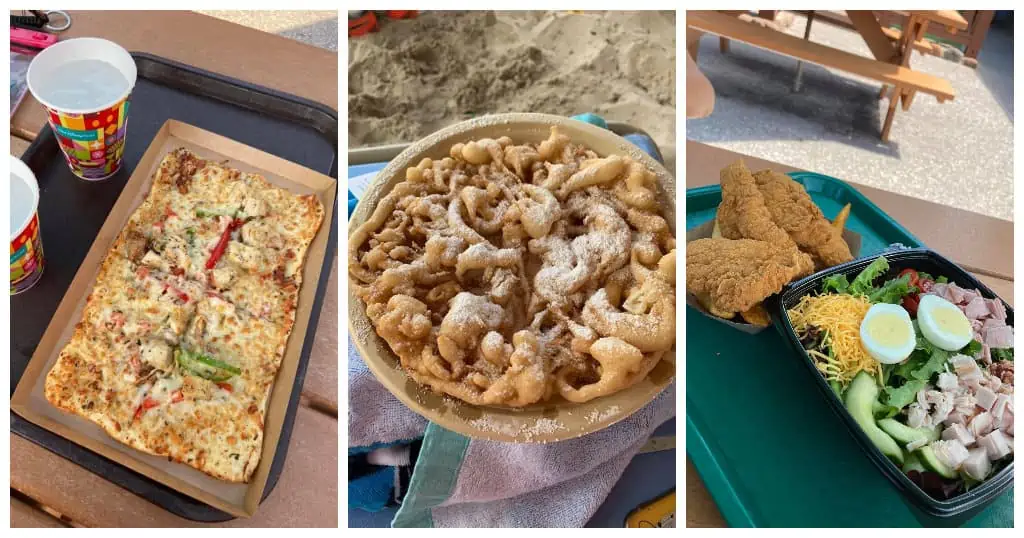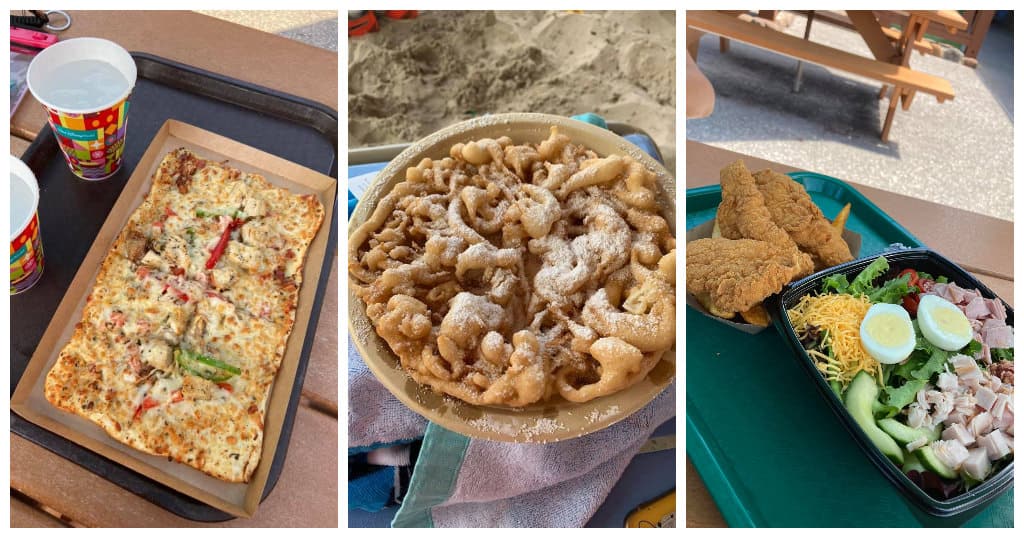 As with any of the Walt Disney World theme parks, you'll find there are many dining and drinking options for a visit to Blizzard Beach. There are no table service restaurants in the park, so you'll have to rely on the quick service dining options or the snack stands which are found throughout the park. As you enter the park, you'll see dining locations as soon as you arrive, where there is also plenty of seating to enjoy a relaxing lunch.
Many families opt to bring a picnic lunch here, which is a good idea if you are bored of the fast-food offerings in the parks by this stage of your trip. You can save some money by having groceries delivered to your resort. Just remember not to bring glass bottles, and you'll be good to go with bringing lunch to the park.
Top Tips for a Day at Blizzard Beach
Visiting Blizzard Beach requires less planning than the theme parks, but there are a few things to keep in mind before your visit. Try to arrive early in order to find enough sun loungers for your family and to make the most of your ticket here. If you already have tickets for the theme parks, it's usually more cost-effective to add this option to your current tickets. Locals may want to consider an annual pass, especially if you plan to visit a few times over the summer. If you are worried about valuables, you can rent a locker upon your arrival. We usually recommend bringing your own towels to the park, but these are also available for rental.
As you can see, Blizzard Beach has just as much to see and do as the Disney theme parks. Make sure you get here early to make the most of your tickets and plan to stay here until the park closes in the early evening. We hope that in the next few months, we'll learn more about Typhoon Lagoon reopening as well, as this is another great option for anyone looking for a day away from the theme parks. In the Summer, there's nothing better than floating around on the lazy river all day and marveling at the time and effort that went into designing this incredible water park.