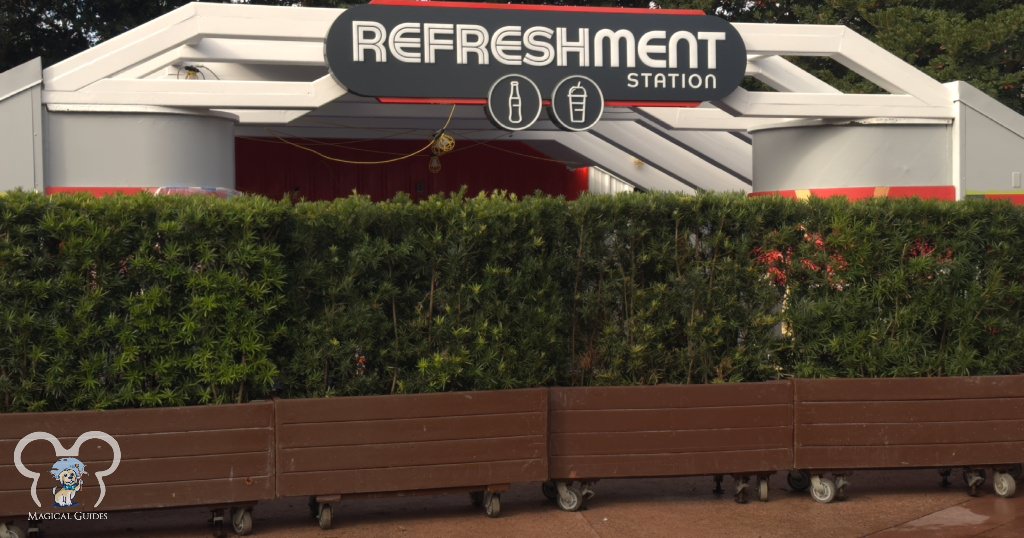 One of my favorite parts about Disney theme parks is the attention to detail. After all, one of the main reasons that Magic Kingdom is known as the most magical place on Earth is the intricate theming that goes into every inch of the park, from the rides to the bathroom stalls.
Disney parks and resorts are designed so that there is something there for your eyes to enjoy no matter where you look. But, what about the things Disney doesn't want you to see?
In order to avert your eyes away from possible eyesores or construction areas, Disney Imagineers created two different shades of paint to keep your eyes focused on the magic, rather than the behind-the-scenes areas that help make that magic possible.
Let's dive into why Disney invented these two colors and where you can find them in the parks.
What colors did Disney invent?
The two Disney colors Imagineers created are referred to as Go Away Green and Blending Blue. Go Away Green is a particular shade of green that combines gray, green, and blue. It's used more of the two unique colors. This paint also comes in various shades, so it's not just one specific color.
Depending on where it is located, it may be lighter or darker to blend in with the surrounding environment.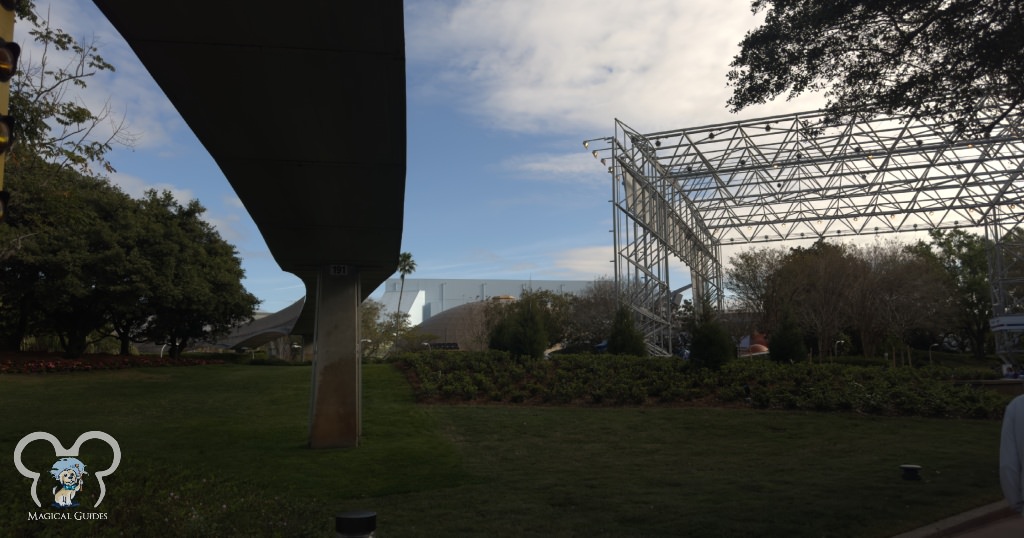 The second color is Blending Blue, also known to some fans as Bye Bye Blue. It is a lighter color to help tall buildings blend into the blue skies of Florida.
How do Disney Go Away Green and Blending Blue work?
Despite the Disney magic, Go Away Green cannot make objects disappear. It uses muted tones to help things like garbage cans and construction areas blend in with the surrounding environment.
For human eyes, this green cousin is the least recognized color on the spectrum.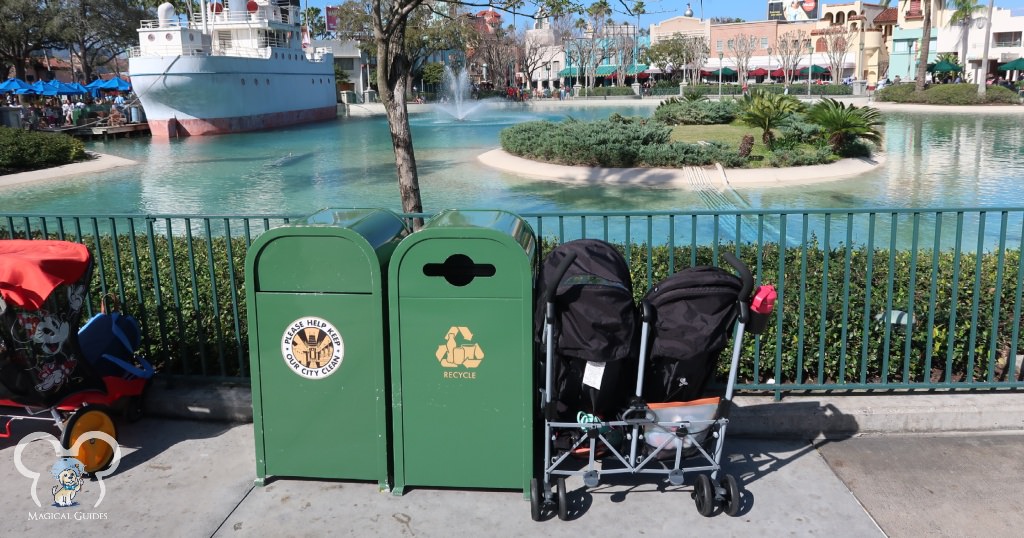 Visitors' gazes are instead redirected to the brighter hues of more pleasant views such as the Cinderella Castle or the beautiful facades of Main Street U.S.A..
The Go Away Green color is Disney's version of a magic camouflage. Blending Blue was created to blend into the sunny skies of the Sunshine State. By painting the top portions of buildings this color, they can disappear right into the Florida skyline.
Helping you focus on the beauty of the parks, rather than looking up and away from all the magic and wonder.
Why Does Disney Use Go Away Green and Blending Blue?
Disney attractions are all about immersing you in the experience and making you feel as if you've stepped into another world. By using these two colors, they can hide things that are in plain sights such as backstage buildings and trash cans that might take away from that immersive experience.
Trash bins are the easiest to see when you enter any park at Disney World. They say you are no more than 20 feet from a trash can inside the parks.
Where Can I See Disney's Go Away Green in the Parks?
Despite being used to hide eyesores and buildings, there are a lot of places where you can spot Go Away Green in the parks. One of my favorite places to spot Go Away Green is located all the way on the West coast at the Disneyland Resort.
While walking through New Orleans Square, you'll pass by a door painted this unique shade of green. This door is the entrance to the famous Club 33, an exclusive venue with a long waitlist and a high price point. To help with the secrecy of this entrance, the door is painted Go Away Green to keep non-members from paying too much attention.
Back over in the Magic Kingdom at Disney World, you can find Go Away Green in any construction area. The Walt Disney World Resort has closed fewer than ten times since it first opened.
That means guests will be enjoying the parks while construction is taking place. To keep guests from having to encounter eyesores, Disney paints construction walls or buildings with this unassuming green shade.
For example, when Remy's Ratatouille Adventure was still in the construction phases, the building was painted Go Away Green to keep attention away from it.
You can also find this color on utility boxes, fire hydrants, speakers, and light posts, things that the parks need to function, but don't want you looking at. Even railings to keep guests out of certain areas use this shade of green.
Where Can I See Disney's Blending Blue in the Parks?
Since Blending Blue is intended to help tall buildings blend into the sunny skies of Florida, you'll have to look up to find this one. The superpower of blending blue is the advantage of its mysterious cloaking powers.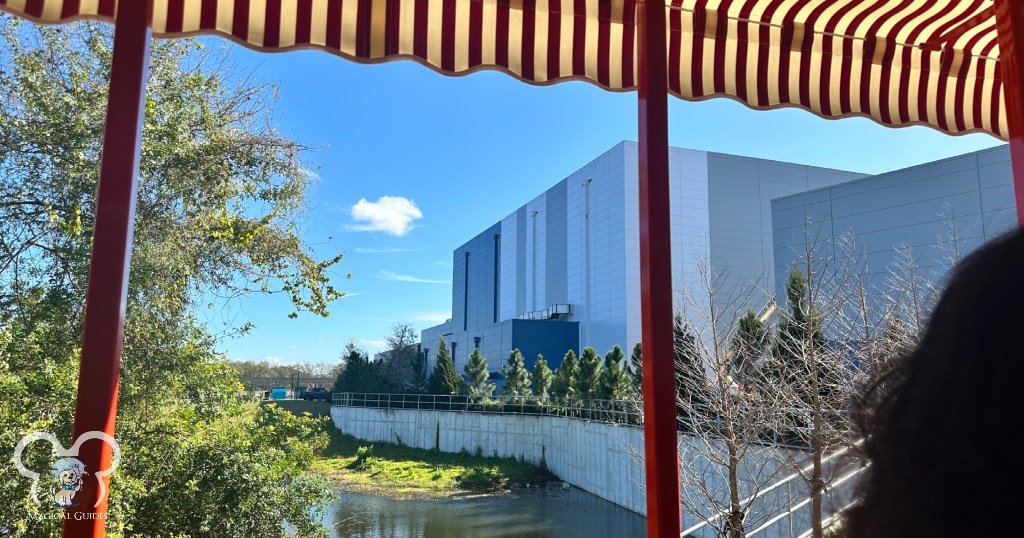 I'm not kidding, honest! The subtle blue allows the structure it's hiding in the beautiful blue Florida sky. Let's take a look at the Guardians of the Galaxy Cosmic Rewind building.
What colors does Disney paint to hide buildings?
One of the most recent examples can be found in Epcot. The new Guardians of the Galaxy: Cosmic Rewind building is painted Blending Blue to help the top of this structure blend into the skyline. Fun fact: This building also uses Go Away Green at the bottom of the building.
Soarin' Around the World is another attraction that uses Blending Blue for the top of its show building. If they didn't, you could see the ride from World Showcase. Because of this magical blue hue, it's possible most guests never even notice it.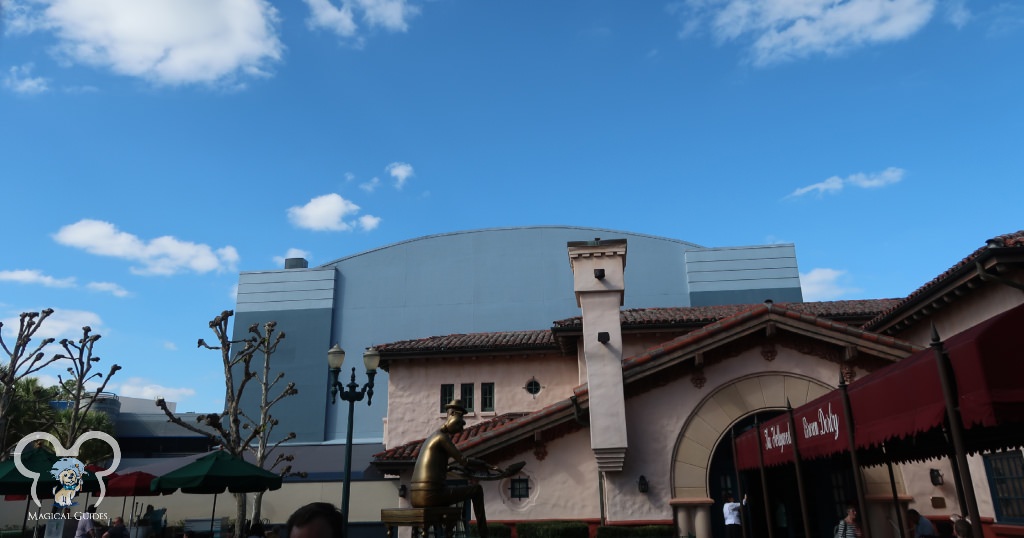 When the Walt Disney World Railroad was being refurbished, Blending Blue was used. It helped make the scrim covering less visible as you first entered the Magic Kingdom.
Disney's Go Away Green FAQ
What other things does Disney do to hide things?
Have you ever seen a plantar of bushes at Disney? They use those bushes as fences, to keep you distracted. It gives the illusion of a wall, but not so distracting that it's an eyesore.
Where there is major construction going on they paint a wooden wall. Notice in these construction fences was used during the construction of EPCOT. They are much nicer to look at.
What paint does Disney use?
In 2022 Disney Parks announced its partnership with PPG, becoming the official paint used inside the Parks. PPG provides the paint that the Disney World imagineers. PPG founded in 1883 in Pennsylvania as the Pittsburgh Plate Glass Company.
It's since changed it's name to PPG to reflect the many offerings is has, and is a Fortune 500 company as of today.
Is Go Away Green a real thing?
Yes, it's a real thing inside Disney World. Disney Imagineering is about keeping your attention away from construction, and inside the story. So the creation of these paints was crucial to making that possible.
The use of these two different paint colors works to keep your perspective on other parts of the parks.
Can I find the exact Disney green color for Go Away Green?
Unfortunately, Disney has not released the exact formula for Go Away Green, so it would be close to impossible to find an exact match. If you're still looking to complete your own paint job with the green hue, you're in luck. Keep reading for where you can buy it similar products.
Can you buy Disney Go Away Green paint?
While Disney fans can't go down to their local paint store to ask for Go Away Green, there are options that come close! Thanks to TikTok users, they discovered the following paint colors to be quite similar, and best of all not at Disney prices!
So the next time you book a Disney vacation, see how many examples of Go Away Green and Blending Blue you can find! I think you'll be surprised at just how prevalent these hidden colors are.