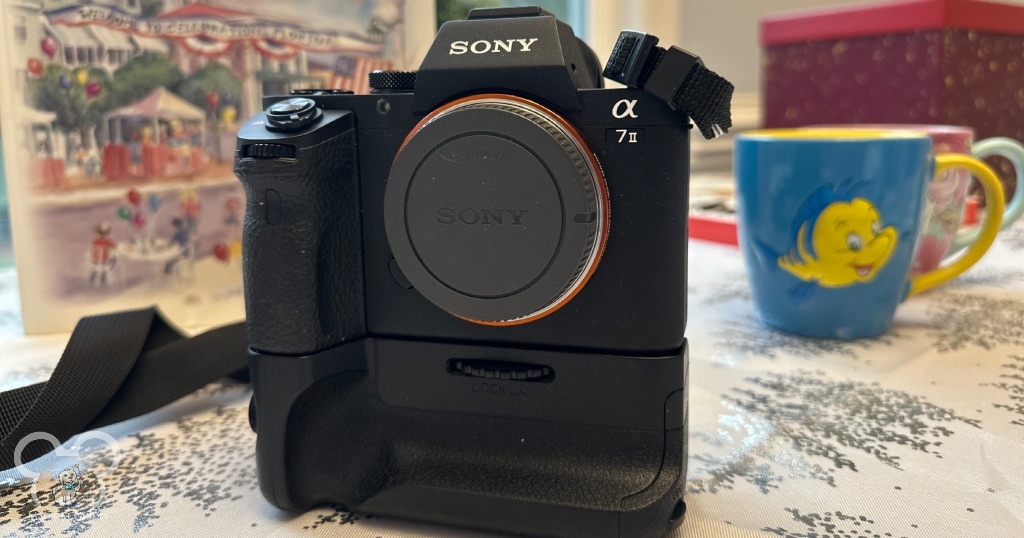 The wonderful rides and places in Disney World have always been enjoyable, especially Disney's Hollywood Studios. Disney world is a place where you can truly enjoy your life's best moments.
However, as a photography and videography enthusiast, I always wondered what is the best video camera equipment to take to Disney World. It's a simple question with a simple answer, take a DSLR that can shoot good video and a lens that can cover up most things.
However, to my surprise, that's not entirely true as things can get a lot more complicated as you start exploring different places in Disney World.
Especially, if you get to places where the lighting is minimal, you've got to choose the right video camera equipment that can cover up dark places.
Even in the broad daylight, it can become difficult to shoot places against the sunlight.
Fortunately, I have had the opportunity to visit Walt Disney World multiple times a year, particularly covering topics for the blog here.
Over the course of my time at Disney World, I have had the experience to shoot different places and today in this article, I will share some of my experiences on what is the Best video camera for Disney World.
What are the basic features you should look for in a camera to carry to Disney World?
Speaking of basic features in a camera, here's where things can get very complicated. At Disney World, you are constantly moving around, experiencing different rides and places, while there are places like the Animal Kingdom where you mostly walk, places like the Magic Kingdom involve a lot of high-speed movement.
Below are some of the basic video camera features that I consider while choosing the best video camera to take to Disney World:
Image/video Stabilization: Whether you are going for a cheap or an expensive video camera option, if your camera or lens doesn't have Video stabilization, it can make your video footage look very shaky. Now you don't want to get a gimbal of some sort right, that just adds more baggage to your equipment arsenal. If the video camera doesn't come with video stabilization, I would not consider getting that camera.
Fast Autofocus: Does the camera have good and accurate autofocus? If you are planning to just shoot still images, the autofocus may not be an issue, however, when you are actually shooting video footage, the video camera should be equipped with accurate and speed autofocus. So many times, I have had cameras that are too slow to focus on different subjects, and in Disney world, you want to make sure that your camera has this feature.
Broad ISO range: While you are shooting places where there is minimal lighting, it is recommended to get a video camera or DSLR that has a broad ISO range. Of course, if you have a lens with a low aperture, it can help you combat dark places, but having that broad ISO range will help you capture dark places much more easily. Look out for DSLR's that are capable of hitting between 100 to 12800 ISO range.
1080p at 60fps or 4K at 30fps: Another important feature is whether the camera can shoot 1080p at 60fps. While you will be filming most of your shots in 1080p resolution, you should also look to see if the video camera can shoot at 4K resolution or not.
Battery life: You will be spending a full day at Disney World and if your camera runs out of battery quickly, this can be a huge red alert. I have had this issue with GoPro where I needed to carry multiple backup batteries whenever I went camping or hiking. Of course, this was with the older GoPro models, but it taught me a good lesson. You have to check how long the battery is going to last in the video camera.
Zoom lens or Prime Lens or Wide Angle: The choice of lenses is also very important. This is for those who are solely going to carry a DSLR. The prime lens helps you capture footage in dark places much more easily as it can go down to lower apertures, however, it has a fixed focal length. A zoom lens helps you shoot footage from a far distance, while a wide-angle lens gives you the advantage of shooting wide areas and landscapes.
Are GoPro cameras allowed at Disney World?
Although Walt Disney World has strict rules about what you can and cannot bring into the park, many guests find that the Disney rules on camera equipment, vlogging, and niche items such as GoPros are confusing.
The truth is that, yes you can bring a GoPro Camera to Disney World, and in fact, Disney encourages video and photo behavior in their parks. I have actually had the opportunity to talk to one of the disney cast members and he clearly mentioned that, GoPros are allowed, even on high-speed roller coaster rides.
Of course, if your video equipment gets damaged, you are solely responsible for it, therefore, you have to be careful while shooting on different rides.
GoPros are just perfect for any Disney World rides, as you can just strap it on your head or body and capture all the moments without having to worry about dropping it.
Read Also: Secret Disney Outlet to Buy Gifts and Souvenirs
However, there's a catch, you cannot bring selfie sticks or drones into the parks. They are strictly prohibited due to safety reasons.
How do you record on a roller coaster?
When you are recording on a roller coaster, the biggest challenge you are going to face is high-speed movement. This is where you cannot just hold a phone or even worse, a DSLR camera to record the video.
Therefore for recording on roller coasters, I absolutely prefer using the GoPro. The simple reason is, it has a wide-angle lens, and most GoPros today come with video stabilization that just makes the video footage very smooth.
However, another huge advantage of GoPros is the mounts. You can attach a strap to your GoPro, mount in front of your head or chest, and you're good to go. You don't have to worry about dropping your camera while you are on a roller coaster ride.
You may ask whether if it is possible to record from a phone or DSLR and technically speaking, as long as you can hold the camera, or mount it on the surface or handle of the roller coaster, you can easily record.
The problem is that, in Disney World, the cast members aren't going to allow you to use a DSLR. You cannot bring a DSLR camera or even use your phone. You have to hide it in your pocket.
In terms of settings, I recommend using Auto mode, as you will be rushing up and down along the roller coaster trails, and the best thing to do is to set your GoPro to Auto, make sure to set the max ISO level to 3200 and you're good to go.
Disney Parks also just banned any recording device on Space Mountain. So if you're hoping to record your ride on this classic coaster, be sure your GoPro is strapped to your body. Handheld cameras will not be allowed.
How do you get good pics on dark rides?
Taking good pictures on dark rides has never been easier. With a bit of practice and perseverance, getting that perfect shot is only a few steps away!
However, you can easily mess things up if you have the wrong settings in your camera.
There are couple of things you need to keep in mind, when shooting in dark environments. I'll go over each one of them in detail.
Use high ISO – ISO is the sensitivity of your camera's sensor to light. Typically, the lower the ISO, the darker will be the image but will reduce noise. While higher ISO levels help you capture images or videos in dark environments with the consequence of getting more grain in your pics. ISO levels in a camera should not be more than 1600 to 3200 as this should give you enough light to capture in dark places.
What I normally do is set the ISO to 400 and then test, if the camera is getting enough light or not. If not, I increase the ISO to 800 and test again. If lowering the aperture and shutter speed helps, I stick to 800 else, I will increase the ISO to 1600 to let the camera take maximum light. It's only in very rare cases when the environments are really dark, I choose the ISO 3200 option.
Do not use Flash – I know, this can be intimidating as in very rough lighting situations, you want to actually use flash. However, this just ruins the entire photograph and in most cases, you just want to avoid using flash.
Unless you have knowledge about how to use a flash, which in most cases, you'll need an external flash to creatively bounce the lights. That's not possible with the fixed flash that comes with a regular camera.
Gorilla Tripod – When you are going to Disney world, you want to avoid as much heavy equipment as possible. Tripod can be a big hassle to take to Disney World, however, you can still get a small portable Gorilla Tripod which you can easily carry inside your bag. When you are in situations where lighting is just too difficult, you can just attach a Gorilla Tripod to any part of a surface or even ride and record or capture the moments. These tripods have adjustable legs that can be extremely convenient.
Use Manual Mode – In dark environments and rides, you want to make sure that you get full control over your camera settings. This is where you will need to use the manual mode settings. It lets you control everything from the camera's shutter speed, ISO, and aperture and this helps you easily shoot in dark rides and places.
Use a faster lens – Whenever, I think of shooting dark places, the first thing that comes to my mind is, "I need a fast lens". Above all, a fast lens that can go down below f.3.5 – f.18 is just perfect for shooting in dark environments. I have the Canon 28-70mm f/2 lens which is one of my favourite lens and it does a great job shooting in dark places. Now, I understand that getting a fast lens can be expensive. However, you can still purchase prime lenses like the 50mm f1.8 or the 28mm f2.8. Both of these lenses are very affordable and can help you shoot in dark environments.
Use manual focus – A lot of people make the mistake, me included of shooting with the Autofocus all the time. It's convenient but when it comes to shooting in dark rides or places, using manual focus can help you get your desired subject to become clearer in the picture. The main problem with autofocus is that, in dark environments, it's hard for the camera to focus on different subjects which makes the camera miss the subject.
Cell phone camera vs mirrorless camera?
The tech industry is constantly growing and every year provides new, innovative cameras. Many people don't know which camera best suits their needs – Cell Phone Camera or Mirrorless Camera
Truth is that camera doesn't really matter, as even today with an iPhone, you can shoot perfect shots. However, there are some limitations as to what an iPhone can do.
If you really want to know the tech side of things, then today, I am here to help and share some of my photography and videography experiences with you.
iPhones have vastly improved over the course of several years. I remember being blown away by the touchscreen technology and how my friend didn't need to use any buttons at all. Today they claim that the iPhone camera can shoot amazing quality pictures and they are right. For a normal person, it's too good.
Mirrorless cameras on the other hand are new to the world of photography. Before, DSLRs came with mirrors that allow you to see the image through the viewfinder. Mirrorless cameras do not have a mirror, instead, they have an LCD or LED screen that shows you the image.
The biggest and obvious problem with iPhone or cell phone camera is that you do not have control over the settings of the camera. Meaning, if you were in a situation where you needed to lighten or darken the scene, you'd have no option to control that. Things like ISO, aperture, and shutter speed are very important and if you don't have control over them, you are missing out on a lot of great shots.
The main reason why I like mirrorless cameras is their portability. Many of the good mirrorless cameras like the Fujifilm X series are much smaller than most DSLR cameras. They are compact and even the lenses are much smaller.
This allows you to carry multiple lenses that you can take to Disney World. If you were to carry a Canon or Nikon DSLR and equip it with a zoom lens, you'd need to carry a big backpack.
Of course, cell phones are completely portable, but again you lose that control over the settings of the camera.
So, in my opinion, mirrorless cameras are way better than cell phone cameras in every sense. They come with great image quality equivalent to that of a DSLR camera and have most of the features that most DSLR cameras come with.
I actually shoot most of the photos for Magical Guides on my iPhone 14 Pro or my Sony A7II which is a mirrorless camera. I don't use the Sony to shoot video, for that I will use GoPro 8 or the iPhone 14 Pro.
Top 5 Best Video Camera for Disney World
Now that you have a good idea of what features you might want in a video camera, I will share some of my top recommendations on video cameras you can take your next Disney World vacation.
Canon EOS 90D – Best DSLR Camera
The EOS 90D is one of the best cameras to take to Disney World right now due to the terrific RAW picture quality, state-of-the-art live view (with eye detection), and 4K video support.
I personally just love the image quality and all of the features that it offers. Its battery lasts for about 1300 photos and the photo quality is very sharp with natural colors. With the support for 4K recording, there's nothing you can miss with this camera.
Expect the fact that, you'd have to carry a bulky DSLR, but if you are willing to take the hassle, this is the best camera in the market right now.
Fujifilm X-T30 – Best Mirrorless Camera
The X-T30 is a great choice if you're in the market for a mirrorless camera to take to Disney World. I like this camera because it has CMOS 4 APS-C sensor that's powered by the X-Processor Pro 4. This means this camera can take amazing photos and videos. Apart from that, it also has a backlit design that provides enhanced light transmission and picture quality.
The X-T30 is a 26.1MP camera that captures both RAW and JPEG photos. The rear LCD screen is a 3″ panel that you can control with your fingers. The display rotates and is titled so it's always viewable from any angle.
Olympus OM-D E-M5 – Best Portable Mirrorless Camera
The E-M5 is another best mirrorless camera to take with you to Disney World because of its good autofocus system and image stabilization. It is also very portable and comes with a mechanical shutter, this model provides a continuous shooting mode with a max of 10fps if you set the focus and exposure before the burst.
The built-in stabilization is compatible with all lenses, meaning you can even use manual and legacy optics with it.
The E-M5 also has a vari-angle touchscreen that makes it easier to take photos from unconventional angles.
Canon PowerShot G9 X – Best for Overall Portability
The G9X is a great Disneyland camera for anyone who wants to be able to take high-quality pictures without having to carry a bulky DSLR. Believe me, this little camera has most of the features that a typical high-end DSLR can provide. You can use manual mode which is great, and
it has a 1″ sensor and comes with exposure modes that can easily be switched between using the top-plate dial.
It allows you to capture video in Full HD, and the best part is that you can control most of the film settings manually.
Having such features in a digital camera is very promising and if you are strictly looking for portability, this is the best video camera choice.
I have the cousin to this camera, the G7X Mark II. For the value, I think it can't be beat. If you're recording a lot of audio tho, this is where the G9X will shine. You'll find either in my camera bag as a backup.
GoPro HERO 11 – Best Overall
GoPro cameras are highly recommended if you are going to shoot in rides where there is lots of movement. There is no doubt, Go Pro Hero 11 is one of the best cameras to take to Disney World. It has excellent video stabilization and comes with a HyperSmooth feature that allows you to capture very smooth footage and reduces camera shake to a great extent.
It can also shoot 4K video recordings at 120fps and 5.3K at 60fps.
Another cool feature that I like about this GoPro is the 8:7 video aspect ratio that enables you to record wide shots.
It also has improved image and video quality as it comes with a larger sensor and is just a great device to take to Disney World. If you're looking for an action camera don't have a second to waste.
Conclusion
So, these were my top recommendations on what is the best video camera for Disney World. There is always that cost factor and for some people, a digital camera works just fine.
The GoPro in my opinion is a wonderful choice, as it's got that video stabilization feature and wide-angle capabilities which is what most people need the most.
However, if you are a professional photographer or a photography enthusiast (like me), going for a mirrorless camera is also a great option. Today, cameras like the Fujifilm X-T30 can take amazing pictures and there are wide choices of lenses available too. Remember your vacation should be enjoyable, and getting into photography is now a part of my enjoyment. Don't be afraid to save money and go for the older camera model as it's a great way to save serious money.
If you have a Youtube Channel or post to social media, feel free to tag Magical Guides, or drop a link below!