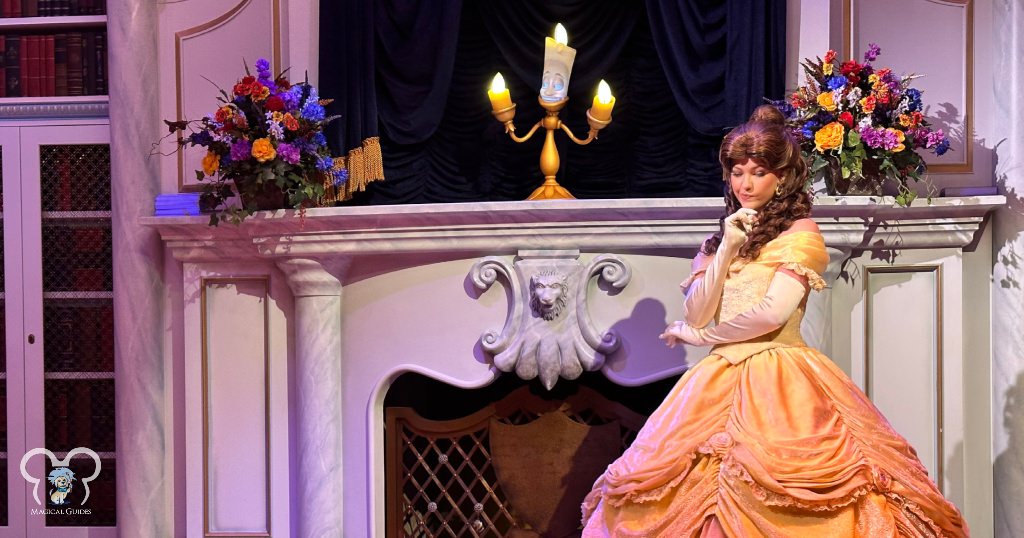 For many young girls and boys, especially those who love reading and diving into the fictional worlds of books, Belle is their favorite of all the Disney princesses. Because of this, there are multiple locations to find this intelligent and beautiful princess around Disney World.
To make sure you don't miss her during your next Disney vacation, I've put together a guide of all the places you can meet or see Belle in Walt Disney World.
Is Belle at Disney World?
Fortunately for fans of books and princesses, Belle can be found in multiple places at Disney World! She can be found at meet and greets, performances, parades, and more!
Where does Disney's Beauty and the Beast take place?
The village where Belle lives is located in France and is said to be inspired by the town of Alsace. If you look up this town on Google, you'll quickly see the resemblance with its quaint buildings and cottages!
Which Disney park is Belle in?
Belle can be found in multiple parks at the Walt Disney World resort! You can see her in Magic Kingdom, EPCOT, and Hollywood Studios.
Where to meet Belle at Disney World?
You have a few options if you're looking to meet Belle for an autograph or photo. She can often be found in Epcot's France Pavilion. Just check the My Disney Experience app for times and specific locations. You can also ask a cast member about when to expect Belle to come out to meet fans.
Read More: Best Gaston Quotes from Beauty and the Beast
It is also possible to meet Belle at the princess character dining experience in Epcot at Akershus Royal Banquet Hall. Sadly, the princesses featured here change throughout the day, so it is possible that Belle won't be available during your reservation.
In Magic Kingdom, Belle is available for meet and greets at Enchanted Tales with Belle. 
Where else can you find Belle in Disney World?
While you most likely will not meet her at this dining experience, Be Our Guest is a fantastic restaurant for fans of Beauty and the Beast. You'll get to feast in the Beast's castle before meeting him on your way out.
Even though Belle is not usually at this character dining experience, you can dine in the West Wing with the enchanted rose, making it a magical experience for fans of the film. This restaurant also features two other dining areas: the grand ballroom where you can watch snow falling outside the window and the castle gallery decorated with paintings of Belle and the Beast.
So while you won't get to meet Belle, you'll get to feel like her during the entirety of your meal!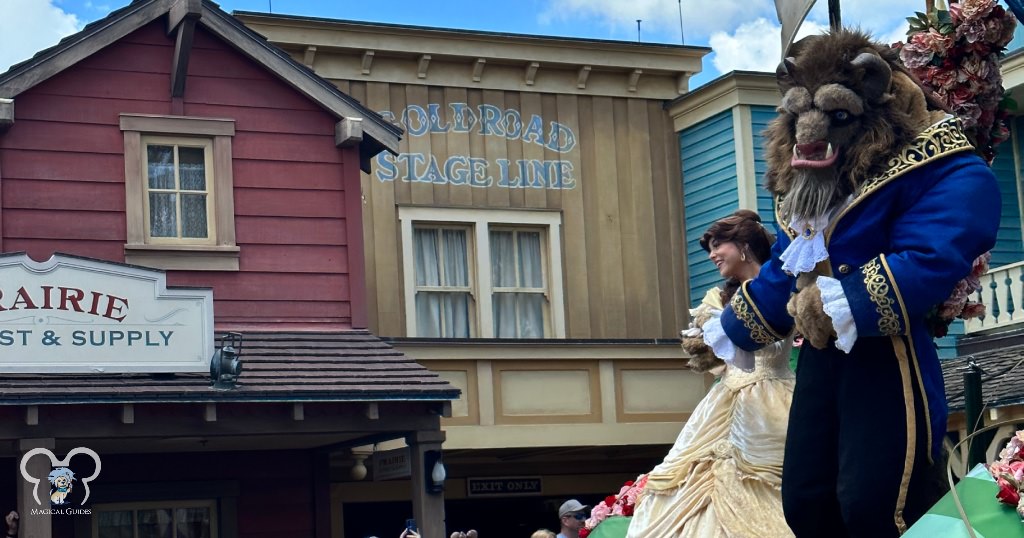 Belle and the Beast can also be seen in the Festival of Fantasy parade every day at 3:00.
In Disney's Hollywood Studios, you can watch Belle from afar in Beauty and the Beast – Live on Stage. This 30-minute musical is a retelling of the movie we know and love, all with live performances from our favorite characters! 
Belle is also featured in Fantasmic! She and the Beast can be seen dancing on one of the floats in this nighttime spectacular. 
Is there a Belle ride at Magic Kingdom?
Sadly, Belle does not have a ride at the Magic Kingdom.
Is Enchanted Tales with Belle a ride?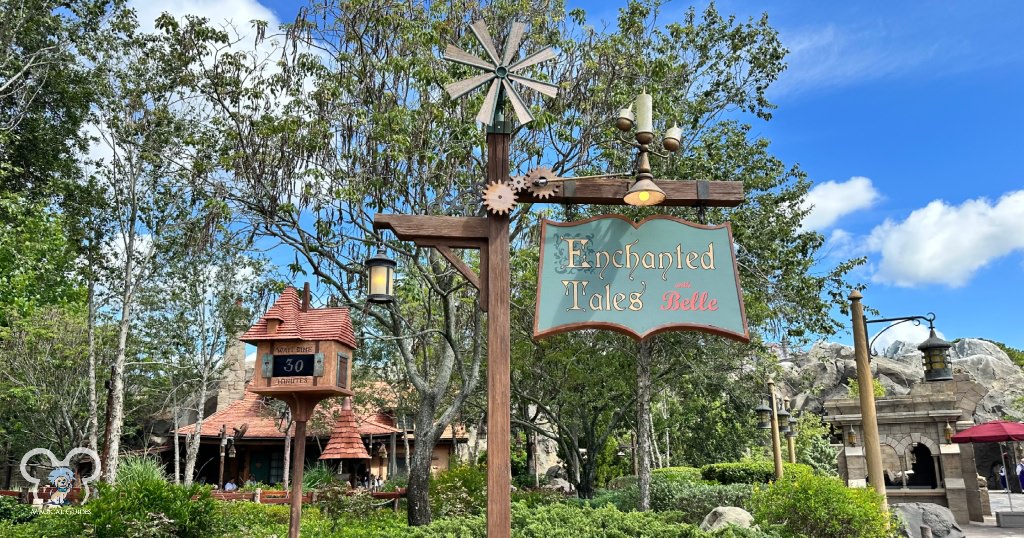 Enchanted Tales with Belle is an entertainment attraction located in Fantasyland, but it is not a ride. There are no ride vehicles or moving parts, but it's incredibly popular so it's important to get here in the first few hours of the park opening if it's something you or your little ones are looking forward to experiencing. This experience is available at no extra cost to guests who have a ticket for park admission.
Do you meet Belle in Enchanted Tales with Belle?
Enchanted Tales with Belle lets you explore Belle and her father Maurice's cottage, transporting you right into the world of Beauty and the Beast. Fans of all ages can walk through Maurice's workshop and look at all of his inventive gadgets, including the special enchanted mirror that the Beast gifts to Belle in the movie.
You'll watch the story of how Belle and the Beast met and fell in love before being transported to the Beast's castle.
Read More: What Time Does the Parade Start in Magic Kingdom?
Some children do get to meet during this attraction, but it is not guaranteed that your family members will be chosen to interact with her. Still, it is a fun experience starring some of your favorite characters from the film, including Belle's Wardrobe and Lumière!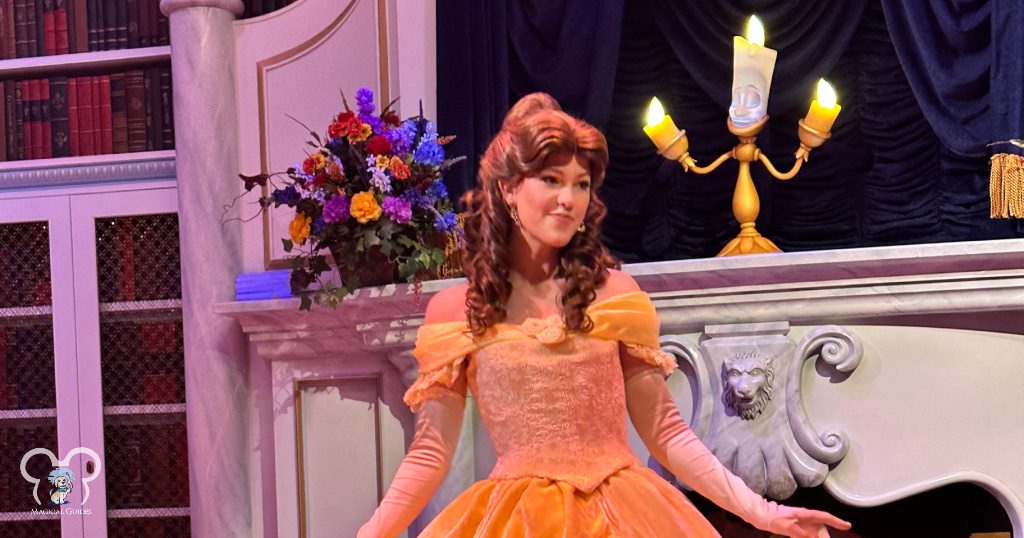 Enchanted Tales with Belle has no age or height requirement, making it perfect for guests of all ages. Guests using an ECV must transfer to a wheelchair for this attraction. 
How long is story time with Belle?
This experience lasts about 20 minutes so you'll still have plenty of time to enjoy the rest of the magic around Magic Kingdom! For fans of Beauty and the Beast, it is worth it to spend 20 minutes out of your Disney vacation.
Hopefully, this guide will help make sure that you're able to find Belle during your next visit to Walt Disney World. Whether you're waving to her in a parade or asking for her to sign your autograph book, there are plenty of places to find Belle throughout the Disney theme parks.