It's not controversial to say that Walt Disney World in Orlando is the most magical place on Earth. With four Theme Parks, two Water Parks, and countless hotels and resorts, people flock in their millions to Central Florida every year for a little Disney magic. Weather is always a factor in any Theme Park visit, and rain at Disney World is a daily occurrence (thanks to Central Florida's susceptibility to thunderstorms). But Florida is also famous for another annual weather event: hurricanes. What is it like to visit Walt Disney World during a hurricane?

Rain at Walt Disney World
The hurricane season typically lasts from June to November, and the end of Summer around September is historically the most active month. It's worth noting that hurricanes are wildly unpredictable. They can peter out before they reach land, or they can swing in another direction entirely at the last minute. Even so, hurricanes in the Atlantic Ocean can still cause rain and wind all over the eastern United States, including Orlando.
Disney World has been open since 1971, and in its 50 years of operations the Resort has only closed seven times for brief periods due to hurricanes (despite hundreds of hurricanes and tropical storms across the same period), so the likelihood of your vacation being severely impacted by a hurricane is pretty slim. However, you may have to adjust your vacation slightly, but there's still plenty of fun to be had in the rain at Disney World!
In terms of the Parks, heavy rain and wind caused by hurricanes and tropical storms can affect Park operations. In particular, some outdoor rides may close for brief periods (with water rides being the most likely). Park Cast Members will ensure you have a safe visit, and will always endeavor to keep guests up-to-date, however, the nature of hurricanes and their unpredictability means that things can change quickly. If you're willing to be flexible, you can still enjoy your day at one of the Resort's Theme Parks.
Even if some outdoor attractions close, you'll never be stuck for something to do. With the outdoor rides down, it's a great time to explore some of the fantastic indoor rides at the Parks, including some that are not on every traveller's must-do list.
As an example, the Enchanted Tiki Room in Magic Kingdom's Adventureland is not always the most popular attraction, with a lot of guests not even realizing that it's there. However, it's an absolute classic, especially if you're up on your Disney Parks history. If you come across rain at Disney World, attractions like the Tiki Room are the perfect place to get out of the rain for a little while and enjoy some Disney magic!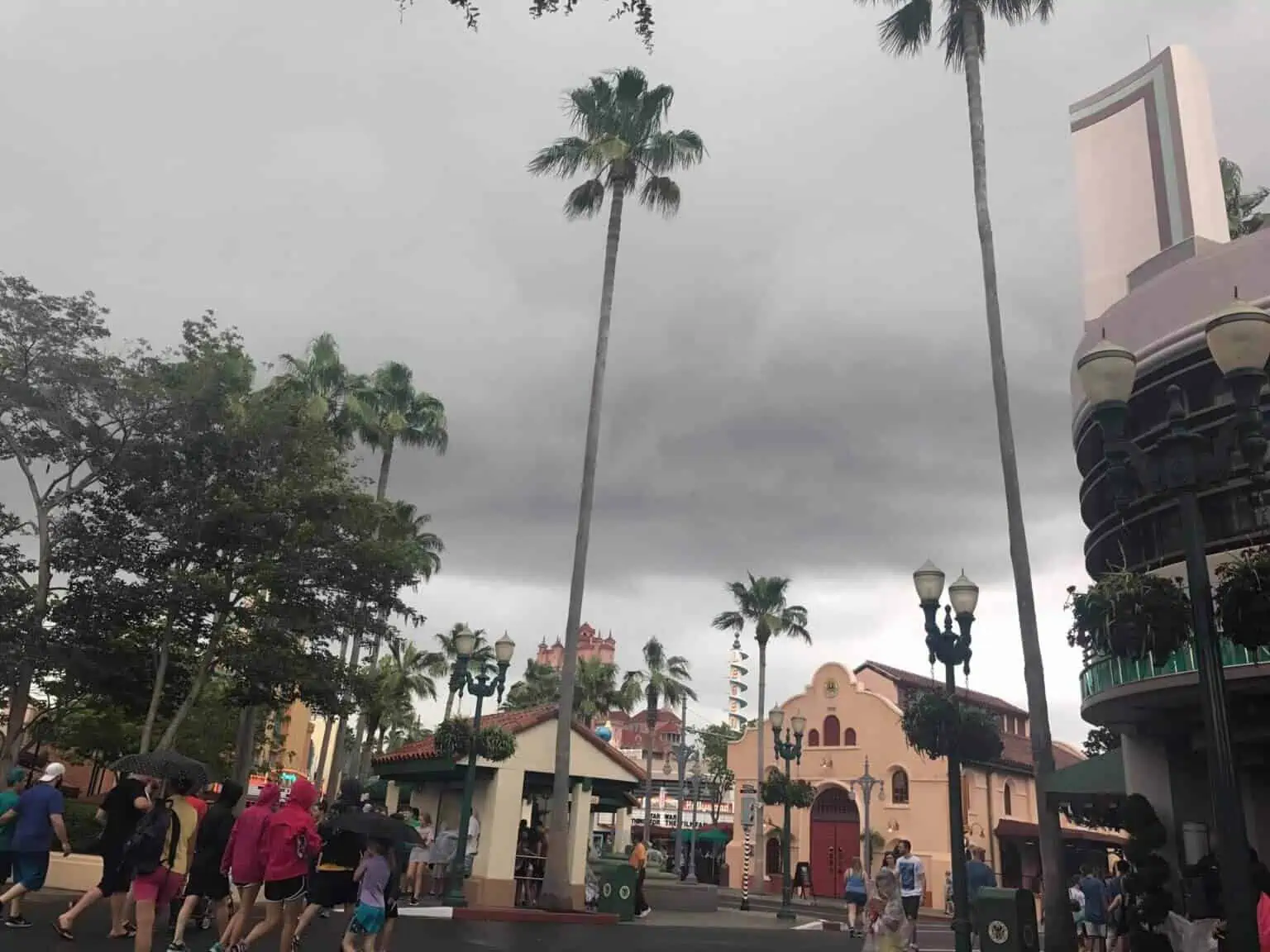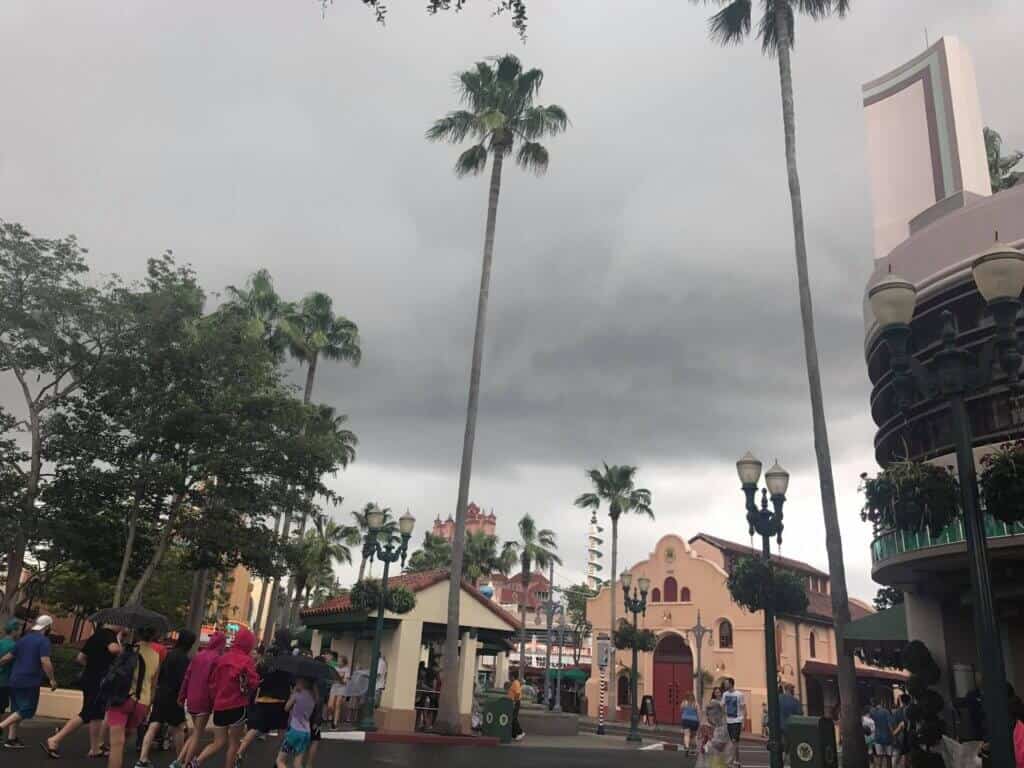 Which Theme Park is Best During Severe Weather?
Epcot is a particularly good Park for indoor attractions, as the majority of its attractions are dark rides and indoor shows. If the weather report is forecasting rain at Disney World on a particular day of your visit, Epcot might be your best bet. Whilst some outdoor entertainment might be affected (e.g. the America Gardens Theater concert venue), you'll still get a full day of Disney magic at Epcot despite the rain. Once the weather clears up, head back to Epcot for an afternoon at the World Showcase and enjoy the outdoor shows that you might have missed.
Your next best option would be Disney's Hollywood Studios. There are a number of the attractions are indoors, and you might even up your chances of grabbing a coveted boarding group for Rise of the Resistance in Galaxy's Edge as the rain keeps the huge crowds at bay. However, big hit attractions like the Indiana Jones Stunt Show and Slinky Dog Dash can close as a result of severe weather. If you've got little ones with you, the closure of Toy Story Land could be a disappointment, so it might be better to save Hollywood Studios for a clearer day.
Magic Kingdom has a good mix of both indoor and outdoor attractions, but again, if you have little ones with you, kid-friendly rides like Dumbo and the Teacups can be affected by the weather. The Park has plenty of other gentle rides to offer that are indoors (especially in Fantasyland) so there is still plenty to do. You'll still have a fantastic day at Magic Kingdom, but be prepared to alter your plans slightly as the weather will certainly be a factor.
Disney's Animal Kingdom might be your worst option during prolonged rain at Disney World. The Park is fantastic, however most of its rides are outdoors, and would be affected by a hurricane warning. The crown jewel of the Park, the Kilimanjaro Safaris, also relies heavily on the animals contained within the attraction perimeter. The safety of the animals always comes first with Disney, so you'll likely see this attraction close during a hurricane or severe weather. Skip Animal Kingdom until you've got a clearer day weather-wise.
The Resort's two water parks, Blizzard Beach and Typhoon Lagoon, will also close during severe weather, so you might need to move your visit to a different day. We're not sure water slides in the rain would be an enjoyable experience anyway, but if you had your heart set on a visit to the water parks, keep an eye on the weather forecast, as well as the My Disney Experience app, for up-to-date information on closures.
At all of the Parks, nighttime shows are especially susceptible to severe weather as many of the fireworks and show elements rely on calm weather to function safely. You may see show cancellations up to a few minutes before the show is due to start, and shows have been cancelled midway through when the weather changes. If you're looking forward to the fireworks, bear this in mind and plan to return on a calmer day.
Disney Springs
A good alternative to the Parks during rain at Walt Disney World is to pay a visit to Disney Springs. Located close to the Saratoga Springs and Old Key West Resorts, Disney Springs has a wealth of shops, restaurants and fun activities. Some of the outdoor bars and activities might close during a hurricane, but you can enjoy a meal or drinks in one of the many restaurants on site, or grab a little retail therapy whilst you wait out the weather. You can easily lose a whole afternoon at Disney Springs favorites like Raglan Road and House of Blues, or alternatively, enjoy some bowling at Splitsville Lanes or catch a movie at the AMC Theater.
Disney World Hotels
If you're staying at a Disney World Resort, you'll be well looked after in the event of a hurricane. The hotels offer hurricane packages which include food and drink, as in rare cases some of the Resort restaurants may be affected by severe weather. Disney's cast members are fantastic and will keep you up-to-date on what's happening, but if you find yourself waiting out a hurricane in your room, enjoy some classic Disney entertainment on TV. Each Resort hotel TV has around 80 mainstream channels too, so you'll never be bored.
If you find yourself at Disney World during a hurricane, it's best to stock up on provisions just in case you do find yourself waiting the rain out in your room. There are plenty of supermarkets in the area (e.g. Publix, Walgreens) where you can pick up bottled water, snacks and other essentials in case you find yourself at your Resort for a while. It's usually cheaper to pick these items up at the supermarket versus on property so plan for this in advance.
The key to enjoying your time at Disney World during severe weather is to remain as open-minded as possible. Your itinerary might change significantly, but don't stress. You might not get to everything that you wanted to see, but Disney will always strive to make your experience as magical as possible. Be patient, bear with the Cast Members, and be prepared to get a little wet!
Fashion vs Practicality
We've never let a little bit of rain at Disney World stop us enjoying the magic, and you don't have to either. Ponchos might not be the most fashion-friendly of clothing items, but it will be a God send during hurricane season at Disney World. Comfortable, hardy shoes are also a must. We have no doubt you always look fantastic, but trust us, practicality beats fashion when it comes to rain at Disney World. Your fellow guests are all in the same boat, so be sure to wrap up warm and stay dry as much as possible.
Your safety is Disney's priority, so be sure to keep an eye on the Resort's official social media channels and website for up-to-the-minute information. We mentioned this earlier, but the My Disney Experience app is invaluable, and will let you know in real-time about attraction closures, wait times, and Park operating hours. Things can change quickly during a hurricane, so make sure you're armed with the knowledge you need to get the most out of your day. You might find yourself in the rain at Disney World, but with these tips you'll be sure of a magical day.