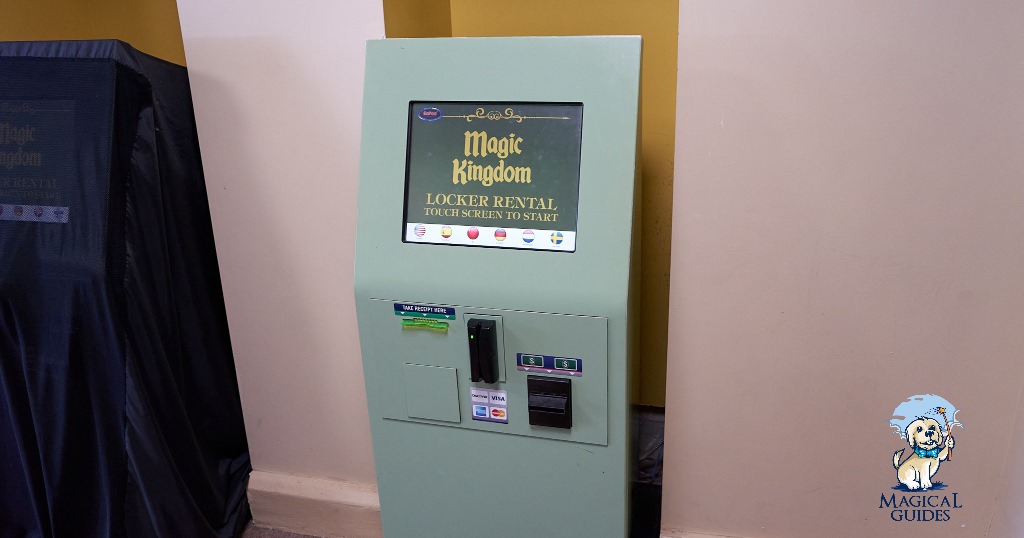 Photo by Bayley Clark for MagicalGuides.com
When you're traveling to Disney, there are a lot of things you don't want to be thinking about. One of those is what to bring and where to keep it as you make your way around the park. As many guests may not know before arriving, the question to "are there lockers at Disney World" is YES! Every Disney theme park, including water parks, have lockers available to rent during your day in the park. Locker rentals are not free: they cost between $10 and $15 per day, which should be a drop in the bucket considering the rest of the money you'll be spending on your vacation. Renting a locker is an additional cost to your trip, but it may also be a way to save you time on your trip to get in another attraction or two!
Funny story, I didn't even know the Walt Disney World theme parks had a locker area for folks to store things until I attended my sister-in-law's wedding. She hosted a rehearsal dinner at Ohana (those noodles, if you know you know). My husband wanted to go to EPCOT afterwards to ride Test Track. He volunteered to pack a small book bag with changes of clothes for both of us. Thankfully as we were walking past security we saw the lockers, and changed storing our personal belongings as well as the bag in a standard locker they had. We did note on the way outside the lockers near the bus stop of EPCOT only took quarters versus the lockers will take credit or debit card. This allowed us to enjoy the evening, without him having to carrying a bag all night. I do suggest you take a picture of your locker number so when you go to leave, you're not guessing which locker is yours, especially if you try to drink around the World Showcase. It's funny now, but wasn't that night we couldn't find our locker)
Read Also: Can You Take Bags on Riders in Disney World?
Will I Need to Rent a Locker?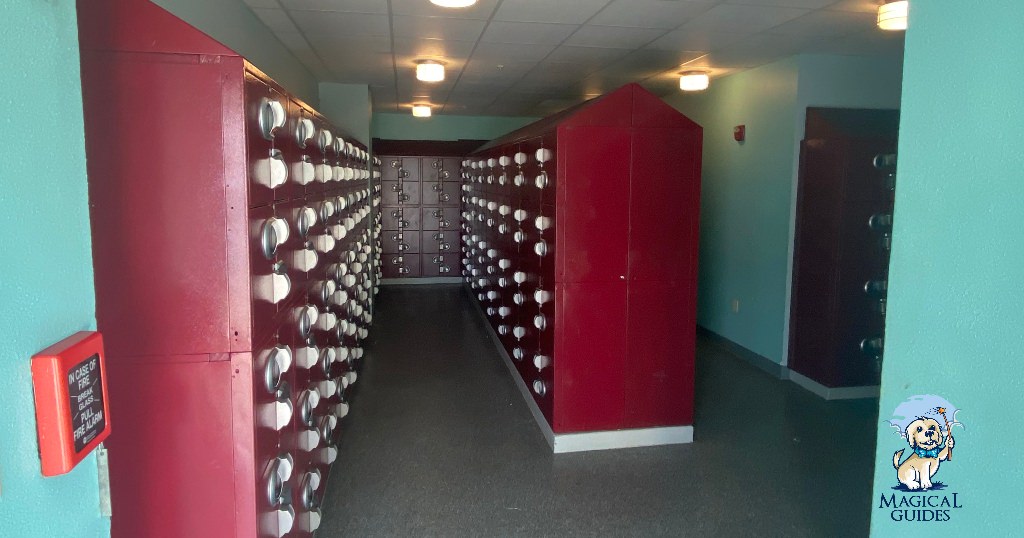 Store snacks, or a change of clothes in lockers, especially if you rope drop!
(photo by Bayley Clark)
One of the biggest things to know about Disney World is that they are extremely friendly to guests bringing in whatever items they need. Contrary to other theme parks, none of Disney's rides require riders to store their belongings before riding. Even roller coasters contain small pouches for phones or wallets, and larger items such as backpacks can be stored at the riders' feet. The same is not true of nearby Universal Studios Orlando, Sea World Orlando, and Busch Gardens Tampa Bay, which contains rides where a trip through a metal detector with empty pockets is required to ride. There is also stroller parking available near all rides in the Disney Parks, which is another spot you can store items (though they will be unattended).
Overall, this means that most guests won't need to bother with a locker at all. All your groups' belongings can be stored in pockets and a small backpack with ease. Even things like water bottles, which are a must in the Florida summers, can be fit in a backpack and filled as needed throughout the park. However, there are a couple of good reasons for considering a locker:
Bringing a change of clothes: A day at the park can be dampened by an afternoon rain shower that soaks your whole family. Having a change of clothes (especially socks!) could make your day a lot better. This is usually the case for water rides too, though Disney lacks attractions that get you completely soaked. The only exception is Kali River Rapids in Animal Kingdom, which has about a one in three chance of soaking you individually, and a high likelihood of getting at least two in a larger family. Though lockers are near the front at all four of Disney's major parks, there are additional lockers next to Kali River Rapids in particular.
Storing heavy or miscellaneous valuable items: Things like car keys, phone charging blocks, sunscreen, personal items and gift cards, or anything else you can think of that would be annoying to carry around with you might be a good reason to rent a locker. Any children's items are important to keep in mind too (and certain items are available to buy at each park's baby care center). Though they are accessible throughout the day, keep in mind that you will have to backtrack to the front of the park to retrieve anything you might want during the day. This is especially the case in a park like EPCOT, where a trip from the lockers to the back of the park in the World Showcase is about a mile. To avoid this, you could also elect to drop your belongings in EPCOT's other locker location at the International Gateway entrance to the park between the U.K. and France in World Showcase.
Snacks: With Disney's ever-increasing prices, paying for snacks like over $20 for 4 sodas (currently $4.39 each!) can hurt. Packing sandwiches, drinks, or chips to hold you over through the middle of the day can make a big difference in your experience. It can also help you make the most of your time in the park. Disney has gotten bad about lines for food, so eating while waiting in line for a ride instead of waiting 30-40 minutes to get food will allow you get in an extra ride that day! This might also be a consideration for parents of picky eaters who might not like food in the parks. Though all of the parks have the chicken nuggets and fries, parks like EPCOT that are focused on cultural food might be an issue for some kids.
How Do I Rent a Locker?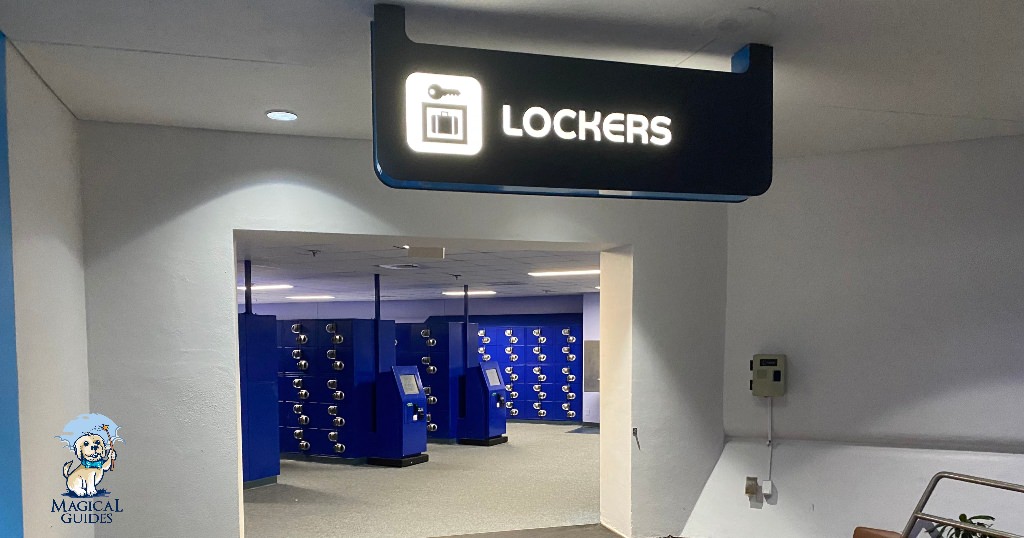 Don't forget to take a photo of your locker number before heading out.
Photo by Bayley Clark for MagicalGuides.com
Renting a locker is simple. Locker stations are located at the main entrance of each park. You'll simply walk up to the lockers and follow the on-screen prompts. Lockers accept all major credit cards. You can also pay with a magic band or gift card, but that will require the help of a merchandise Disney Cast Member. Once the one-time charge payment is processed, you will be assigned a locker number in which to store your items. Find your unlocked locker, store your items, and continue into the park. Make sure to take a picture or note your locker number for when you need it at the end of the day!
There are three different locker sizes. Small and large lockers exist at every park, while jumbo is reserved only for Magic Kingdom and Epcot. A small locker is 12" x 10" by 17", a large locker is 15.5" x 13" x 17", and jumbo is 17" x 22" x 26". All prices ($10, $12, or $15) are for the entire day, so there's no need to stress about the time.
Most of the time, there are plenty of lockers available to rent. During busy times of the year, the storage lockers may be full in the afternoons, although rare it might be a good idea to hit them up when you enter the park. Disney's locker locations are safe, and Disney cast members are always available if you have any problems with the self-service kiosk.
What about Disney's Water Parks?
Great question! Lockers work very much the same way for the water parks as they do for the other parks but are far more commonly used. Disney's Typhoon Lagoon Water park has lockers located at the front entrance, as does Disney's Blizzard Beach Water Park. Blizzard Beach also has an additional location near the Ski Patrol Training Camp, which is lesser known and therefore usually less busy. I always recommend renting a locker for the Water Parks to store phones, wallets, and other valuables, but I don't worry about trying to shove tons of clothes or towels in. Often, I will "claim" a chair in less-busy area of the water park with a towel and leave a bag with my clothes right next to it. Typhoon Lagoon in particular has plenty of quiet nooks where your stuff won't be disturbed. Of course, if you want more peace of mind about the safety of your personal items, just rent a large locker to shove everything in. Just be sure to remember to check back later in the day to re-apply sunscreen! Disney uses convenient keyless lockers, so there's no stress in trying to keep track of anything while you enjoy the water park.
Can you Disney Parks offer luggage storage?
If you are leaving Disney World, and your flight departure is later in the afternoon, after standard checkout at most Disney resorts, you might be wondering what to do with your luggage. Well, I would not attempt to take it on any Disney Transportation, as they usually won't let you, nor is there anywhere to store it once you get to the parks. You should consult the bell services at the resort you're staying at to see if they will let you leave it in one of their secure storage areas. While this is a complimentary service, it is expected that you offer a tip to the bellhop when you pick up your luggage. I usually tip $1 per bag that I plan to check or carry on an airplane, for me this usually never goes over $5, but if you have a larger family it could.
Summary
Though Disney does a great job of allowing you to bring whatever you need into the parks, renting a locker can be an easy way to store any items you don't want to lose or be carrying around all day. The process is simple and easy, and your personal items will be safe all day, leaving you to worry less about losing something and focus more on enjoying your day!