I'm a self-proclaimed history buff, so if I can dine being surrounded in rooms named after America's forefathers, I jumped at the chance. Liberty Tree Tavern is a throwback to the 18th century with an all-you-care-to-enjoy buffet of Thanksgiving favorites.
When Bayley and I were walking around the Magic Kingdom, I was able to snag a reservation about an hour after the lunch rush. I booked it via the app – and we walked around being lucky to meet Princess Jasmine and Aladdin, who are right around the corner from Liberty Square.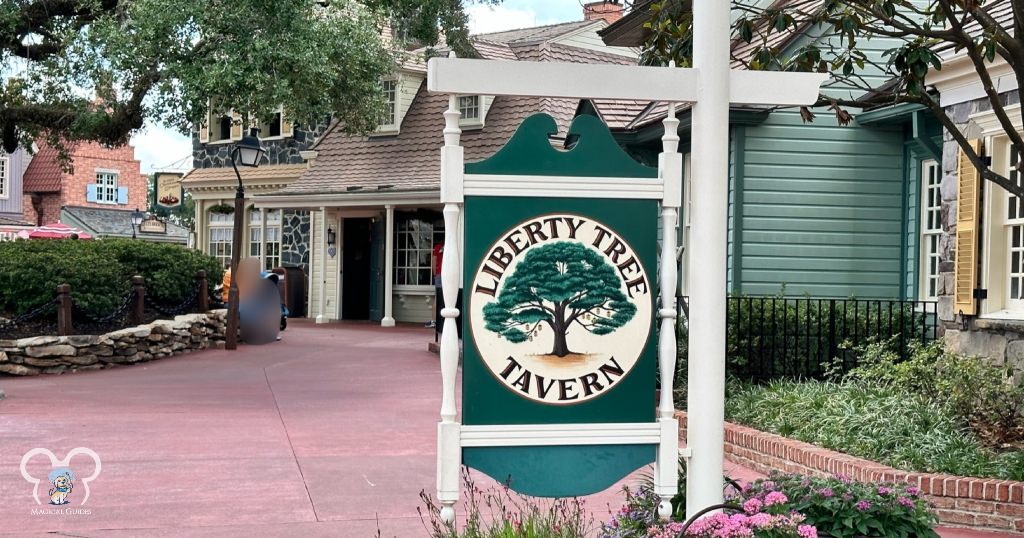 ---
What I cover in this article
---
Dining at Liberty Tree Tavern with allergies
When I book a reservation at any Disney restaurant, I mark that my wife, Bayley, has a food allergy. Since she has a sulfite intolerance, I usually click other. After we are seated, usually a chef comes out to discuss the options before we dine.
For Bayley, dining at Liberty Tree Tavern was a bit boring but safe. The chef cooked her a grilled chicken breast, mashed potatoes, and green beans. So you can tell her plate wasn't as exciting as mine. She was able to enjoy the dessert, and the best part was she didn't have any reaction. So Disney once again delivered the best experience for someone with allergies.
If someone in your party has a food allergy, I'd recommend marking it when you make your reservation. Don't be afraid to speak up, as it's never fun to have an episode when Disney happily accommodates guests with food allergies.
What is the theme of Liberty Tree Tavern?
Disney describes Liberty Tree Tavern as a "stately colonial-style inn."
This establishment is perfect for history buffs as there are six rooms, all themed to different figures in America's history. You can find a room inspired by Benjamin Franklin, Thomas Jefferson, John Paul Jones, Paul Revere, Betsy Ross, or George Washington.
If you don't get the room you hoped for, you can still walk through the. Restaurant to look at the different decorations and artifacts connected with these American figures.
What kind of food is at Liberty Tree Tavern?
At this Magic Kingdom table-service restaurant, you can find traditional meals that you might also see on a table at a traditional Thanksgiving dinner. They serve family-style food, so a large platter will be brought to you for everyone to help themselves.
It is all you care to eat, meaning you can ask for more of whatever you please—craving more mashed potatoes with gravy? Just ask your server, and they'll bring you another serving! Do your kids love mac and cheese? They can eat as much as they're able to!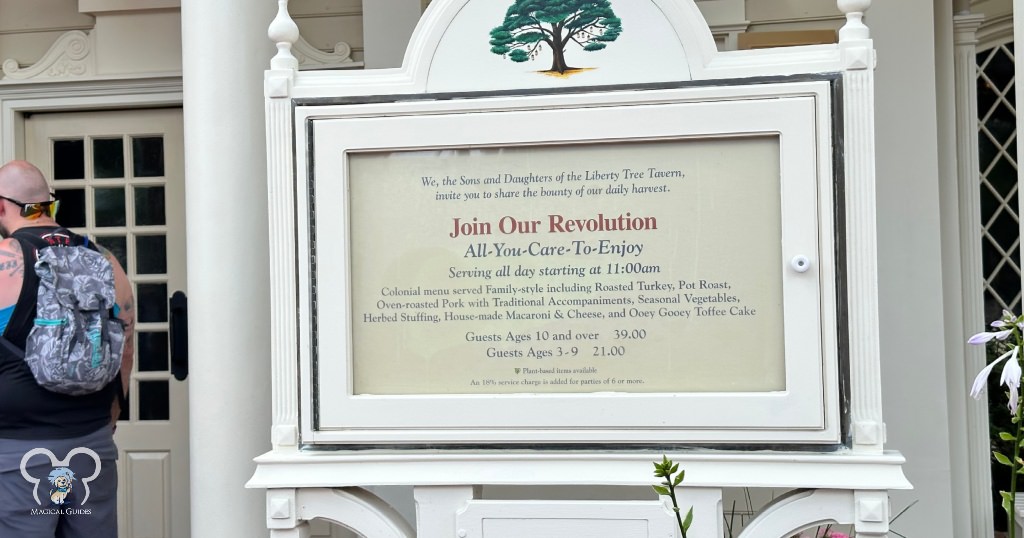 The main offering is the All-You-Care-to-Enjoy Bill of Fare. You start with a light declaration salad of house-made dressing over mixed greens with apples and cranberries before digging into the Patriot's Platter, which includes "roasted turkey, pot roast, and oven-roasted pork with mashed potatoes, seasonal vegetables, herbed stuffing, and house-made macaroni & cheese."
I thought the salad, turkey, mashed potatoes, mac and cheese, and stuffing was the best. I didn't care for the pot roast. See the trend; I enjoy carbs!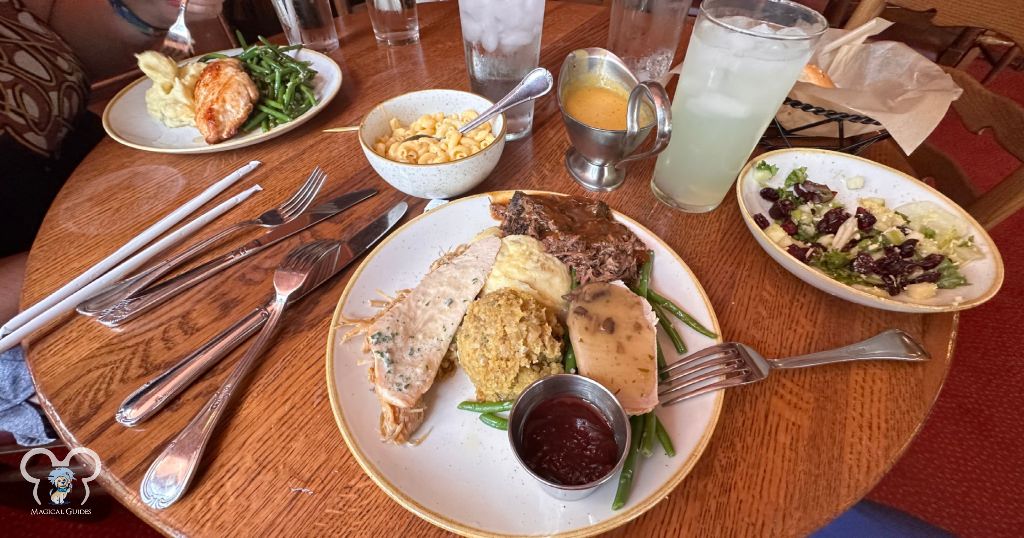 For those who are vegan or vegetarian, they also have a plant-based option that includes plant-based meatloaf and mashed potatoes with mushroom gravy.
Be sure to save room for dessert. Reviewers on Trip Advisor say that the oooey-gooey toffee cake is heavenly. It is served with cold vanilla ice cream, making it a perfect way to end your lunch or dinner. If that's not your thing, the plant-based menu offers Johnny Appleseed's Warm Apple Cake served with caramel and a whipped topping.
Disney is fantastic at ensuring people with allergies and dietary restrictions can enjoy themselves, so you can also ask for seasonal sorbet or an allergy-friendly cookie. From shellfish to peanut allergies, Disney wants to ensure you can enjoy every meal, so be sure to let them know what you can and cannot eat.
The price of your meal includes some beverages like fountain drinks and iced tea. For an additional cost, you can also order from various specialty cocktails, ciders, and beer. You can even pay $9.50 for a Tavern Punch, a frozen Dole Whip Lemon with Sprite.
I stuck with the diet lemonade for my beverage, which I think was the best option for the meal.
Are there characters at Liberty Tree Tavern?
Unfortunately, there are no characters available at Liberty Tree Tavern. On the bright side, it is slightly more affordable, as Disney World often charges more for character dining experiences. If you want dinner with Chip and Dale, this may not be your place.
Where is Liberty Tree Tavern in Magic Kingdom?
Liberty Tavern can be found in Liberty Square in the Magic Kingdom theme park. It is near the Diamond Horseshoe.
They are open from 11:00 AM to 7:00 PM, making it easy to find a reservation time that works for you.
What is the difference between Diamond Horseshoe and Liberty Tree Tavern?
Same food, just different time periods. 1700's vs 1800's.-Cast member at Liberty Tree Tavern
Both the Diamond Horseshoe and Liberty Tree are family-style restaurants with all-you-care-to-enjoy offerings. They also serve meals you would typically find at a Thanksgiving feast. In fact, you can order off the Liberty Tree Tavern menu while at Diamond Horseshoe!
It costs the same amount to eat at both of these restaurants, so you may be asking yourself: what's the difference? What makes one more preferable over the other?
For starters, the Diamond Horseshoe has a self-playing piano that guests may enjoy while they eat their Thanksgiving dinner.
Three hundred fifty-one guests on Trip Advisor gave the Diamond Horseshoe an average of 3.5. In comparison, 3,341 guests gave the Liberty Tree Tavern an average of 4, making the Tavern the seemingly more popular and enjoyable experience despite the identical menus and theming.
How much is Liberty Tree Tavern?
Since this restaurant is all-you-care-to-enjoy, it has a fixed price for all meals. You can expect to pay between $23-$42 per person.
How much is Liberty Tree Tavern lunch?
For lunch, Liberty Tree Tavern will cost you $23 per child and $42 per adult.
How much is Liberty Tree Tavern dinner?
Since the menu is the same for dinner, you'll pay the same price as during lunchtime: $23 for children and $42 for adults. If you're an annual passholder / DVC owner, you are offered a discount as well.
How much does it cost for a family of 4 to eat at Disney World?
It is no surprise that a Walt Disney World vacation can be expensive, especially for a family of 4. If eating at the Liberty Tree Tavern, a family can expect to pay at least $130 before gratuity. According to Disney Tourist Blog, it is not recommended to use your credits from the Disney Dining Plan at Liberty Tree Tavern because it is more affordable than other Disney restaurants.
If you still prefer to use your Disney Dining Plan at Liberty Tavern, it costs one table service credit per person.
Final Thoughts About Dining at Liberty Tree Tavern: Would I return?
Alright, I hope I've helped you determine if you should try Liberty Tree Tavern. With all the historical decorations and different rooms, you can dine in – who doesn't love delicious mashed potatoes with all the walking you will do at Disney World?
For the price of the buffet, the value is high. The quality of food is above average. I'm a bariatric patient, so I try to focus on getting my protein in daily. I also don't eat more than one plate unless I have 3-4 hours. So I find the value not in the quantity of the food, but the quality. I also didn't have to cook such a labor-intensive meal.
I apologize for not taking more photos. I was hungry for this review – so I focused on feeding myself. Should I return and get more photos for an updated review? Let me know your thoughts down below.