Traditionally the month of May schools all over the United States celebrate Teacher Appreciation Week. If your child has a teacher that you are looking to buy a gift for, whether for Teacher Appreciation Week or any other time, a Disney themed gift could be a great option! Teachers of all grade levels (but especially in Elementary level) love all things fun and whimsical and more often than not also are Disney lovers.
Is it normal to get your teacher a gift?
Yes! It is definitely normal to get your teacher a gift. However, the gift does not need to be anything too extravagant. Teachers just like to feel loved and appreciated for their hard work! Even just an appreciative card can be enough (bonus if it's a Disney card!).
This post is for anyone who knows their teacher is a Disney lover and you want to get them something Disney themed that they will love. It is not always easy to shop for people you don't know well on a personal level, so here is what I recommend for Disney teacher gifts.
First, I think it's important to note what Disney gift to avoid getting teachers this school year.
Disney gifts to avoid for teachers
A gift to avoid getting the teacher in your life are coffee cups. I know it seems like the easy choice to get them a Disney themed coffee cup because teachers notoriously love coffee, however they get so many coffee cups that they start piling up! Instead of a traditional Disney coffee cup, try to get something like a Disney tumbler cup with a closeable lid or a straw. These can be found on Amazon with all of your favorite Disney characters and movies. Cups like these are more versatile for teachers and can easily fit into a cup holder in the car. It's always a bonus when the teacher can use the gift outside of the classroom as well!
Try these options instead:
Disney gifts for teachers
Teachers are always writing little notes down everywhere. This Mickey notepad would be such a nice gift for a teacher who needs to remember a million little things each day. Why not remember them with a little gold Mickey in the corner!
Teachers need to lesson plan and what better way to plan than with a Disney themed teacher planner? Some teachers still prefer to lesson plan on paper, but some teachers prefer to use their computer to plan every week. It's a good idea to find out which method they use before buying a planner.
Another school related gift is a Disney themed lanyard! Teachers carry around their key and ID badge all day at school and this would be so perfect for a Disney loving teacher.
If you are a DIY kind of person, then you can create a Disney themed lanyard yourself! All you need it string, beads and the keychain pieces. Beads can be purchased on Amazon, Etsy and many other online retailers that sell craft supplies.
Here are our favorite Mickey and Minnie beads.
Teachers are always using hand sanitizer at school and a Disney hand sanitizer holder would be a great small gift for a teacher! You can get a more generic one with the Disney characters on it and this would be a great option if you know your teacher loves a certain Disney character or movie. Or, you could also get a more subtle looking one like the red one on the right below. Bonus on this one it comes with a Disney Chapstick holder!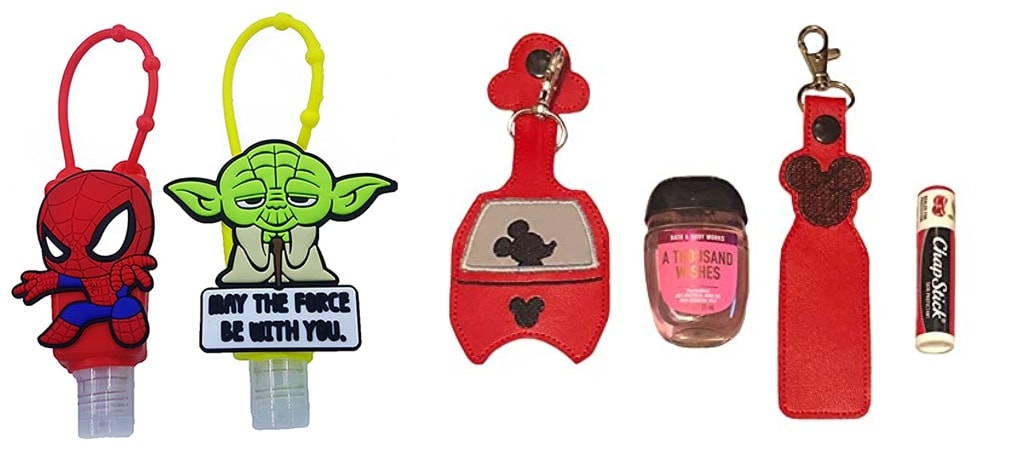 These items are great to take to the parks and you could even put a little park bag together for the teacher in your life. Read More: Everything You Need In Your Disney Park Bag
For an eco-friendly teacher, these reusable Disney silicone bags are great for bringing food to school. They can be cleaned and reused for the next day! Teachers typically bring food to work and sometimes those Tupperware containers get bulky! These are great too because they are pretty cheap (around $15 on Amazon) and are a thoughtful gift.
These candles are such a great gift for any Disney lover, including teachers! This company sells candles that smell just like certain places and attractions at Walt Disney World Parks. If you have a teacher who lives far away from the Disney parks, this would be a great way to give them a piece of the park they can enjoy at home. And such a calm relaxing gift too! This one is on Amazon, but I have seen other ones on Etsy as well. Ask your teacher what their favorite park is so you can get the best candle for them.
Teachers are undoubtably going through a hard time right now. Why not spoil them with a gift to help them relax after an exhausting school day? These Disney theme face masks are so cute and are such a nice gift for a teacher. You can search for specific characters, or even get this cool multi pack.
Whatever you decide to get your Disney loving teacher they will absolutely love! These are some ideas to help you give a gift that you know will be used. Here are some keywords you can search online to help you find some great Disney teacher gifts.
Disney gifts, Disney adult, Disney teacher gift, Disney office supplies, Disney school supplies, Disney apparel, Disney accessories, Disney housewares.