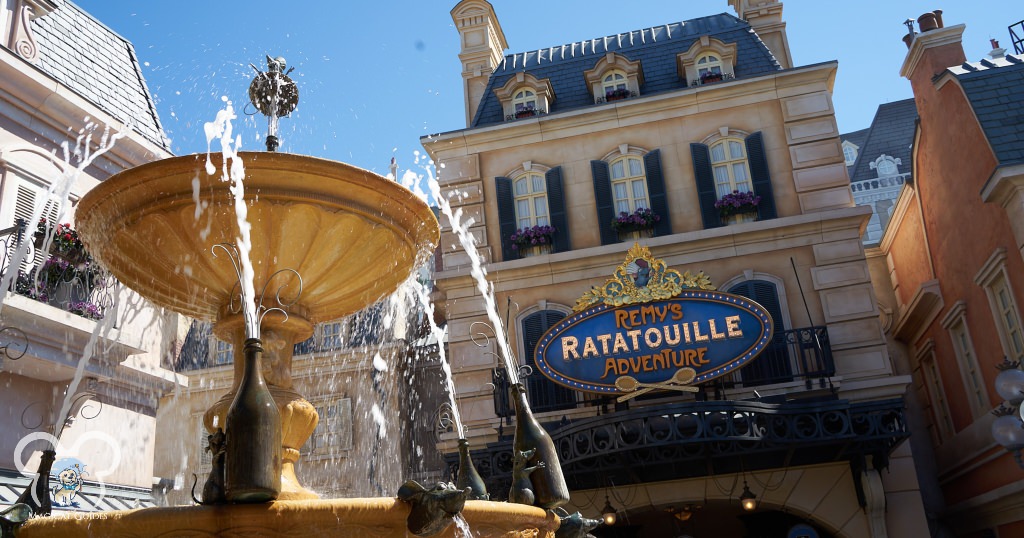 Even though EPCOT is split up into four sections, in my mind it is two sections. You have EPCOT's World Showcase and Spaceship Earth. Today we're going to discover more about this new ride and some of the fun facts about the creation of Remy's Ratatouille Adventure.
If it's your first time riding Remy's Ratatouille Adventure and it's a must attraction, you best pack extra patience. I've seen standby line wrap almost to the entrance of EPCOT's France Pavilion.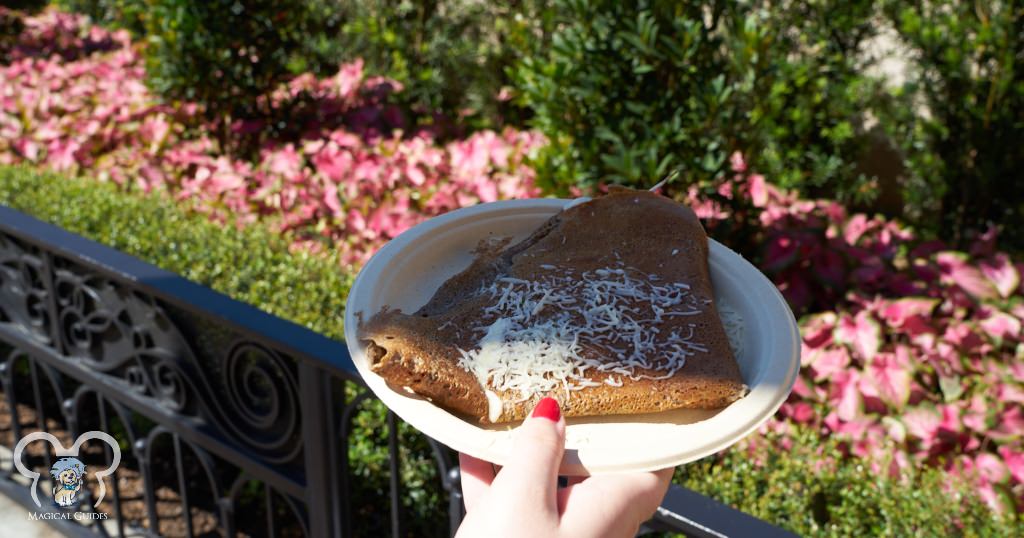 This new addition to the France pavilion adds a bathroom, quick service crepe stand, and a table service restaurant. I've tried both sweet and savory crepes from Crêpes À Emporter by La Crêperie de Paris. I prefer the sweet crepes while waiting to pass time in the standby queue.
Where is Remy's Ratatouille Adventure Located?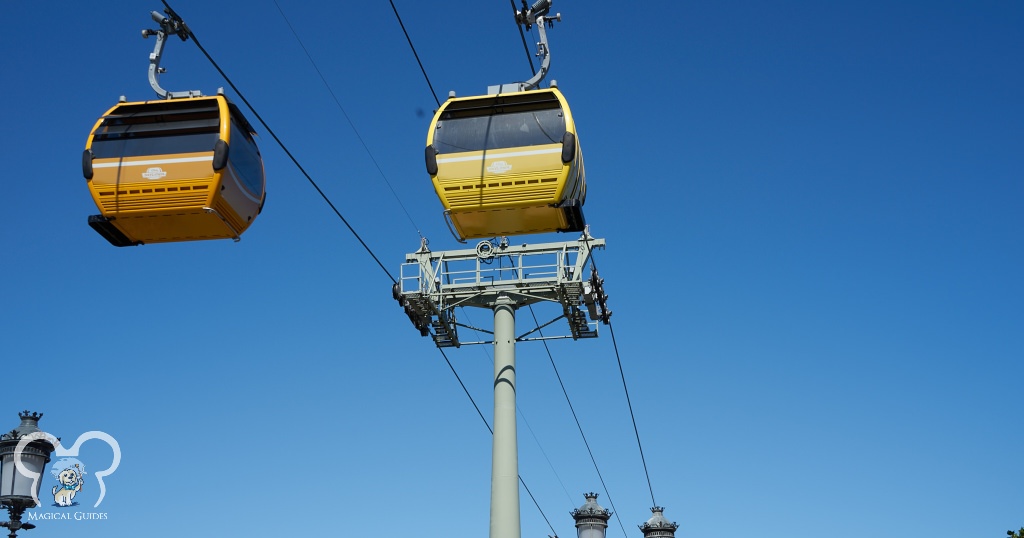 You can find the EPCOT version towards the back of the France pavilion. EPCOT has two entrances to the park.
The main entrance and International Gateway. If you are arriving by bus, car, or Monorail you will enter via the Main Entrance.
If you come to EPCOT by walking, boat, or Skyliner you'll come into the International Gateway entrance.
Does Ratatouille have a single rider line?
As of 2023, there is no offering of a single rider line for Remy's Ratatouille Adventure ride. If you were hoping to skip the long lines you will have to use Disney Genie plus or rope drop EPCOT.
Is the Ratatouille ride fast?
This trackless ride system is quick and has sudden movements. There are no drops are on the ride. This is a family-friendly attraction, and good for all ages. Even if you're an expected mother you can ride easy as there are no pregnant advisory warnings.
What kind of seat does the Ratatouille ride have?
The trackless ride vehicles first were equipped with seats with built-in dividers. Disney has since updated the vehicles with a bench seat. This makes it easier for larger guests, and those with mobility concerns. This also allows Disney to put more than 3 people per row.
When does the Ratatouille ride open?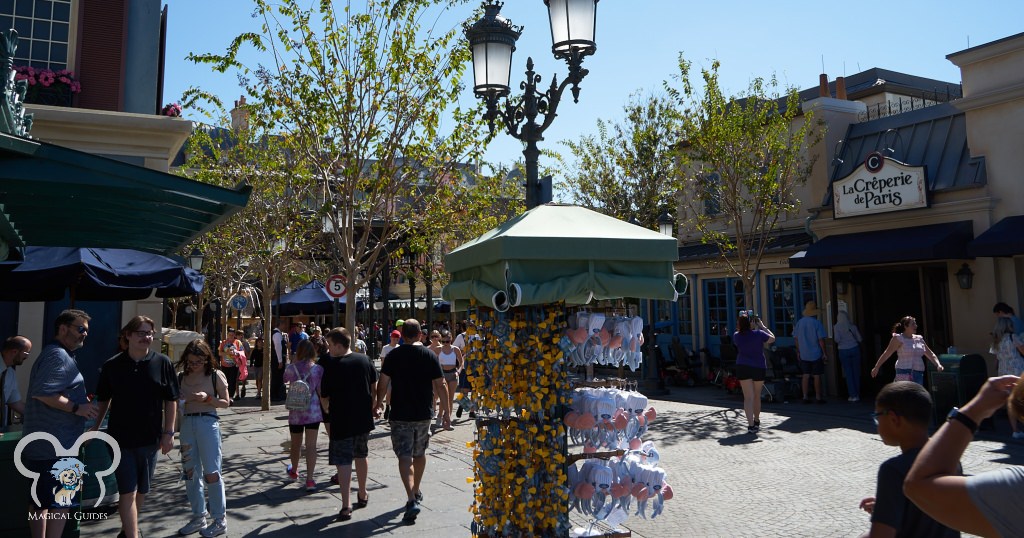 To kick off Walt Disney World's 50th anniversary the newest attraction in the France Pavillion opened on October 1st, 2021.
Transported Over From Disneyland Paris
If you've been lucky enough to visit Disneyland Paris before, you might already have been on Ratatouille: L'Aventure Totalement Toquée de Rémy. The attraction is like the one in Paris, with some changes to the entryway and queue line.
One thing that is missing from the Orlando version is the Bistrot Chez Remy. Which is one of our favorite table service restaurants in the Paris parks.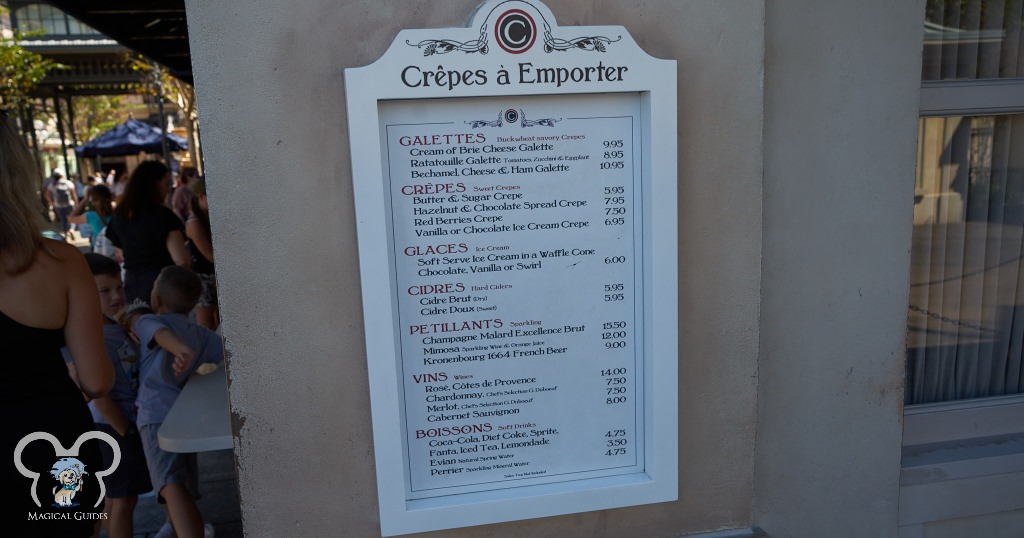 The good news is that Epcot received a new crepe restaurant at the same time as the ride. I am always to have some new snacks to try after riding Remy's Ratatouille Adventure.
You'll feel like you've been transported to Paris for the day when you enter this part of the park. This makes for a welcome expansion of the France pavilion.
A 3-D Adventure
One of the things you might not know about the ride is that it requires you to wear 3-D glasses to ride. You'll "shrink down" to the size of a rat as you enter the queue, and you'll find that the 3-D elements help to bring the ride to life even more.
I love how varied this attraction is, thanks to the larger-than-life scenes and 3D movie elements. You will experience a light spray of water, and even feel the heat of an oven!
Kids and adults alike will always notice new things each time they ride, making it an attraction you won't want to miss on each visit to Epcot.
Is Remy's Ratatouille Adventure a Trackless Dark Ride?
Trackless rides aren't new to Disney parks, but the Orlando them are only starting to benefit from this technology in recent years. You'll travel around Paris in a trackless ride vehicle, which is shaped like an adorable rat from the movie.
There's no track to be seen on the ground, so you'll spend the whole journey wondering how you are moving. It's an incredible technology that we are starting to see in more rides, and it allows you and your fellow rats to glide along your journey in a smooth ride.
Remy's Rataouille Adventure has similarities to other rides in Disney's Hollywood Studios. Mickey & Minnie's Runaway Railway and Star Wars: Rise of the Resistance are also trackless attractions. This is another example of the advancements the Walt Disney Imagineering have made over the years.
Virtual Queue is no more for the Ratatouille Ride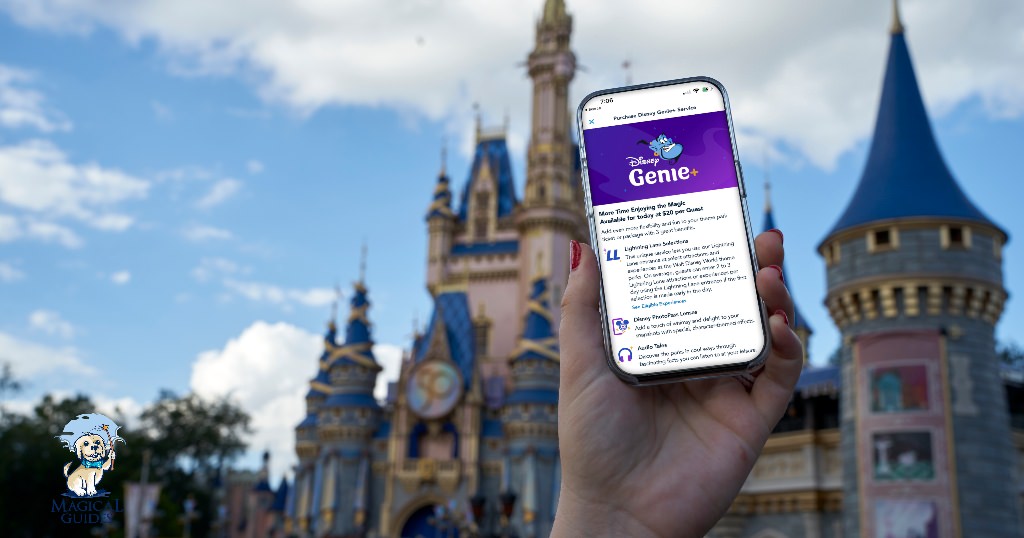 When Star Wars: Rise of the Resistance first opened, it used the virtual queue system. This was passed over to Remy's Ratatouille Adventure. So you previously had to be up at 7 am each morning with a valid park ticket and park reservation in order to be eligible for this.
Thankfully the virtual queue is now only reserved for Guardians of the Galaxy Cosmic Rewind. You do have a few options if you're looking to ride this highly themed attraction.
Join the Lightning Lane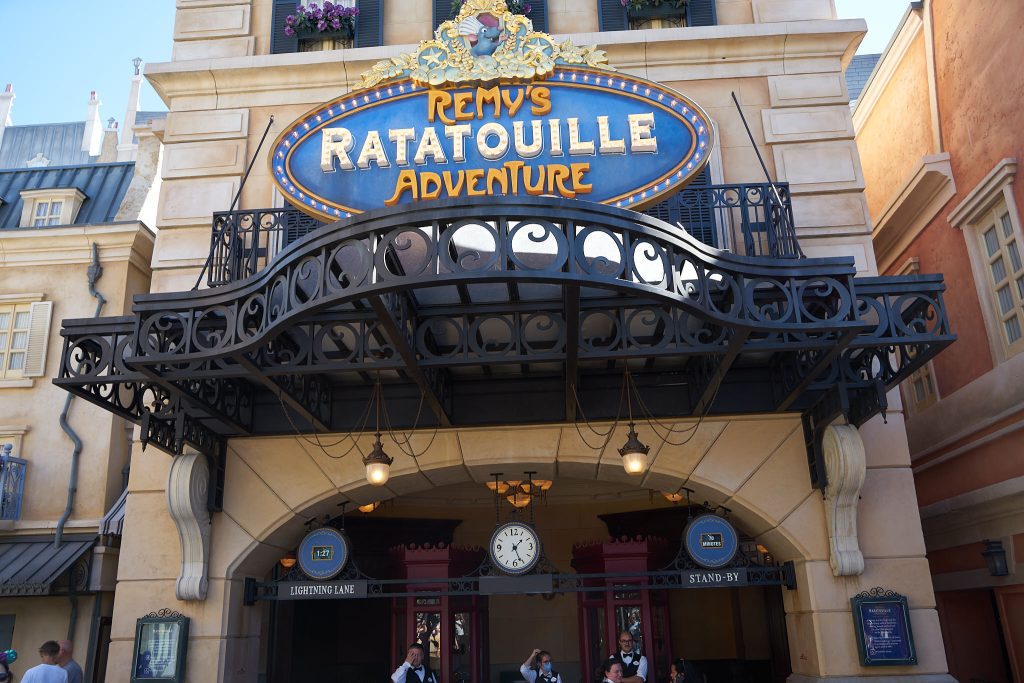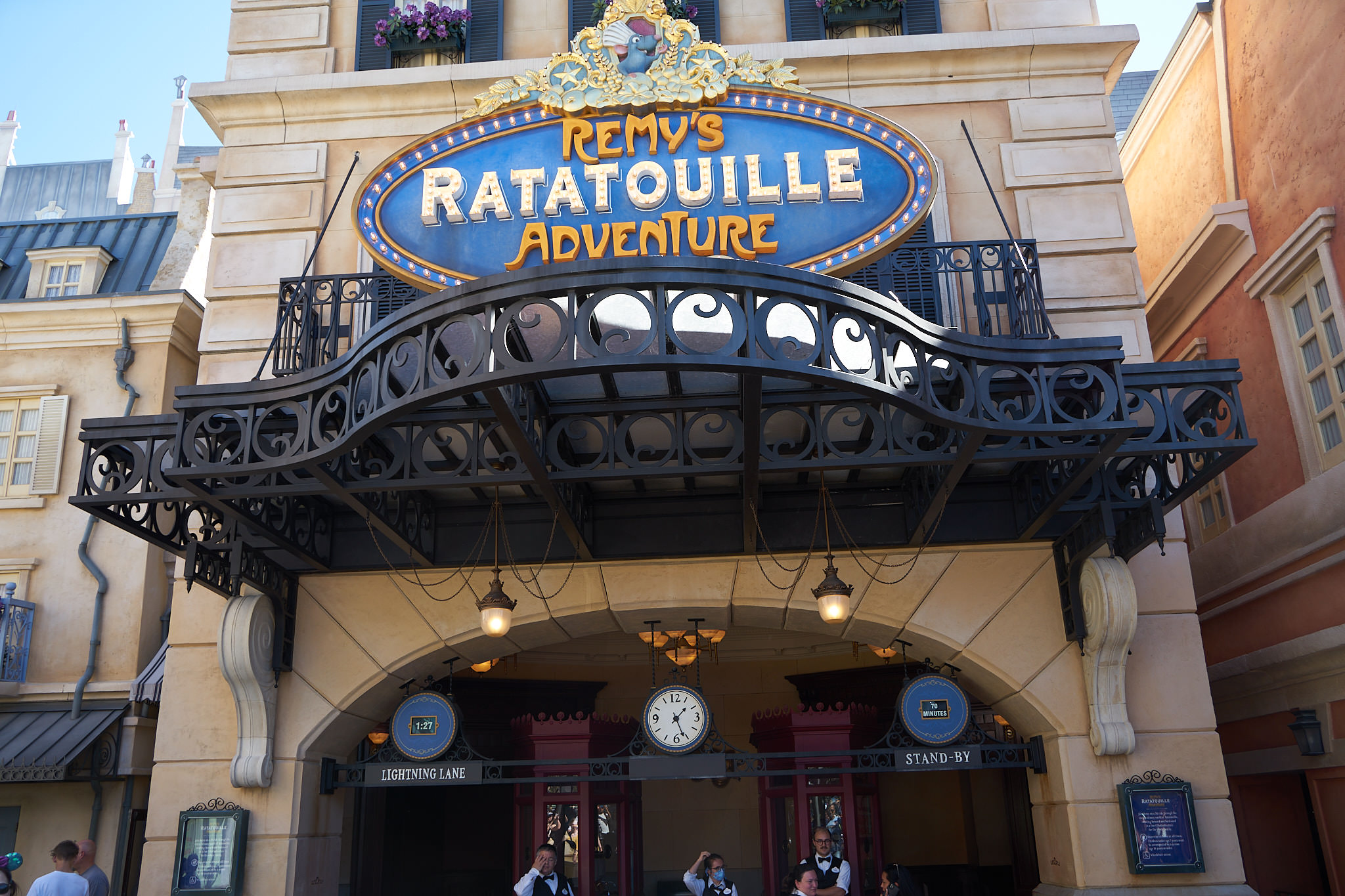 Another way to ride is via the Lightning Lane. This is a paid way to guarantee a ride, but it's part of the Genie+ set of attractions.
We recommend you take the time to research the Genie+ included options.
Rider Switch
This new attraction also benefits from the popular Rider Switch option for those with kids. Even if your child or someone else in your party is not able to ride, you'll be able to use this feature without having to queue up twice.
New Food Options in the France Pavilion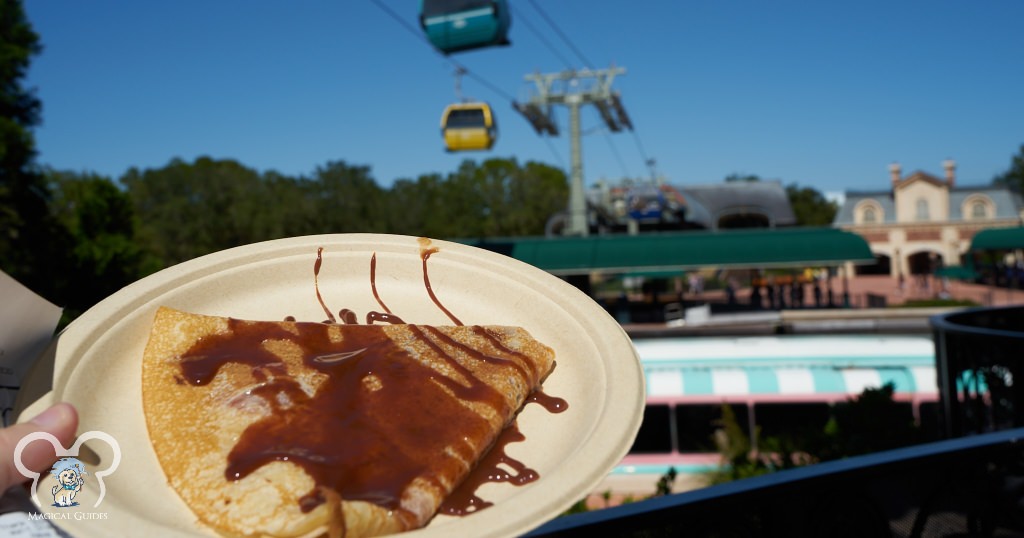 While Remy's Ratatouille Adventure is the main draw in this part of the park. I am excited to see the addition of the La Crêperie de Paris. It's located as you are about to enter the Remy's Ratatouille Adventure line.
It offers both a table service restaurant and a quick-service window. The menu features both sweet and savory options, and it's an excellent place to snack if you are waiting in the long lines.
A Huge Expansion to the Park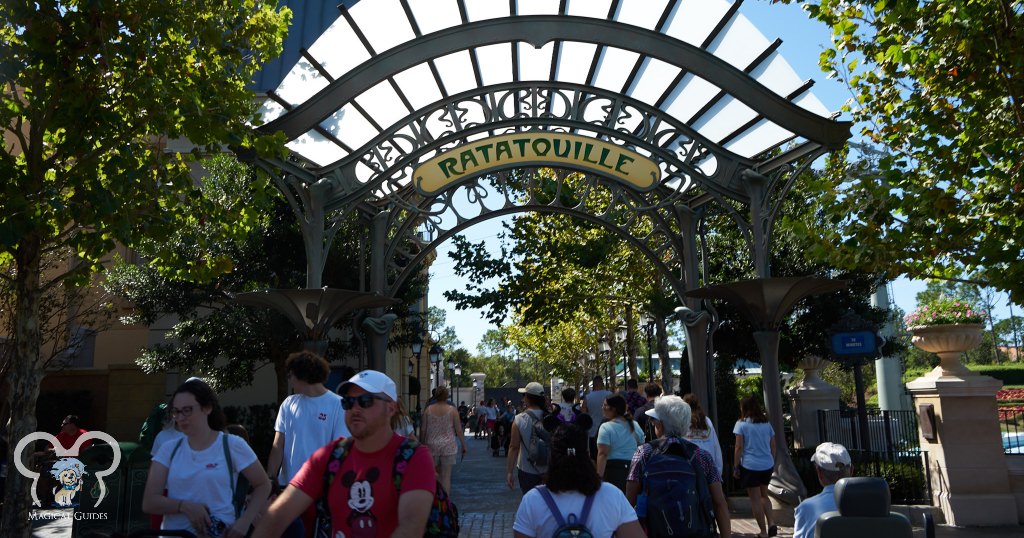 If you've been on the Disney Skyliner recently, you'll know how much of an expansion to the park this area is. It's located behind the other parts of the France pavilion, and it's the start of Epcot's renovations.
A couple of years ago, at the last D23 Expo, the company announced a whole host of new attractions that would be coming to Epcot. This is one of the first to be brought to life, and we can't wait to see how much more the park changes in the next few years.
Some people are unhappy to see more Disney characters in the parks. It's a great way for children and families to be exposed to the countries they are visiting.
No Height Requirement
While the Rider Switch option is still on offer, you might be surprised to learn there is no height or age restriction on this ride. That means even the youngest of kids can ride, like in the Paris counterpart.
I would recommend researching the ride first before taking infants onto it. It's quite dark at points, and there are some loud noises in some of the 3-D scenes.
The trackless vehicles move and rotate around the attraction. You might find that your little ones struggle with this motion.
They also are unlikely to be able to keep the 3-D glasses on, or this may cause them to feel motion sickness. For anyone who does feel motion sickness, you might find the 3D part of the ride aggravates this.
Meet the Characters in the Ride
For those of you who are familiar with Disney Pixar's Ratatouille, you'll see many of your favorite characters in this attraction. Of course, Remy is the star of the show. You'll also see Alfredo Linguini, Emile, Colette, Auguste Gusteau, and many more.
Keep your eyes peeled throughout the attraction for hidden references to the movie, which can be found in almost every scene.
There's a lot to look forward to when riding Remy's Ratatouille Adventure. Don't forget if you're staying at one of the hotels on the Walt Disney World Resort to consider early entry offered.
You can avoid paying for lightning lanes if you get to the theme park as early as you can. This will also minimize your wait time.
So what do you think about the Disney World Ratatouille ride? How do you like