One of the most popular times of the year to bring your family to Walt Disney World is during the month of July. With kids off from school for the summer, there's no better time to head on a summer vacation. 4th July is one of the biggest celebrations of the year at the resort and draws in a huge number of both locals and visitors. Keep reading to discover everything you need to know about planning a trip to Walt Disney World for July this year.
Read Also: 4th of July at Walt Disney World
Special Events in July 2022 at Walt Disney World
Epcot International Flower & Garden Festival – Enjoy the last couple of days of this festival, which runs through to July 4th this year. This is the perfect chance to revisit any of your favorite topiaries or food stands or enjoy the festival for the first time.
Read Also: What to know for EPCOT's Flower & Garden Festival 2022
Epcot International Food & Wine Festival –While Disney has yet to release their dates for the 2022 festival, based on the past years, there's a strong chance this will start in mid-July. This means that guests visiting this month have the choice of two of the best events that Disney puts on throughout the year. We can't wait to see what new food booths Disney has lined up for the year when this festival returns.
Also Read: The Ultimate Guide To The EPCOT Food And Wine Festival
Typhoon Lagoon's H2O After Hours Glow Party – The H20 after hours glow party is back for 2022, and will allow you to experience Typhoon Lagoon starting at 6pm until 11pm. The normal Disney snacks of popcorn and ice cream are included, but don't start until 8pm officially. You will experience shorter lines for rides, have multiple DJ's giving the whole park a beat that will keep you dancing as you enjoy the water park.
Read Also: Is The H2O After Hours Glow Party Worth It?
The Weather at Walt Disney World in July
July is hot, hot, hot in Orlando, so make sure you plan your park days accordingly. The average high is 92 degrees, and the average low is 72 degrees. You are unlikely to get a chilly day this month, so focus on packing summer clothing. Make sure you set aside time in your plans to rest and swim, as you'll find it incredibly tough to tour the parks from morning to night. This month sees up to 13 days of rain, and it's normal to experience a mid-afternoon downpour. Pack a poncho or light rain jacket in case of rain so that you can continue touring the parks as usual.
Read Also: Dealing with Rain at Disney World
The Pros and Cons of Visiting Walt Disney World in July
Many families visit the parks each year in July, primarily due to the time off kids have from school. These are a few of the benefits and drawbacks of a July visit.
Pros of a July Disney Trip
Hot Summer Weather – For anyone looking to escape a cooler climate, you'll love the hot weather during the summer months. Factor in plenty of breaks and swimming time, and you'll find this is a great time to visit for a summer vacation.
Epcot Festivals – There's a strong chance that this month will see both the Food & Wine and Flower & Garden festivals, making it one of the best times to visit Epcot.
Long Park Hours – To make up for the higher crowds, July has some of the longest park hours of the year. Particularly during the 4th July weekend, expect late nights in the Magic Kingdom for all guests.
Cons of a July Disney Trip
Crowd Levels – July is an incredibly popular time of the year to visit. Make sure you book your resorts now to avoid missing out on somewhere you want to stay. If you are looking to sit down each day for a table service meal, reserve these at the 60-day mark before your trip.
The Heat – Orlando is incredibly hot in July, which makes touring the parks tough on everyone in your travel party. We recommend factoring in long afternoon breaks or a day at the water parks to keep everyone happy and healthy during your trip.
Holidays in July 2022 at Walt Disney World
4th July – The biggest celebration this month comes on 4th July. While the past couple of years have been a little different due to pandemic, we imagine Disney will return to their usual festivities this year. Expect special fireworks in the Magic Kingdom on the 4th of July, with a preview on offer the night before. There are usually special dining menus and snacks on offer too, making it a great time to visit the parks. Keep in mind that a lot of locals will also visit during this time, meaning you'll need to book your park reservations in advance for the Magic Kingdom or Epcot.
Operating Hours for July 2022
July is a busy month for all of the parks. Expect the park hours to be longer than at other times of the year, but this is needed to make up for the crowds. If you are staying at a Disney resort, use the morning half-hour early entry to get ahead of the crowds. You'll also want to look into Genie+ and Lightning Lane during this month, which can make touring the parks a little more pleasant. Try to focus on getting to the parks for opening time and then taking an afternoon break to escape the crowds and heat. While Disney is yet to confirm the month's opening hours, we expect they will be something like the hours suggested below.
Magic Kingdom – 9 am to 9 pm, 10 pm or later
Epcot – 9 am or 10 am to 9 pm
Disney's Hollywood Studios – 9 am to 9 pm
Disney's Animal Kingdom – 9 am to 8 pm and later
Water Parks – Typhoon Lagoon is open each day from 10 am to 5 pm. Blizzard Beach is currently under refurbishment, so don't expect it to be open anytime soon. (update June 2022)
Disney Springs – 10 am to 11 pm
What to wear in July at Disney World
As we mentioned in the weather section of this piece, it's going to be warm in July. So you will want to lighter clothing, no winter jackets, you're in Florida! It is tempting to pack only shorts for your trip, and if you're only going for 3 or fewer nights, I think you could get away with just packing shorts. Any more nights than that, and you might want to pack 1 or 2 pair of lightweight pants, particularly if you are going to enjoy a signature restaurant.
Shirt wise, ladies please do not pack only thin spaghetti straps. Enjoy tanning those shoulders, and wear them with regularly applied sunscreen, but give your skin a break and back those matching Disney family t-shirts you've been dying to wear and take photos in!
Don't forget your bathing suit! One of the perks of going in July is that's the hot enough for perfect pool weather. In the afternoons be aware it can storm, but usually it's not for long. Be sure your bathing suit is family friendly, and comfortable.
What to pack if your going to Disney World in July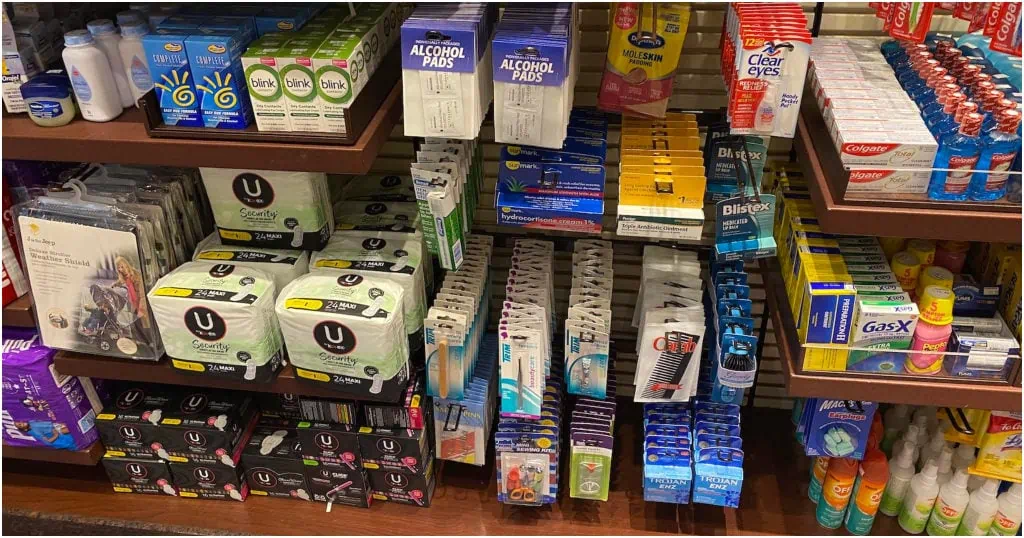 Do not forget to pack and apply sun screen often if you're going to be at Disney World. We would recommend a bare minimum of SPF 30 for your sunscreen protection. If you forget your sunscreen, most resorts will have a store that will have sundries you can purchase. You also have the option to get items delivered from the grocery store or Walmart directly to your hotel. I'll link below the information you need when doing so.
Read Also: Grocery Delivery at Disney World; How to get groceries delivered
Don't forget to pack your favorite pair of sunglasses, and hat as well. Sun screen is a necessity, but what about your scalp and your eyes? Do not forget them, and trust me when I say having a sun burnt scalp trying to apply aloe to, it's not fun to do at night – and can ruin the rest of your trip. So my recommendations is bring a hat, and sunglasses that offer polarization.
I'm a fan of Shady Ray sunglasses, as they donate 1 meal with each order, they are quality glasses at reasonable prices, and even will replace them if you lose them when you don't remember to take them off during Rock 'n' Roller Coaster. That might have happened once or twice to me, and the customer service replacements are quick, and painless.
Read Also: How Fast Is Rock 'n' Roller In Disney World?
July is a great time to escape your everyday life and head down to Orlando for a family vacation. Make sure you book your resort reservations now if you are planning to visit, especially for the 4th of July celebrations. When visiting in July, try to plan breaks each day to make your touring plans a little more enjoyable. By pacing yourself and taking regular breaks, you'll find that you can make the most of a Disney trip during even one of the hottest months of the year.