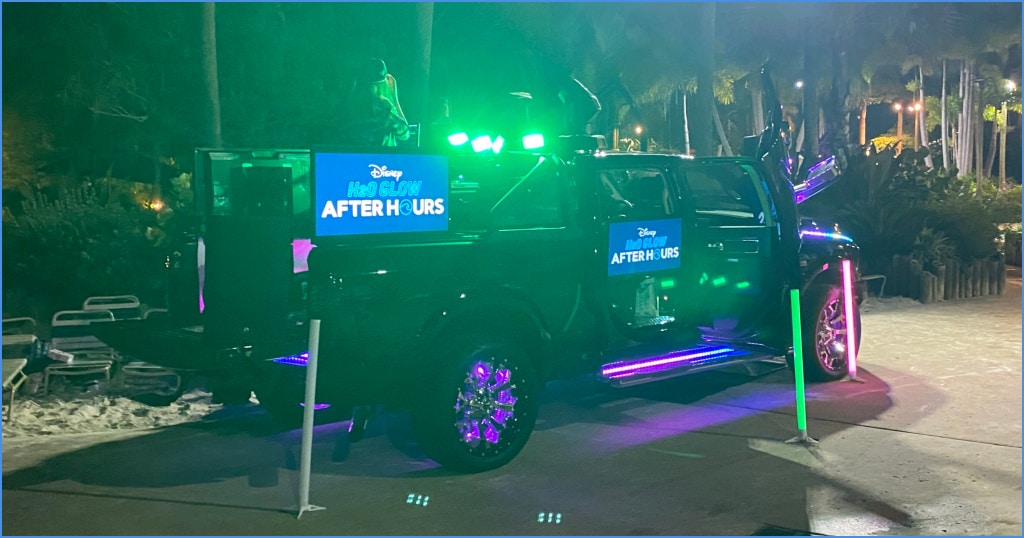 If you enjoy shorter waits for attractions, cooler temperatures, and all you care to enjoy Disney ice cream, you should consider attending these events hosted at Disney's Typhoon Lagoon. Cost wise, you won't save any money over a normal ticket, but you can avoid the hottest part of the day, and use that time at a park, especially if you enjoy rope drop at one of the other four parks.
Read Also: Guide To Rope Dropping EPCOT In Disney World
We found that the team turned the soda fountains at 6PM when we entered the parks, so we were able to grab a some Coke Zero before heading to our first raft ride. Keep that in mind, if you're a soda drinker, or need a little caffeine pick me up for this party.
If you're willing to make the climb to the tallest rides, you will have little to no wait. We rode Humunga Kowabunga probably 8 different times, and didn't wait longer than 30 seconds. Particularly as the night wore on, the lines for these were extremely short. I knew my legs would feel all the stairs I climbed the next day.
What are the dates for the H2O Glow Party at Typhoon Lagoon?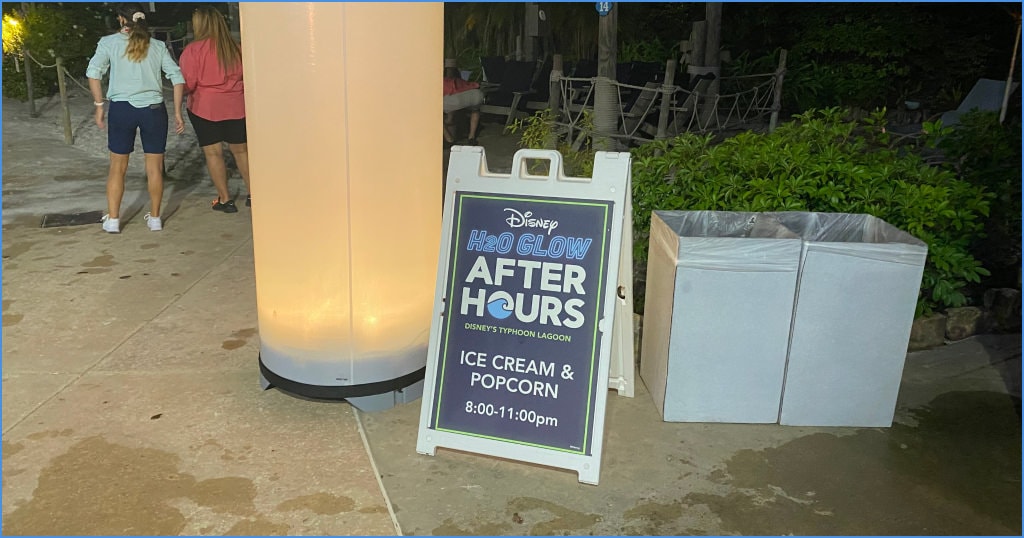 Each party starts officially at 8PM, and ends at 11PM. You are able to get into Typhoon Lagoon at 6PM, but the unlimited snacks do not start until 8PM. My friend had his hand smacked away for trying to grab a box of popcorn before the official time, quite entertaining.
Read Also: Everything You Need to Know About Typhoon Lagoon
Each party is held on Saturday evening during the Summer. So if you're looking for a good time during the weekend, be sure to book your ticket in advance, as they are limited ticket sales. So far we haven't seen any dates being completely sold out.
May: 28
June: 4, 11, 18, 25
July: 2, 9, 16, 23,30
August: 6, 13, 20, 27
How do you get to the Typhoon Lagoon H20 Glow Party? (transportation)
If you're looking for a free option and you're staying on Disney property, you will take the bus from your resort to Disney Springs, transferring to a second bus to Typhoon Lagoon. The bus will also pick you up from Typhoon Lagoon in the same spot, and drop you back off at Disney Springs to take you back. Don't worry the buses will get you back after the party ends at 11pm.
You can Uber or Lyft to and from the parks, but I would be hesitant to take one when leaving the party. We were still a little damp after the party, and I would hate to get into someone's car and be charged $150 fee over any water or whatever damage might occur.
What is the cost to attend the H20 Glow Party?
To attend the party for anyone 10 and up, it's $75 plus tax. If you're little one wants to come along it will cost you $70 for their ticket.
If you have an Annual Pass or any other discounts, be sure to use be logged in when you go to purchase. Since we are annual passholders we were able to secure tickets for $62 each including tax. While that isn't much savings, that would be the cost of a drink or a hotdog we would purchase at the event.
Read Also: When Will Disney World Sell Annual Passes Again
Is there special food you can order during the H2O After Hours Event?
Disney is going to try to lure you in with different types of food, so we do not suggest eating before attending the event. Sure they will have your favorite Disney ice cream treats, but they also offer unique food as well. We love sharing food, so it's rare that only one person will eat on something, as it allows us to try more delicious Disney snacks, and save money while at Disney World.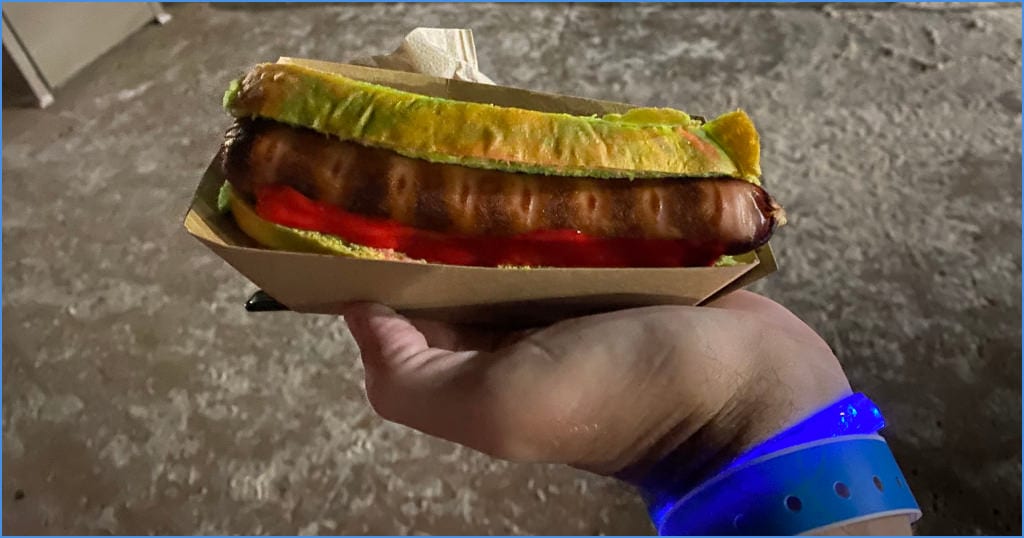 One of the items we tried was Sahlen's Glow Dog Glow: Sahlen's Grilled for You Smokehouse Pork and Beef Hot Dog covered in party cheese on a tie-dye bun. The red dyed cheese, didn't have any taste, and it surely didn't add to the hotdog. For almost $10, we suggest avoiding this.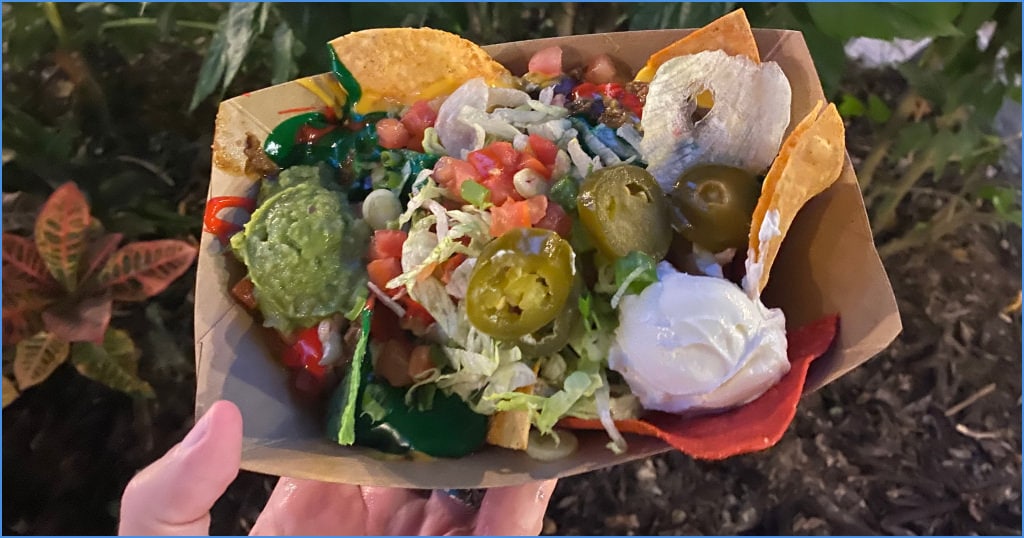 If you make the trek to Typhoon Tilly's they offered a nachos similar to the offering during the day, but with dyed cheese along with Walt's Chili. Sharing nachos with friends at the ultimate pool party in Disney World, just felt right, and topped with pickled jalapeños gave just enough kick for us to have a contest to see who could stop the furthest at the bottom of Humunga Kowabunga water slide (sadly I didn't win).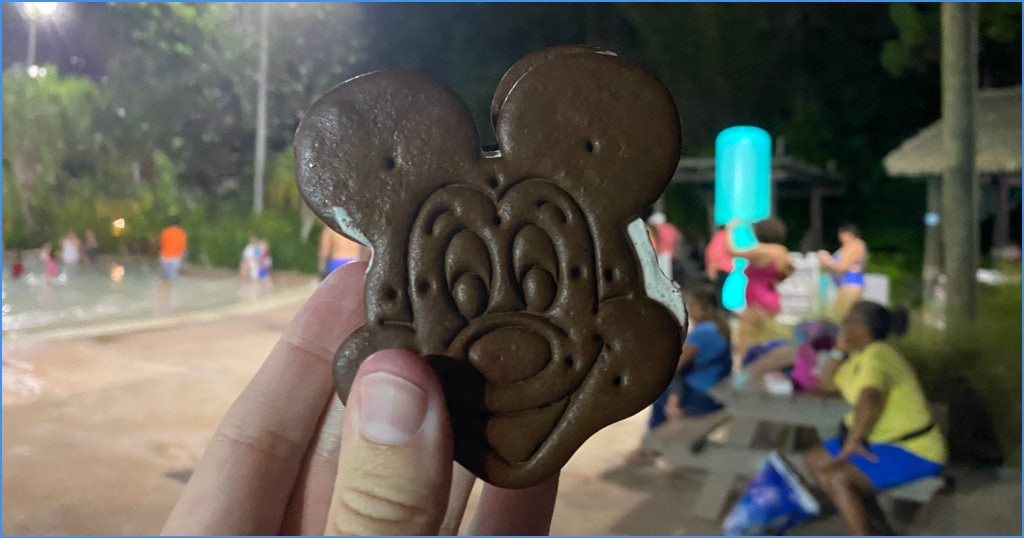 The real winner was the unlimited all I cared to enjoy cookies and cream ice cream sandwiches that I would grab as we walked around the park looking for our next contest.
Do you have to bring your own towels for the H2O After Hours Party?
We do not recommend bringing your own towels, or the hotel towels for the H2O After Hours event.
Usually if you're staying off site, and enjoy the day at Typhoon Lagoon, you rent towels from the main area. However if you're there for the party, there is no additional charge for towels, and we'd recommend getting 2 towels per person, as they are smaller than your normal hotel towels, and you can dispose of them a lot easier as they get wet, instead of having to make the trek near the front of the loop to get more.
Final thoughts on attending the H2O Glow After Hours Party
We attended the H2O Glow After Hours without kids, so overall we had a care free time without concern for rider height, or staying up past our bed time. We also were able to enjoy some of the adult beverages that Typhoon Lagoon offered, which I think were very good. So attending it as a night out with friends, as adults, I'd highly recommend this party to you.
Read Also: The Best Places to Find Disney's Dole Whip and Recipe
Would I attend the After Hours party with young kids or toddlers? I don't believe I would attend the party. Here's why, the darkness adds a different element, an almost chill feeling to the evening where they might want to conk out early, and you wouldn't get your money's worth.
Would I attend the After Hours party with older teens? I think they'd love it. There's definitely a younger feel in the atmosphere, even though as the night wore on they were playing more throw back songs that appealed to the 30+ crowd. Not to mention the flash glow bracelet they give you as you walk in.