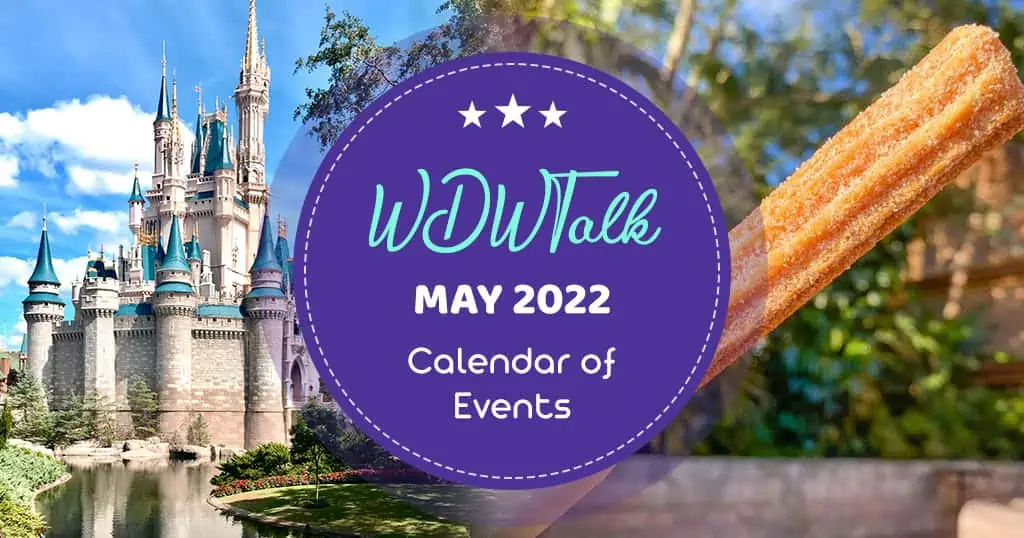 May is one of the best times of year for anyone looking to plan a trip to Walt Disney World. You'll enjoy near-perfect weather, lower crowds, and the chance to plan a little bit less for your trip.
Today we're going to discover what you can expect from a trip in May 2023. If you haven't booked your vacation for May yet, we highly recommend looking at resort and dining reservations as soon as possible.
The more you can plan in advance for your upcoming trip, the more you'll get out of your vacation to Walt Disney World this year.
Is May A Good Month To Go To Disney World?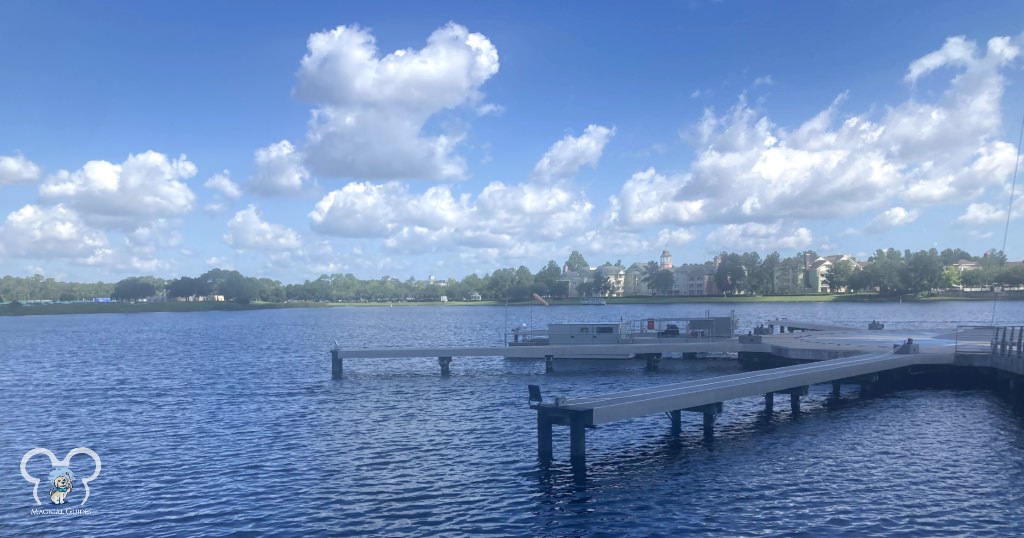 While May is generally a great month to visit the parks, there are of course pros and cons to any time of the year. Let's take a look at what you can expect from your upcoming May Disney vacation.
Pros of a May Disney Trip
Great Weather – May's weather is some of the best of the whole year in Orlando. You'll experience minimal rain, high temperatures, and lower humidity than in the upcoming summer months.
International Flower & Garden Festival – You can enjoy this festival while visiting EPCOT at any time in May to take part in the festivities.
Less Planning Needed – Compared to other times of the year, you can go with the flow a little more on a May trip. You won't have to worry quite as much about securing your park and dining reservations. We still recommend booking as far ahead as possible. If you're considering using Genie+, check out our guide on how to make your trip even better.
Lower Crowd Levels – With very few holidays or special events in May, the crowd levels are some of the lowest of the whole year. You'll find that this makes touring the parks easier. There are also some great deals on hotels at this time, making a trip to Disney a little more affordable. If you're looking to save even more money on your next Disney Vacation, consider Rope Drop at Hollywood Studios to get on your must do rides.
Cons of a May Disney Trip
Love Bugs – If you've never visited at this time of the year before, you'll find the love bugs to be particularly annoying. Their season lasts about four weeks but usually falls over a good amount of May.
Hot Weather – I love the Central Florida warm weather that's perfect for pool days and water parks. It can be too hot in the Disney parks for some though not at hot as the summer months. If cooler weather is the most important thing to you, you may want to try January, February, March or April instead.
How Busy Is Disney World In May?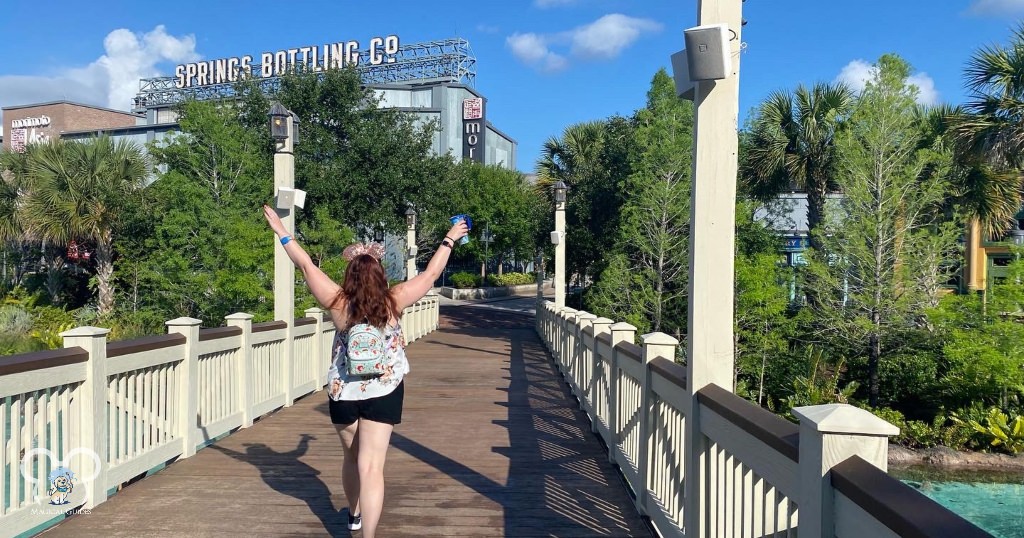 The beginning of the month and mid May aren't typically busy as kids are still in school. There are usually low or moderate crowd levels at the beginning of the month until the end.
The end of May starts the busy summer season as schools start to end and families start their summer traveling adventures. Memorial Day weekend is a busy and popular time for a Disney World trip.
There really aren't any months with no crowds anymore. You can expect a fair amount of people to be in the parks at any time of the year. You can find times that are better for your Disney World Vacation though.
What Are The Special Events At Disney World In May?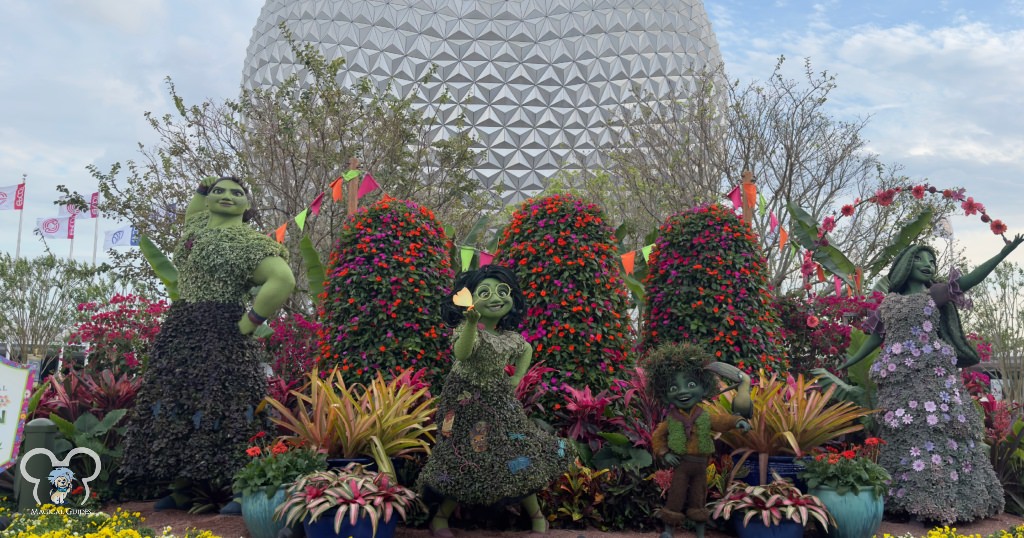 Epcot International Flower & Garden Festival – At this point, the Epcot International Flower & Garden Festival has been in full bloom for the past two months. If you are visiting the parks for the first time this year, you'll love seeing Epcot decorated for this festival. It's one of the most beautiful times of the year to visit the parks, and you'll enjoy dining around the world from the Outdoor Kitchens. Be sure to read up on our Flower and Garden Festival Guide – so you know how to plan your trip. This is my favorite EPCOT festival to visit at Disney World.
Star Wars Day – While the events for this occasion vary from year to year, it's a fun time to celebrate May the 4th in Disney's Hollywood Studios. Especially with the recent addition of Star Wars: Galaxy's Edge, we expect crowd levels to be higher on this day with Star Wars fans from around the world.
Cinco De Mayo – This holiday won't bring heavy crowds to all of the Disney Theme Parks either, but EPCOT may be busier than usual. The Mexico Pavilion may be much busier than normal as this is a good time to get a Margarita.
Holidays in May at Walt Disney World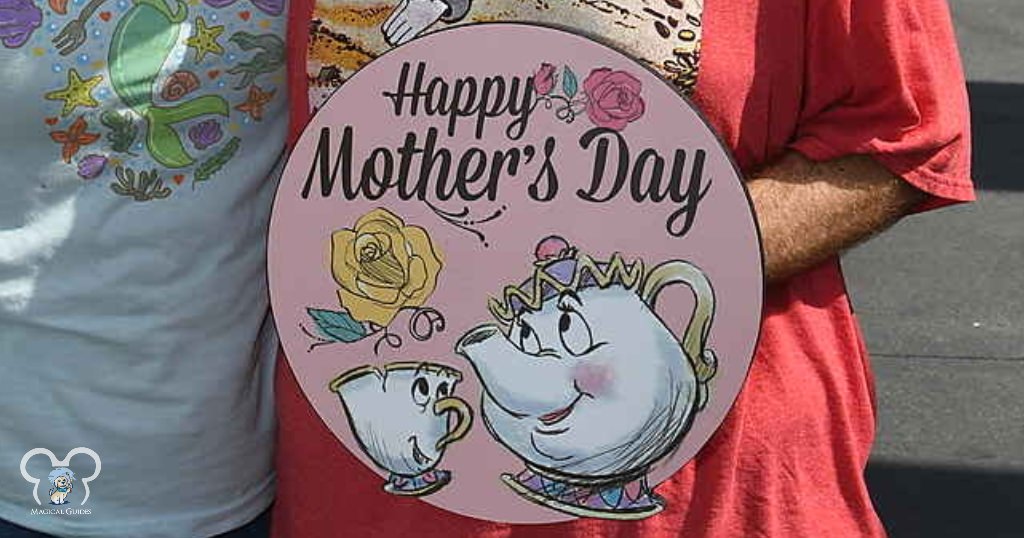 Mother's Day –Mother's Day in the US falls on a Sunday in mid may every year. While this day doesn't necessarily increase out-of-town visitors, you'll find many locals head to the parks or restaurants to celebrate with their extended family. Some of the restaurants put on special menus for this day, so it's well worth booking your advance dining reservations ahead of time to avoid disappointment.
Memorial Day Weekend – Memorial Day Weekend takes place over the last Monday in May every year. While May is generally a great month for lower crowds, this would be the one exception. By this time, more families are starting to head down to Orlando for a summer break, and this is officially the start of the busy summer season. Try to avoid traveling this weekend if you can, as you'll find reservations are much harder to come by.
Disney World Theme Park Operating Hours In May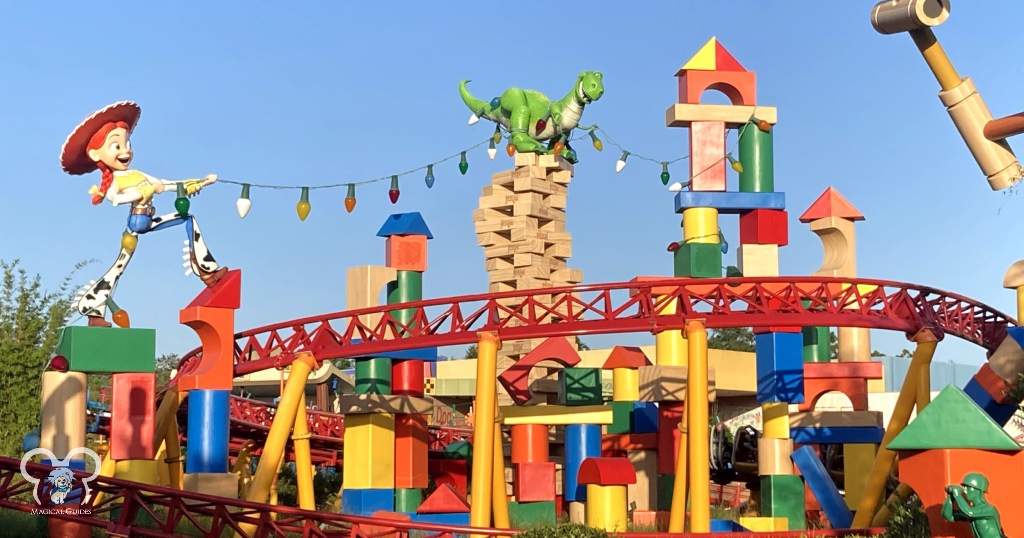 As May is one of the quieter months of the year, don't expect the park hours to be too long. Disney has yet to officially post their hours for the month, but this is a rough idea of what you can expect based on past trends.
As we get to the end of the month, you'll find that these soon increase, ready for the heavier summer crowds. Keep in mind that Disney keeps adjusting their park hours for the month a few weeks ahead of time, so make sure you check back to the Disney site just before your visit to confirm opening hours.
Magic Kingdom – 9 am to 9 pm
Epcot – 10 am to 9 pm
Disney's Hollywood Studios – 9 am to 9 pm
Disney's Animal Kingdom – 9 am to 7 pm
Water Parks – Typhoon Lagoon is open daily from 10 am to 5 pm. Blizzard Beach's reopening date has yet to be confirmed but is likely to reopen in time for the summer crowds.
Disney Springs – 10 am to 11 pm
May is one of our favorite times of the year to visit Walt Disney World. Adults will love visiting before the heavy summer crowds, and there are fewer kids and families in the parks. As with visiting Disney at any time of the year, we still recommend you book your resort and dining ahead of time.
This will help you to make the most of your time here and enjoy everything that Disney has to offer for visitors.
How Is The Weather At Walt Disney World In May?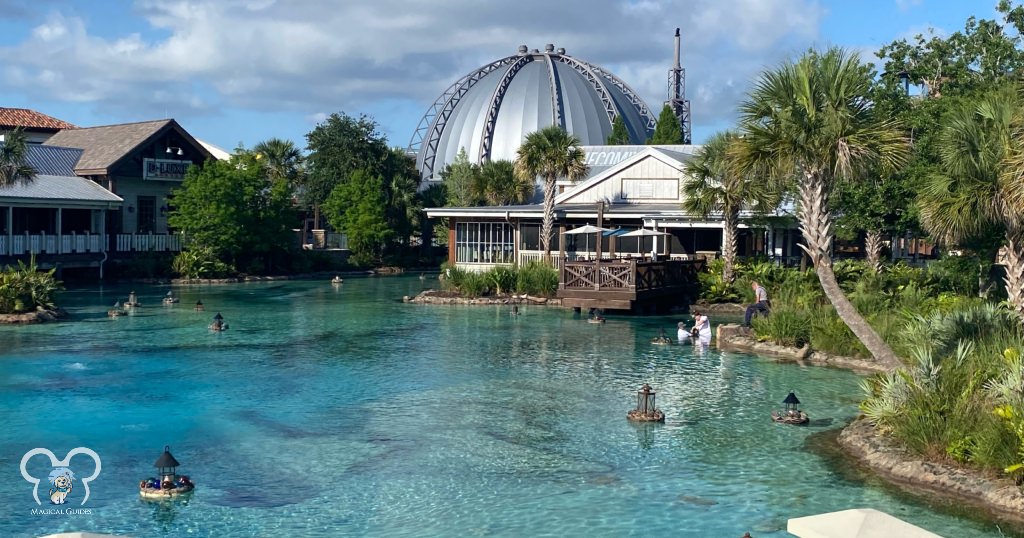 Without a doubt, May is one of the best times of the year to visit Orlando. You'll enjoy great weather most days, with highs of up to 85-90 degrees. Average temperatures are in the 70s and 80s.
The weather doesn't typically drop below 64 degrees, so even night-time in the park doesn't get too cold. It's a great time to upgrade your stay to a resort with a great swimming pool, such as the Yacht & Beach Club.
There are only about seven days of rain in the month. The only thing to be aware of at this time of the year are the pesky love bugs. Love bugs are not harmful, but can be a nuisance when you are trying to relax at the pool.
Is it too hot to go to Disney World in May?
It's not too hot in Disney World in May as average temperatures are in the 70s and 80s. It can be in the 90s in May though so prepare for hot and sunny days. If you are heat sensitive, it may not be the best time to go to Disney World.
Does it rain a lot in Disney in May?
There are typically about 7 days in the month that are rainy, so May does not have a lot of rainy days compared to other months.
It may be a good idea to bring your rain ponchos or a rain jacket just in case. The parks tend to empty in the rain so you can avoid long lines if you come prepared for the rain.
Umbrellas are also allowed in the parks. You will want to pack a small umbrella in your Disney Park Bag just in case.
What To Wear To Disney World In May?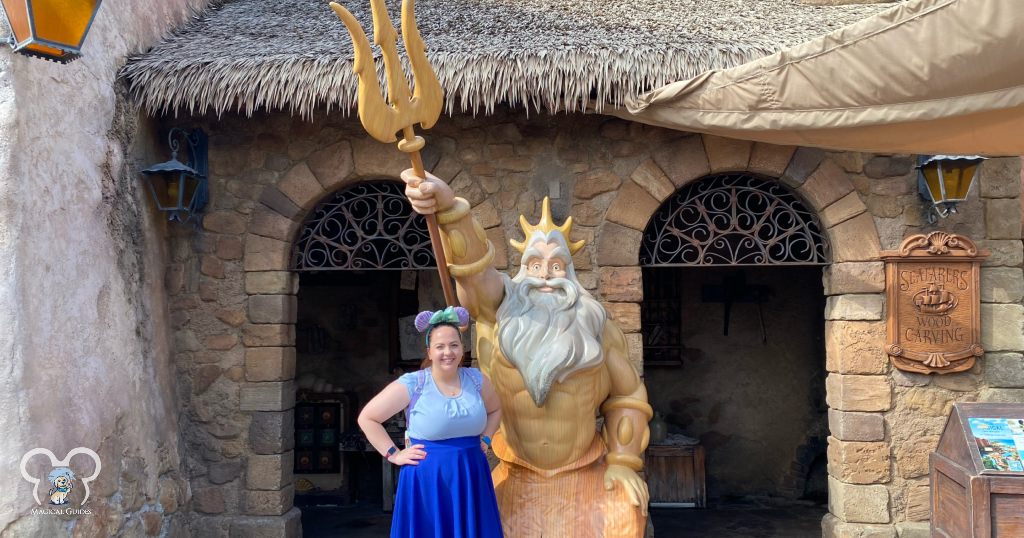 Check the weather forecast for the most accurate Florida weather to plan what to wear. May is pretty hot so you will want warm weather clothing items like shorts, t-shirts, and tank tops.
You won't need a long sleeve shirt this time of year.
The most important thing to bring with you is a comfortable pair of shoes. Comfortable walking shoes can make such a big difference in how much you enjoy your Walt Disney World vacation.
This time of year is also perfect for dresses and skirts with bike shorts underneath for all of the walking. Check out our packing list below for more on what to wear.
Disney Bounding in May
Mays weather is beautiful and the perfect time for that cute outfit you want to Disneybound with. I would avoid a heavy outfit with a lot of layers this time of year. Opt for your simple and comfortable warm weather Disneybound outfits in May.
Costumes are not allowed for guests over 14 in the parks so there isn't confusion for kids. Disney-bounding is a great way to celebrate your favorite character and enjoy the magic on your trip. Mickey's Not So Scary Halloween Party is the exception where you can wear costumes.
Read More: Tips for Visiting Walt Disney World in October
What to Pack for Disney World in May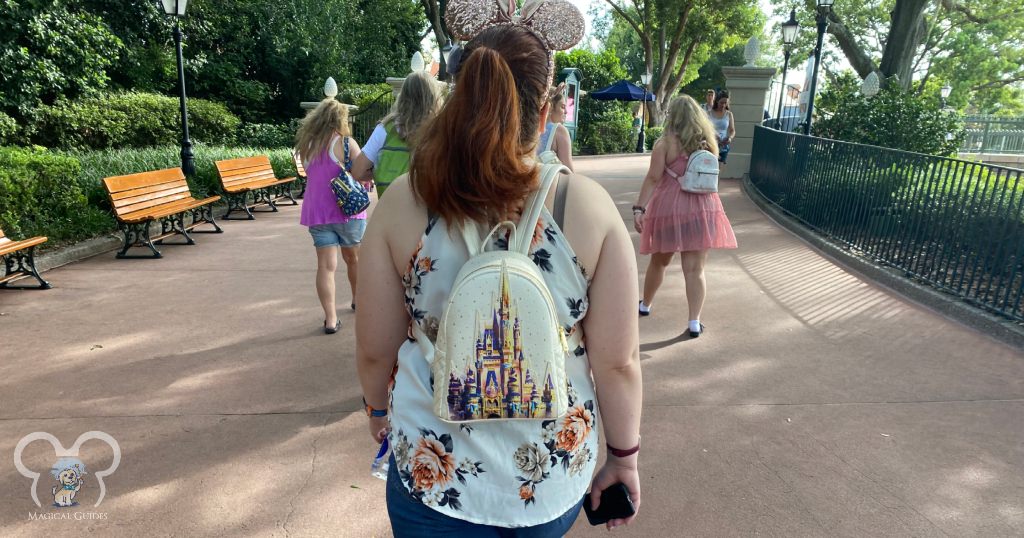 Do not forget to pack and apply sunscreen often if you're going to be at Disney World. We would recommend a bare minimum of SPF 30 for your sunscreen protection. If you forget your sunscreen, most resorts will have a store that will have sundries you can purchase.
You also have the option to get items delivered from the grocery store or Walmart directly to your hotel. I'll link below the information you need when doing so.
Read Also: Best Grocery Delivery Tips for Walt Disney World
May Disney Packing List:
short sleeve shirts
tank tops
shorts
sunglasses
hat
sunscreen
comfortable shoes, sneakers
socks
long pants, jeans, or leggings for nighttime or for dinners with a dress code
Rain Jacket, Ponchos, umbrella
bathing suit
flip flops or sandals
Disneybound Outfits or matching family t-shirts
Minnie and Mickey Ears
Backpack or Disney Park Bag
Do you need a jacket in Florida in May?
Bringing a light jacket or sweater with you in May is a good choice for the cooler temperatures in the morning or evening. Low temperatures can be in the 60s at night so it's a great idea to have a lightweight jacket just in case.
Is Purchasing Genie+ During The Month Of May Worth It?
If you are going Memorial Day weekend or the last week of May, Genie+ is worth it. Crowds will be heavier at this time so it's worth the extra cost for Genie+.
If you are going at the beginning of the month, you can get away with not purchasing Genie+. This is especially true if you use Early Entry or Rope Drop in the mornings to get on rides.
Is it better to go to Disney World in May or June?
Milder weather and lower crowd levels make May a better month to go to Walt Disney World.
There is never a bad time to go to Walt Disney World so June can also be a great month. June will have higher crowd levels with kids out of school. June will also be warmer than May.
Read More: Tips for Visiting Walt Disney World in November
May is one of the most beautiful times of the year to visit Walt Disney World. Between Star Wars Day and the Epcot International Flower and Garden Festival, there's no shortage of things to do even if you've visited dozens of times before.
It's a great time of year for both the weather and events in the parks for visitors of all ages.