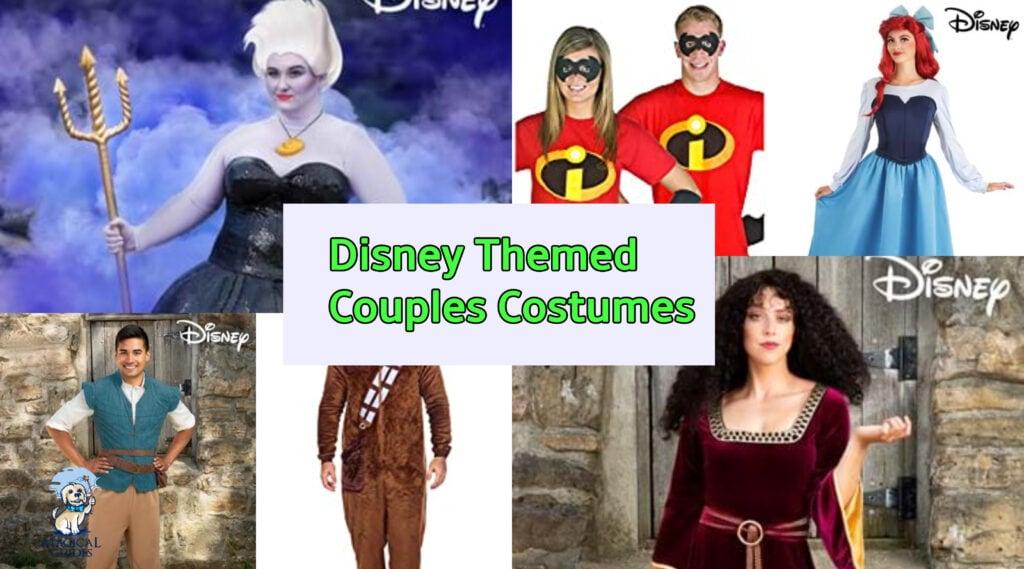 Any links in this article may contain affiliate links (such as Amazon), so we may get a commission at no cost to you.
This year my husband and I are headed to Mickey's No So Scary Halloween Party, and we are beyond excited. After booking the tickets, we immediately started thinking about what we should go to the party dressed as. Talk about stressful, and causing arguments about which characters are what. Last year when we attended Boo Bash, I went as Arial and my husband was Prince Eric, so while we could repeat we really want to do something different that wouldn't make my husband feel like an after thought in costumes.
Dressing up as your favorite Disney character doesn't have to include spending $50+ for each costume. In fact sometimes it can be much cheaper to find the look at yard sales, and thrift stores. So if you know that if you want to save money, plan your costume out much sooner so you can get any last minute add-ons like belts, headbands, shoes or earrings ordered! So keep in mind your costume doesn't have to be perfect, save money by inspiring or Disney Bounding the look.
Also remember, if you're going to wear your costume to Disney World, you can only wear a costume into the parks if you're attending Mickey's Not So Scary Halloween Party. This rule doesn't apply if you're under 16, as kids can wear costumes. Just note that even in October it can be hot so, plan your costume accordingly and think function over form. Also note that your costume should be family friendly, so as much as you'd like to wear the Slave Prince Leia bikini, leave it at home.
One more friendly tip, order costumes early as you can. They sell out, and your size might be pretty popular. I did find that if I went to HalloweenCostumes.com I could get the size I needed, and if I gave them my email/phone number I could save 20%, so that was pretty nice covering taxes and shipping was free.
Princess and Prince Disney Couple Costume Ideas
Ariel and Prince Eric (The Little Mermaid)

For this costume, we bought the official costumes from Amazon last year. My husband was given a first insight to pants that didn't have pockets and got to see what it was like to be a women trying to figure out where to put your phone. Overall the Prince Eric costume was pretty thin, and made of polyester so it was a bit warm. I ordered a few different dresses for Arial from the famous boat ride and song "Kiss the girl". I did get recognized by a few younger kids, when we got off the Little Mermaid ride in Magic Kingdom. I think if I did this again, I would go with the costume that featured her mermaid tail a bit more. We also might get a matching Flounder costume for out golden doodle when we give out candy on Halloween night.
Rapunzel and Flynn Rider (Tangled)

Again my husband wanted a character that had more to them just being a pretty face and showing up at the end of the movie. Flynn Rider was a top contender this year, as I love the movie Tangled, and I also think it's the best themed bathroom in Magic Kingdom (can I get an Amen ladies?).
Aladdin & Jasmine

This was my husband's idea that I quickly dismissed at first. There was no way I was going to go around showing my tummy, and boobs at a Disney park. I was happy to see that the costume for Jasmine was a complete, so I don't feel as if I'm showing off my not so flat stomach. However, I love the colors for this costume, and might consider going as Jasmine in the future. Especially we can dress our dog Walt as Apu or the Magic Carpet. While the Jafar costume would be ideal for my husband, I'm not sure he's all about Jafar due to the fact the costume just looks extremely hot in these warmer months.
Star Wars Couple Costume Ideas
Han Solo & Princess Leia or Han Solo & Chewbacca or Chewbacca & Princess Leia
So I think this could be an interesting combination for those Star Wars fans out there. These three characters have been teamed up for their common love of Han Solo if you think about it. Chewbacca is Han's right hand, and when he's frozen in Carbonite, Leia is protected by Chewbacca because Han asked. That all aside, there's a few cool costume options here.
If you want to go with a onesie for Chewbacca costume, Amazon has you covered. If you want to do a home-made Han Solo outfit, I'd go with some black or blue pants, an off white dress shirt, or maybe soak it in some coffee to stain it, finish it off with a black vest of some sort maybe a fishing one, and a thick brown belt. I think the gun holster would add something here, but not too much in my opinion.
Princess Leia has a number of costumes you can go with, like the white robes and bun hairdo, or even when she's a general or senator later on in the series. Just again, don't do the slave girl Leia outfit.
Darth Vader & Storm Trooper
For this one, I think unless you buy the officially marketing one some creativity will have to come into play. What's cool here, is either costume could be for a guy or girl. If you want to go cheap, go black shoes, pants, tshirt or tank top. You could accessorize with this Darth Vader mask. The same can be true for the Storm Trooper costume, except go white with the shoes, pants, and shirt.
If you want to go full out and do the "real" costumes, ladies look here for a Storm Trooper costume. Just a heads up to the ladies that have a larger bust area, you may want to size up and pick up a highly supportive sports bra when considering this costume.
R2D2 & C3PO
Who wouldn't love to play these quirky robot couple, that have been together since their introduction in the first Star Wars films.
Marvel Couple Costume Ideas
Agent Carter & Captain America
My husband is pushing hard for us to go as Agent Carter and Captain America this year. I find Chris Evan's version of Captain America to be attractive, especially with the beard which I do think my husband could rock – but I'm unsure of the Agent Carter costume for myself. I don't have a strong attachment to Agent Carter as we just started watching the series on Disney+ this week, so maybe next year I can give into my husbands wishes about this.
Pixar Couple Costume Ideas
Mr. Incredible & Elastigirl (The Incredibles)
Buying an Incredible T-shirt off Amazon and wearing black pants or jeans seems like a cheap and simple costume idea for those that like to wait to the last minute. If you had a red tshirt, you could even just draw the "i" on the chest and get away with it in a bind. This could easily also be used for a family idea when you're going to take the little ones out for trick or treat or simply hand out candy.
Of course you can buy the official costumes here.
Have you done a Disney couple costume theme before? What is your favorite? Did we miss a Disney couple costume you think we should feature?