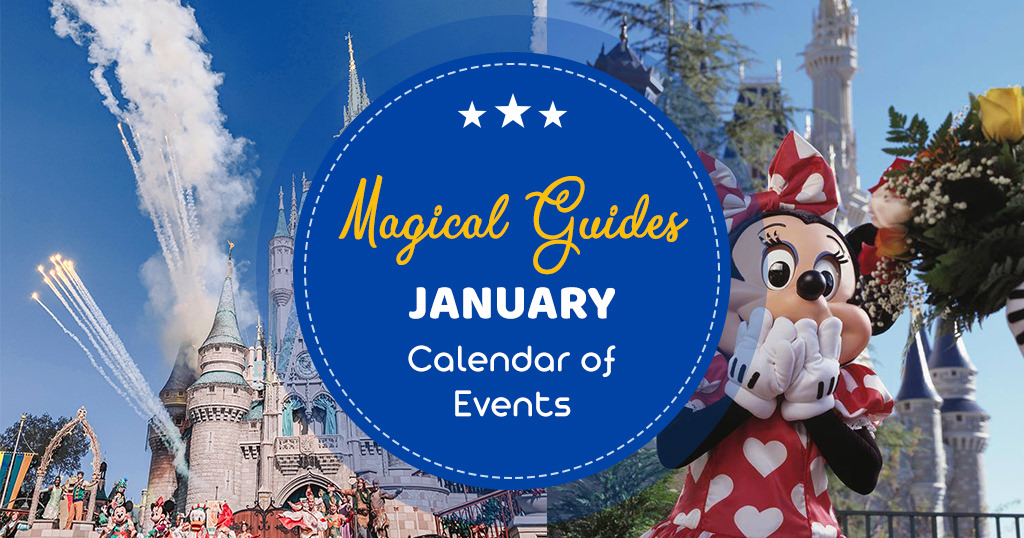 Is there really a bad time to go to Walt Disney World? I would consider going in any month. You can find pros for visiting each month of the year in my opinion.
A trip to Walt Disney World in January can be the best time to go with beautiful weather, low crowds, and savings. Use our crowd calendar for January 2023, to help you achieve the best trip that you can for you.
January is historically the coldest month of the year in Florida. Most of the time this doesn't mean it's too cold for the theme parks though. If you want to beat the heat of the summer months, January is a great time to do just that.
Is January a Good Month to go to Disney World?
Yes, January is a great month to plan your next Walt Disney World Vacation. If you like lower crowds and cold weather, this is a good time for you.
Pros of a January Disney Trip
* Colder Weather
Find the specifics of what the temperatures are below, but the weather is cooler in January. For those that are not heat tolerant, this is ideal.
* Lower Crowds
Avoid the special event weekends if you want lower crowds. January and February have historically been lower crowd months to visit Florida. In 2022 Walt Disney World saw record crowds for this time of year. The crowd levels were still relatively low compared to other seasons though there were more people than usual.
* Savings
There are more ways to save on your Disney vacation in January.
Cons of a January Disney Trip
* Marathon Weekend
If you are not a runner, you will want to avoid this weekend in January. Marathon weekends always bring in extra traffic and crowds.
* Colder Weather
Sometimes the weather can get too cold to enjoy your vacation. This does not happen frequently though.
* Operating Hours
Due to the low crowds, operating hours may be shorter than normal.
Is it better to go to Disney in January or February?
Both months have similar weather and crowd levels and are a good choice. I would look at your available dates in both months and choose the best date for you between the two months.
I would avoid holidays and special events in either month like the Marathon Weekend.
Is it worth going to Orlando in January?
Absolutely it is worth going to Orlando in January if you like lower crowds and cooler weather. Keep in mind the Disney Parks may have less open hours and events due to the lower crowds.
Holidays in January at Walt Disney World
Martin Luther King Jr Day
This falls on January 15th this year. The Monday holiday will have slightly higher crowds as kids are out of school. The crowd levels don't rise significantly enough to rule out this holiday.
What Are Crowds Like at Disney World in January?
January can be a wonderful time to visit Disney World thanks to the low crowds. However don't just assume that all of January is a low crowd month.
You have some important holidays such as New Years Day, and Martin Luther King Jr Day. These holidays can lead to larger crowds at the start of the month.
If you go before about mid month expect to see some staggered Christmas decorations. The first few days of January will have higher crowds as guests leave for their December Christmas Disney trips.
RunDisney also has a marathon weekend in January this year from January 3rd to January 7th. This weekend will have high crowd levels.
The end of January after the 15th will be the lowest crowds for the month.
Special Events at Disney World in January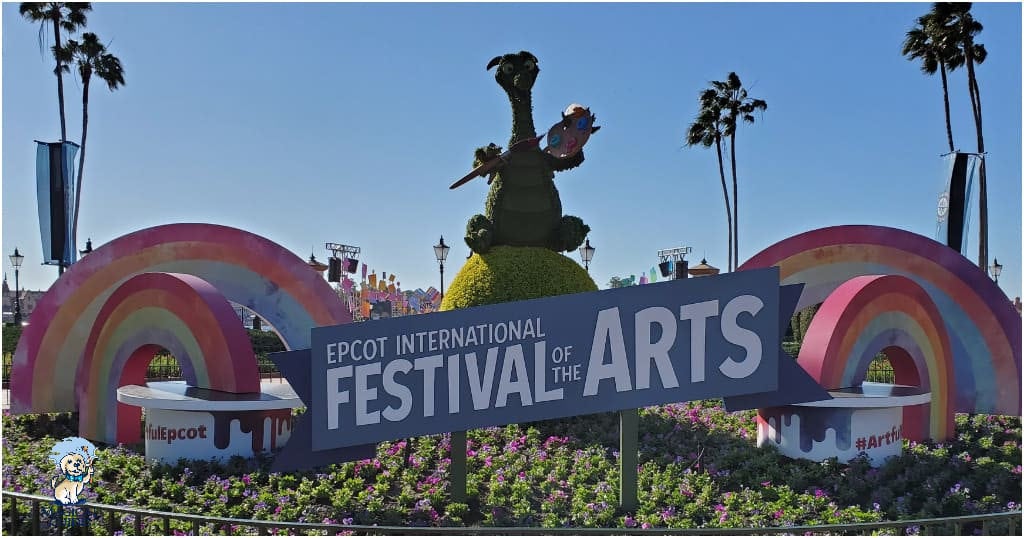 Explore EPCOT's Festival of the Arts in January
Festival of the Arts
At EPCOT, the yearly Festival of the Arts will return. The festival dates have not been announced for 2024 yet. The dates are typically mid January to mid February.
This festival while fun, isn't as interactive like the Food and Wine or Flower and Garden festival. However do expect a slight bump in EPCOT traffic after this festival starts, especially on the weekends and Florida residents check out the offerings.
RunDisney Walt Disney World Marathon Weekend
January also has a short window for the runDisney events. This year it's being hosted on January 3rd-7th of 2024.
All of the in-person events for January are sold our currently. If you'd like to run virtually you can still sign up, and participate.
How to Get A Deal on a Disney World Vacation in January
As you can see here are a few events that will cause resorts prices to go up. You can still save a good amount of money, especially if you're flexible by staying on-site vs off-site.
Avoid trying to book the first week of January due to New Year's Day, and the runDisney Marathon events. Also avoid Martin Luther King Jr. Day as well, as it will be a 3 day weekend for those with kids.
If you are interested in camping, this is an opportune time, as the weather outside isn't still fresh. If you are looking for information for Camping at Fort Wilderness, we have linked to our guide for what you need to know.
Campsites can go for about $89 a night, before any discounts.
Use Priceline to get an idea of the resort prices – call direct. The Swan and Dolphin Resort has discounts for teachers and nurses for example. If you have access to Annual Pass Discounts, or military, again make sure you login when you are checking on the Disney website.
Priceline, Costco, and Undercover tourist is a great way to look for discounts in January. Keep in mind that these discounted rates typically have the most issues on their vacation if anything goes wrong.
Disney World Operating Hours in January
Hours are subject to change especially since they have not been officially published for 2024 yet. Check the My Disney Experience App for the most up to date information on park hours.
The winter months tends to have the shortest operating hours.
Magic Kingdom – 9:00am to 10:00pm
EPCOT – 9:00am to 9:00pm
Hollywood Studios – 8:30am to 9:00pm
Disney's Animal Kingdom – 9:00am to 7:00pm
Water Parks Typhoon Lagoon/Blizzard Beach- 10am to 5pm
One of the Water parks will be closed for refurbishment during this time.
Disney Springs – 10am to 11pm
Walt Disney World Weather in January
One of the best parts of visiting Disney World in January is the weather. If you visit Orlando during January through April you will have the opportunity to experience mild temperatures and lack of rain.
So if you have the hopes of January to be a great time to hit the water parks, you might be disappointed. While it is true if you are looking to hit up one of the best pools at Disney World, you can. The pools are heated to 82°F….but it doesn't mean getting out of the water won't be freezing.
For a more technical break down here are the break down of average temperatures:
Week 1: High 72°F, Low 48°F
Week 2: High 74°F, Low 52°F
Week 3: High 76°F, Low 55°F
Week 4: High 77°F, Low 54°F
Feel free to check out the latest weather forecast via WeatherTab
The good news is that there aren't many rainy days in January. It is not hurricane season and only about five days a month have rain.
Is it too cold to go to Disney World in January?
Typically the high temperatures are around 75°F with cooler temperatures being about 50°F. Cold for Central Florida is not the same cold weather most of us from Northern states are used to.
The pools are heated to 82°F making swimming possible all year round, even in January. You have to love Florida weather right?
You can leave your heavy jackets, hats, and gloves at home!
What to Wear to Disney World in January
As we mentioned in the weather section of this piece, it can be a mix of warm and down right cold in January. So you will want to lighter clothing, and you might want to consider a sweater just in case for those cooler evenings.
Enjoy tanning those shoulders in a tank top, and wear them with regularly applied sunscreen. Give your skin a break and pack those matching family t-shirts you've been dying to wear and take photos in!
Don't forget your bathing suit! If you're staying at a deluxe or even some moderate resorts, they may have a hot tub as well as heated pools. Sadly the value resorts do not have hot tubs.
If you're willing to try Disney's Swan, Swan Reserve, or Dolphin resorts, they have over 5 different hot tubs to choose from, best of all you can score heavily discounted room rates for this resort if you go in January.
It's a good idea to bring layers and comfortable walking shoes with you. You may want a light jacket at night or early mornings when the temperature drops. I would also bring a pair of long pants for the colder days.
Disney Bounding in January
This is a great time to try out different outfits for Disney Bounding! Some of your heavier outfits that require layers will be perfect for this time of year.
Belle's blue dress with a long-sleeved shirt underneath is perfect for January without overheating. This outfit has a lot of layers which would not be ideal in the summer.
This is the perfect time to use any athletic wear leggings for your Disney Bound outfits.
Can you wear sandals in Florida in January?
Yes! High temperatures in the 70s are still warm days that are perfect for sandals or flip flops. Early mornings and nighttime may be a little cold for sandals as temperatures are in the 50s.
It is also a great idea to wear your tennis shoes as well since your feet won't be sweating quite as much.
What to Pack for Disney World in January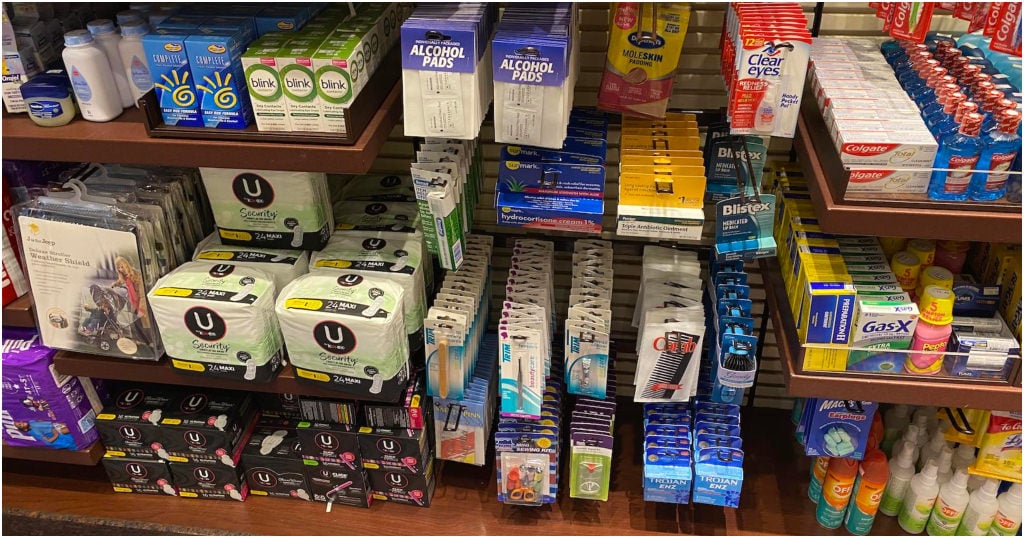 Sundries that can be purchased at most Disney Resorts. (photo by Bayley Clark/magicalguides.com)
Do not forget to pack and apply sun screen often if you're going to be at Disney World. We would recommend a bare minimum of SPF 30 for your sunscreen protection.
If you forget your sunscreen, most resorts will have a store that will have sundries you can purchase. You also have the option to get items delivered from the grocery store or Walmart directly to your hotel. I'll link below the information you need when doing so.
Read Also: Grocery Delivery at Disney World; How to get groceries delivered
Don't forget to pack your favorite pair of sunglasses, and hat as well. The sun is still bright in January in Florida.
I'm a fan of Shady Ray sunglasses, as they donate 1 meal with each order, they are quality glasses at reasonable prices, and even will replace them if you lose them when you don't remember to take them off during Rock 'n' Roller Coaster.
That might have happened once or twice to me, and the customer service replacements are quick, and painless.
Read Also: How Fast Is Rock 'n' Roller In Disney World?
You may want to bring a small backpack to help you carry light layers with you. This is important for comfort if you plan to rope drop during early entry and stay until the park closes.
You can leave your rain gear and poncho at home this time of the year if you don't have a lot of room in your suitcase.
If it happens to be one of the few days with rain you may want your rain gear. The parks will clear out with rain and you can enjoy the short lines!
Here is an overall ultimate Disney packing list for January:
Short sleeve T-shirt(s)
Tank Tops
Light pants (think yoga or other lightweight leggings)
Jeans or Heavier Pants if it will be colder
Shorts
Long sleeves
Bathing suit and sandals
Reusable water bottles
Multiple pairs of comfortable shoes or boots if it will be colder
Socks
Extra bags (think plastic grocery bags for dirty clothes)
Mickey ears
Cell phone charger block & cord
Sunscreen (At least SPF 30 or your personal preference)
Your Disney Bound outfits
Matching family tees
Light Jacket, Sweatshirt, or Cardigans
If the holidays have you longing for some Sun and Disney magic, I'd consider booking a trip to Disney World. January is great for short trips (think 3-4 days). Flights can be had cheaper usually as everyone already traveled during the December holiday season.
It would be a great time for those that enjoy being outside walking, not in the pool, as the air temperature is going to be cozy average at 73°F during the day, but chill at night time potentially dropping before 50°F at night.