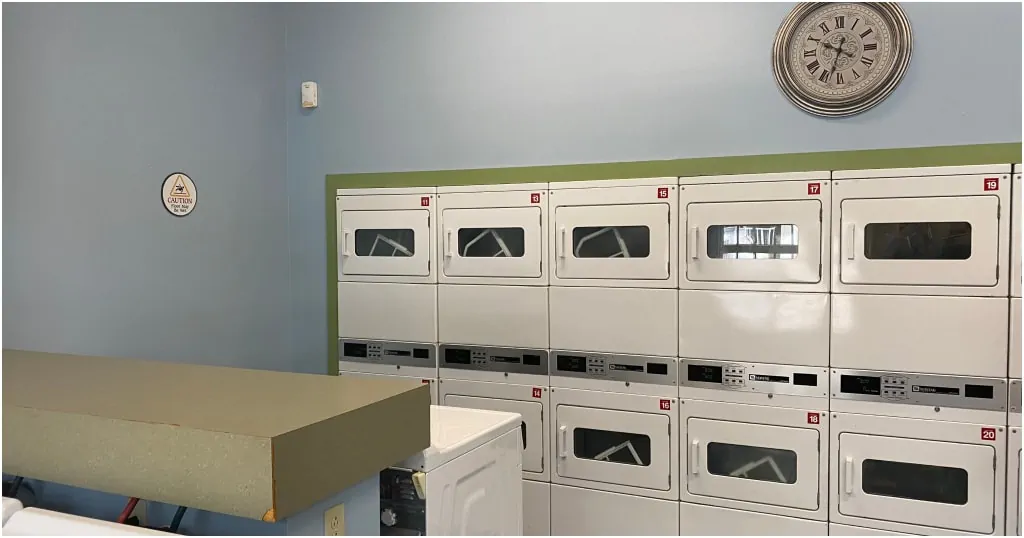 There are many reasons to consider using a laundry service during a Walt Disney World trip and for some Disney guests who are visiting the most magical place on Earth for an extended stay, laundry facilities are essential. Whether you wish to save on luggage, find you have run out of clean clothes or have young children who get messy quickly, if you are staying on Walt Disney World property, your resort will have its own dedicated laundry service. Walt Disney World's laundry facilities are quick, convenient and affordable without compromising your precious time or budget.
What are the self-service laundry facilities at Walt Disney World?
Every Walt Disney World Resort has access to self-service laundry facilities on property with some resorts offering multiple laundry locations. Walt Disney World's laundry rooms are generally conveniently located with many opposite the pool allowing you to enjoy the sun or have a quick swim whilst waiting for your laundry to finish. Many of the laundry rooms also include a few chairs, vending machines and televisions as well as phones allowing you to contact your room or the front desk. The laundry rooms are open 24 hours a day and closed rooms can be accessed by room key or Magic Band.
All Walt Disney World laundry rooms are now equipped with LaundryView technology, a convenient service saving you time and effort with real time information available for each laundry room. The free web app, which can be found at laundryview.com, allows you to search for your Walt Disney World resort and a specific laundry room to check machine availability as well as load status meaning no more walking your load down to find that all the machines are unavailable. The web app also identifies any machines that are out of order and allows you to report any problems you encounter. You can also view the weekly statistics to see the typically busy time periods which can be helpful to plan your laundry into your itinerary. Once your cycle has started, you can keep updated on its progress via the LaundryView web app or alternatively, you can activate text alerts to receive a message when your laundry has finished. To activate this service, click on notification settings when viewing the laundry room, enter your phone number and select the machine you wish to receive alerts for.
Where are Walt Disney World Resort's self-service laundry facilities located?
You can find the locations of the laundry rooms at your Walt Disney World resort either on your resort map or online at:
https://disneyworld.disney.go.com/guest-services/laundry-services/
All Star: All laundry rooms at All Star Sports, All Star Movies and All Star Music are located adjacent to the pools. All three of the resorts offer two laundry rooms, one in each pool area.
Animal Kingdom Lodge: Animal Kingdom lodge features three laundry rooms on-site. Two can be found at Jambo House, one on the Kudu Trail and a DVC only one on the Zebra Trail. The final laundry room is located at Kidani Village at the Samawati Springs Pool.
Art of Animation: There are three laundry rooms available at Art of Animation, one located opposite each of the pools.
Beach Club: Two laundry rooms are available at Disney's Beach Club, one at Tidal Pool and another at Dunes Cove, privately located at the villas.
Boardwalk Inn and Villas: At Disney's Boardwalk Inn and Villas, there is just one laundry room located on the third floor near the elevators.
Caribbean Beach: Disney's Caribbean Beach resort has an extensive collection of laundry rooms on site. One laundry room is available in the Aruba village and two in each of the other four villages. All laundry facilities are located near the pools.
Contemporary: The main laundry room at the Contemporary Resort is located on the 2nd floor of the Garden Wing building. At Bay Lake Tower, the laundry room is located in the first floor lobby.
Coronado Springs: Coronado Springs is home to four laundry rooms with one located next to the fitness center and the other three are located with one in each village adjacent to the quiet pools.
Fort Wilderness: The vast resort of Fort Wilderness has numerous laundry rooms scattered across the property. The laundry rooms are located at all of the fifteen Comfort Stations dotted across the resort and campground.
Grand Floridian: Grand Floridian features multiple laundry rooms with one on the second floor of the main building whilst the others can be found on the ground floor of all other buildings.
Old Key West: Old Key West offers a laundry room opposite all four of the pools.
Polynesian Village: Disney's Polynesian Village Resort offers just one large laundry room which is located next to Lilo's Playhouse.
Pop Century: The laundry rooms at Pop Century are opposite all three of the on-site pools.
Port Orleans: At Port Orleans Riverside, the laundry room is located near Doubloon Lagoon Pool whilst at Port Orleans French Quarter, there is a laundry room at each of the five quiet pools.
Riviera: Laundry facilities are located on the 4th floor of the East wing.
Saratoga Springs: Saratoga Springs features four laundry rooms located adjacent to Grandstand Pool, Paddock Pool, High Rock Spring Pool and Congress Park Pool.
Wilderness Lodge: The main laundry facilities for Wilderness Lodge are located near Roaring Fork. Guests at Boulder Ridge will find the laundry room on the ground floor. Guests at Copper Creek will find the laundry room on the 4th floor near the main lobby elevators.
Yacht Club: The laundry room is located at Admiral Pool.
How much is the laundry service at Walt Disney World?
Each cycle at the self-service laundry facilities costs $3 per wash whilst the dryers are also $3 for 30 minutes. All laundry rooms at Walt Disney World Resort's now accept credit and debit card payments. A select few are also coin-operated and laundry rooms with coin-operated machines also feature a change machine but many locations are now a cashless payment only. You can also purchase a WaveRider card at your resort's front desk for $7 which provides a cashless payment for one wash cycle, one dry cycle and one packet of detergent. You cannot currently use your Magic Band to pay for laundry services.
Is the laundry service free for DVC members?
For DVC members staying in one of the many one, two or three bedroomed rooms and villas at Disney Vacation Club Resorts, laundry facilities are within the room. You will find that the majority of these larger room types feature their own washer and dryer which therefore means using the laundry facilities is included in the room rate. For DVC members who do not have access to laundry facilities within the room, each resort also features laundry rooms, some of which are only accessible to DVC members via Magic Band. The use of public laundry rooms for DVC members has no additional charge.
Where are the Swan and Dolphin's self-service laundry services located?
At Walt Disney World's Swan and Dolphin, self-service laundry facilities are located on the first floor of the Dolphin Resort. The laundry room is open 24 hours a day and no special access is required. If you are staying at the Swan Reserve please note, you will have to cross the road, and go past the pool to access this amenity (8 minute walk).
How much is the laundry service at the Swan and Dolphin?
The wash cycle at the Swan and Dolphin is charged per load at $3 whilst the dry cycle is charged per 45 minutes also at $3. Tokens must be purchased to use the machines at the Swan and Dolphin which can be purchased from within the laundry room.
Read More: Best Kept Secret Disney Resort, Swan and Dolphin Resort
How long does laundry take at Walt Disney World Resorts?
The average time for a wash and dry cycle using the self-service machines at Walt Disney Resort's laundry rooms is approximately 30 minutes each. Cycles at Swan and Dolphin are approximately 45 minutes. For wash and dry facilities within DVC rooms, the cycle time will vary.
Can you buy laundry detergent on Walt Disney World property?
Each laundry room offers a vending machine stocked with laundry detergent and fabric softener in single-use packets for $1 each. Alternatively, Walt Disney World gift shops also sell laundry detergent and fabric softener in the same single-use packets and some larger sizes.
For DVC members staying in accommodation with its own washer and dryer, the room is stocked with detergent for one load of washing and this will be restocked on Trash and Towel day. Fabric softener is not supplied in the DVC rooms.
Read More: Grocery Delivery at Walt Disney World
What are the dry cleaning and valet laundry services at Walt Disney World?
Dry cleaning and valet laundry services are also available at each Walt Disney World Resort. The service is available seven days a week and items sent before 8:30am have a same day turn around whilst items received later may take longer. An express option is also available at an additional charge. The service offers laundry, dry cleaning and pressing with prices subject to change and dependent on number and size of items, however, pricing is uniform across the resorts and with a $10 minimum charge. If you wish to use the valet service at Value resorts, items must be taken to bell services in your resort lobby. For guests at Moderate and Deluxe resorts, a laundry bag can be found in your room along with a price list then you simply need to contact housekeeping to organize the collection.