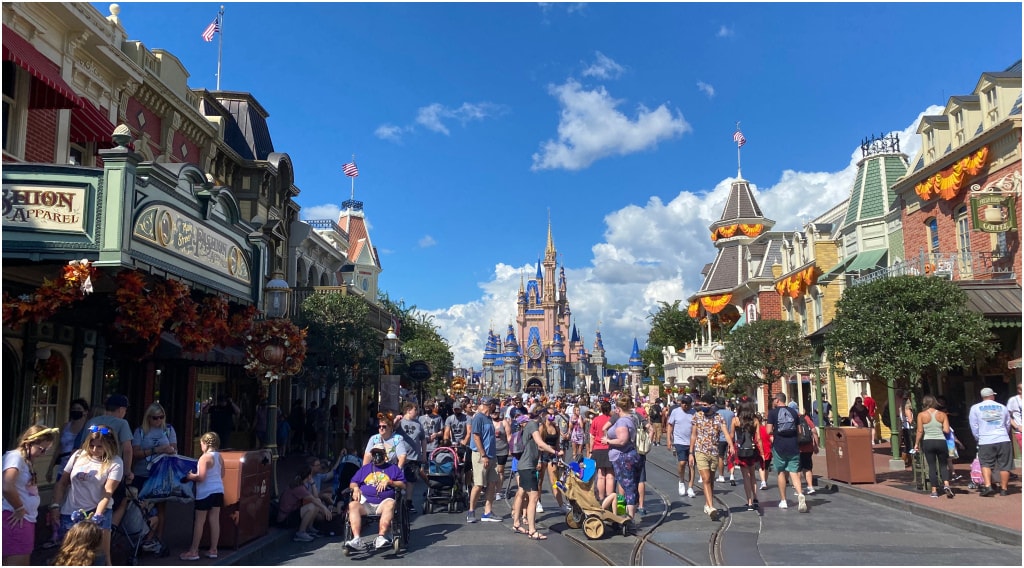 (Photo by Bayley Clark/magicalguides.com)
As one of the world's most popular tourist attractions, Walt Disney World attracts a huge number of visitors and locals each day to its theme parks. If you are planning a trip to Walt Disney World, you might be wondering if the parks ever reach capacity and how you can guarantee your entry to one of the theme parks. Keep reading as we share everything you need to know about how many visitors Walt Disney World attracts each day and whether the parks ever reach capacity.
We hope this will help you to plan your next trip and ensure you can visit the parks that you are planning to throughout your stay.
Walt Disney World's Daily Visitors
While the recent pandemic certainly had an impact on Walt Disney World attendance, the parks are once again attracting a huge number of people day after day. Each day, the Magic Kingdom sees roughly 57,000 visitors, according to the Themed Entertainment Association. EPCOT experiences about 34,000 visitors a day, Disney's Animal Kingdom sees 38,000 visitors, and finally, Disney's Hollywood Studios takes roughly 31,000 visitors on a single day.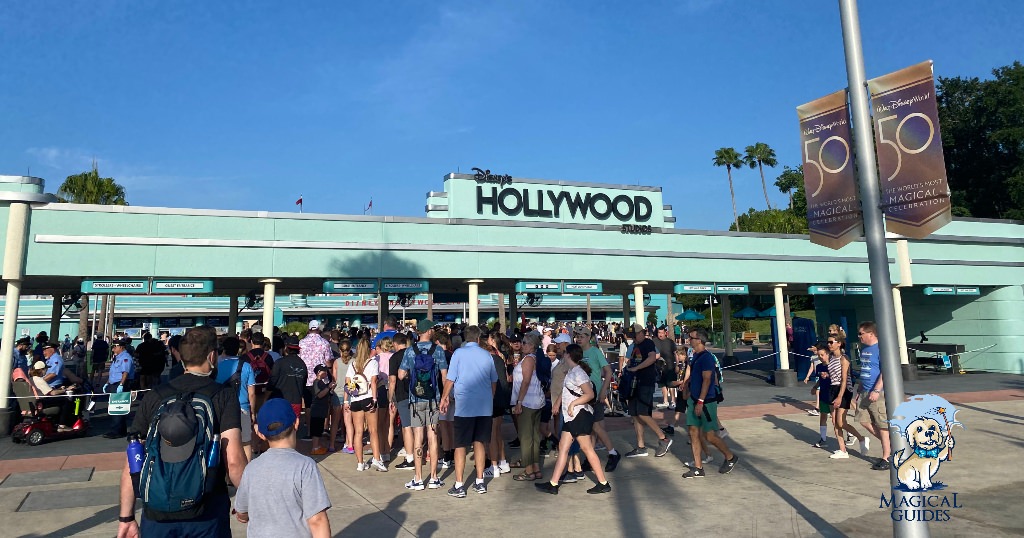 While these figures may seem quite high to you, remember, the parks have plenty of space for you all to spread out and enjoy yourselves. Certain times of the year are naturally busier than others, but this is the rough attendance you can expect each day.
Does Disney Ever Reach Capacity?
A common concern we hear from guests who are visiting the parks during the holidays is whether the parks will ever reach capacity. At the current time, Disney is using the park reservation system still, which gives them an easier way to control the capacity of the park. In the past, the park would reach capacity and take a phased approach to who they would let in during different stages.
During Christmas and New Year's Eve, it wasn't unusual for the Magic Kingdom to reach capacity early in the day, as both locals and visitors were desperate to spend the holidays here. Now, you are required to book in advance for any day, so you'll find that sometimes the park reservations go well in advance for popular visitor days.
Read Also: How To Rent Lockers At Disney World
While we are unsure if the park reservation system will be ending anytime soon, for now, the best way to guarantee your entry to the parks is to book a park reservation. Keep in mind that this does not guarantee that you can park hop though. If the other park you are looking to visit in the afternoon is at capacity, you won't be allowed to switch over. There is a hotline you can call to check if park hopping is available, which is something we recommend doing during the holidays and busiest times of the year.
This will ensure you don't leave one park and waste your time traveling around the resort when you might not be able to enter another park on the same day.
Does It Matter If You Stay On Property?
In the past, the system that was in place for Disney park capacity meant that people staying on-site did have some priority over other guests. With the new park reservation system in place, this isn't a perk anymore, as everyone needs to have a reservation. Remember, if you are staying at a Disney resort, you still need to book your theme parks each day.
Even with the early entry perk that resort guests receive, you must have a valid reservation and park ticket for each day of your trip. This is a common mistake that we see guests make, but it's one that is easy to avoid with a little forward planning.
Read Also: Do You Need MagicBands If Staying Off Property?
One of the perks of staying on property if you book a reservation in advance is 30 minute early entrance daily to all the parks. This is crucial if you want to Rope Drop parks like Hollywood Studios, or Magic Kingdom. If you are staying at a deluxe resort, they have on select evenings, two extra hours in the parks. So be sure to check out all of that when you are planning your Disney vacation.
The Best Times to Visit Walt Disney World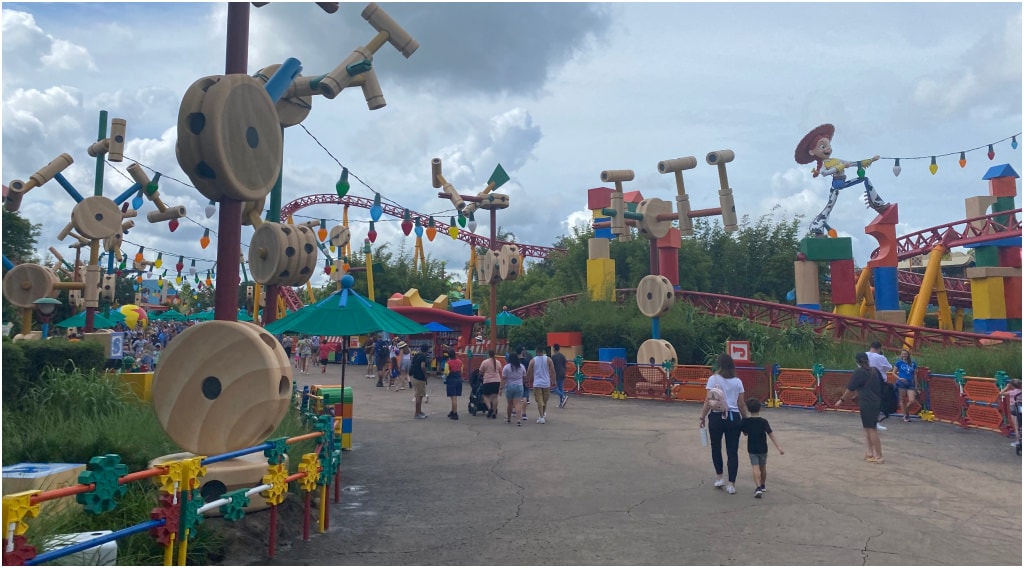 (Photo by Bayley Clark/magicalguides.com)
When discussing the conversation of park capacity at Walt Disney World, you are likely wondering when you should visit over the upcoming year. Just because the parks are busier, we don't necessarily recommend skipping out on a holiday trip if this is something that's important to you and your family. Instead, just make sure you book everything well in advance of your vacation so that you don't miss out on the resort you want to stay at or the park reservations you are after. The more months in advance you can plan your trip, the smoother everything will go when you get down there, allowing you to just relax and enjoy your vacation.
Read Also: What Is The Race Car Ride At Disney World?
The times of the year when the parks are most likely to reach capacity include Christmas, New Year's Eve, Easter, and the 4th of July. Other holidays will also see increased crowd levels, so you'll want to book in advance for these as well. During the holidays, it's not just visitors from the US you need to think about, as more international guests are traveling to Orlando as well. You'll also see a huge influx of locals looking to enjoy their time in the parks with their families. Whatever you do, just make sure you pace yourself during these busy days in the parks, as they can be quite overwhelming for everyone in your travel party. With a little patience and some breaks to sit down and rest, you'll find that you can still make the most of your time during the busiest of days.
Read Also: Best Hollywood Studios Rides Worth Standing In Line For
Walt Disney World continues to attract thousands of visitors each day year after year. The recent pandemic has only increased the number of visitors to the parks at the current time, with people from around the world using this year as a chance to catch up on vacations they missed over the past two years. When planning a trip this year, make sure you book your park reservations ahead of time so that you don't miss out on a day in the parks. With a little forward planning, you'll find that you can still make the most of your time here during any time of the year, no matter how busy the parks may be on that day.