The Sunshine State is renowned as one Mickey's many homes across the world but whilst Walt Disney World in Orlando is one of Florida's main attractions, a visit to the Sunshine State would not be complete without at least one beach day. Florida has some of the best beaches in the US and if you're heading to Walt Disney World for longer than a couple of days, adding in a Florida beach trip should definitely be considered as part of your vacation's itinerary.
Combining a Walt Disney World trip with a beach vacation
With Walt Disney World at home in Orlando located in the heart of Florida, heading to the beach will require a little travel time. Whilst Orlando is slightly closer to the Atlantic, from its central location, you can head either East or West to find a fantastic beach.
Combining a beach vacation with a Walt Disney World trip is a great option for many reasons. If you start your vacation at the beach, you enter full on relaxation mode for the remainder of the trip whilst if you end your vacation at the beach, it is the perfect way to round off your break.
Alternatively, if you are visiting Walt Disney World over a stretch of time, say a week or two, a beach day is perfect to throw into the middle of your trip. As fun and exciting as Walt Disney World can be, hammering the parks day in day out can be exhausting and overwhelming. A beach day adds a little break into the experience, allowing you time to chill out and recharge ready for your next big park day.
What is the closest beach to Walt Disney World?
Whilst several of Florida's East Coast beaches are a similar distance from Walt Disney World, technically the closest beach is Cocoa Beach. The city of Cocoa Beach is a classic beach town, lined with palm trees, offering plenty of attractions and home to a stunning 12-mile stretch of golden sand with the waves of the Atlantic Ocean lapping against the shore.
Not only is Cocoa Beach the closest beach to Walt Disney World, it is also located just minutes from Port Canaveral, home to the Disney Cruise Line.
Cocoa Beach is the perfect location for a relaxing day in the sun, however, if you are looking for a little bit more adventure, an abundance of watersports can be found. Meanwhile, Cocoa Beach also offers great shopping, excellent dining locations and excellent options for chilled nightlife including beach cafes and jazz clubs.
Read Also: Don't Miss These Disney Springs Boat Rides
Nestled on the Space Coast, Cocoa Beach is also within a short distance of some other of Florida's most exciting attractions including the renowned Kennedy Space Center and the Cape Canaveral Space Force Station where many of today's rocket launches take place.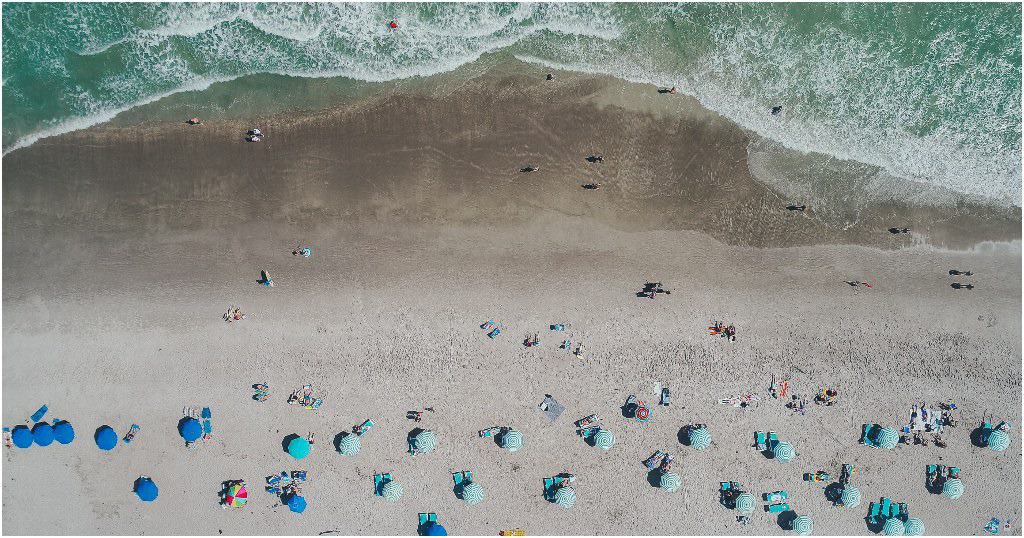 How far is Cocoa Beach from Walt Disney World?
As the closest beach to Walt Disney World, Cocoa Beach is located just 65 miles (105km) away from the resort. Journey times from Walt Disney World to Cocoa Beach are just over an hour with the easiest transportation option to drive. Cocoa Beach has no direct public transportation links to Walt Disney World or Orlando and using the bus service can be a long process so it is recommended to drive or use a car service for convenience. Alternatively, Cocoa Beach Shuttle offers transportation between Orlando International Airport, Sanford International Airport, Orlando's theme parks, Port Canaveral and Cocoa Beach. Transportation can be arranged online with both shared and private shuttles catering for 1-27 passengers.
How Far Is Disney World From Miami Florida?
So could you drive to Miami from Disney World in a day? Yes, easily.  However we would suggest taking a night or two due to the distance. The distance from Disney World in Orlando to Miami is about 231 miles. If you were to drive, plan on it taking you about 3 hours and 45 minutes without stopping for gas, snacks, or bathroom breaks.  You will going down the beautiful Florida coast and might want to stop in West Palm Beach, along the way.

The most economical way to get to Miami, is to take a bus from Orlando to Miami. To take the bus, we have found fares for as low as $50 each way. However taking the bus will set you back 5 hours each way instead of driving so keep that in mind when you plan a trip from Orlando to Miami.
Read Also: Can You Bring a Vape Into Disney World?
You could also fly, one way basic fares start around $60. Take into account getting to the Orlando airport, and navigating Miami as well. We would only do this is we were extending our trip to Miami, instead of staying at Walt Disney World.
Which other beaches are closest to Walt Disney World?
Many other beaches on the Atlantic coast of Florida are at a similar distance from Walt Disney World as Cocoa Beach is and just as easily accessible. Meanwhile, Gulf coast beaches are also a great option and are located just a stretch further.
Daytona Beach
Travel time: 70 minutes
Daytona Beach is one of Florida's most popular stretches of sand and is a great option during your Walt Disney World vacation at just 71 miles (114km) from the Orlando resort. Whilst Daytona Beach is often associated with the party atmosphere of Spring Break, outside of Spring Break, Daytona is a great option for all the family. The beach has multiple designated zones for swimming and surfing providing you with comfort that any little ones will be safe whilst there is also plenty to do with several arcades and the Daytona Lagoon Waterpark.
It takes roughly 70 minutes to drive to Daytona Beach from Walt Disney World and again, public transportation is not direct so it is best to drive. However, Greyhound operates a service between central Orlando and Daytona Beach if public transport is your only option. You can then use a bus or cab service to get you to Walt Disney World.
New Smyrna Beach
Travel time: 70 minutes
New Smyrna Beach is a fantastic choice if you're looking for a quieter beach without all the frills of a busy beach town. Whilst there are limited facilities, New Smyrna Beach is an idyllic destination with a 17-mile stretch of golden sand, an elevated boardwalk around the coastline and great waters for fishing or kayaking.
Located 71 miles (114km) from Walt Disney World, reaching New Smyrna Beach is approximately a 70 minute drive. It is not on a direct bus route from either Walt Disney World or Orlando therefore public transport is not recommended as the journey involves many changes and long wait times.
Clearwater Beach
Travel time: 1 hour and 40 minutes
A busy beach town bordering the Gulf of Mexico, Clearwater Beach is a small island with great restaurants and shops, however, the main attractions are undoubtedly the beach and sea. Exploring the water is incredibly popular with many options for fishing trips, boat tours and kayaking excursions whilst the beach itself is phenomenal for families with soft sand, calm waters and exceptional facilities.
Snuggled one the Gulf coast, Clearwater Beach is slightly further from Walt Disney World than the Atlantic coast beaches. The approximate drive time is 1 hour and 40 minutes at a distance of 92 miles (148km) from Walt Disney World. No public transportation is available for a direct journey to Clearwater Beach, however, a train service is available from Kissimmee to Tampa and a cab or car service can then be taken on to Clearwater Beach.
Vero Beach
Travel time: 1 hour and 45 minutes
Located on the Gulf coast, reaching Vero Beach from Walt Disney World will take about 1 hour and 45 minutes as it is 102 miles (164km) from the resort. Unfortunately, no direct transportation is available from Walt Disney World and therefore, driving is your best option. Whilst Vero Beach is not one of the closest beaches to Walt Disney World, it is incredibly popular with Disney fans and Walt Disney World guests as a piece of Disney magic can be found here with the incredible Disney Vero Beach Resort at home on the Treasure Coast.
Vero Beach is a great destination for a relaxing family vacation or day trip. Popular with treasure seekers, Vero Beach is part of the Treasure Coast, the location where eleven ships carrying treasure sank in 1715. The coast is also an incredible place for wildlife, home to loggerhead turtles, pelicans and manatees. Vero Beach definitely has a unique character and charm with great activities, a relaxing atmosphere and Mickey himself not too far away.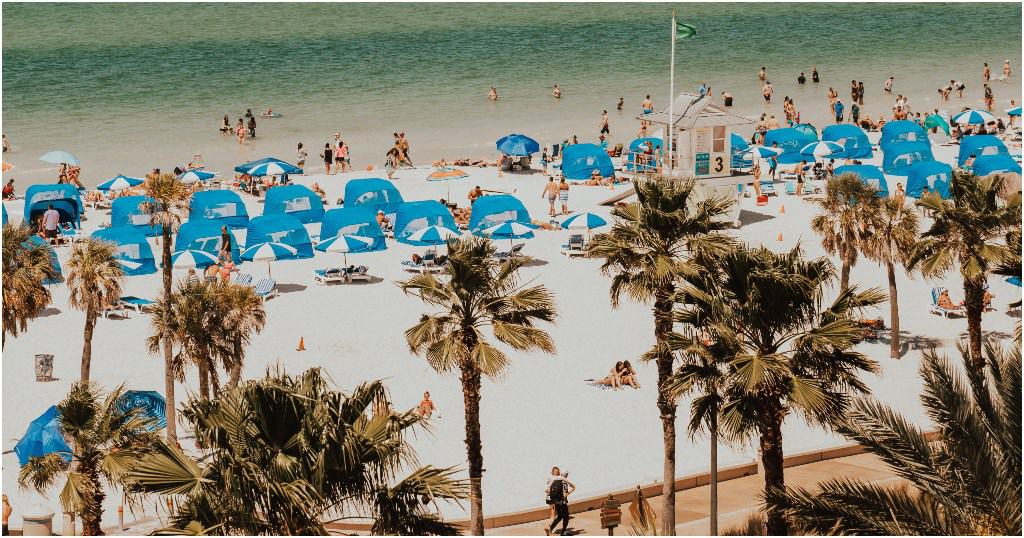 What is the best way to get to the beaches closest to Walt Disney World?
Driving
The easiest option to travel from Walt Disney World to any of the closest beaches is to drive. If you are taking your own car to Walt Disney World, getting to the beach is a breeze and many of the beaches closest to Walt Disney World have great parking facilities. Driving your own vehicle is the cheapest option if you were planning on taking your car anyway with gas costing approximately less than $10 each way. The routes to many of the beaches are generally straightforward however, a navigation system is definitely beneficial.
Car rental
If you are taking your own car to Walt Disney World, driving is a no brainer but driving is also an easy option if you have arrived by air, train or other transportation. A wealth of car rental options can be found across Orlando, including at the airport, train station and on Disney property. If you have no use for a car during the Walt Disney World portion of your vacation as you are planning to use the Walt Disney World Transportation System such as the Monorail, Skyliner or buses, you can simply hire a car for the day or the period of time you plan to head to the beach. You will find an extensive list of car rental companies throughout Orlando, however, Walt Disney World is also home to the Disney Car Care Center Car Rental Facility. Located close to Magic Kingdom, The Car Care Center offers a complimentary door-to-door shuttle service from your Walt Disney World Resort or any of the parks to the car rental facility. You can arrange both the shuttle service and your car hire online, through your hotel concierge or by calling The Car Care Center through the phone in the lobby of your resort. The car rental facility is home to the offices of Alamo, Enterprise and National so you have several options in terms of services and rates. Please note, the only company with an after hours drop off service on Disney property is Alamo.
Car service
On the other hand, you may wish to use a car service to get from Walt Disney World to the beach and the most popular option is Uber. The journey time is the same as if you were to drive yourself and it is a familiar service that you have likely used before. There is no need to bring your own vehicle or go through the motions of car hire, you can simply book the journey on the app and be on your way. The only downside to traveling with Uber or an alternative service is that as all journeys from Walt Disney World to any of the closest beaches are a minimum of an hour, it is often the most expensive option with prices starting from $120 one way, a price which varies drastically depending on demand and time of day.
Public transport
Alternatively, you can choose to use public transport which is often the most budget-friendly option aside from driving your own vehicle but generally has a longer journey time with many routes requiring multiple changes. For most public transport options, it is easier to head into central Orlando or to Orlando International Airport and catch the bus from there as departing directly from Walt Disney World will require many changes with long wait times between services.
Enjoy your trip!
If you're a first timer in Florida, you do not want to miss out on a Florida beach day during your visit to the Sunshine State. If you're a Walt Disney World veteran who has seen and done it all, a beach trip is a fantastic option to break up your trip. Whatever your reason is for adding a Florida beach into your Walt Disney World vacation itinerary, you will not regret spending the day in the Florida sun with your toes in the sand and with so many great beaches close to Walt Disney World, there's no reason not to visit.