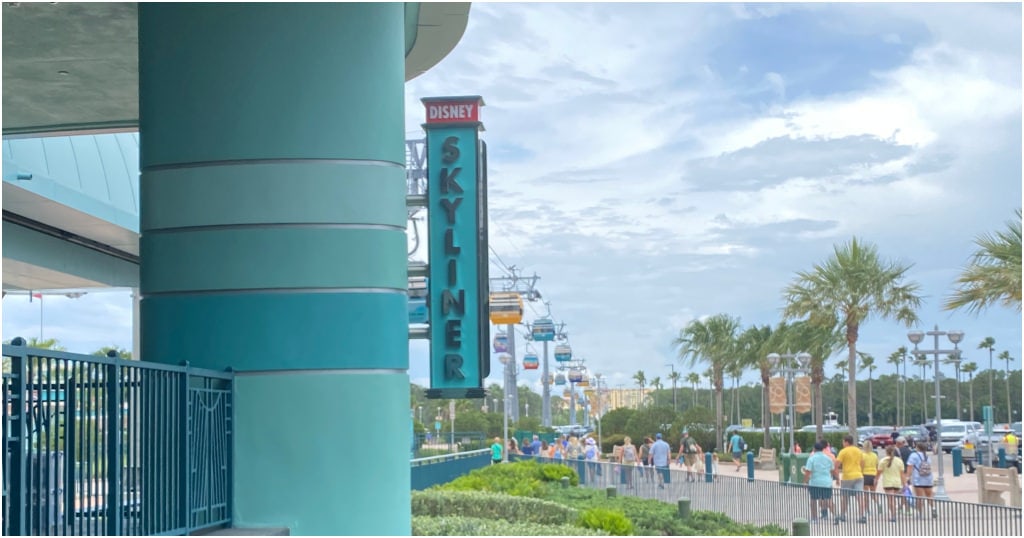 The Disney Skyliner is the newest addition to Disney World transportation. It offers you another easy way to get between the theme parks, as it links EPCOT to Disney's Hollywood Studios. Today we're going to share our full guide to the Disney Skyliner stations. A guide to know what to expect when riding this transportation option for the first time.
Even if you aren't staying at one of the resorts that it links to, take a ride for this unique experience.
Is the Disney Skyliner Free to Ride?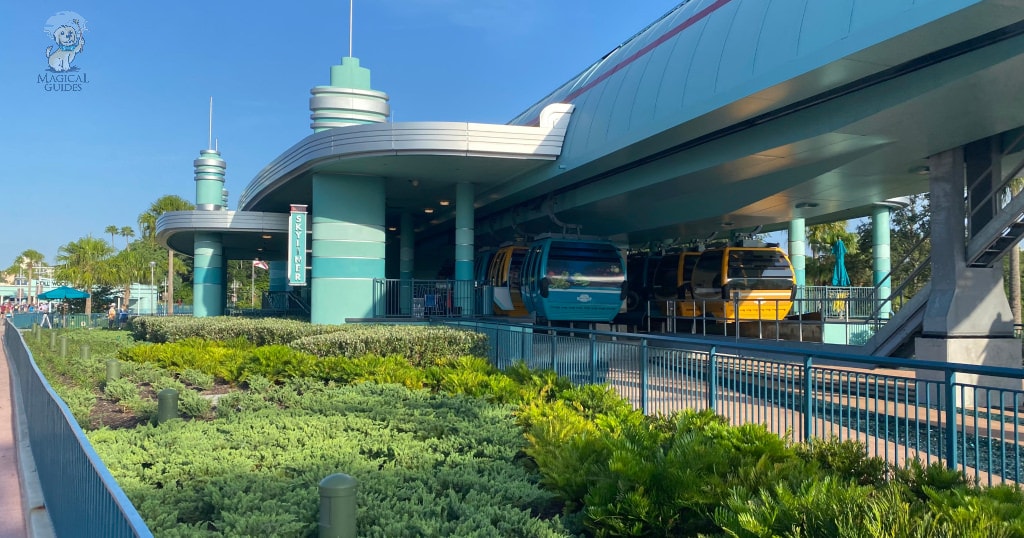 The Disney Skyliner is completely free to ride, which is why we love this new addition to the resort so much. Cast members won't check for park tickets or anything else when you board the Disney Skyliner. Keep in mind that all the stations are at either two of the theme parks or Disney resorts. So you will need to be able to find your way to these stations to start your adventure on the Skyliner.
If you are taking a day off from the theme parks, this is a fun way to try something new on your vacation.
Where Does the Disney Skyliner Go?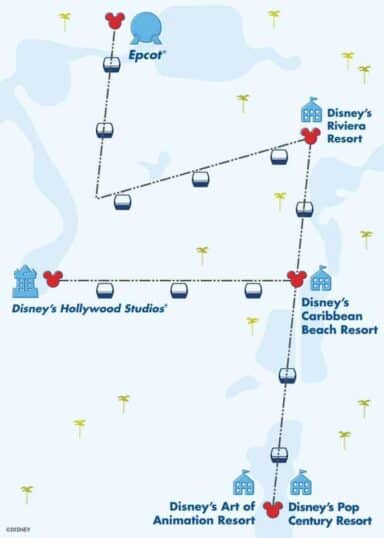 The Disney Skyliner has a variety of Skyliner stations, all link resorts and theme parks to one another. The main reason the Disney Skyliner gondolas was to link EPCOT and Disney's Hollywood Studios. Keep in mind that it doesn't go to the Magic Kingdom or Disney's Animal Kingdom, so you will need to find an alternative route to these two theme parks. The main hub for the Disney Skyliner is at Disney's Caribbean Beach Resort.
This station offers lines to different resorts and the two theme park. So it's a great option for anyone who is looking for a moderate resort with good transportation options.
Resorts that can enjoy using this service on a daily basis, is Disney's Art of Animation Resort and Disney's Pop Century Resort share one station. This is in the middle of Hourglass lake which is between the two resorts, and it's a fantastic addition and perks for a value resort. Disney's Riviera Resort station is steps from the Riviera resort,. You may opt to walk to the one at Disney's Caribbean Beach if you prefer.
Read More: The Guide to Rides in EPCOT
EPCOT resorts can all use the station at the International Gateway entrance to this theme park. Which will take you over to Disney's Hollywood Studios. We prefer to walk from an EPCOT resort to Hollywood Studios or to EPCOT itself. If you're looking to go from Hollywood Studios to EPCOT, check out my guide for how to get from one to the other.
Of course, you can still use the boat or walk to this theme park when staying in this area, but it adds another option for your next vacation.
Can You Ride the Disney Skyliner Without a Ticket?
The great thing about the Disney Skyliner is that you can turn up and ride when you need to on any given day. No park tickets or Skyliner tickets needed, offering you a new way to get around the resort. The Disney Skyliner will be busiest at the start and end of each park day. So pack your patience when using this mode of transport.
It's still generally a quicker and more enjoyable option than the Disney buses. Because of this, most would rather wait in line for the Skyliner than wait for a cramped bus at the end of a long day.
How Many People Fit in a Skyliner?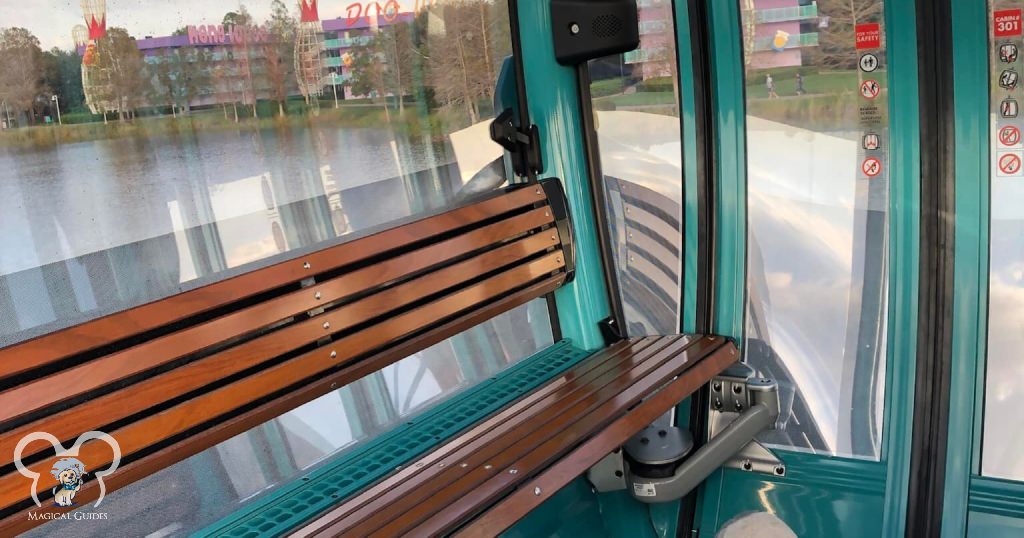 Each of the Skyliner gondolas can fit up to ten passengers. But, if you need to add an ECV, wheelchair, or stroller, the capacity will drop to six people. Strollers can stay open and your child can remain seated for the journey, but they can't be bigger than 48" x 30". The Skyliner gondolas are moving at a steady, but slow speed. Which means the loading speed is excellent for this type of transportation.
If you have never ridden on the Disney Skyliner gondola system, here's something to know about the layout. Each of the Disney skyliner cabins has two wooden benches. You can bring food and drink on skyliner cars, but know I wouldn't try to have a picnic between stops. Sips of water or beverage you grabbed from Joffrey's coffee will be fine for your journey.
What Stops Does the Disney Skyliner Make?
When discussing the Disney Skyliner, you can take one of a few different routes to get around. There is one line from Disney's Caribbean Beach to EPCOT, and another from this resort to Disney's Hollywood Studios. A separate line connects Disney's Pop Century Resort and Disney's Art of Animation Resort to Disney's Caribbean Beach Resort. Guests at this resort need to switch lines to get to either of the theme parks, so keep this in mind when planning your journey time.
You are free to get on and off the Skyliner as you like at any of the stops and then return to the Skyliner when you are ready to continue your journey.
Can You Take Food on the Disney Skyliner?
You can bring food and drink on the Skyliner. The journey time means you might get thirsty. Especially on a hot day when the Skyliner gondolas get quite warm. I recommend always having water with you in Orlando, as the weather here is so humid and hot throughout the year.
Don't forget there are several water bottle fill stations through out the parks.
How Fast Does the Skyliner Go at Disney?
The Disney Skyliner travels at around 11 miles per hour. You'll feel like you are moving faster when you travel above the parks and parking lots you pass. It's a fun adventure for anyone who isn't afraid of heights. As far as the journey time, this will take approximately 10 minutes. The quickest journey is from Disney's Caribbean Beach Resort to Disney's Riviera Resort. Followed by the trip onto EPCOT.
It only take a couple of minutes to get between the two resorts, and then about 5 more minutes to reach the theme park. Guests are always impressed by the quick loading speed of this transportation option. Which makes getting to popular attractions such as those in Star Wars: Galaxy's Edge easier than ever.
What Happens If You Get Stuck on the Disney Skyliner?
You may have heard about the Disney Skyliner having a few incidents since its launch. You can be rest assured they have thought of everything. It's rare for the Skyliner to stop, so don't go into this journey thinking the worst. Disney will try and resolve any issue before evacuating you from the Skyliner. So be patient if the gondola stops on your way.
They will be able to share instructions with you in the gondola if there is an emergency via an intercom. So you'll be in safe hands at all times. There is also an emergency kit if needed with water during the hot days.
Does the Skyliner Take You to the Magic Kingdom?
While you can use the Disney Skyliner to get to EPCOT and Hollywood Studios. It unfortunately doesn't connect Disney resort hotels to the Magic Kingdom. Instead, you can take the Disney resort buses to this theme park or opt to switch over to the monorail if that's something you would prefer to do. The buses are the best bet from any of the Disney resorts that have the Skyliner access. You'll enjoy taking the Skyliner on the other days of your vacation.
Can You Walk from the Skyliner to the Monorail?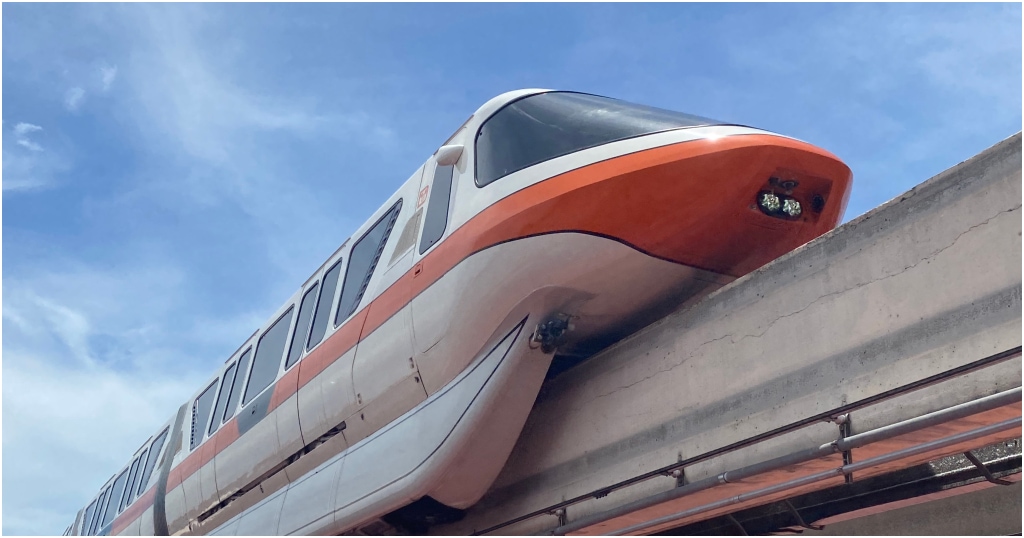 You cannot walk between the monorail and the Skyliner. You will need to enter through EPCOT to enjoy both of these in the same day. The International Gateway Station is at the back entrance to EPCOT. You'll walk through World Showcase to the very front of the park.
You can take the monorail to the Ticket & Transportation Center. Switch to the Express or Resort line to take you to the Magic Kingdom. It's usually quicker to get the bus from your resort to save time and energy traveling between the two theme parks.
Does the Disney Skyliner Have AC?
When the Disney Skyliner came about, the most common questions was if the gondolas would have AC. Unfortunately, the isn't active air conditioning. They have passive cooling cross-ventilation windows to keep the air flowing in. They also have reflective panels built into the design.
Which stops you being in the way of direct sunlight on your journey. Additionally every route has onboard audio that's unique to the journey you are taking.
That's why it's so fun to take a ride on them when you have a day off from the parks. Allowing you to see Walt Disney World from a whole new perspective.
How Long Does the Disney Skyliner Take to get from Disney's Hollywood Studios to EPCOT?
The journey from Disney's Hollywood Studios to EPCOT will take about 15-20 minutes in total. Keep in mind you'll need to transfer at Disney's Caribbean Beach Resort, which depending on the time of the day, may add 5-10 minutes to your journey time. The good news is that the gondolas run during their opening hours, so there isn't too much time to wait. You will notice that the Skyliner is much busier at the start and end of each day, but once you start on your journey, it's generally quite smooth from there.
Does the Skyliner Close if it Rains?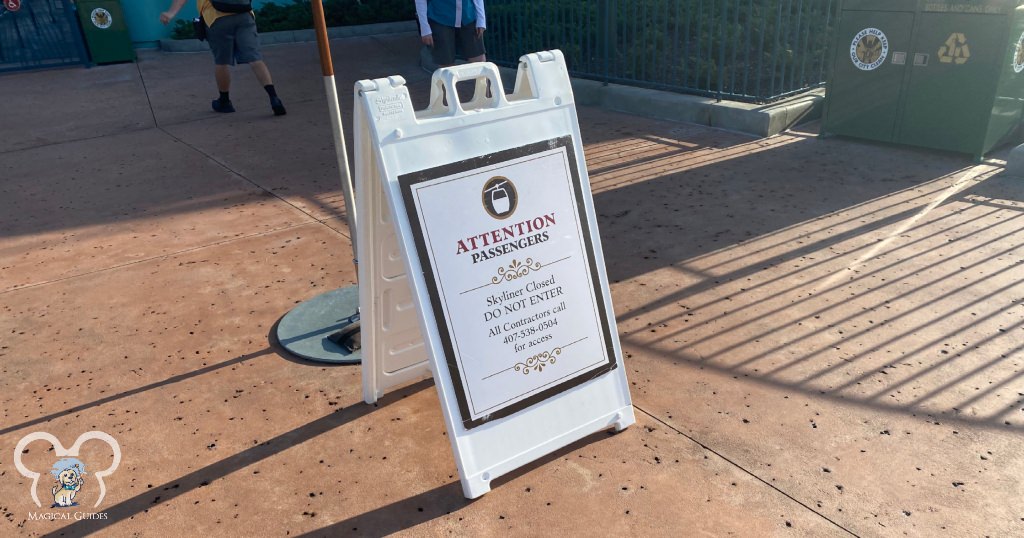 Rain doesn't stop the Disney Skyliner from operating. But, during high winds, storms, or if lightning is in the area, they will need to close it for the time being. Once the weather has cleared up, they can reopen again. You'll find that signs at the entrance to the station if the Skyliner stops operating. So you can opt to take a bus or another form of transportation instead during this time.
How Many Times has the Disney Skyliner Crashed?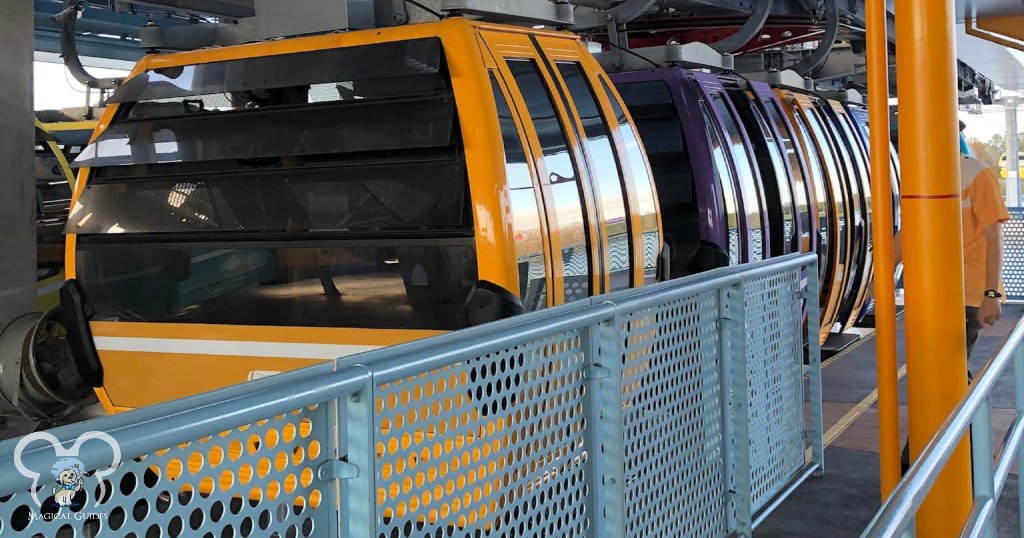 The Disney Skyliner is generally a safe and effective way to get around. You may have heard stories about it crashing over the years, and we know of at least three occasions when this has happened since it opened in 2019. The Disney cast members are well-trained to deal with any emergency situation. Know that you'll be in good hands when loading and getting off the gondolas.
Do You Have To Get Off the Disney Skyliner at Each Stop?
Whether you need to get off the Disney Skyliner or not at each stop will depend on the route you are taking. If you are traveling from Pop Century and Art of Animation you'll need to change lines at Disney's Caribbean Beach station. This is the main hub for the Skyliner, so you'll find that everyone has to change here at some point or another. You can also opt to get off at any time to look around the resorts, which is a fun way to spend a day away from the theme parks.
Many of the resort guests who enjoy the Disney Skyliner opt to use this service to get around. As they see more of the resort than they could before. After a morning in the parks, you could opt to resort hop and have dinner or drinks somewhere you've never been able to go before. It's a very efficient way to dine in new locations and see places that not everyone gets to visit, which is why we are such fans of this new addition to the parks.
Plan a Trip on the Disney Skyliner During Your Next Vacation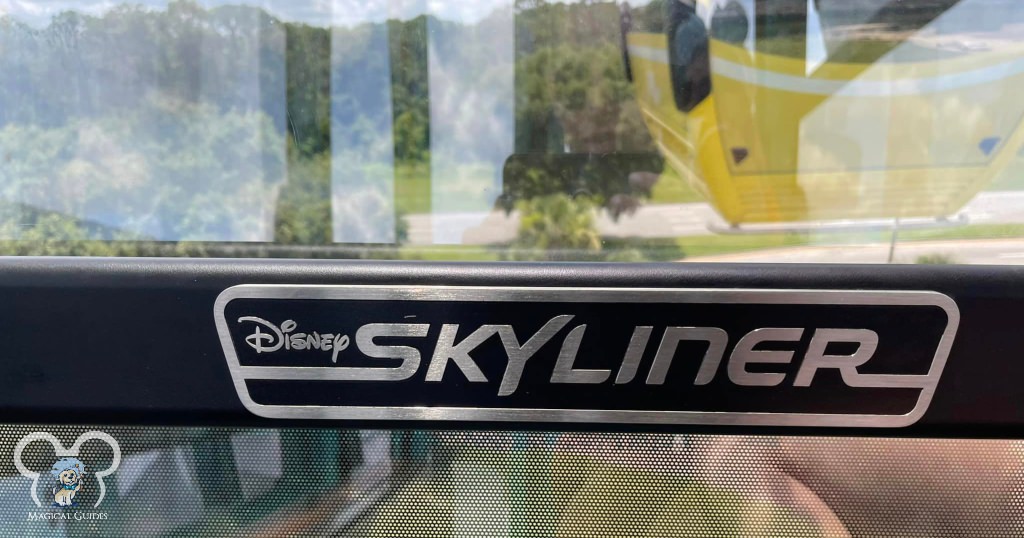 No matter where you are staying in Orlando, we recommend planning to ride the Disney Skyliner at least once on your next vacation. It's such a fun way to get a different view of the Walt Disney World Resort, as well as being a practical way to get around the theme parks. Many people opt to do a day of resort hopping to save money on park tickets, and you'll find the resorts are so beautiful to explore. You won't need to pay to ride here. Make sure you think about where you start and end your journey if you are driving to the resort.
The Disney Skyliner is one of the best additions we've seen to the resort in the past years. I know it will delight visitors for years to come. It's such a great way to get around if you are staying at any of the Disney resorts. Make sure you arrive early in the morning to avoid lines. With the value resorts having this benefit is something never offered before.
It's well worth staying at any of the resorts on the line if you are looking to avoid the buses. It saves time and is a fun way to get to your destination.