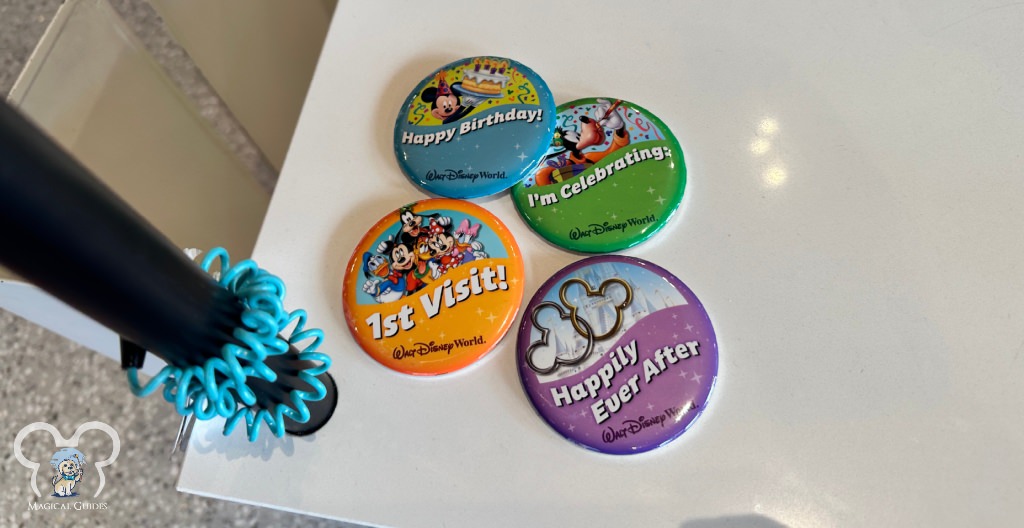 Given the Walt Disney Company's recent push to increase prices across the parks, your WDW vacation has surely become more expensive. As budgets get tighter and tighter, one of the first things to go can be the money set aside for gifts and souvenirs.
Did you know that you can get a free special souvenir from any Walt Disney World Park? Disney offers multiple types of buttons that are designed to help you celebrate your special day, whether it is a birthday, engagement, or any special occasion. Each special button has a different color, graphic, and a spot where you or a Cast Member can add a special message.
These are common throughout Disney Parks and are perfect for a first visit or returning visitors. Free souvenirs are a fun way to make a magical vacation even more magical. Those who trade just might find out that it's a small world after all.
Why Should You Get a Button? How Can it Make Your Visit More Magical?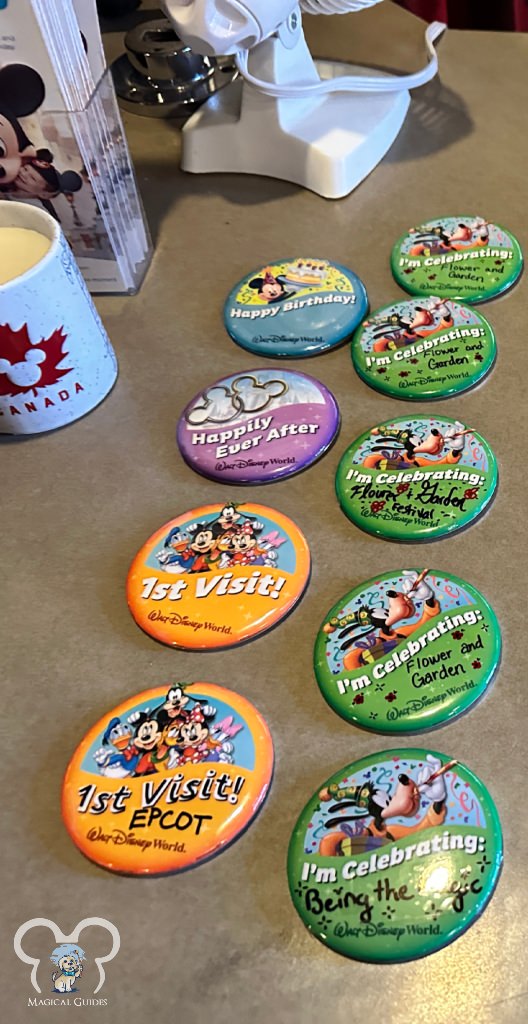 As a former Cast Member myself, I can tell you that the buttons are designed to help Disney workers interact with guests in a more personal and helpful way.
When someone would walk up to me with a button, I could easily give them a "Happy Birthday!" greeting or see that it was their "First Visit" and provide the relevant information they needed.
This was a great way to sprinkle some extra magic to make it the best day ever.
Since a huge part of the Disney difference is the Cast Member interaction, wearing any sort of button will surely enhance your visit and bring you extra attention.
Though it has become far less common, Cast Members may also go out of their way to give you a special experience to make your day in the parks even more special.
Almost every day while working in the Magic Kingdom, I'd give out free desserts or snacks like a Pineapple Dole Whip or popcorn, special entrance into a Fastpass/Lightning Lane, or send a button-clad guest over to one of my friends in the parade crew to get special viewing.
Characters you meet are also sure to notice your buttons, especially if it's relevant to them. Maybe Ariel would be excited if it was your first time visiting a Florida beach during your trip, or maybe Cinderella might notice that it's your first time visiting her castle.
Overall, the celebration buttons are a great way to get special attention and to make interactions with everyone at Disney a little better.
When wearing a celebration button, you never know what sort of magic you could receive (but don't feel entitled to anything special)!
This is why a lot of people have a large set of buttons because of all the various magical experiences and chances that they've had. This could also be a favorite thing for the family because you can get the rest of your party involved in the fun, too.
Types of FREE Disney World Celebration Buttons
There are unique buttons for birthdays, engagements/marriages ("Happily Ever After"), first visits, and a general button for any sort of celebration. When working at Disney, I saw all sorts of crazy examples of things people were celebrating, so don't feel like your celebration is too small to warrant a button!
Some of my favorite wholesome celebrations were for an anniversary, family reunions, school trips, braces being taken off, a new job, and for "last rides" on closing attractions. Less wholesome, but still amusing, celebrations included "second divorce" and "quit my job."
Where Do I Get Disney Celebration Buttons?
All of Walt Disney World's theme parks, including Magic Kingdom, EPCOT, Hollywood Studios, and Animal Kingdom, offer buttons for free. Though they are available at each park's guest relations, such as City Hall in Magic Kingdom, the easiest way to get them is by visiting any gift shop or merchandise location.
Stores are all supposed to be well-stocked with buttons and should also have a marker for you to write your name, celebration, or any other details you want to add to your button to make it personalized.
At Disney Resorts, you can also snag your buttons before your special celebration day to save time trying to locate them in the parks.
The front desk should be well stocked with all the buttons you might need.
If you're at Disney Springs, only certain stores will have the buttons. Disney Springs is mostly made up of third-party stores (not actually owned by Disney), which will not offer you the celebration buttons.
Stores like Trend-D and the large Disney Store are owned by Disney and, therefore should have buttons available!
Can you get Custom Buttons?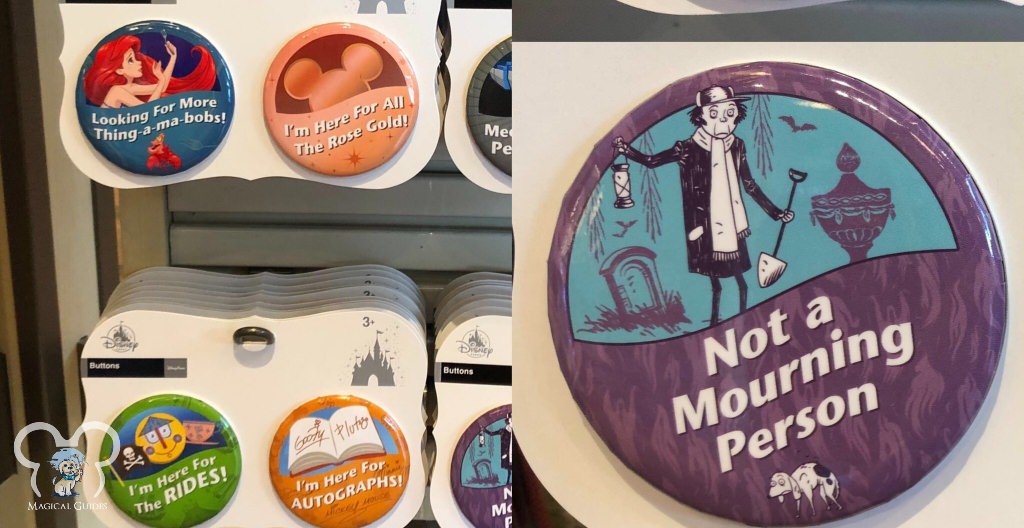 If you're looking to get your button a little bit more customized, try visiting the Christmas Shop in Magic Kingdom's Liberty Square, or the one in Disney Springs.
These locations have artists who often make custom personalized ornaments and can add anything to your button in a fancy script.
Oftentimes, if you ask and they aren't busy, they will do it for you for no cost. If they are busy, they may charge you a small fee to have the customization done.
It's a good idea to add this special flair to your button if you plan on keeping it as a souvenir! Those who are button fans might see this as their favorite attraction.
It's small fun things like this that make Disney vacations the best.
How Should I Wear My Button?
Be sure to put your button in a spot that's easy for Cast Members to see but be careful about making holes in your clothes. Since the buttons are fairly large and heavy, they attach via a large clothespin-type connection.
This means that you might have to poke a hole in your shirt to wear one! This shouldn't be an issue for most clothing types or hold back your kids from wearing a button, but you should keep it in mind before grabbing one. Be sure to help your children put them on to ensure they don't poke themselves!
If bringing a backpack, fastening the button to the front strap is a great spot to put it. You can also attach a button to Mickey Ears or a hat if you have them!
This is what makes the buttons a great souvenir because the pins are the perfect way to change how they are displaced. The special buttons can be displayed in one location and changed to other great options anytime it's needed.
In general, you shouldn't be wearing your finest clothes for a Disney Park day anyway, so wearing the button proudly on the front of your shirt should be just fine for most guests.
Be sure to grab a celebration button and make your next trip extra special! From first trips to making your own button (or happy birthday buttons, too!), you can easily make sure that your trip is happening at the happiest place on Earth.
Do you love the Disney buttons? Have they ever gotten you extra magic on your vacation? I always wear a birthday button, if it's just to celebrate half birthdays of the friends I'm with. It's fun when another guest share in your celebration, and things like a free birthday button is just one small way to make your vacation even more magical.