Located by the Epcot resort area entrance to the park, you'll find one of the most enchanting pavilions in World Showcase. Thanks to the upcoming opening of Remy's Ratatouille Adventure, guests are beginning to spend more time exploring the France pavilion and all the wonderful dining opportunities it has to offer guests. Let's take a look at some of our top tips for exploring this area of the park and hidden secrets to keep an eye out for on your next trip.
Exploring a Parisienne Neighborhood
When you enter France in Epcot, you'll be immersed in the theming that transports you to Paris. When you cross over from the UK to France, you'll walk over a bridge that's designed after the Pont de Arts bridge in France, which is commonly known as the lock bridge. With the Eiffel Tower in the distance, you'll enjoy exploring the shops and streets, which are reminiscent of a typical French city or town. Throughout the pavilion, you'll find features that are very similar to those around France, such as Les Halles Boulangerie-Patisserie and L'Artisan des Glaces ice-cream store. Enjoy walking through the various stores located here, which stock classic French products and brands such as Guerlain.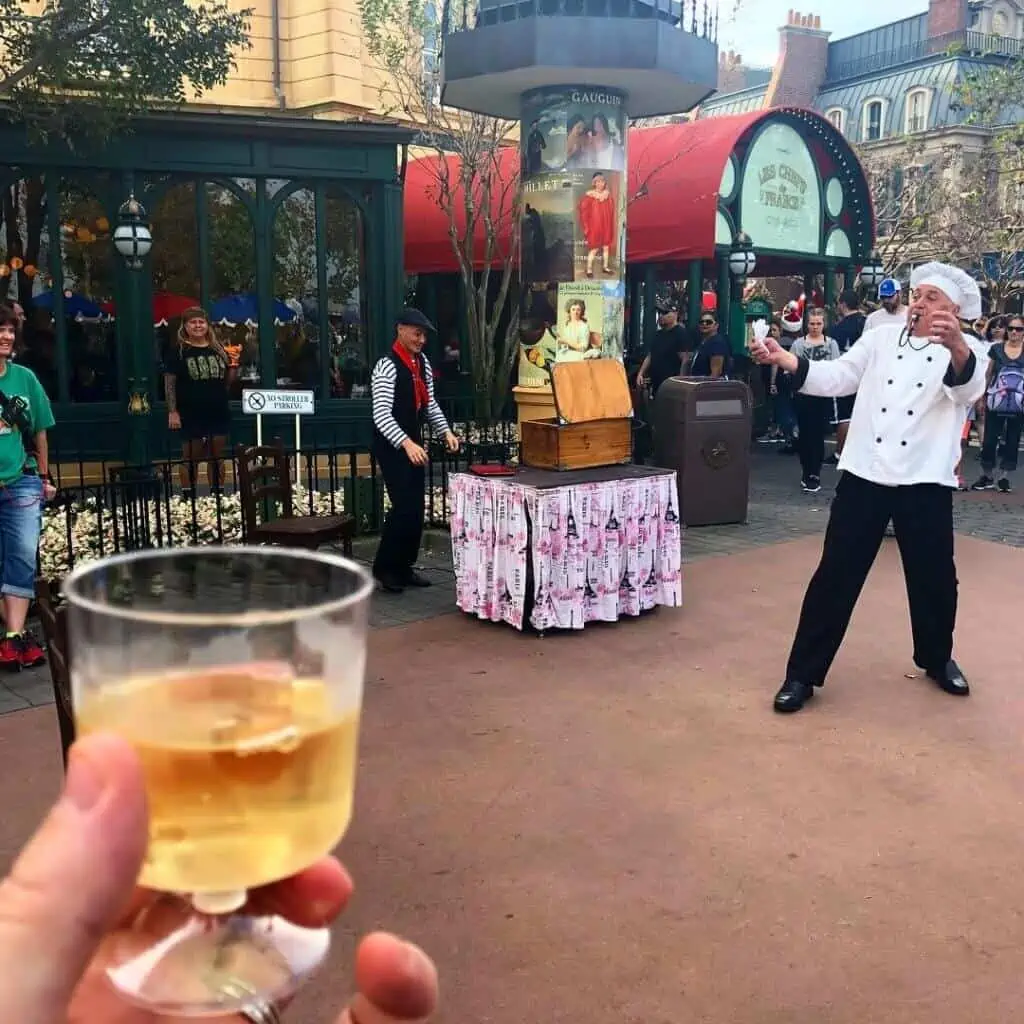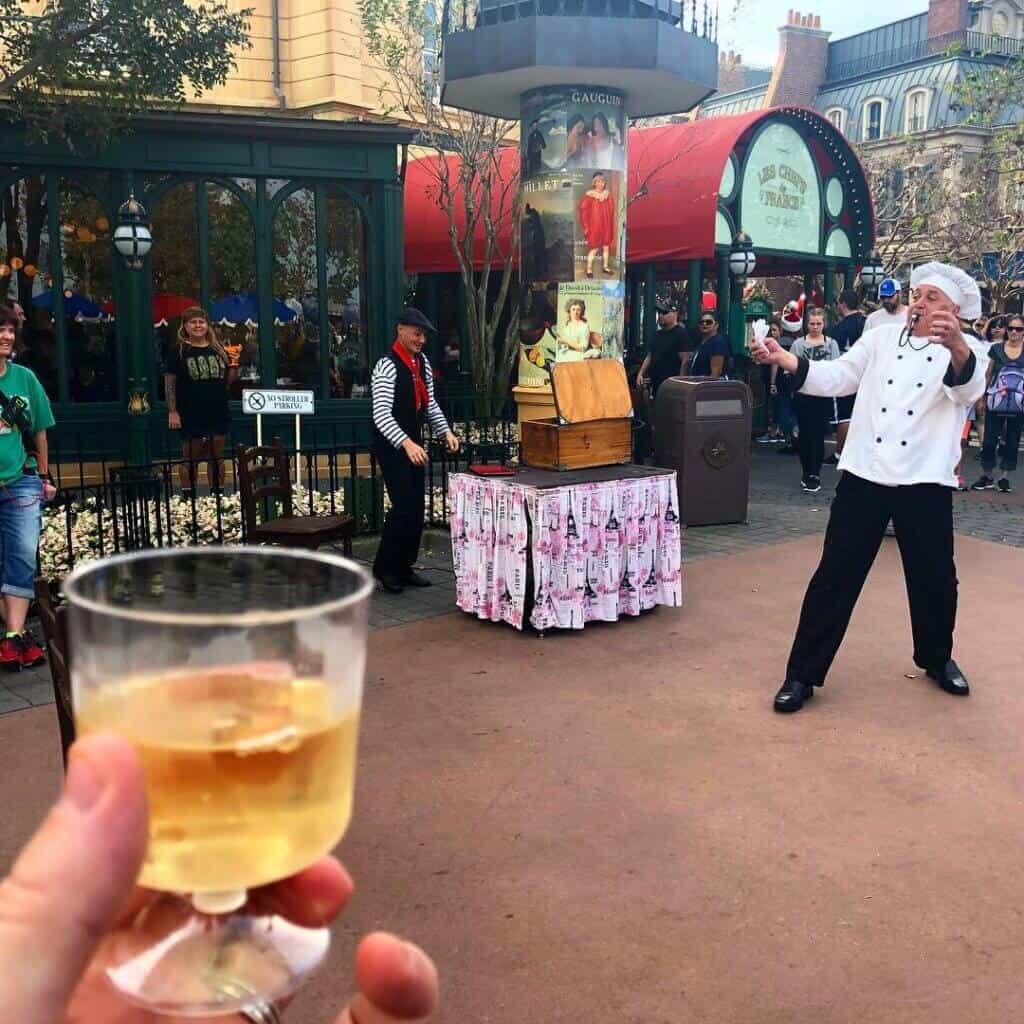 Les Chefs de France
With so many dining options to choose from, you are spoilt for choice with both quick-service and table-service restaurants in this pavilion. Les Chefs de France is probably the most well-known location in the pavilion and opened in the park back in 1982 when Epcot itself opened. It was created by Roger Vergé, Paul Bocuse, and Gaston Lenôtre, and since 1996, Paul Bocuse's son, Jérôme has taken over the operation. One of the reasons this restaurant became so popular is because of the introduction of Remy from Ratatouille, who first started making appearances in 2009. Remy is a small animatronic, which is brought around on a serving plate to meet diners. It's even believed that one of the founders, Gaston Lenôtre, inspired the character of Auguste Gusteau in the popular movie.
Impressions de France
As of the time of writing, Impressions de France is the landmark attraction in the pavilion. This was another opening-day attraction and offers visitors a panoramic film showcasing the beauty of the country. During your adventure, you'll witness Mont Saint-Michel, the Eiffel Tower, Notre-Dame de Paris, and the Château de Chambord. If you are visiting with younger children, this film now alternates with a Beauty & the Beast sing-along show, which makes for a great way to escape from the Florida heat in the summer months.
The Eiffel Tower
In order to create the effect of the Eiffel Tower in the distance, the Disney Imagineers used forced perspective. In fact, the Eiffel Tower is a lot smaller than it looks to guests. It's believed that the tower is covered in bird repellent so as to avoid a bird landing on it and giving away its true size.
Remy's Ratatouille Adventure
The France pavilion is currently undergoing a period of huge change, and come October 1st, they'll have one of the top attractions in the park. Remy's Ratatouille Adventure is a recreation of the popular attraction which opened in Walt Disney Studios in Disneyland Paris back in 2014. It's opening on the day of Walt Disney World's 50th Anniversary, and it will be a welcome addition to the park. During the attraction, guests are shrunk down to the size of a rat upon boarding your ratmobile. You'll take a wild adventure on this trackless 3D dark ride through Gusteau's restaurant. It's a thrilling attraction that is suitable for the whole family and immerses riders in the world of Ratatouille.
La Crêperie de Paris
Another upcoming addition to the pavilion, which opens on the same day as Remy's Ratatouille Adventure, is La Crêperie de Paris. This new location is going to offer both quick service and table service dining and features a menu from Jérôme Bocuse. The restaurant will be inspired by the Brittany region and is expected to offer both savory and sweet crêpes. The France pavilion already offers so many great dining options, but this is going to solidify its reputation as one of the best pavilions in the park for foodies.
Monsieur Paul
The France pavilion is home to one of the few signature dining locations in the park with Monsieur Paul. This restaurant was formally called the Bistro de Paris and is located upstairs above Les Chefs de France. The current menu was created by Nicolas Lemoyne, who studied at Paul Bocuse's restaurant. You'll select from a sophisticated menu, which can, of course, be paired with fine French wines.
The atmosphere in the restaurant is elegant yet relaxed, and it offers classic French décor with modern design elements. Ask for a table by the restaurant if you can, as you'll enjoy a beautiful view over the park. Due to it being a signature restaurant, they do ask for a minimum dress code, including khakis, dress shorts, slacks, and collared shirts for men, and Capri pants, skirts, dress shorts, or dresses for women. Tank tops and flip-flops aren't allowed in the restaurant, so keep this in mind if you are heading here on your next visit.
Tale As Old As Time: French Storytelling on Stage and Screen 
Another recent addition to the pavilion that's often overlooked by guests is a new exhibit featuring costumes, artwork, and music from the country. While it's a smaller exhibit, you'll still find plenty of hidden gems to admire, all of which celebrate adaptations of French literature. You'll view costumes from movies, theater, opera, and ballet, and it makes a nice diversion if you are looking to immerse yourself in the French culture even more.
The France pavilion in Epcot is often overlooked by guests today, but we're sure this is going to change once Remy's Ratatouille Adventure opens on October 1st. During your next visit to Epcot, we highly recommend enjoying lunch or dinner in France, where you'll be spoilt for choice by their excellent dining locations.