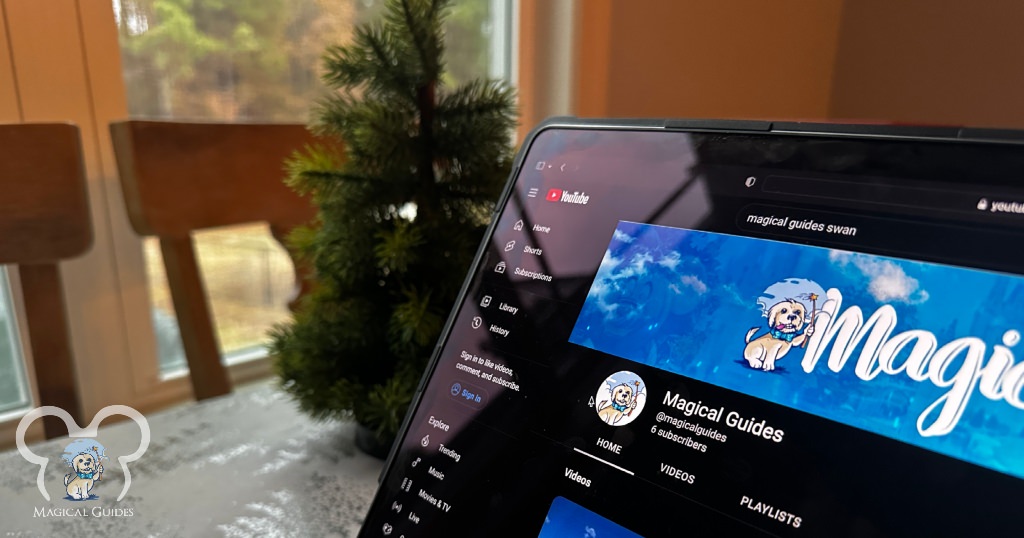 Photo by Bayley Clark for MagicalGuides
When you don't have the option of getting to Disney World anytime you want, you can get your Disney itch scratched with a number of Disney vlogs. We are going to focus on the top 26 best Disney YouTube channels.
These folks are going to specialize in the Walt Disney World Resort, capturing videos for live streams, special events, to construction updates. I love watching the best Disney World Youtube Channels as it's one of the best ways to stay up to date on what's going on with the Disney theme parks and all things Orlando.
Are you active on social media? If you're looking for fun Disney vacation captions to share your trip on Instagram or Youtube.
The Tim Tracker
The first Disney World YouTuber I watched was Tim Tracker and his wife Jenn. Tim is probably the most famous Disney vlogger there is! An Orlando native, he posts new videos from the Disney parks regularly, so is great to follow for all the latest happenings, construction updates and reviews of the newest offerings.
Since the birth of their son Jackson they now also have lots of videos about visiting Disney with young children, which is super helpful for families.
The Trackers also visit other Disney Parks and take a lot of Disney cruises. Being one of the highest earning Disney vloggers also means the Trackers do experiences many people only dream of, so it is fantastic to be able to see what those are like!
They started a blog, so be sure to follow them here.
Paging Mr. Morrow
Paging Mr. Morrow is one of my favorite Disney vloggers! His enthusiasm and upbeat personality make him a joy to watch! Nate lives in Orlando and creates daily vlogs.
I love getting to watch how a local visits Disney World! Visiting as local compared to a tourist gives you a totally different insight and I found you can learn a lot of helpful tips this way!
In his vlogs you will find out all about things you should try in the parks, what to expect at special events and also things in Orlando related to Disney, such as thrift shops where you can buy Disney items that were used in the hotels and parks!
DIS Unplugged
DIS Unplugged is a great channel to watch for detailed and honest reviews of restaurants at Disney World. Their videos will really help you narrow down which restaurants you want to make reservations for (and which ones you may want to skip over!).
They also make videos about topics you will be thinking about when visiting Disney World such as is it worth renting DVC points and is the Magic Band+ really worth the cost?
All Ears
If you are looking for a channel that gives helpful tips then All Ears is the place to come. Covering a wide range of topics you will be able to have any questions you have answered by their content.
All Ears also has a famous video all about how to 'fiddle faddle' to help you get the Genie+ reservations you want. I used this top tip during my recent Disney World trip and it worked a treat!
Disney Food Blog
For any food lovers Disney Food Blog is a channel to watch! They have tons of content all about where to find the best food, which restaurants to book and what snacks you must try.
Their videos are packed full of information and tips, and often do cover other aspects of visiting Disney World, not just food, and because of this have become one of the biggest Disney YouTube channels there is!
Believe it or not Disney Food blog youtube channel is just one of many, as AJ and her team have acquired a number of other Disney blogs to make them one large conglomerate of theme park news. This isn't necessarily a bad thing, as they do a great job of covering news…we just warn that they do create a lot of content.
Most Magical Guides
If you are interested in what a solo trip to Disney World is like then be sure to subscribe to Most Magical Guides! I started my own YouTube channel to share my experiences and top tips of my solo and adult trips to Disney.
Sophie also creates planning videos covering a whole range of topics to help you know how to maximize the magic and get the most out of your next trip to Disney!
Sophie is also a Disney vegan and plus size so speak about my experiences visiting Disney to help out fellow plus size and vegan Disney fans!
Princess and the Bear
When I visit Disney World with other people I am sometimes the only vegan in the group. I was wanting to find out which restaurants were best for everyone and this is how I found the Princess and the Bear's channel!
Princess is a vegan and Bear isn't and they regularly review lots of food across all the restaurants at Disney World. It is great to be able to find out what the food is like for everyone at your party, regardless of their dietary requirements, so you know which restaurants to book!
Danny Dalimore
Danny Dalimore is one of my favorite fellow UK Disney vloggers! I have been watching Danny for a number of years and he has a wonderful personality and is someone you would want to visit Disney with!
Each Disney World vlog series Danny creates has a different theme, such as how to visit on a budget, which is super helpful. Be sure to follow him on Instagram too as he is really interactive with his trips and you can pick what he does for the day!
Danny is also a Disney Vacation Club member so you can see his stays at different DVC Resorts at Disney World.
Here With The Magic
This channel is perfect for people wanting to get an idea of what Disney World is like, or to be able to revisit it virtually when you are missing the magic!
Here With The Magic film point of view videos walking around the parks, riding attraction and visiting the resorts. You really feel like you are back in Disney World! They are beautifully shot and filmed without commentary so are also super relaxing!
Vegan Disney Food and Vegan Disney World
If like me you are vegan, plant-based, vegetarian or dairy intolerant then be sure to check out Vegan Disney Food and Vegan Disney World for their honest reviews of all the plant-based dishes across Disney World!
Since 2019 Disney now offers plant-based dishes, which are suitable for vegans, across almost all the restaurants at Disney World. Subscribe to these channels to find out which dishes are worth getting! These channels were invaluable to me when planning where to eat!
Adam Hattan
Adam Hattan is one of the most famous UK Disney vloggers and very often visit Disney World, as well as other Disney destinations around the world. His sunny disposition is a reason why a lot of people are fans!
Adam often visits with his friend Gary C and together they are hilarious! If you are looking for fun, upbeat and informative vlogs then be sure to check Adam out!
Mammoth Club
Molly from All Ears was a fan favorite presenter on that YouTube channel. In 2022 Molly left All Ears to launch her own channel called Mammoth Club and you should subscribe so you can still get all of Molly's expert tips and tricks for visiting Disney World!
Jones Family Travels
If you will be visiting Disney World as a family, particularly with teenage children, then you need to check out Jones Family Travels! They make videos of all of their travels around the US but primarily their visits to Disney World.
As Florida residents, they make a lot of videos all about the best things to do at Disney World and having tips from locals who visit regularly always help you improve your trip as you are getting insider knowledge!
PC Dev
PC Dev AKA Prince Charming Dev is a vlogger that will always pop up when you ask for recommendations of who to watch!
His videos give honest reviews of his visits to Disney World, the good and the bad, and are great to watch to see a different side of Disney that you may not see from other Disney vloggers.
Cory Meets World
If you are a foodie and dining is a big part of your trip to Disney World be sure to follow Cory Meets World! Cory lives in Orlando and regularly records reviews of his family meals at Disney World restaurants.
Cory's videos have a comforting vibe and are great for families to know which restaurants will please everyone!
Plus Size Pammie
As a plus size person, my husband started watching Plus Size Pammie to see how comfortable he would be on rides and if he would fit. Not only does Pammie have videos about this she also does a lot of content about the accessibility of rides for people with mobility issues.
Although Pammie isn't posting as often now her videos are super helpful for anyone wanting to find out about visiting the parks as a plus size person or someone with a disability. If you or someone you know has size, mobility, or other concerns that need to be addressed while visiting any of the Orlando theme parks I'd highly recommend watching her channel to put your mind at ease.
Adam The Woo
I first discovered Adam The Woo in one of Tim Tracker's videos. Adam is an aficionado of pop culture and travel and often visits Disney World and Disneyland. If you are looking for interesting cultural facts as part of a Disney vlog then Adam is your guy!
I love his enthusiasm for all things film and TV and I've learnt so many interesting facts about the Disney World parks through Adam's videos!
Adam did draw some controversy years ago with his daily vlog channel and was banned from Disney's theme parks. However that ban has been lifted and you can follow him as he is now a resident in Celebration, Florida.
Dis Lyfe Of Ours
Dis Lyfe of Ours are annual passholders who visit Disney World with their teen and young adult children regularly. I love this channel because they always look like they are having a blast together!
They also take trips to Disneyland, Aulani and on the Disney Cruise line so if you love all things Disney make sure you subscribe!
The WDW Couple
The WDW Couple are some of the most well known Disney World vloggers and are great for people visiting Disney World as a couple. You can see all the things Josh and Taylor like to do in the parks and resorts and learn from their expert knowledge of how to get the most out of the parks.
They also do a lot of Disney Cruises and visits to the other Disney destinations, so are great to watch to see everything you can enjoy from Disney all around the world!
Midway to Main Street
If you are like me and love the Disney Parks and would like to know more about their history or little known facts about how they are run then Midway to Main Street is a channel you need to subscribe to!
I love everything about Disney World and I find it so interesting to learn interesting titbits that you wouldn't normally notice which is why I love this channel! Their insightful information will help you have such a different perspective when you next visit Disney World!
LBV TV
If you are wanting to find out all the different and unique things you can experience at Disney World and what they are like then be sure to check out LBV TV. I love being able to find out what unique things I can do at Disney that I have never done before so I have found this channel so helpful for this!
As well as vlogs they also do livestreams from Disney World, which is a fantastic way to experience the parks in real time! I really love when they visit special events, such as Mickey's Merry Very Christmas Party. If you can't make it to an event their livestreams are a fab way to get to experience them with LBV TV!
Deni Sunderly
Deni's channel is relatively new but is already super popular! Her reviews of restaurants at Disney World offer so much more than just what the food is like. Her in-depth knowledge of the parks and resorts give you such a great flavor of what to expect.
L & R Dreaming
Luke and Rich of L & R Dreaming are another UK vlogging couple who I love! Their videos are so joyful and you can tell how much they love the magic! Joining them on their Disney World trips via their vlogs really makes you feel like you are there with them, which is what I enjoy the most!
Michael Kay
Michael Kay is one of the most well known Disney vloggers and his videos really help answer the questions you will be thinking about such as do I really need to purchase Genie+?
Michael also has a lot of videos in 4K so if you are looking for great quality Disney World videos, including on ride footage and resort tours, be sure to check his channel out!
ResortTV1
ResortTV1 is one of the biggest Disney YouTube channels out there and there is a reason they have so many fans! Their videos cover a range of topics, such as room and resort tours, restaurant reviews, and all the latest things that have arrived at Disney, whether that be merchandise or special events.
My personal favorite is their 'relaxing stroll' videos where you get to get see and experience the parks. These videos are a perfect fix if you are missing Disney World!
They are also a great way to learn the lay of the land if you have never been to Disney World before.
Magical Guides
That's right, your very own started a youtube channel, showing my best life at Magic Kingdom, Disney Springs, all things about my Disney experience that can help you plan your next trip. I will probably stay away from the latest Disney news as things can get a bit political, and that's not my cup of tea. If you want to see more walkthru's of things like Disney hotels, please let me know in the comments below, as I will use any excuse possible to stay at a Disney resort.
These Disney World vloggers cover a whole range of different ways to visit the parks, represent a gamut of different types of Disney guests, and offer you special insights so you can ensure you have all the insider knowledge to have the best Disney World trip!
Do you have any suggestions for the best Disney World vloggers list? Who did we miss that covers the latest news for the Walt Disney Company and Universal Studios? How much time do you devote to watching youtube videos before a trip?
So now it's time to get watching!